All the best Cyber Monday Streaming Deals for 2022 – Handpicked by Subscription Experts!
With the cost of streaming these days, you sort of wish you'd just stuck with cable, right? Wrong. Use a Cyber Monday deal to save big on your favorite streamers and keep your money in your wallet. With inflation looming, you need every cent (but you still wanna watch TV!). You can watch it all with a cyber monday sale on your favorite network. Our favorite deal might be Paramount+ – you can get it half off and watch all of the Star Trek and all of the big production shows from CBS. And, you can add on the premium Showtime. HBO Max brings Game of Thrones and tons of hot Hollywood hits, so you can't beat that. Parents (and preschoolers) love Noggin: score 3 months for 99¢/mo.
We've rounded up all our favorite streaming services deals for Cyber Monday below. Check them all out and decide which ones are right for you!
►Cyber Monday Subscription Sales check out absolutely everything DTC & subscription on sale for the holidays.
The best streaming deals Cyber Monday
Grab these deals quickly with our summary of the best Cyber Monday Streaming deals:
And ready for some deep cuts? Documentaries, crafts, learning, and more – the best of the top alternative streaming services this Cyber Monday!
We know you're not just all about entertainment! You've also probably tried all of the above services and have finished everything you want to stream on them. You're in luck, we love finding you more streaming, learning, and edutainment subscriptions to love. So, if you like weird stuff, off-the-beaten-path documentaries, just audiobooks, or even want shows for your dog (yep, there's a streaming service for dogs), here's the list of the rest of the best streaming deals for Cyber Monday!
Need a device for streaming?
Here's more details on our top streaming picks for Cyber Monday!
You love streaming. It's Cyber Monday and there's a million deals available and it's impossible to choose. The good news is that most of them are cheap enough that you don't have to, and you have the holidays to watch everything! We've rounded up the best of the best of the Cyber Monday streaming deals (including some you may not even have heard of!) to keep your entertainment and learning on drip for up to a year (sometimes more!) at the best Cyber Monday prices! These deals are epic – and cheap – but you have to act fast, because the streaming subscriptions don't typically do encores. When the deal is over, it's over. So grab some of these and get your favorite devices ready for some streaming goodness!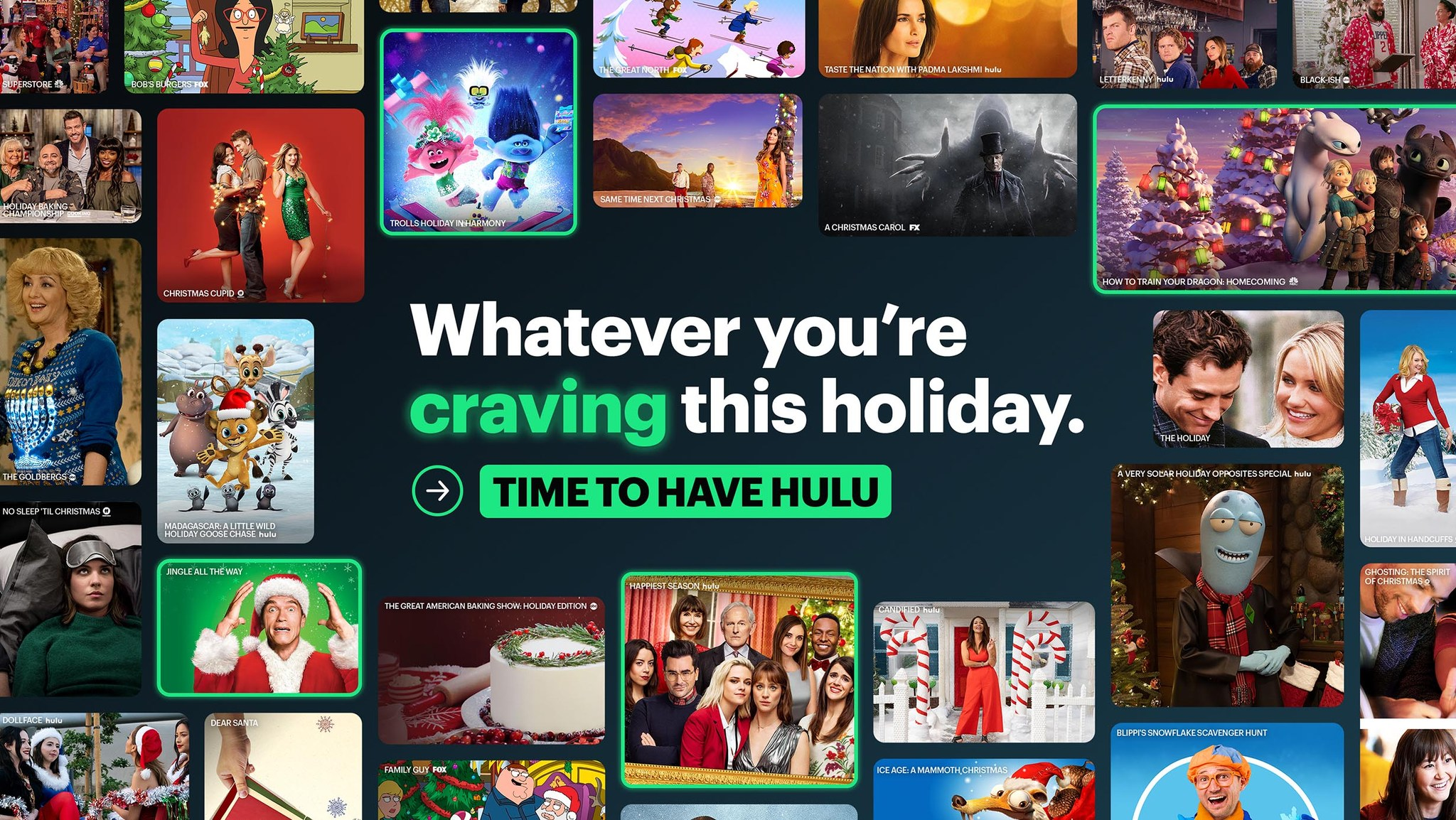 Get an entire YEAR of Hulu for just $1.99 per month! Just use this link, no coupon code required! Ends 11/28 on Cyber Monday - do NOT miss out on this awesome Cyber Monday streaming deal, grab now!
That's 75% off of the regular price of $7.99/month. Hulu's TV shows and movies are available on your TV, streaming box, iPad, laptop, console, and other devices. On this subscription, two people can stream at the same time, and you can have up to six user profiles – great for the kids!
JUST PAY $1.99 PER MONTH FOR 1 Year AT HULU this Cyber Monday!
---
Noggin kids learning app from Nick Jr. has a great Cyber Monday deal to get you started with an edutainment subscription every preschooler wants! Designed for kids age 2+, Noggin helps kids learn math, science, music, in a fun and entertaining way, by featuring Nick Jr characters that kids know and love, like Peppa Pig, PAW Patrol pups, and more!
Get your first 3 months for just $0.99 per month, instead of $7.99 per month! Use this link to sign up, no coupon needed.
---
This Cyber Monday, Disney+ has an offer to lock in a year of streaming for $79.99 a year - before prices go up! Right now you can get an entire year of Disney Plus for $79.99 (a 39% savings) when you buy an annual plan. This is for the premium annual version, with no ads.
Only $79.99 for 1 year of Disney+ when you buy an annual plan by Dec 7. Your subscription will automatically renew on an annual basis at the then-current price (increasing to $109.99/year + tax on 12/8/2022) unless you cancel your subscription before then. 
A $30 savings over next year's prices! On December 8, Disney Plus will raise its prices to $10.99 a month for the no-ads version. Disney+ with ads. will be at the same price as they're offering now, at $7.99/month.
GET CYBER MONDAY SAVINGS AT Disney+!
---
Visionary Original Series. Curated Hit Movies. Bold Storytelling. With a continuously-updated library of groundbreaking shows, movies and docuseries, STARZ brings fresh and diverse perspectives to your device.
For Cyber Monday, STARZ has an amazing deal to get started watching their exclusive hits!
Get your first 3 months for just $5 per month - that's 44% off! No coupon needed, just use this link to subscribe! STARZ is the app for TV, movies and more. Start your obsession!
STARZ starts at $8.99 per month after promo period ends. On up to four screens at once, enjoy unlimited HD streaming and downloads!
---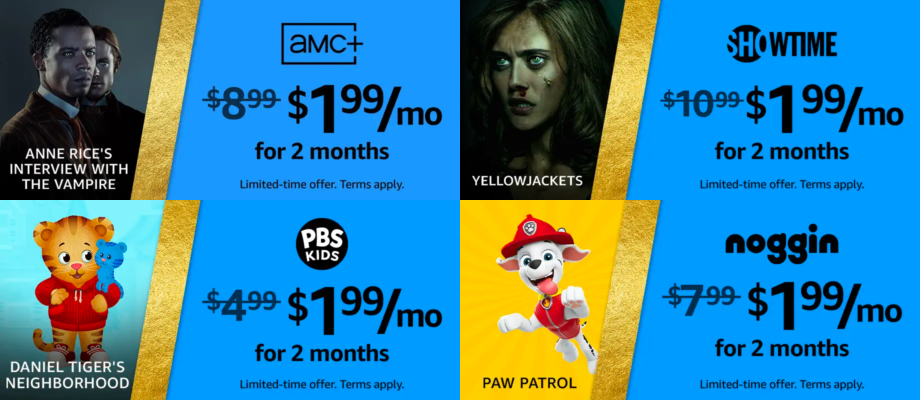 Amazon has a great Cyber Monday deal for Prime Members when you subscribe to select premium Prime Video channels!  Amazon Prime Video and offers premium channels for as low as $4.99 per month.
For a limited time, your first TWO months are $1.99 per month with Amazon Prime Video on any (or all) of the available channels! There's no coupon code to get the deal, just use this link to sign up!
Get 2 months for 1.99 each on select Prime Video channels!
---
Must-See Originals
HBO Max has a Cyber Monday deal for their streaming subscription!
Get 3 months of HBO Max for just $1.99 per month! Just use this link, no coupon code required! Ends 11/28 on Cyber Monday - do NOT miss out on this one, grab now!
Get HBO Max this Cyber Monday!
This deal is available on the With Ads plan. If you have HBO Max With Ads, you'll see ads before and during select series and movies. You can expect to see about 4 minutes of ads per hour.
From DC Comics to Sesame Workshop to South Park and Game of Thrones, there's viewing available for every member of the family!
---
This Cyber Monday all your favorite shows with limited to no commercials at Paramount Plus (formerly CBS All Access)!
Get 50% off an annual subscription, just head over to Paramount + here to subscribe. Ends 11/27. Make sure to select annual plan in the slider - if you want to add Showtime with this deal, use this link instead!
---
Sling TV has an amazing deal this Cyber Monday!
Get half off your first month on any plan (Orange, Blue, Orange + Blue)! Deal applies automatically, just use this link to subscribe!
Sling lets you stream on-demand movies, live tv shows, and live sports instantly on your favorite devices. Watch TV online anytime, anywhere. Choose the channel package that fits your tastes. Streaming TV services like Sling save you money by offering channel bundles that let you customize your service so you're not paying for dozens of channels that you'll never watch.
---
Peacock TV Cyber Monday deal is on! If you're looking forward to watch the 2022 Macy's Thanksgiving Day Parade or FIFA World Cup Qatar 2022, then now's the time to subscribe!
Get your first year of Peacock TV Premium subscription for less than $12 - that's 99¢ per month instead of $4.99! Just use this link to sign up and use the coupon code SAVEBIG at checkout! Ends 11/28.
Grab the Peacock TV Cyber Monday deal!
After your 1 year promo period, you'll be charged $4.99 per month until you cancel.
---
Unlimited access to the greatest real-life entertainment plus exclusives and originals, all in one place.
Discovery+ has an amazing Cyber Monday deal to slurp up all their shows for your first three months at a HUGE discount!
Discover can't-miss originals and exclusive new shows only on Discovery+!
Get Discovery+ streaming for 99¢ per month for the first THREE months. Sign up now using this link to activate the offer - ends Cyber Monday!
---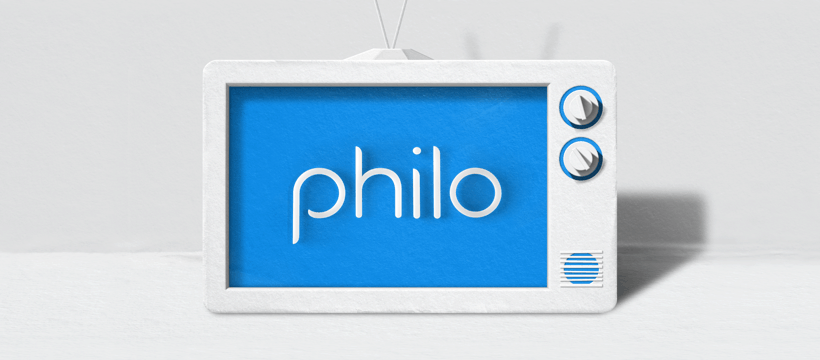 Philo has started their Cyber Monday sale for their streaming subscription with all their shows, movies, and 60+ live channels!
New subscribers try Philo for just $5! Use coupon code: THANKS to receive 80% OFF your first month.
Watch  Hallmark, GAC Family, Lifetime, AMC. Yes, you can start a sappy Christmas Hallmark marathon - right now! For $5! You can also watch YELLOWSTONE!
---
---
Check out even more hot Cyber Monday deals!