Beachly Women's Box brings a ray of sunshine to help us combat the cold winter with an expertly-curated box! The Winter 2022 box is loaded with season-appropriate lifestyle goodies, including a blanket, a quilted jacket, and more. Scroll down to our review to see them all!
DEAL: Save $30 on your first box when you use the coupon code SAVE30 OR Get a FREE BONUS BOX with your first box when you use the coupon code BONUSBOX!
The cold breeze of winter definitely dries up the skin, so Sun Bum The Hydrating Serum ($22) will be quite useful this season. It hydrates and replenishes moisture, while also providing an illuminating finish. The formula contains banana that nourishes the skin and protects it from free radical damage, as well as brown algae that leaves it soft and hydrated. Ingredients also include niacinamide to calm redness and balance oil production. The product comes in a slender tube with a pump lid, making it easy to squeeze out enough amount per application. It's also easy to bring anywhere you go. There's not much fragrance either, which I like, and it isn't heavy on the skin at all. It's fast absorbing as well!
This pair of Salt Sisters The Monstera Fuzzy Socks ($18) are great for keeping your feet warm and cozy in winter. I love the indigo blue base color, as well as the Monstera leaf designs in white. These Beachly exclusive socks are soft to the touch and it's a good thing that they don't easily slip down when worn. They are perfect to wear when you're lounging at home on a cold day!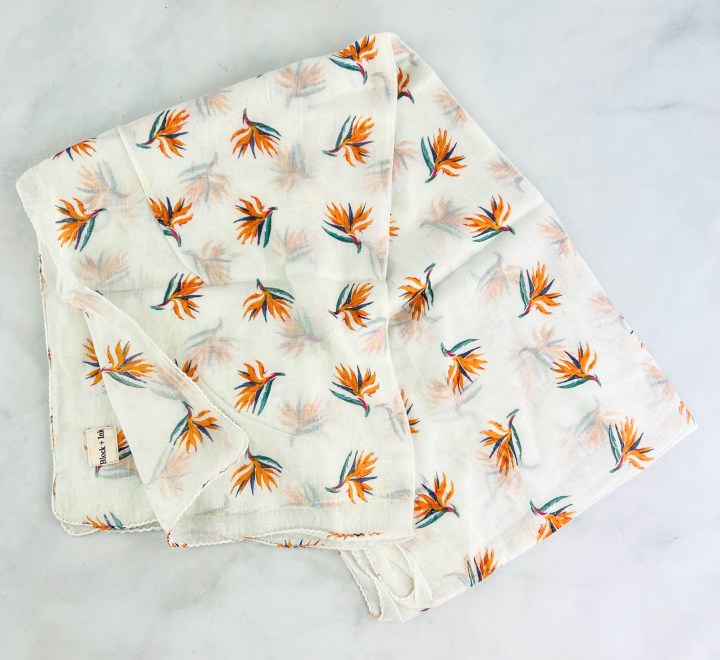 There's another accessory in the box! Block + Ink The Birds of Paradise Scarf ($45) can be worn around the neck, tied on the hair, or wrapped around your purse handle. Made with a lightweight fabric, it's a versatile piece to complete any winter look. The floral pattern with hints of greens and oranges gave this fashion item a refreshing vibe. It delivers coastal style enveloped with winter vibes! It's a Beachly exclusive item as well.
There's also an item that will bring a sprinkle of coastal flair to your home, the Beachly The Sand-Speckled Seashell Tray ($25)! You can place it on your nightstand or vanity table to store small trinkets or jewelry, in the kitchen as a spoon rest to keep counters clean and squeaky, or in the living room, bedroom, or bathroom to use as a tea light candle holder. The sand-speckled design added to its overall charm!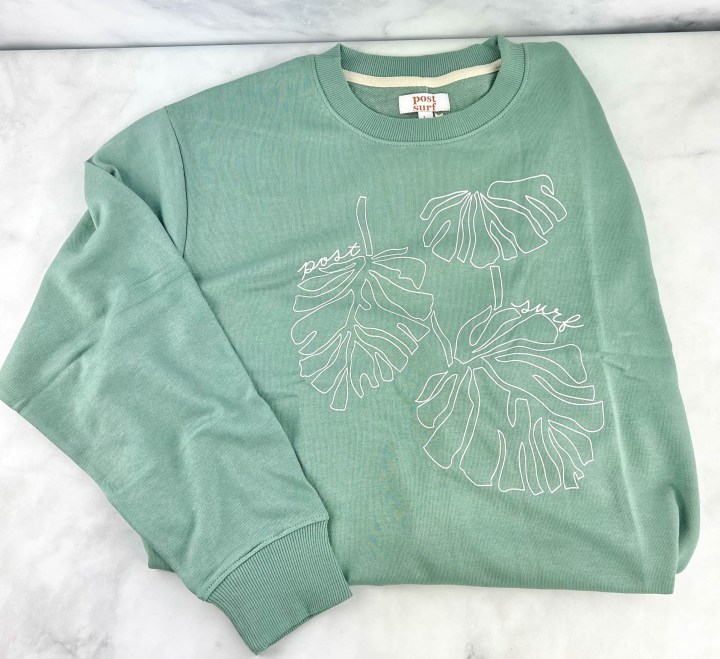 The Monstera Sweatshirt ($60) screams coziness with a beach vibe! Subscribers can choose between two color options: tan or green. I have the green one and I like that it's not too bright. The design printed in front features Monstera leaves with cursive texts, which is really cute. As for the material, it's soft with just the right amount of thickness.
Subscribers have the option to choose between The Sea Breeze Quilted Jacket by Amuse Society and The Bondi Beach Blanket by Thula Tula. For review purposes, we have both products in the box.
To help us stay snuggly and comfy in the winter, here's Amuse Society The Sea Breeze Quilted Jacket ($129). It's filled with fabrics in between stitches, so it provides both comfort and style. This button-down jacket can be worn either closed or open for some fashion flair. There's also an embroidered palm tree on the left chest part that reminds me of the coastal line. Although quilted, it isn't too heavy. It's a simple and classy closet staple this season. And take note, this jacket is a Beachly exclusive piece!
Nothing spells winter more than a warm, relaxing time at home. Thula Tula The Bondi Beach Blanket ($129) will still remind you of the beach, even when cold air brushes in. The fabric is neither too thin nor too thick, making it a versatile item to use in winter or other seasons. It features an abstract palm tree design, reminiscent of the salty breeze of the seashore. The fringes on opposite sides added dimension to it. Whether you cuddle up on the couch with a hot cup of your fave beverage, roll on your bed, or sit in front of the fireplace reading a new novel, this blanket will keep you cozy and warm.
We're approaching snowy winter, but that doesn't stop Beachly from sending lifestyle goodies packed with sunny vibes. The box included items to help me celebrate the new season (still) with some coastal flair. From the serum down to the blanket, the Winter 2022 box is thoughtfully curated. My favorite is the sweatshirt because it's so stylish and comfortable to wear, followed by the oh-so-popular quilted jacket. The blanket and socks are also equally fantastic. Everything in the box aims to keep us cozy at home during these cold months. If you enjoy the coastal lifestyle and need seasonal surprises, you should check out this subscription.
Beachly, formerly Coastal Co., is a quarterly subscription that gives you a dose of the beach lifestyle no matter what season through apparel, accessories, and more. With 6-8 premium items, each box costs $99 and promises a $200+ retail value. Some of the brands they've partnered with include Pura Vida Bracelets, Aloha, Billabong, DIFF Charitable Eyewear, Havaianas, and more. Proceeds from every box sold fund monthly beach cleanups hosted by Heal The Bay. Beachly is a readers' favorite – it's voted as one of the 2022 best subscription boxes for women!
What was your favorite item from the Winter 2022 Beachly Women's Box? Let me know in the comments!