Beachly (formerly Coastal Co.) has a great deal to start your subscription to their coastal-themed quarterly lifestyle box! Beachly box is a seasonal subscription box of beach-inspired apparel and accessories delivered 4x per year with $300+ retail value inside each box! Proceeds from each box sold fund beach cleanups hosted by Heal the Bay. Every box includes full size, premium products with a minimum of 50% off the retail prices. Membership includes access to the Beachly members market for even more savings.
Get a FREE BONUS BOX ($100+ value) with your Box! Use the coupon code BONUSBOX at checkout!
You can instead choose this deal: Save $30 on your first box when you use the coupon code SAVE30
Get FREE Bonus Box and more at Beachly!
Beachly offers three subscriptions – the Men's and Women's surf subscription box, and the Beauty Box! Men's and Women's quarterly box is $99 each, and includes beach-inspired apparel and accessories worth $250+, while the Beauty Box includes 4-6 carefully curated, beach-inspired cruelty-free, clean beauty products to add a dose of vitamin sea to your regimen. The Beauty Box is $29 per quarter, with a promised $75+ retail value in every box. See all our Beachly reviews to find out more!
Beachly (formerly Coastal Co.) has released the FULL spoilers for the Winter 2022 box!
Welcome to your Winter Beachly box! This season is inspired by cozy, coastal evenings spent bundled up on the shore. It's filled with our favorite seaside finds to transport you to Winter nights spent at a beachside bonfire. With a touch of island-inspired details and cozy textures, this box will bring extra warmth into your white, sandy Winter. Whether you're building snowmen or sandcastles, these new goodies are sure to add a splash of sunshine into the season.
Boxes may include: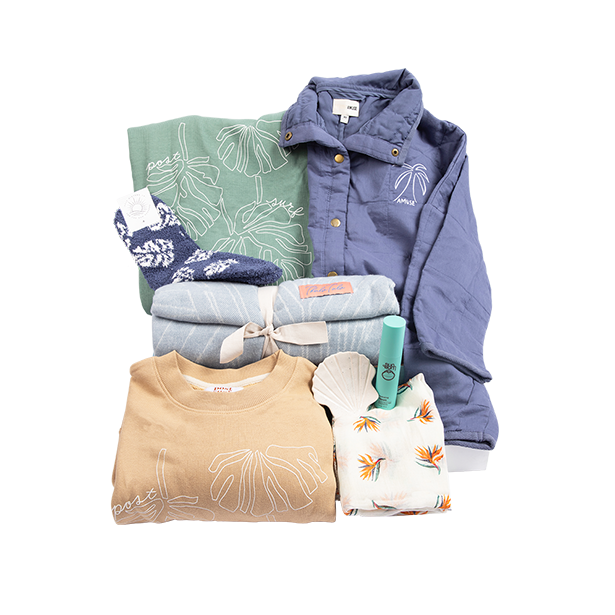 Choice 1: The Sea Breeze Quilted Jacket by Amuse Society OR The Bondi Beach Blanket by Thula Tula
Choice 2: The Monstera Sweatshirt by Post Surf Collective in Green OR Tan
The Birds of Paradise Scarf by Block + Ink
The Sand-Speckled Shell Tray by Beachly
The Hydrating Serum by Sun Bum
The Monstera Fuzzy Socks by Salt Sisters