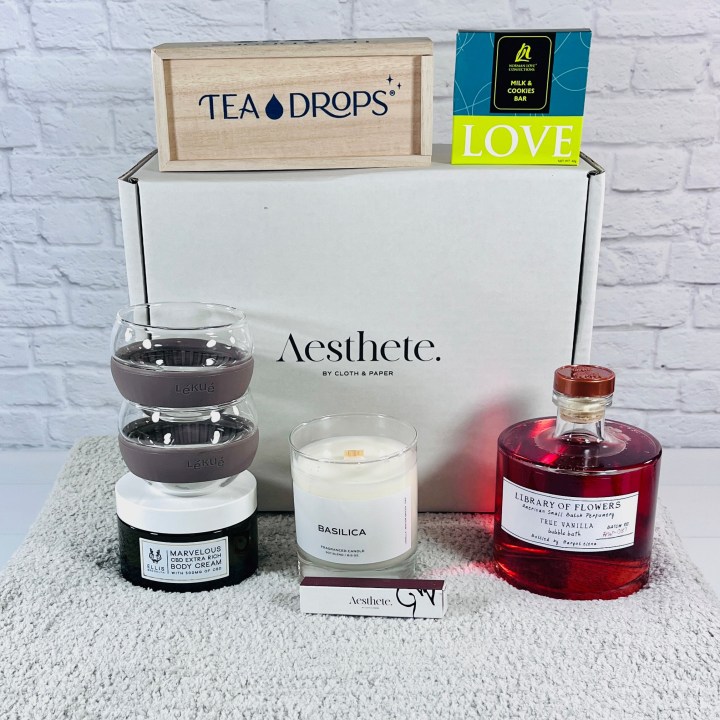 Aesthete Box by CLOTH & PAPER theme for Fall 2022 was Chaleureuse, which I believe translates into "warm", and I was definitely feeling warm and cozy once I started opening and then using these remarkable products. I was rather stunned by what I found – it's like the box was packed with items that would go into my ideal subscription box: tea, a cozy throw, chocolate, a scented candle, and more. See what I received below!
DEAL: Want to try Penspiration Box, Planning + Stationery Box, OR Penspiration & Planning + Stationery Box? Get 10% off your first box! Use the coupon code HELLOSUB10 at checkout!
Sunday Citizen Solid Snug Throw in Cloud Grey ($98) Have you ever looked at a cloud and thought, hmm, I wish I could be hugged by a fluffy grey cloud? Well, my dream just came true. This is supposed to be a lighter weight throw for the warmer months but here in Austin this works well as a winter blanket. It's made of 100% microfiber and is 52″ x 75″, plenty big to cover me from head to toe in comfort and warmth. Seriously, I received this two days ago during our first significant cold weather and I have barely let go of it. It covers me while I'm sitting in the chair, and while sitting on the couch and would work fine for just myself on my bed. It's heavier than any other throw I own yet not heavy, but it feels like I'm being hugged. Oh, I almost forgot to say how soft it is, like my own snuggly teddy bear blanket. This may be the best thing I've ever received in a subscription box. Came with a discount code.
Aesthete by Cloth & Paper Candle in Basilica ($50 listed value) I own a LOT of candles and one thing I've noticed is that some of them use the same fragrance oils and while the outside label may differ, the scent can be similar to other candle brands. Heck, even the scent descriptions are sometimes identical and taken straight from scent makers' websites. This candle is different, and I've never encountered this scent before. The label says it has notes of vanilla, winter spices, and oak and that sounds about right. It smells like someone is baking, maybe they're making snickerdoodles, but there's a depth to this scent that means it doesn't smell like a generic vanilla cookie or snickerdoodle candle, it smells mature and sweet at the same time. Like maybe I left the door open to my country estate's library (I can dream) and there was a fire in the fireplace but also the cook (dream) was baking cookies. I don't know, but it's unique. Plus there's that wooden wick for that crackling fire effect.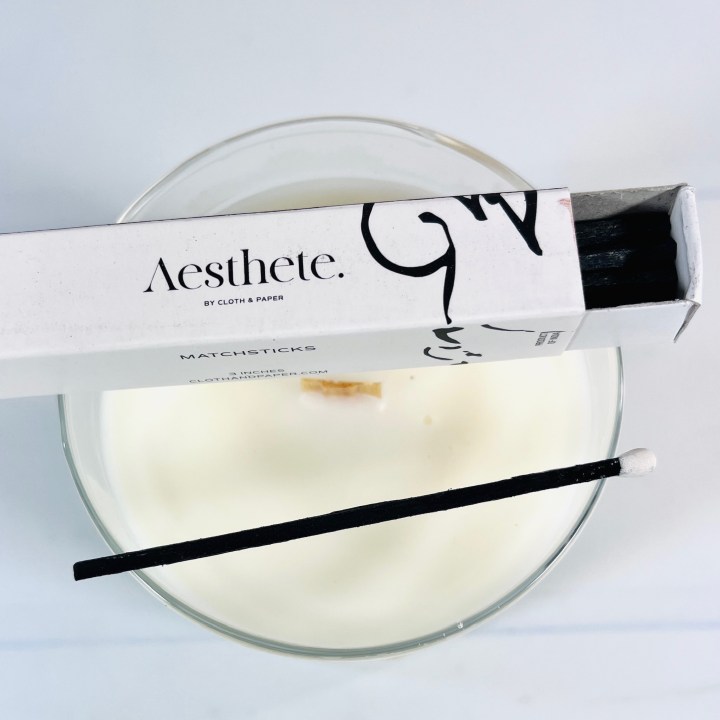 Aesthete Box Matchsticks are a bonus item and look, the matches are long enough that I don't have to worry about burning my fingers before the wick catches!
Ellis Brooklyn Marvelous CBD Extra Rich Body Cream ($125) Umm, that value isn't a misprint! Is this one of those "made for such and such box" products that's in a cheap plastic container? Nope, it's housed in glass. But Ellis Brooklyn makes perfume, is it highly fragranced? It says no added fragrance but is scented with essential oils (but after using it I have my doubts – keep reading). It has an herbal scent and is a luxuriously rich body cream but doesn't feel heavy or greasy. It has CBD which is supposed to soothe skin and may come with additional relaxing benefits. It also has shea butter, cocoa butter, and some moisturizing oils. I applied this strictly to my lower arms before bed. I woke up a couple times in the night and was surprised at how strongly this smelled, as natural oils tend to dissipate quickly. When I arose in the morning I discovered a red, bumpy, itchy rash in the same place where I had applied the lotion. I have had this reaction twice before – from lotion from The Body Shop and a lotion from Aveda. It's day three and the rash is still there but appears to be healing. I either developed an irritation to those essential oils that I've never had a problem with before, or there is an undisclosed ingredient such as parfum or a preservative to which I suspect I am allergic.
Margot Elena Library Of Flowers Bubble Bath ($44) This big jar of bubble bath was wrapped very well and arrived in perfect condition. It looks so pretty and I thought the cork stopper was an upscale touch. The scent notes list vanilla, bergamot, and amber and I am picking up a dark, warm vanilla with a hint of musk, plus it seems gender-neutral. I think this holds enough bubbles for a lot of baths!
Norman Love Confections Chocolate Bar Ok, I was totally expecting cookies and cream when I saw this chocolate bar's name but nope, it's actual cookies embedded in milk chocolate! One sure way to my heart is through good chocolate, and this one was super smooth and palatable. The cookies are small, think of Cookie Crisp cereal, they're about that size. They are more for decoration than anything else, and I give them extra points for originality. Came with a flyer about the company.
Tea Drops Tea Sampler ($16) I'm familiar with Tea Drops, and while it's not something I generally choose for myself, I'm happy to get it in a box! It was supposed to have 9 different packs of tea, although mine was missing one, Chai Spice. This is a way to try several of the flavors offered by Tea Drops, so you can order more of your faves if you want. The packs contain finely ground tea, sugar, and sometimes other ingredients (like ground rose petals in the Rose Earl Grey). Some of them, like Hibiscus Glow, may be unsweetened. You place one in a cup and top with 8-12 ounces of boiling water and stir. There will be debris in the cup, mainly ground up tea leaves, but Tea Drops says you can drink that too or you can strain it out before drinking or leave the dregs at the bottom of the cup.
Lekue Tea Cups ($22) Well, these aren't what I would call cute, but they do look minimalist and I especially like the silicon band around the middle. These are supposed to hold 250ml, which is equivalent to 8 ounces. I measured them and that takes it right up to the rim, so 6 ounces is probably a better fit for these cups (so they are not going to work with the Tea Drops, which call for 8-12 ounces of water). They are made of borosilicate glass, which is tempered to withstand boiling liquids. These would pair well with a tea pot or you could pour coffee or a hot toddy inside. Came with a discount code.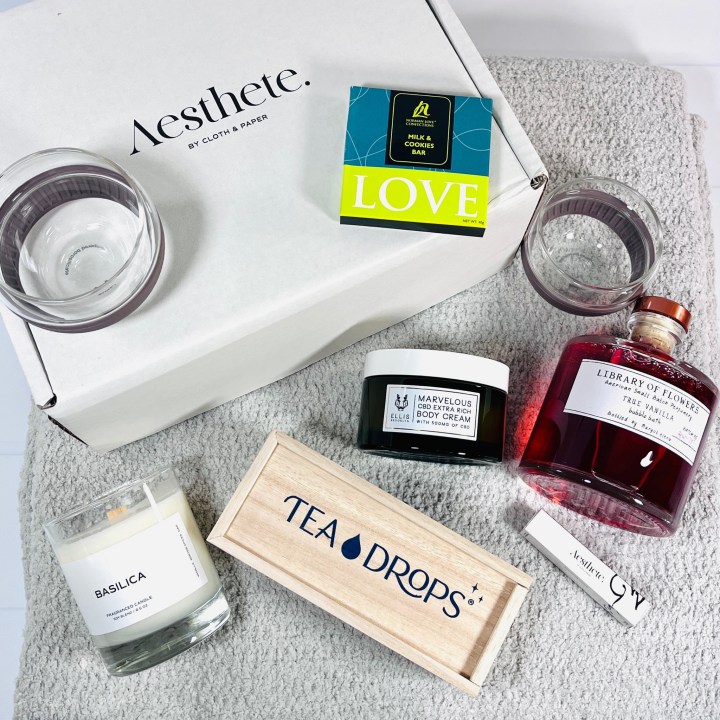 I was wonderfully surprised when this box showed up and I started figuring out what was inside: tea, tea cups, chocolate, a candle, a blanket. Those right there make up my ideal dream box, so you can imagine my reaction when I received them all in one box! The candle has such a unique smell and the wooden wick adds to the fall feeling and overall hygge vibes delivered in this quarter's box. The blanket is probably the best item I've ever received in any subscription box, and my daughter was home from college for approximately 30 minutes before she discovered it too so I'm happy that there was a coupon code so I can get another one. Milk chocolate is my favorite type of chocolate and this one had the added surprise of mini cookies embedded on top. The tea and cups were both excellent products for a fall box, and I would have loved that body lotion, but of course my allergic reaction was a bummer and I don't feel good about gifting it to anyone else (so please let me know if you've tried it and had a positive experience or we can commiserate together). A bubble bath is something I enjoy in cooler weather and this one should last forever but if you don't have a tub then I would suggest either placing it in a shower safe bottle for yourself, transferring it to a pump bottle for hand soap, or of course it would make a lovely gift. The value for this box was around $360.
Below you will find the product info card plus some more box opening pictures.
Aesthete Box by CLOTH & PAPER is a brand new deluxe quarterly lifestyle subscription from the same brand that offers a monthly pen and stationery box for those who prefer a minimalist style in subdued yet classic colors. The Aesthete Box will include a deluxe Cloth & Paper exclusive product plus 6 or more items from other brands that range from beauty to home goods. Each box will have a $300+ value and ship quarterly. Aesthete Box is $149.99 a shipment.
What do you think of the Aesthete Box? Are you subscribing?