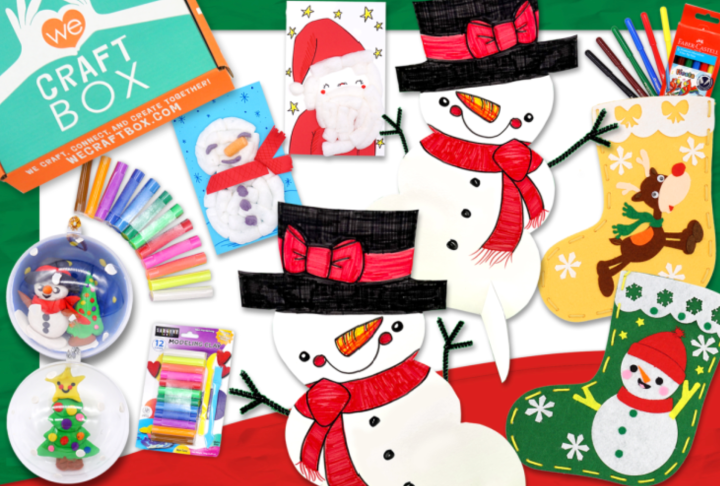 Kids are naturally imaginative and creative! While searching for a gift that'll inspire them to exercise their creative and problem-solving skills, you may have come across We Craft Box. This subscription sends kid-friendly, themed craft projects in every monthly box!
They cut the guesswork out of planning and finding the best activities for kids, so little crafters and their families can have fun bonding over each box! It comes with all the materials needed, which also saves you a lot of time and effort.
This monthly craft box makes way for magical, whimsical, and creative moments, making it an ideal gift for young girls and boys. It also allows families to craft, connect, and create together, no matter the occasion!
Unplug the screen and connect through creativity. We Craft Box delivers crafting adventures right to your giftee's door. The box contains 4-5 coordinated crafts that can be shared by 2-3 children. It's a chance for young crafters to be introduced to new materials and techniques they haven't come across before.
They'll provide all the quality materials kids need for the projects, except scissors. They even include video and photo instructions to guide kids in starting and finishing the crafts. This will make it easy for them to complete the art without missing a beat! The best thing about the box is that it revolves around a unique story and theme. It helps spark imagination and lets kids' creative ideas run wild, minus the screen time. Previous themes include Rumbling Rainforest, The Pumpkin Patch Cats, What A Wonderful Dream, and more! Check out all the crafts we've made in the past in our We Craft Box reviews!
To start gifting a crafty adventure, all you have to do is choose a gift term: month-to-month plan ($34.99), 3-month prepay ($99.99), 6-month prepay ($189.99), or 12-month prepay ($359.99). There's also a printable gift note that you need to fill up and send to the lucky gift recipient to let them know a gift is on the way!
It's definitely a crafting adventure in a box – an ideal gift to foster imagination and creativity with zero prep work!
Do you know someone who would love We Craft Box?
Looking for more subscription box gift ideas? See our full subscription box gift guide!