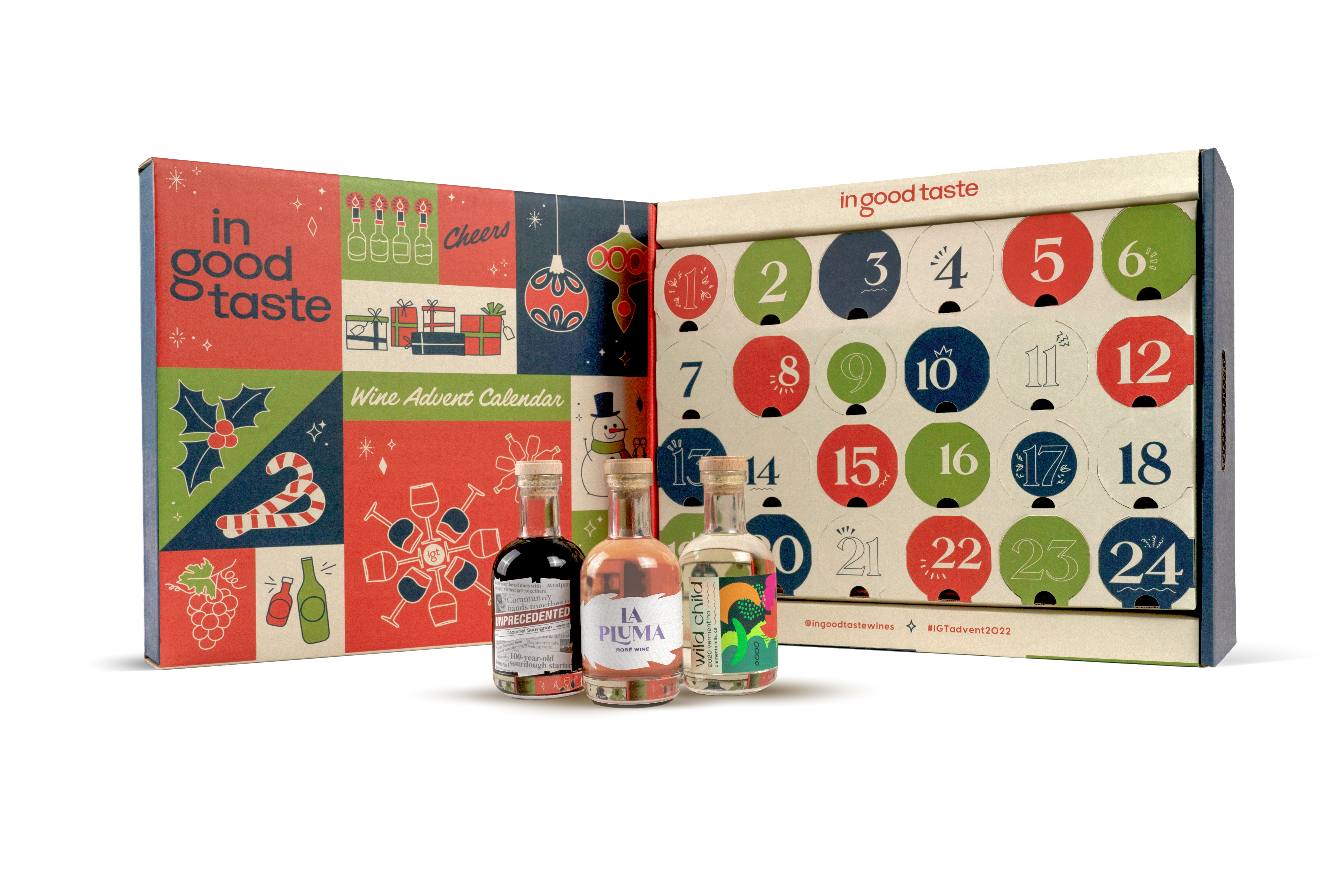 The 2022 In Good Taste Wine Advent Calendar is available now! This calendar is $149.99 $124.99, and includes 24 mini bottles of wine! Known for their single-serve wine bottles, In Good Taste is a must-have for all the holiday celebrations to come! This calendar is expected to sell out fast!
Our 2022 Wine Advent Calendar is the perfect gift to give or get this holiday season. 24 nights. 24 mini bottles. 24 opportunities to sip and explore your way through premium wines, sourced all the way from Spain, Sicily, California, and beyond! You'll uncover varietals such as a refreshing Sauvignon Blanc and a fruity Pinotage – plus everything in between – as you open a new window each day.

Enjoy the twinkling lights and cozy nights with 24 mini bottles of wine from our Wine Advent Calendar – the perfect 24-night experience to welcome the holiday season. Starting December 1st, we'll send you an email each day to guide you through the wine you'll be sipping. You'll learn which tasting notes to look for, suggested food and recipe pairings, and other fun surprises to add to the experience.
This calendar includes:
Zinfandel
Rose – French
Rhone Red
Cabernet Sauvignon
Languedoc Red
Pinot Blanc
Merlot
Chardonnay
Rose
Verdejo
Bourdeaux Blanc
Marsanne
Dolcetto
Syrah
Languedoc White
GSM
Red Wine
Touring Nacional
Pinotage
Moscato
Sauvignon Blanc
Malbec
Pinot Noir
Portugal White Wine
Looking for even more advent calendars? Check out all our posts on Advent Calendars or find more on Amazon, or see the list of Advent Calendars in the directory!