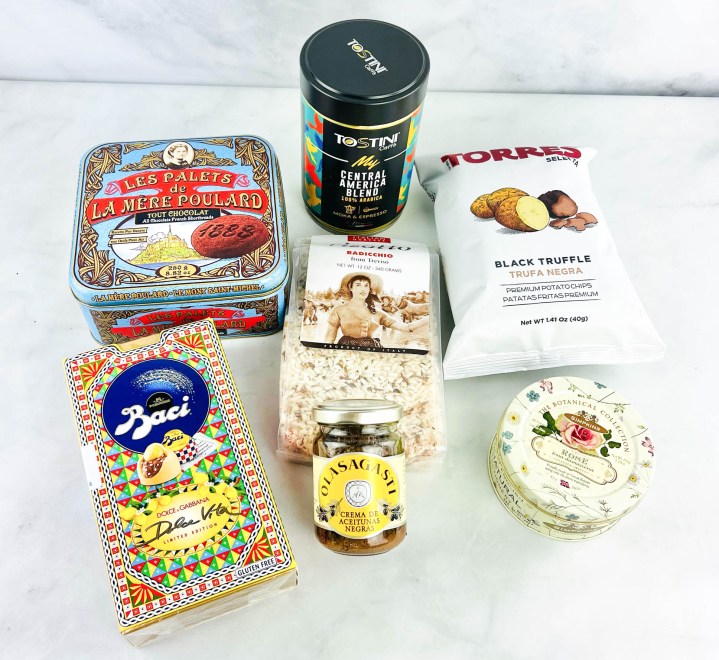 Yummy Bazaar delivers a delightful snacking experience every month, from all over the world to your doorstep! The October 2022 World Box includes seven tasty gourmet finds that'll shower the taste buds with exquisite flavors. There's a bag of chips, a box of chocolates, and more – scroll down to see what else is in the box.
Olasagasti Crema de Aceitunas Negras (about $44.47) is basically a black olive paste. I'm eager to try this one because I enjoy using olive oil as a salad dressing and olive slices as pizza toppings. Made with black olives and olive oil, then seasoned with sea salt, wine vinegar, and oregano, this gourmet gift is ideal as a spread on bread, biscuits, crackers, or sandwiches. You can also use it as a culinary ingredient and add it to pasta, salads, or rice bowls.
To wake up and energize your mornings, here's Tostini Caffe My Central America Blend (about $6.75). This can contains 250g of ground coffee, which is enough to last a month. This coffee blend consists of top-quality 5 single-origin varieties of Central American Arabica, then roasted and finely ground. Upon opening the can, a rich coffee aroma will welcome you. It has a sweet flavor profile with caramel and chocolate hints. It tastes a bit more delicate than my usual roast, but it's surprisingly up my alley too!
Les Palets de La Mere Poulard is a famous French biscuit from 1888 up until now. It came in a fancy square tin, which you can reuse or repurpose. There are four packs inside, each containing four all-chocolate French shortbreads. Every bite delivers a dark chocolate and chip flavor – so indulgent! Although crumbly, they taste great! The 1888 inscription detail on each one shows the history of this cookie, giving me a vintage vibe. To enjoy it fully, you can pair it with the coffee in the box or with milk or tea – whichever you prefer.
Packaged in an elegant-looking botanical-themed round tin container, The Botanical Collection Rose Drops (about $4.05) is about to give you some nostalgic bites. They look like classic candy, and even smell like a botanical garden because of their rose flavor! The hard candy slowly melts in the mouth and I like its floral and fruity taste. Another thing to love about them is that they're all-natural and gluten-free!
Risotto is a well-known Italian rice dish with a creamy consistency. To experience the authentic one without traveling far, the box included a pack of Italian Harvest Risotto Radicchio ($12.70). It contains premium Carnaroli rice from Lombardia, Raddichio from Treviso, potato flakes, and shallots. To cook, mix it to a boiling broth, add veggies and protein of your choice, stirring occasionally. Once done, top it off with freshly grated parmesan cheese for a genuine Italian experience at home! With all these ingredients, your palate will be showered with a rich, creamy taste.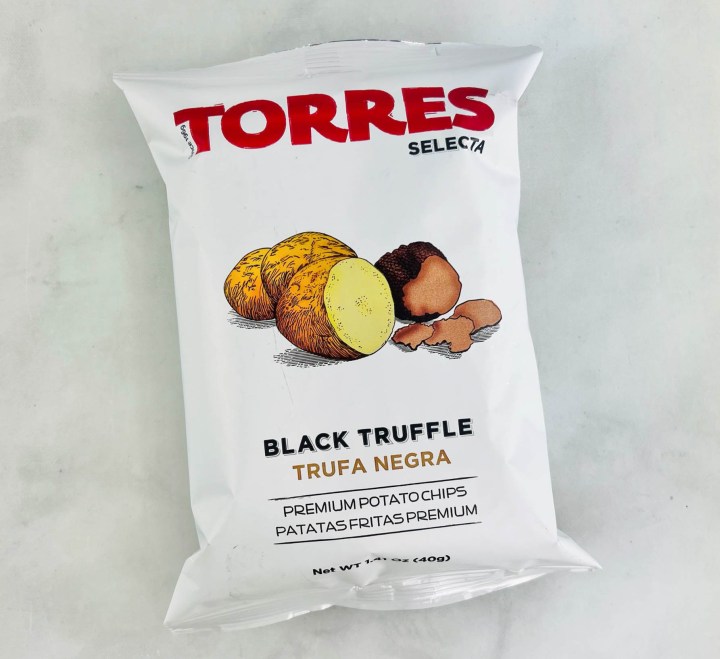 Potato chips are a fave, and I wouldn't pass up the chance to try Torres Selecta Black Truffle. This bag of chips feels extra premium as it is flavored with black truffles. You can smell the earthy flavor as you open the pack! Each piece gives that satisfying crunch and unbeatable flavor. The truffle flavor is present but not overly done, which I liked. I find myself digging through the pack until it's empty. It's so delicious, and I'm obsessed!
For the final snack, here's Perugina Dolce & Gabbana Baci White Chocolate Pralines which contains 12 individually wrapped chocolates in the box. Baci Perugina collaborated with Dolce & Gabbana in creating these indulgent treats! Inside the delicate white chocolate coating with hints of vanilla is a delicious filling made with fresh lemon-flavored grains and cocoa. Each piece is topped off with a whole hazelnut for that extra crunch and exquisite flavor.
Packed with seven products from different regions of the world, this subscription is full of unique flavors! It included new products I haven't tried before, making the whole tasting experience a fun and exciting gourmet journey. The curation is impressive as it comes with a mix of snacks and candies, plus kitchen staples! Some of the goodies that arrived in tin containers gave it a classic feel as well. Overall, I'm happy with what I received in the box!
Yummy Bazaar is a monthly destination food subscription that delivers gourmet products, sourced from afar, to your doorstep every month. With the Full Experience, you receive 6-8 full-sized gourmet items from a single global destination for $35.95. There is also a Sampler subscription that sends 6-8 sample sizes from various countries for $9.95. Explore gourmet flavors with carefully curated boxes of goods from France, Italy, Germany, or even the entire world! Simply select your preferred box, and enjoy handpicked yummy delights each month!
Are you getting this month's Yummy Bazaar box? Let me know what your favorite item is in the comments!