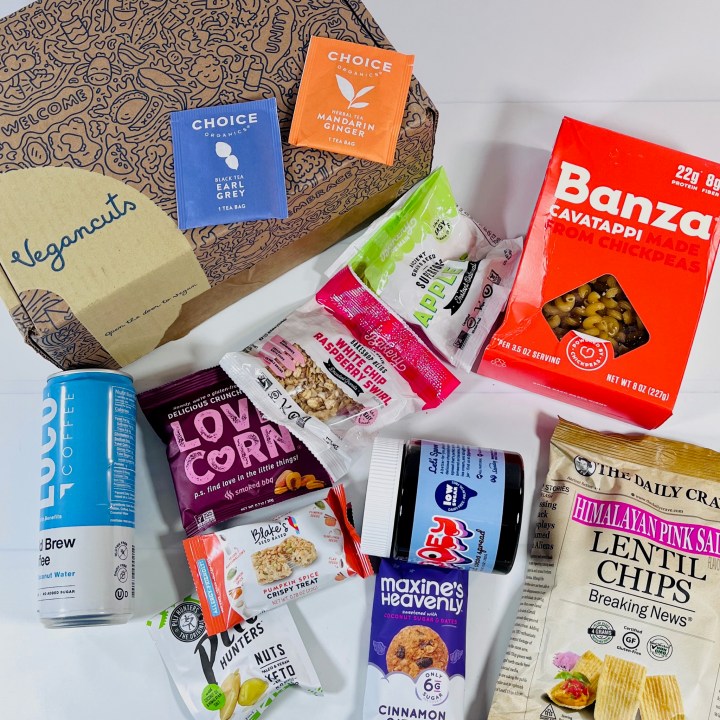 The September 2022 Vegancuts Snack Box theme was Fall Flavors and there were a couple that reminded me of apples or spice but for the most part these were interesting snacks that work for any time of year. Read on to see what I received!
DEAL: Use the coupon code hellosub to get $5 off your first box on any Vegancuts subscription! It can only be used once per customer, but it can be used on multiple subscriptions at once so long as they are in the same transaction.
The card lists the snacks in the box. Proceeds go to a charity that helps animals, like Sale Ranch Animal Sanctuary.
Banza Cavatappi ($4.17) I haven't tried this pasta yet, but it looks like a good choice for those wanting something other than white flour pasta. It's made with chickpea flour and has more protein and fiber than white pasta too. This was my bonus item, so keep in mind that your bonus item might be different.
Gooey Hazelnut Cocoa Spread ($9.99) I know it's a good idea to have a vegan version of chocolate hazelnut spread but this one claims it's actually good for you, although the nutrition facts doesn't really show much nutritional advantages over the classic spread. Sure, it's lower in sugar, but that's because they added allulose, which can cause stomach upset in some people (like me). It doesn't smell or taste like the other brand either, and in fact reminds me of a super soft Tootsie Roll, no nut flavor to be found.
Loco Coffee Cold Brew Coffee ($3.33) We didn't receive any drinks last month but this month we received this plus some tea bags. I don't drink coffee so I'm just going to pass this along but it is cold brew coffee in a can along with coconut water. It has 180mg of caffeine (like two cups of coffee) plus electrolytes from the coconut water, which may add some sweetness too.
The Daily Crave Lentil Chips The info card said I would receive veggie chips by this brand but instead I received lentil chips, and that is fine with me. I'm not going to pretend this is a health food and compared to Lay's potato chips, they actually have a very similar nutrition facts label. Potato starch is one of the ingredients, along with lentil, corn, and rice flours plus salt, sugar, and oil. In fact, when it comes to taste and texture these chips remind me of ridged potato chips, just something salty and crispy to serve alongside a sandwich.
Love, Corn Smoked BBQ ($2) Good ol' corn nuts, a snack from my childhood. I tend to skip it nowadays due to my dental work but these have a great smoky/salty BBQ flavor and if I wait a few minutes before actually chewing them then I don't have to worry about breaking a tooth.
Bakery On Main Apple Pie Instant Oatmeal I stopped buying instant oatmeal because the one I liked was too sweet, and although this one has added sugar, it wasn't as sweet as my usual brand. The serving size was pretty generous too, although I added walnuts to give it a boost of protein. Pictured above.
Bakery On Main White Chip Raspberry Swirl I don't think this little bag makes much a breakfast, although it would probably make a nice snack. I always layer it with yogurt and berries for a breakfast parfait.
Pili Hunters Nuts ($1.72) I had never heard of pili nuts before but I am so glad Vegancuts sent them in this box because they are delicious! These are sprouted and then roasted in coconut oil and sprinkled with Himalayan salt. They have a super buttery texture and remind me of macadamias in both taste and mouth feel. I compared their nutrition to that other nut and discovered that they have about the same amount of fat, although these are way higher in saturated fat. They are not something I would eat every day due to the fat content but they are a worthy splurge. One of my all-time favorite snacks from any box!
Maxine's Heavenly Cinnamon Oatmeal Raisin Cookies ($1.87) I feel like I had a different flavor of this cookie recently and liked it, but the oatmeal version was just ok (turns out I had their Almond Chocolate Chunk last month). They start with a gluten-free oat base and have white rice flour, raisins, dates, flaxseed, and more. They are soft-baked and crumble easily. They thing I didn't care for was the almost gritty texture (maybe the rice flour?). The cinnamon flavor was very strong and it was ok, but not something I'd reach for again (in this flavor anyways).
Blake's Pumpkin Spice Crispy Treat This was a super sweet treat but it didn't really taste like pumpkin spice, more like cinnamon applesauce or cinnamon toast, or maybe a snickerdoodle. It has crispy rice, flax and pumpkin seeds, and spices and was gone in a flash.
Choice Organics Earl Grey Tea and Choice Organics Mandarin Ginger Tea I drink all kinds of tea and especially like black tea so I was happy to sip this Earl Grey (I haven't tried the herbal Mandarin Ginger yet). I thought the flavor and quality was comparable to most other Earl Greys, which are simply black tea with a hint of bergamot essence for flavor.
Vegancuts did a good job of sending interesting snacks this month, some of which were different takes on classics (like crispy rice treats). They sent a coffee, which I don't drink, but they also sent two teas, which I appreciate. They sent a whole box of pasta (which was a bonus item for my box), and a whole jar of chocolate stuff. I especially enjoyed the pili nuts and the pumpkin spice treat was perfect for the season!
Vegancuts Snack Box is a monthly vegan food subscription that delivers 10 or more organic and vegan treats each month. Snacks can include a pantry item or drink and most snacks are gluten-free. Each subscription box costs $24.95 monthly, or save a bit with a longer pre-paid term.
Have you tried Vegancuts Snack Box? Let me know what you thought of the box!