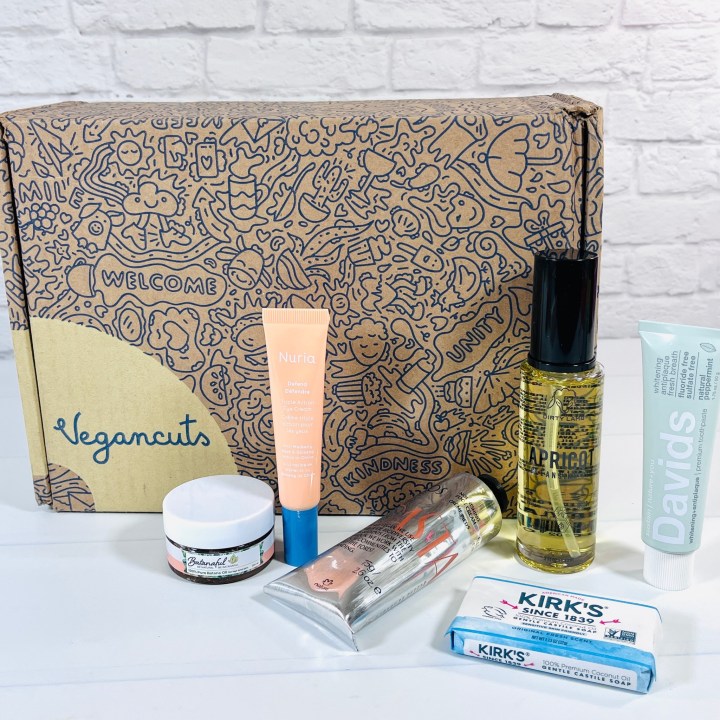 The September Vegancuts Beauty Box theme was Fresh & Fab Fall Favorites. I received a toothpaste that left a fresh feeling behind, a cleansing oil to soothe my skin, and an under eye cream to brighten up that area, plus a few more items. Vegancuts sends vegan and cruelty-free products and they offer a snack box too! See what I received in this month's box below!
DEAL: Use the coupon code hellosub to get $5 off your first box on any Vegancuts subscription! It can only be used once per customer, but it can be used on multiple subscriptions at once so long as they are in the same transaction.
My beauty items shipped in the same box as my snack items. The beauty items were placed in this bag and it looks like the batana oil must have melted and a little bit snuck out of the container but otherwise everything was good (well, except for some crushed boxes but those get recycled anyways).
Nuria Defend Triple Action Eye Cream ($30) According to the manufacturer, this product is supposed to brighten dark circles, fight fine lines and wrinkles, and de-puff the area under the eyes. It has ingredients such as safflower seed oil, glycerin, mulberry extract, and sodium hyaluronate. I am confused by the wording that says mulberry root is sourced from the leaves, as those tend to be very different areas of a tree, and that it helps when consumed, yet here it's being used topically. Whatever. It isn't greasy but I was disappointed to see that it has fragrance added, which smells like a combo of herbs and flowers.
Dirty Lamb Apricot Cleansing Oil ($42) is a lavender-scented cleansing oil that helps break down makeup and oils so you can wash it off without drying skin. I have been using a similar product from Earth Harbor as my first cleanser and there is a difference between the two. For one thing, this oil doesn't turn milky when you add water, so it's a little harder to rinse off. It also leaves behind a moisturizing film, which may be a benefit to some people but I prefer to let my moisturizer take care of those duties. Make sure to use a warm washcloth to try and get all of the residue removed.
Davids Whitening Antiplaque Fresh Breath ($3.32) I saw my dentist recently and I must say no dentist has ever suggested that I should use a fluoride-free formula and would actively disapprove, and I personally have no intention of switching. For those who for whatever reason prefer that type of product, then here is a brand to try to see if it's for you. It has limestone for abrasiveness, glycerin, baking soda, silica, and some essential oils along with a few other ingredients. I tried it and liked the minty flavor. It's not as foamy as traditional toothpaste.
Kirk's Gentle Castile Soap ($2.19) My goodness, I'm not sure why a product for sensitive skin would have fragrance added, as fragrance is a known irritant. I use a non-fragranced bar soap and have no intention of switching, but as my hands are less sensitive than other parts, this bar will go next to the sink.
Batanaful Pure Batana Oil ($8.50 value) I had never heard of batana before but it comes from the fruit of a palm tree grown in Honduras. This is a solid oil that melts on contact and it smells like burnt coffee. It can be used on hair or skin and is supposed to treat damaged hair (or make it miraculously full and healthy, which seems like a reach). I was having a hard time combing my wet hair so I took the smallest amount and rubbed it between my hands before touching my head and my hair was easy to comb out after that. I used a blow dryer and was worried it would burn my hair (as some natural oil products have before) but I didn't smell anything weird, and my hair looked and felt silky smooth afterwards.
Natura Ekos Castanha Nourishing Foot Cream ($18) This product wasn't listed on the card, but it was included in my beauty bag, so I think it's a bonus item and therefore may vary. This foot cream is made with castanha, which is another name for Brazil nuts (one of my very favorite nuts for snacking!). It also has cupuaçu butter and glycerin and gets its scent from added fragrance. It's a very soothing treatment to use just before bed and it left my feet soft yet not greasy. The scent reminds me of a spa line I've tried before and is gender-neutral. I often neglect my feet so I'm going to make an effort to use this up within the next month or so.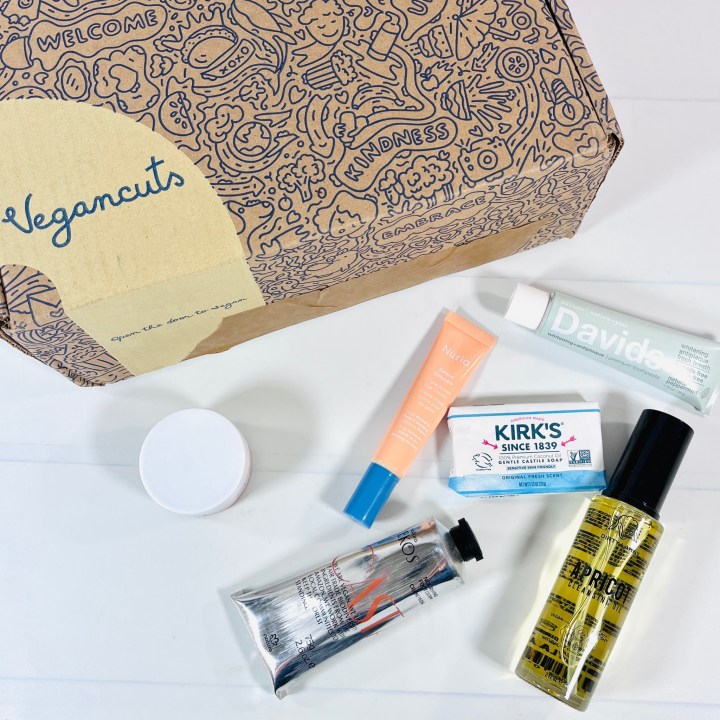 Overall I was very happy with my latest Vegancuts Beauty Box! The toothpaste was very fresh tasting, I adore anything flavored with mint, although I wouldn't repurchase simply because I prefer fluoride. The cleansing oil smelled wonderful and did a good job of taking off my face makeup, and the batana oil helped the tangles slide out easily after washing my hair. The eye cream was decent and although I prefer a fragrance-free bar soap for my body, this one will get used as hand soap. The bonus item felt luxurious and is a great way to pamper myself before bed. The value for this box (not including the bonus item) was around $86!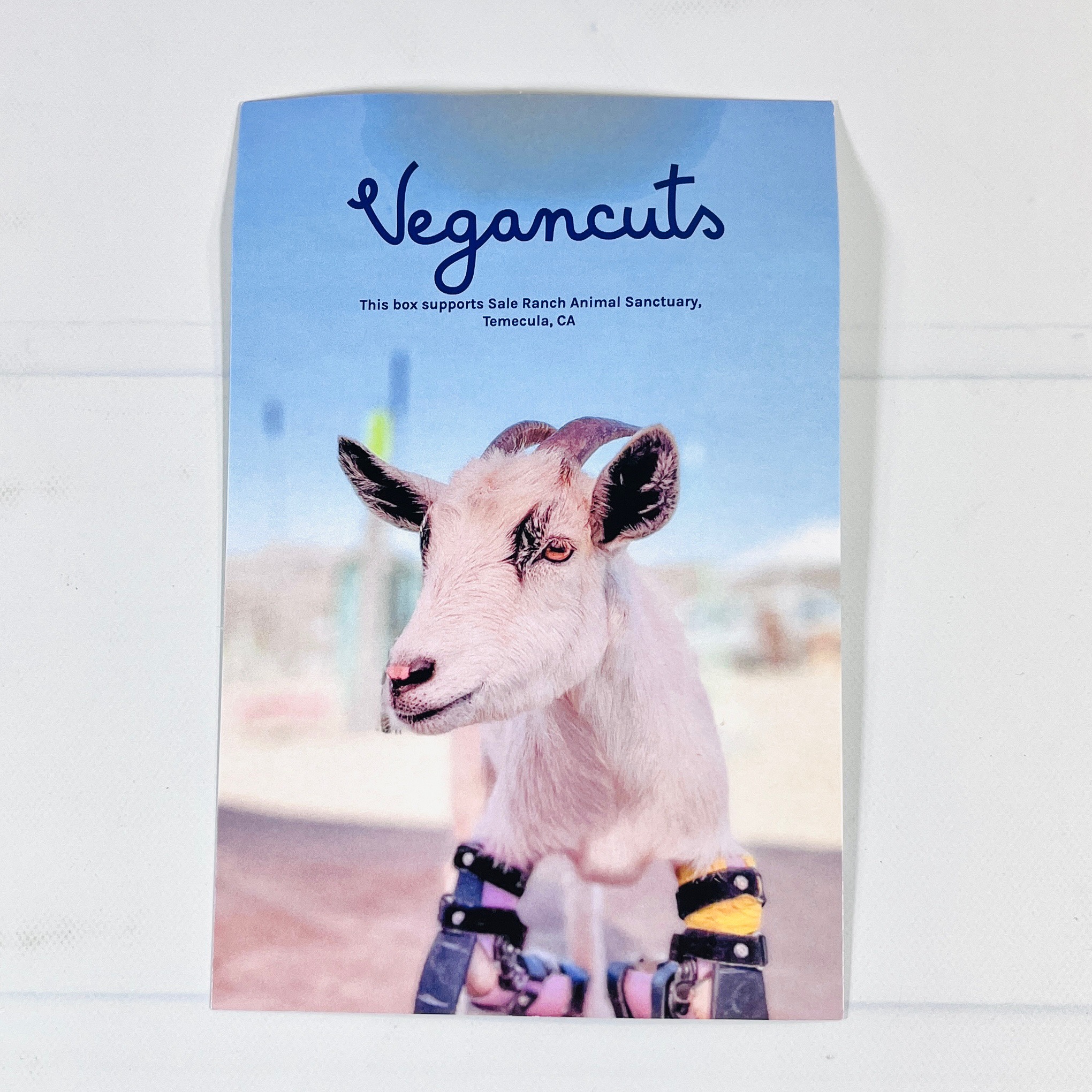 Here's the product info card!
Vegancuts Beauty Box is a monthly beauty subscription service that sends 4 or more items ranging from unique cosmetics to luxurious skincare. Best of all, they are 100% cruelty-free and vegan, plus most items are natural and non-toxic! Monthly recurring shipments are $24.95 with free shipping in the USA (there is an additional charge for other countries). This sub is also available in 6 or 12-month terms that do not renew but that do earn you a discount.
What do you think of this month's Vegancuts Beauty Box? Let me know which product you're loving in the comments!