Here's everything you need to know about this snack subscription
Universal Yums Review
Everyone loves a good snack! For some, it's a simple pleasure in life, and for others, it's an adventure for the tastebuds. Regardless of which one is true for you, Universal Yums is your gateway to discovering the best international snacks – especially those that capture the unique flavors and the rich culture of the country they are from.
This subscription sends a new snack box monthly, which is filled with a range of delectable treats, including both traditional snacks and unique ones. We've been subscribers of Universal Yums for years now and with this subscription box, we've tried many snacks that aren't readily available where we live. Here's our full review of the subscription, and we'll tackle everything you need to know about Universal Yums.
Universal Yums Benefits & Drawbacks
First, let's see the advantages and disadvantages of Universal Yums:
Universal Yums Benefits
New snacking experience every month
Wide variety of snack types
There's an interactive guide with activities and lots of cultural information
Three box sizes available
Ships internationally
Free shipping in the US
Flexible – pause, skip, or cancel
Universal Yums Drawbacks
Doesn't cater to specific dietary preferences
No option to order previous boxes
Universal Yums Review
Summary
Universal Yums is a snack subscription that takes you around the globe. Each box is jam-packed with different snacks and candies from the featured country. It's a fun box that combines the pleasure of tasting snacks, the joy of traveling, and the satisfaction of learning new cultures and traditions. You can easily pause, skip a month, or cancel the subscription – no strings attached.

All About Universal Yums
Discovering new treats to love is convenient with Universal Yums. They'll send a Yum box every month, filled with a wide array of snacks from a different country. It's not just a fun taste experiment but an exciting journey to different parts of the world as well!
How does Universal Yums work?
The spirit of exploration is in every box of Universal Yums. The first step to getting international snacks shipped to your door is to decide which box size you need. There's the Yum Box (5-7 snacks), the Yum Yum Box (10-12 snacks), and the Super Yum Box (18-20 snacks). Afterward, you need to select the length of your subscription. You can either prepay for a year or pay month to month.
New subscribers also have the chance to choose which country to explore first, and for the recurring boxes, you'll get surprised month after month with snacks from a different country. Aside from the local snacks, they will also send an interactive adventure guide with extra information about the featured country – culture, traditions, recipes, and more. Most of the snacks in the box are unique and extremely difficult (sometimes impossible) to find in the US. If you want to purchase individual snacks, you can go directly to the Yum Shop, select the quantity, and add it to your cart. You can also easily skip a month, pause or cancel the subscription.
How much does Universal Yums cost?
There are three different box sizes available, and the cost varies based on which one you choose.
The Yum Box, which comes with 5-7 snacks and a 12-page booklet with trivia and games, costs $17 per box for a month-to-month plan and $15 per box ($180 total) when paid upfront for an annual subscription. The Yum Yum Box, which includes 10-12 snacks and a 16-page booklet with trivia and games, is priced at $29 per box for a monthly plan and $26 per box ($312 total) when prepaid for a year. The Super Yum Box, which delivers 18-20 snacks and a 16-page booklet with trivia and games, costs $45 per box for a month-to-month plan and $41 per box ($492 total) when paid upfront for a year.
Shipping is free for orders within the contiguous United States and military addresses. Shipping to other countries varies depending on the location and box size. They have a detailed table for shipping charges available on their website. For example: if you live in Canada, the shipping fee would be $4 for Yum Box, $6 for Yum Yum Box, and $13 for Super Yum Box.
Where can I buy Universal Yums?
You can purchase a Universal Yums subscription box directly from their official website. The process of subscribing is quick and easy! The website is clear and straightforward, and there are no confusing buttons to click. Simply click the "Get Started" button to purchase a subscription, select the box size, decide on the subscription length, enter your email and password, and pay for your subscription. That's it!
Where and how does Universal Yums ship?
Universal Yums is available in the United States, including military addresses (FPO/APO) and territories (Hawaii, Alaska, Puerto Rico, Guam, Virgin Islands). They also ship to Canada, Australia, the UK, and Israel. They're also continuously working on making the subscription available in more countries.
For orders made within the United States, you can expect your box to be delivered by the US Postal Service or UPS. For orders outside the US, the box is shipped through your government's postal delivery service. Once you've placed an order, you'll receive an order confirmation email with tracking information to see the status of your box. You can also track your package on your Universal Yums' My Account portal.
How is Universal Yums packaged?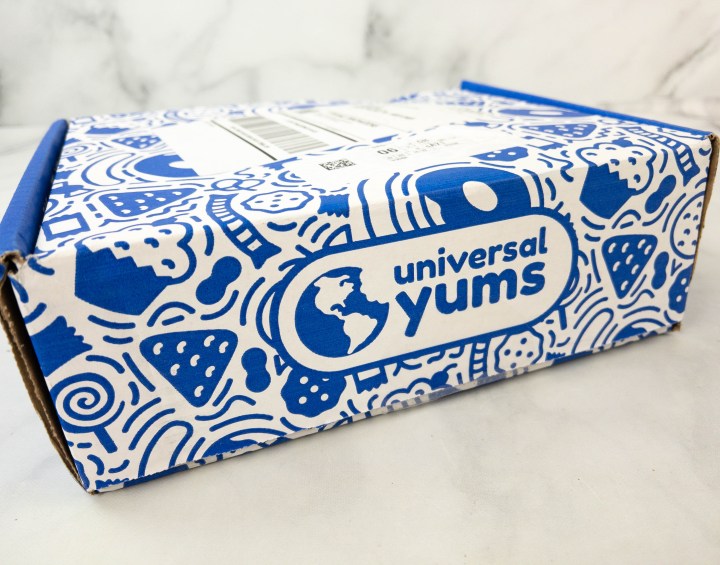 All your snack items come neatly packaged in a Universal Yums blue signature box, printed with food doodles. Each box also comes with a Yum bag, where candies from the featured country are packed. The tasty treats come in their original packaging, and you'll always find a variety of sweet and savory snacks with flavors and spices unique to the featured country. Monthly packages also include an interactive booklet with brief descriptions of your snacks, additional cultural information, fun trivia, bonus recipe, activities, and more!
What products does Universal Yums sell?
Universal Yums is a subscription box for tasty treats and snacks from different countries. Therefore, they only sell subscription boxes brimming with unique snacks from the featured country every month. Each box includes a wide range of snacks, from candies and chips to cookies and biscuits to chocolates and beverages – there's so much more to try and love! Past boxes featured Israel's Falafel Sticks, UK's Lamb and Rosemary Crisps, France's Apricot and Vanilla Macaron Cookies, Indonesia's Red Chili Cassava Snack, and more! Individual products are also available on the Yum Shop, where you can shop for the best treats from around the world separately.
Can I gift Universal Yums?
If you want to purchase Universal Yums as a gift, you only need to choose the box size and the length of the gift subscription – 1 month, 3 months, 6 months, or 12 months. A gift subscription comes with a gift note on the first box. Because gift subscriptions are prepaid, canceling is not an option. The price starts at $19 per box for the Yum Box, $33 per box for the Yum Yum Box, and $51 per box for the Super Yum Box.
My Universal Yums Review
Universal Yums is a fun surprise for adventurous snackers! Depending on how big of a snacker you are, you can get a Yum Box with 5-7 snacks, Yum Yum Box with 10-12 snacks, or Super Yum Box with 18-20 snacks. The boxes you'll see below are Yum Yum Boxes!
Now, let's take a look at some of the previous boxes we've received! Every month, the box is always filled with snacks and candies from different countries of the world. Past featured countries include South Korea, Israel, France, Scandinavia, the Czech Republic, Taiwan, and Greece. It's an adventure in a box that'll help broaden your knowledge of international snacks and snacking culture, all while you're in the convenience of your own home!
There's no shortage of flavors in monthly boxes from Universal Yums! From sweet to sour, salty to savory, and spicy, they make sure you get to taste a little bit of everything from the current highlighted country. Boxes may also include chips, biscuits, cookies, crackers, and chocolates, which are often popular with the locals or have an interesting history or background. Of course, you can also look forward to traditional snacks that are unique to the country.
Speaking of flavors, some snacks from Universal Yums take inspiration from popular street foods. Some great examples include Falafel sticks from Israel, Chicken Larb flavored seaweed chips from Thailand, Lentil Samosas from India, Date-filled cookies from Turkey, Custard Cream Cortadillo from Spain, and more!
Another special feature of Universal Yums is the Yum Bag! These are tasty and unique local candies usually packed in a cute and colorful pouch. Opening them gives us the same kind of excitement we get from blind bags! The types of candies they send also vary depending on which country is featured. Sometimes there are hard candies, chewy candies, fruit flavored candies, and even toffees and caramels!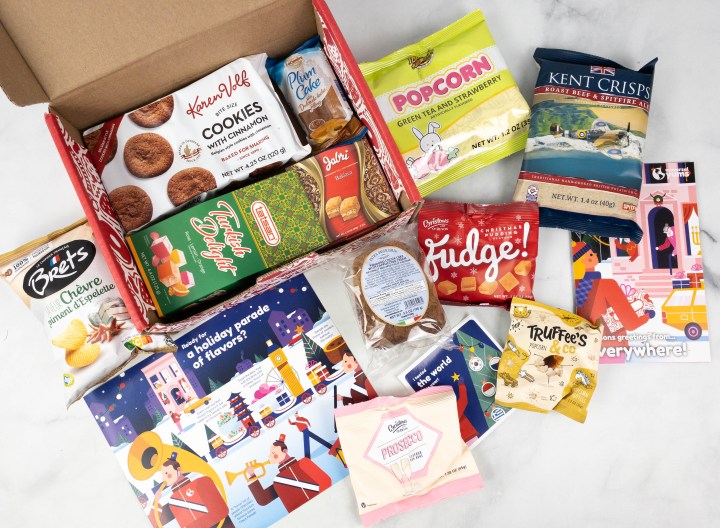 Universal Yums also releases a holiday box once a year. It's like the regular monthly boxes, but it includes a tasty mix of treats from everywhere in the world! They've put together all the best holiday classics to gift adventurous snackers something to calm their itch for traveling and learning about worldly cultures. It's a chance to explore and celebrate the holidays through yummy snacks!
Is Universal Yums Worth It?
Universal Yums is worthy of a try for anyone who wants to discover new snacks from a different country each month and at reasonable prices too! Although there may be snacks that you'll find weird and unusual, it's all a part of the experience. Adventurous snackers will find delight in it because there's a wide range of tasty and unique treats in the box!
There's even an interactive booklet with trivia, a recipe, and more fun content, including activities and games. You can even pick the box size that suits your snacking style. It's really an adventure in a box, delivering the best treats from the featured country straight to your door. If you're a fan of geography, cultures, and traditions of the world mixed with a new tasty experience, you'll love this subscription!
Which country's snacks from Universal Yums were your favorite?