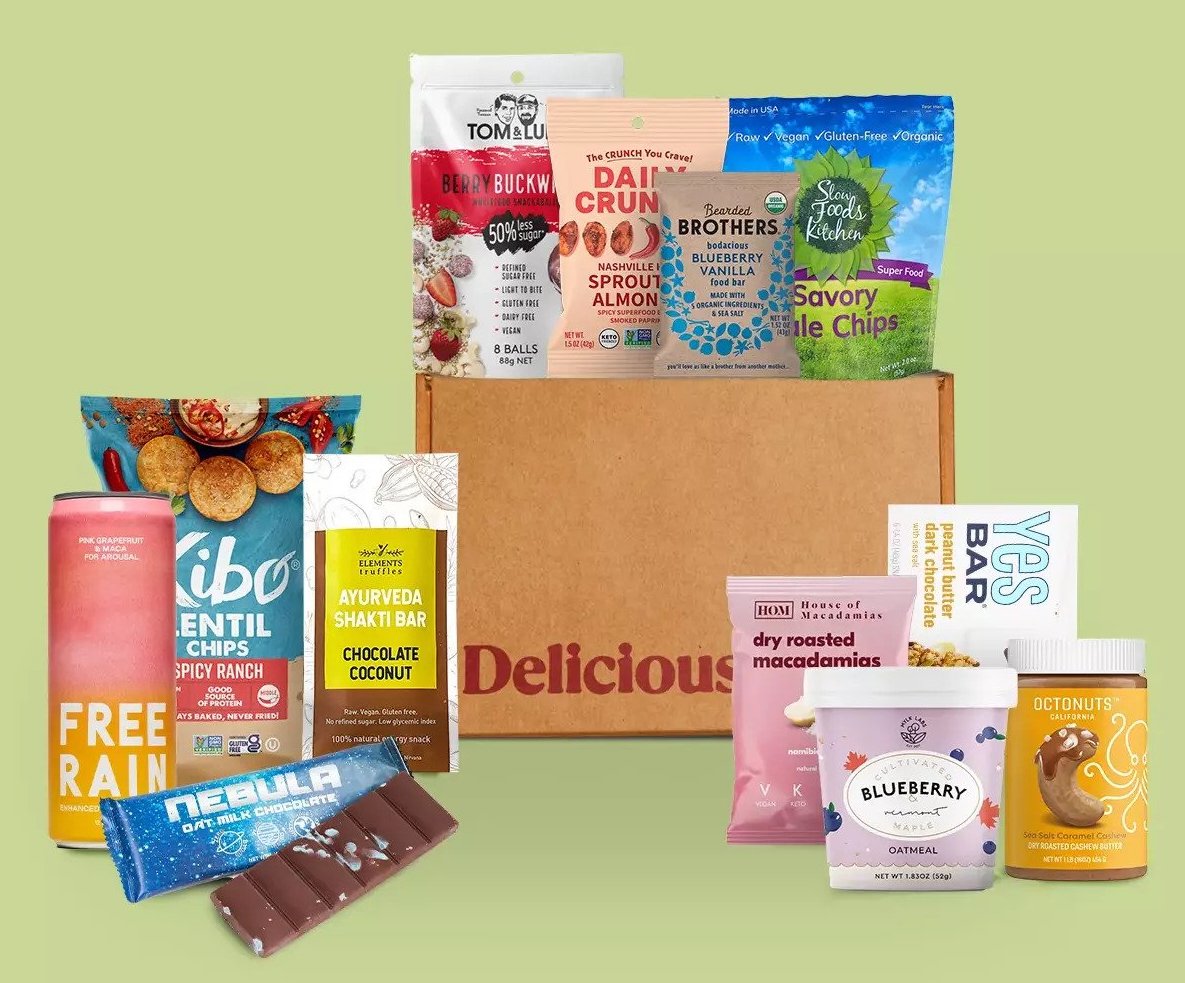 Snacking doesn't always mean being unhealthy! That's what DeliciousDoor proves with its monthly Snack Box filled with premium, plant-based snacks that actually taste good. You no longer have to feel guilty about snacking because you can have a supply of healthy snacks that you can enjoy wherever you are – from salty snacks to sweet treats, fruit & nut nibbles, pantry staples & beverages, and on-the-go bites!
All of the snacks you will find in your DeliciousDoor box are plant-based, low sugar, non-GMO, high in fiber and protein, and gluten-free. No artificial sweeteners, no dyes, and no maltodextrin either! Plant-based snack boxes start at $36 per month.
DEAL: Get your first box FREE when you sign up for a subscription! Use the coupon code HELLO. Ends 10/31.
Want to know what to expect from your monthly vegan snack box? Every month, you will receive 12 full-sized snacks (yup, no sample sizes!), composed of 6 new "Discovery" items and 6 trusted "Fan Favorites". Of course, you can also look forward to a clean snacking experience. Plant-based ingredients plus expert snack curation equals to a satisfying and guilt-free snack time!
DeliciousDoor ensures the quality of the snacks in your box by having a strict vetting process conducted by DeliciousDoor's curation team. The only snacks that pass their criteria are those that are 100% plant-based, gluten-free, and non-GMO, with less than 5 grams of added sugars. Whether you're a vegan, you have dietary restrictions, or you simply want to get snacks that you can feel good about, DeliciousDoor is a healthy snack subscription you are sure to love!
Will you be trying DeliciousDoor for healthy snacks?
We at Hello Subscription love to discover the most fun and unique subscription boxes and share them with our readers. Say Hello is a series of articles featuring up and coming subscriptions, as well as other interesting subscriptions that our readers might love!