Meatworks Subscription Box Review
Meatworks gives meat lovers easy access to expertly butchered, premium-quality meat – perfect if you love cooking at home or you simply want a regular supply of proteins! Offering beef, chicken, and pork cuts, you can skip the trip to the butcher shop and enjoy the convenience of having the meat products delivered to you.
While meat can be easily purchased in stores, not all of them are humanely raised and come from local, American farms like what Meatworks offers. Some of the most popular meat cuts in their menu are delmonico steaks, ribeyes, NY strips, and chuck roast. Boxes generally range anywhere from 8-10 lbs. of meat, depending on the cuts selected.
Meatworks was created by meat lovers themselves, so you're assured that they understand what you want in your choice of proteins. To uphold such high standards, they have in-house butchers that skillfully trim each steak to perfection before shipping. No more sub-par or fatty cuts, just steakhouse-quality meat you will love!
Meatworks Pros & Cons
Meatworks Benefits
Premium meat sourced from USA farms
Meats are cut to order and flash frozen
They have in-house expert butchers who hand-cut the meat
Curated boxes and build-your-own box are available
Flexiblity – change box, pause, or cancel any time
Meatworks Drawbacks
Doesn't ship to all states
All About Meatworks
Meatworks is for meat lovers who want to get high-quality meat cuts without having to visit a local butcher or grocery store. With a monthly delivery of US-sourced meats, you can easily whip up delicious meat dishes at home or enjoy a barbecue with family and friends!
How does Meatworks work?
Having your favorite meat cuts delivered to your doorstep is easy with Meatworks! First, build a box of your favorite USDA Prime beef, chicken, and pork in their custom box builder, or save time with a curated box. After you place your order, they'll prepare your box – the meats are cut to order and flash-frozen before shipping, which keeps them fresh and high-quality!
When your box arrives at your door, all you have to do is to put the meat packs in the freezer and take them out as needed. Subscribers also have the option to change the box and how often it ships. Plus skip a month or cancel any time.
Meatworks also gives back. For every 1 lb. of meat purchased, they donate a meal to local families in need through The Salvation Army and No Kid Hungry.
How much does Meatworks cost?
Prices depend on the kind of box you choose! Build Your Own Box starts at $139 for a subscription and $159 for a one-time purchase, while a Build Your Own Box – No Steaks starts at $99 for a subscription and $119 for a one-time purchase. Curated boxes include: Grill Master, $129 for a subscription or $149 for a one-time purchase; Butcher's Choice, $129 for a subscription or $149 for a one-time purchase; Steak Lovers, $159 for a subscription or $179 for a one-time purchase; Ultimate Prime Box, $219 for a subscription or $249 for a one-time purchase; and Burger Lovers, $99 for a subscription or $119 for a one-time purchase.
Where can I buy Meatworks?
Purchase premium meat cuts directly from Meatworks website! Click the "Choose Your Box" button and the list of box choices will be revealed, including Build Your Own Box and the curated boxes. You can purchase either a one-time box or a subscription – either way, you will receive only fresh and high-quality meat in your box!
Where and how does Meatworks ship?
Meatworks boxes always ship free. They use overnight shipping, and you can expect the box to show up at your door within a day or two – still completely frozen! Shipping is available in more than 30 states, focusing on the Midwest and East Coast. To know if Meatworks ship to you, simply enter your zip code after selecting a box. As soon as they ship your box, you will receive a FedEx tracking number via email.
How is Meatworks packaged?
Meatworks use recycled jean material for insulation along the box walls and they fill it with dry ice to keep the meat frozen. Each item is vacuum-packed individually, which is quite convenient because you can easily take a pre-portioned pack out when you need it. Except for the meat vacuum pack, the packaging materials they use are recyclable!
What products does Meatworks sell?
Meatworks offers USDA Prime Grade Beef, Humanely Raised Chicken, and Heritage Bred Pork. All of them are produced in American farms!
USDA Prime Grade Beef is the most tender of cuts available, featuring great marbling and a buttery flavor. According to Meatworks, only the top 3% of beef produced in the US receives the designation of USDA Prime! Some of the USDA Prime Beef products available are Beef Stew, Fajita Steak Strips, Sirloin Steak Tips, Ground Beef, and Ground Beef Patties. There are also Premium options like Filet Mignon Steak, Top Sirloin Steak, T-bone Steak, Chuck Roast, Ribeye Steak, NY Strip Steak, and Delmonico Steak.
Meanwhile, Meatworks' Humanely Raised Chicken are air-chilled cut of poultry, sourced from farmers who care about humane practices. There's also the Heritage Bred Pork, which are more flavorful and tender compared to regular pork products.
My Meatworks Review
Meatworks sends USDA Prime Cuts of meat straight to your door! You can choose from several available packages or customize the way you like, and they have a couple of options that include chicken and bacon. I believe the box as shown in this review is a customized box as I didn't see any box combo quite like mine.
What is USDA Prime Beef?
The most coveted grade of USDA Prime is reserved for the very best beef – only the top 3% of U.S. beef qualifies. Our in-house butchers trim every cut to perfection. You can expect tender, top-quality beef at a price lower than your local butcher, grocery store or favorite steakhouse.
My box came with eight, 8 ounce individual Top Sirloin steaks and four, 8 ounce Filet Mignon steaks, 12 steaks total.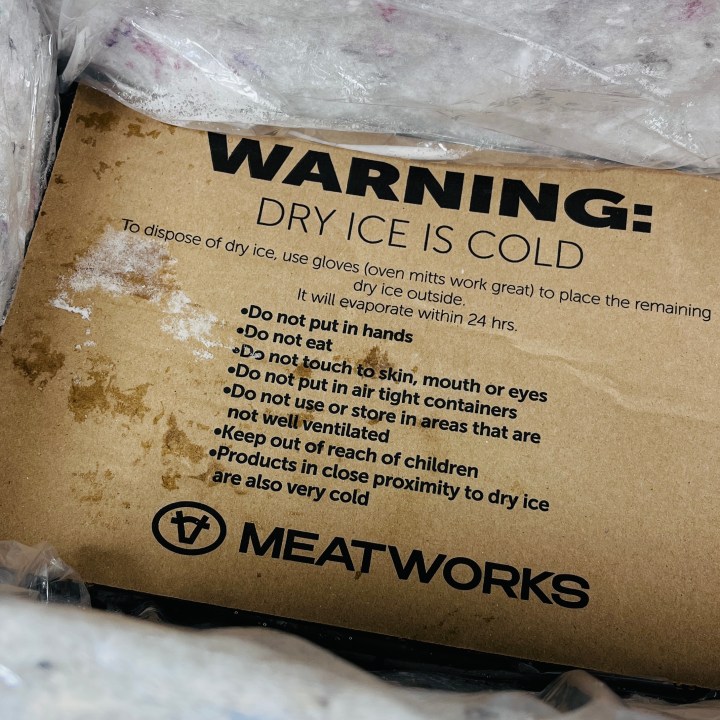 The meats were packed with dry ice and insulating packaging made of recycled jean material. It is my opinion that Meatworks needs to use more dry ice, as my meat was just starting to thaw, although it was still very cold (you can see some of the juices on the edges of the meat in my pictures, while some steaks still had frost on the outside). I want the meat to come frozen solid, as I cannot possibly cook it all at once. I immediately stuck all of the steaks in my big freezer after snapping these pictures, and I happened to be home when it was delivered so I opened it right away (it is still really hot where I live and I don't think the meat would have been as cold as it should have been if I had been at work that day, but your area and porch may vary).
I received a card welcoming me to Meatworks and some info on the subscription service.
Below are two dishes that I made using each cut of meat!
USDA Prime Beef Filet Mignon I cooked the steaks simply, with salt and pepper in a little oil, although I sautéed some shallots and made a quick sauce with the pan drippings (not shown on my plate). This type of cut is great for the grill too. I found it to be too rare for my liking after slicing and simply heated it for a few seconds and it was perfect. Oh. My. Gosh. This meat was so tender and my husband and I kept oohing and aahing and exclaiming how delicious this was. I think in the future I would only cook one steak for the two of us and don't tell anyone but I might cut it in half first, just to get it to cook quicker. The leftovers were perfect for topping a salad at lunch and were still tender, even when cold.
USDA Prime Beef Top Sirloin Steaks I prepared this steak (this time I used only one steak for the two of us) basically the same as above, as I wanted to compare how tender it was, but there was no comparison. It was still tasty but not as tender as the filet mignon, so I plan on using the rest of these steaks in recipes, such as Beef Stroganoff and stir-fry. Here I served it with a mushroom sauce alongside a micro-baked potato and steamed broccoli. I appreciate that each steak had a best buy date as sometimes I'm not sure how long items have been in my freezer and this is extremely helpful to me personally.
Is Meatworks Worth it?
I was pretty happy with my shipment from Meatworks! The beef tenderloin was the best I've ever had, it was practically fork-tender! The sirloin was also tasty and I liked that the packs are 8 ounces each, which means I can use enough beef for two servings and not waste the rest (although if my daughters are visiting I can always take out two packages to make enough for 4). It shipped right to my front door and I just had to take it directly to my freezer until I transfer it to my fridge to defrost later. I also appreciate that there are several meat combos that can be chosen or I can make a box combo that works perfectly for my needs!
Are you subscribing to Meatworks?