Ipsy Glam Bag Plus September 2022 invites everyone to focus on their goals this fall season! With the theme YOU GOT THIS, you'll gain all the confidence to do what you have to and face it courageously and beautifully! There are four beauty products in the purple microfiber glam bag with a pink drawstring cord that will help level up your beauty routine, plus a gorgeous faux croc bag. Scroll down to see my personal picks and what Ipsy chose for me!
Ipsy Glambag Plus subscribers get to choose three items for their bag and Ipsy selects two.
Ipsy's Picks
Let's start with Araceli Beauty Monarca Mascara ($19). This cruelty-free and vegan lash product is made with premium ingredients sourced from Mexico. It has avocado oil that nourishes the hair follicles, resulting in thicker, stronger, and longer lashes. The applicator wand also has a nice shape (which I prefer) that brushes the lashes and applies the product equally. It doesn't clump either! I like how natural it looks without being overdramatic. This product adds a nice touch of volume to the lashes in just a single swipe, keeping them separate and healthy looking!
I actually received two mascaras, and I don't know what to do with all of them. The second mascara is Item Beauty Lash Snack ($15), a lengthening lash product made with castor oil, glycerin, and coconut oil that nourishes and conditions the lashes. This mascara is vegan and cruelty-free like the first item in the bag. It's formulated without parabens, phthalates, or mineral oil. Although I doubt if the micro wand would work, it does its job of separating, lifting, and coating each lash for up to 3x the volume. It doesn't clump or flake and is smudge-proof as well! Another good thing about it is it has a two percent Widelash™ Complex, a lash-loving multivitamin serum, which helps to promote longer, fuller lashes.
Next comes Benefit Cosmetics Brow Styler ($14). This is dual-ended to help you achieve a pretty bow every day! The other tip is a wax pencil that helps sculpt the brows, while the other end is a brow powder that fills in it and adds volume. It's easy to use, and it's mess-free too! You can go with three different eyebrow looks with this product. Use just the powder for a soft and full look, wax pencil for clean and shaped brows, or both for a bold and defined look. You can also layer them together to create your most preferred brow makeup look. The formula also stays for longer than usual, and I love how buildable it is!
My Choices
Moving on with my choices, here's ONEKIND Clean Slate Gentle Cleansing Cream ($28) for my first pick. I always love a nice cleanser that removes makeup and grime without leaving a dry feeling, and this one fits the bill! The apricot kernel and sunflower seed oils melt away makeup as it locks moisture and fights premature aging. It has a creamy consistency that feels very gentle and doesn't dry out the skin afterward. Plus, it has tropical fruit enzymes from papaya and pineapple that remove dead skin and unclog pores, leaving it brighter and softer. The ingredient list also includes TeraBiome™, an advanced probiotic that protects the skin's barrier. This cleanser is all-natural, vegan, and cruelty-free, plus it's safe to use for all skin types. It smells amazing as well!
Lastly, here is a Faux Croc Bag ($19), which was a Glam Bag X Exclusive choice back in February 2022. It comes with a strap that you can attach to wear across the body or around the waist. You can also remove it to use as a makeup bag, where you can store your daily beauty essentials. The glossy croc-like texture looks luxurious at a glance. The pink heart zipper pull with embossed Ipsy branding added to its glam. The gold strap hooks are a lovely detail too.
My reaction upon seeing this glam bag is "umm, what?". I guess I got a substitute, but I don't know why I needed 2 mascaras and 1 brow styler in one month. It would have been better if that's not the case, but here it is already. There's not much variety in my bag, and it's a bummer. But here's one thing I love from this month's bag: Onekind Clean Slate Gentle Cleansing Cream. I love how it cleanses the skin without stripping the moisture. It's gentle and effective and smells nice too. The brow styler is a must as well. Although I feel 50/50 about this bag, I appreciate how most (or all) the items are vegan and cruelty-free. The bag came to a total retail value of $114!
Also, the package includes a card with a QR code that leads you to this month's theme. Here's a closer look: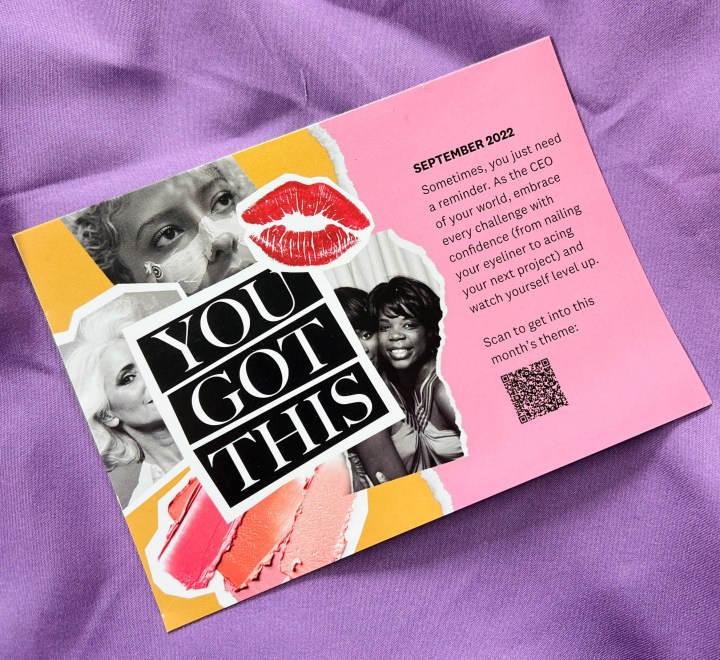 Ipsy Glambag Plus is the upgraded version of the monthly Ipsy Glambag. For $28 a month, it contains 5 full-size products from brands you love, plus a deluxe makeup bag with every shipment. The promised retail value of each box is $120 worth of products. It will contain variations, but there are far fewer compared to the regular Ipsy Glambag. Be sure to continue to rate and review your bag to help personalize it to your needs. Check out our Ipsy Glambag Plus FAQs to find out every detail about this subscription! Glambag Plus is definitely a Hello Subscription reader fave – it's on five different lists in our readers' selections for the best subscription boxes!
What were your choices for this month's Ipsy Glambag Plus? Let me know in the comments!