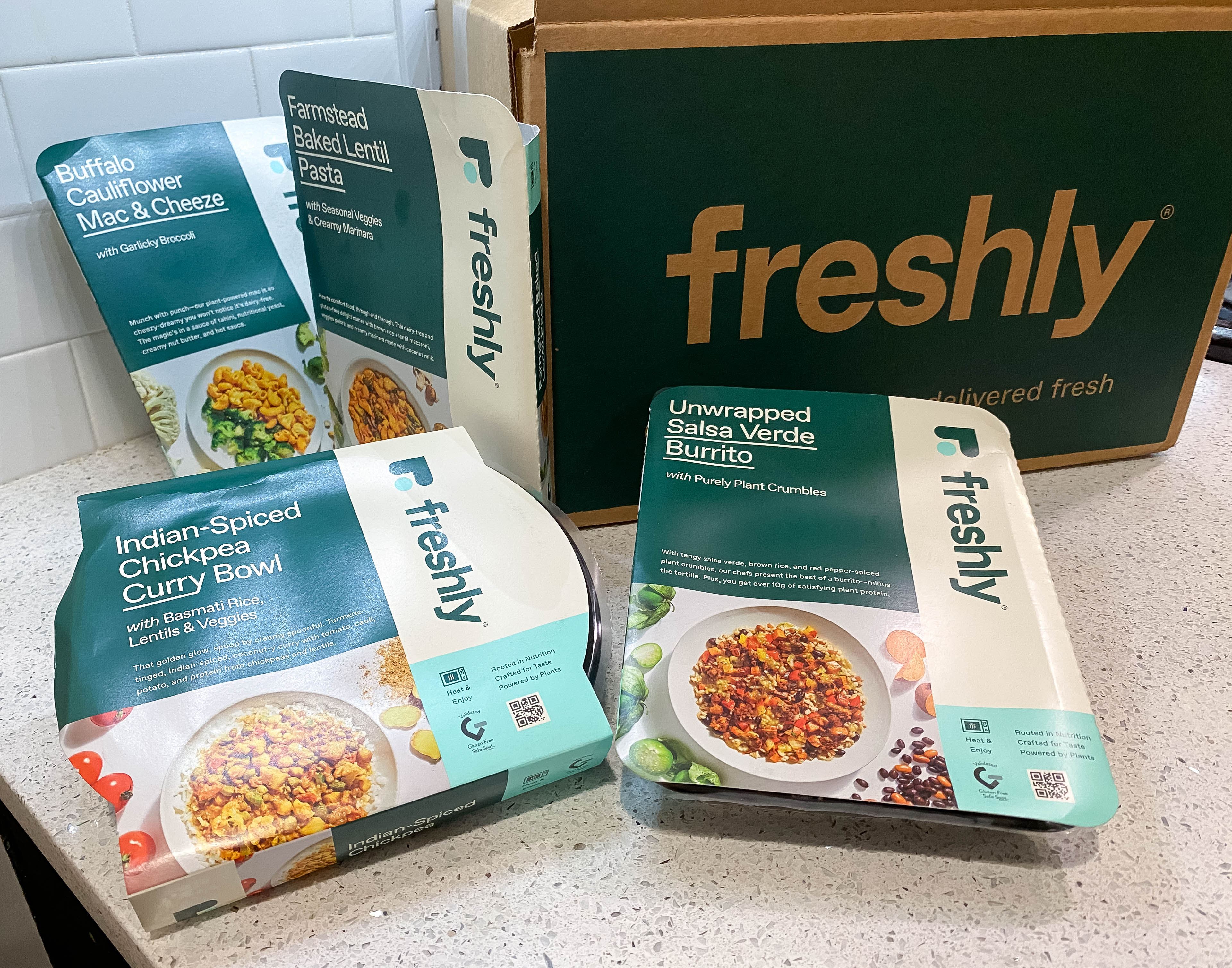 Everything you need to know about this meal delivery service
Freshly Purely Plant Review
Prepared meal subscriptions are heaven-sent. They make things easier for moms or anyone who can't take time off their plates to prepare delicious meals. These delivery services provide already prepped and cooked meals, which only need reheating to enjoy. They eliminate the need to grocery shop, cut, and cook, so you can use your time to take care of other stuff.
Freshly is one of those convenient meal subscriptions. They deliver filling and tasty single-serve meals straight to your door, so you can just store them in the fridge and grab one when hunger strikes! What's also commendable about this prepared meal subscription is they offer menus for different diets and lifestyles – vegetarian, meat eaters, omnivores, and flexitarian.
So if you're on a plant-based diet, Freshly has a meal selection called Purely Plant that allows you to eat nutritious and naturally delicious plant-based dishes. They contain no meat or dairy and only include wholesome foods you can feel good about. To understand better what Freshly Purely Plant is, continue reading for our review.
DEAL: Save up to $125 On First 5 orders of meals from Freshly – that's $25 off each box! Use this link to subscribe, and use the coupon code SAVE125AFF at checkout.
Guide to our Freshly Purely Plant Review
Freshly Purely Plant Benefits & Drawbacks
But before that, here's a list of advantages and disadvantages of Freshly Purely Plant:
Freshly Purely Plant Benefits
Chef-prepared and nutritionist-designed meals
Made from clean plant protein and vibrant veggies
Convenient meal delivery
No prep and no cooking required
Cleanup is a breeze
Freshly Purely Plant Drawbacks
Only offers single-serve dishes
Very limited, purely plant-based meal selections
Freshly Purely Plant Review
Summary
Freshly Purely Plant makes it easy to incorporate wholesome foods like fruits and veggies into your meals. Like the regular Freshly, it offers pre-made and pre-packaged meals. They're fresh and never frozen, chef-prepared, and nutritionist-designed. No need for shopping or cooking! Since it's a subscription, you'll receive as few as 4 meals a week or as many as 12 meals a week to fit your vegetarian lifestyle. The only steps you need to do is wait, unbox, keep them in the fridge, then heat and eat!
All About Freshly Purely Plant
Freshly Purely Plant meals are prepared and cooked from the ground up without compromising flavor! Each meal contains at least 10g of plant protein to keep you full and fueled with every bite!
How does Freshly Purely Plant work?
Subscribing to Freshly Purely Plant is as easy as subscribing to the regular Freshly. You just need to pick a plan, choose your meals, then heat & eat. As a subscriber, you have the option to choose as few as four meals per week or as many as 12 meals. But unlike the regular Freshly, Purely Plant meal selections are limited weekly.
To place an order, start by choosing your meal box. Once decided, you have all the freedom to fill it up with the exact meals you want and checkout. Since it works on a subscription model, you'll receive regular shipments each week. When arrived, store your meals in the fridge to keep them fresh. So whenever you feel hungry and need to fill your tummy, you can take one out and heat it in 3 minutes or less. You no longer need to plan, shop, chop, and cook! Even the cleanup is pretty easy.
If ever you need to skip, edit your plan, or cancel the subscription entirely, you can easily do so – no strings attached and no extra cost!
How much does Freshly Purely Plant cost?
The cost of each delivery is determined by how many meals are in your box each week. Meals are priced for as low as $9.58 each. Breakfast items are also offered and priced from $7.99 to $8.99, regardless of the plan you choose.
Below is a breakdown of the meal plans:
4 meals a week – $50 ($12.50/meal)
5 meals a week – $62 ($12.40/meal)
6 meals a week – $68 ($11.33/meal)
7 meals a week – $75 ($10.71/meal)
8 meals a week – $83 ($10.37/meal)
9 meals a week – $92 ($10.22/meal)
10 meals a week – $100 ($10.00/meal)
11 meals a week – $108 ($9.81/meal)
12 meals a week – $115 ($9.58/meal)
The bigger the box you choose, the bigger the savings you'll get! You can save up to $12 for 6-7 meals, up to $20 for 8-9 meals, up to $29 for 10-11 meals, and up to $35 for 12 meals. Shipping fees and taxes apply upon checkout.
Where can I buy Freshly Purely Plant?
Freshly Purely Plant is available through their official website. Simply choose which meal box you want, decide on a delivery date, filter to Purely Plant category, pick your meals, and let them handle the rest! Then, they'll fully cook the meals and send them fresh, not frozen. You can just store them away in the fridge. When hunger calls, pick one out and reheat it in 3 minutes or less. The last thing to do is eat and repeat!
Where and how does Freshly Purely Plant ship?
Currently, Freshly ships orders across the lower 48 states – Alabama, Arizona, Arkansas, California, Colorado, Connecticut, Delaware, Florida, Georgia, Idaho, Illinois, Indiana, Iowa, Kansas, Kentucky, Louisiana, Maine, Maryland, Massachusetts, Michigan, Minnesota, Mississippi, Missouri, Montana, Nebraska, Nevada, New Hampshire, New Jersey, New Mexico, New York, North Carolina, North Dakota, Ohio, Oklahoma, Oregon, Pennsylvania, Rhode Island, South Carolina, South Dakota, Tennessee, Texas, Utah, Vermont, Virginia, Washington, West Virginia, Wisconsin, and Wyoming.
All meals offered are cooked and prepared fresh – not frozen – and packed for shipping. You can check if they deliver to your area by heading over to their website and typing in your zip code. They partner with Axlehire, Lasership, OnTrac, FedEx, UPS, CDL, UDS, and Veho to ship your meals as fast as possible. Once the box ships, you'll receive an email with a tracking number. Delivery takes 1-2 days, depending on where you live.
How is Freshly Purely Plant packaged?
This prepared meal subscription uses modified atmospheric packaging to keep your meals nice and cool for two full days of shipping, plus another 12 hours waiting at your door. The food is delivered in Go-Green microwave-safe plastic containers that are sealed tightly with light plastic film and wrapped in a cardboard sleeve that acts as the label.
Meal packs are stacked neatly in the box with recycled denim insulation and gel ice packs. This packaging keeps the meals cool and fresh until you refrigerate them. All the boxes, plastic containers, and cardboard sleeves are biodegradable, while denim insulation is biodegradable at roughly 85%. Additionally, the gel ice packs in the box are non-toxic.
What products does Freshly Purely Plant sell?
Freshly Purely Plant sells seriously satisfying, truly nutritious prepared meals featuring plant-based protein. Each is nutritionist-designed to provide you with hearty, healthy plant-based meals. Available are 4-5 meals box, 6-7 meals box, 8-9 meals box, 10-11 meals box, and 12 meals box.
Some of their plant-based meal offerings include Veggie-Loaded Burrito Bake, Indian-Spiced Red Lentil Dal, Asian-Inspired Vegetable Stir-Fry, Thai Green Curry Bowl, and Creamy Marinara Lentil Pasta.
Can I send Freshly Purely Plant as a gift?
Of course! With Freshly Purely Plant, you can share the gift of healthy meal choices with vegan or vegetarian loved ones. Gift cards' value range from $25 to $500. As the gift giver, you can choose a card design for extra fun! You'll only be charged the face amount of the gift card. Since it is sent via email, it will not incur shipping charges.
Here's a quick tip from Freshly: a $50 gift card equals four meals on a 6-meal plan.
My Freshly Purely Plant Review
Freshly now delivers vegetarian meals made with clean, whole-food ingredients!
Freshly offers heat-and-eat chef-cooked meals and delivers them straight to your door. They recently launched a vegetarian line called Purely Plant, which includes plant-based versions of classic comfort food and international cuisines. All meals from this line contain proprietary plant protein blends and they are also gluten-free! Like other Freshly meals, the Purely Plant meals don't require a long prep time. You just have to heat them up and then they're ready to be served!
The Purely Plant menu includes The Rainbow Harvest Plant-Based Burger, Unwrapped Salsa Verde Burrito, Farmstead Baked Lentil Pasta, Buffalo Cauliflower Mac & Cheese, Middle Eastern Falafel Bowl, and Indian Spiced Chickpea Curry Bowl. Prices depend on the number of meals per week. The minimum order is 4 meals/week, which is $50 or $12.50/meal. A 6 meals/week plan is $68 or $11.33/meal, and a 10 meals/week plan is $100 or $10/meal. The biggest plan has 12 meals/week, which is $115 or $9.58/meal.
I received five different recipes to review.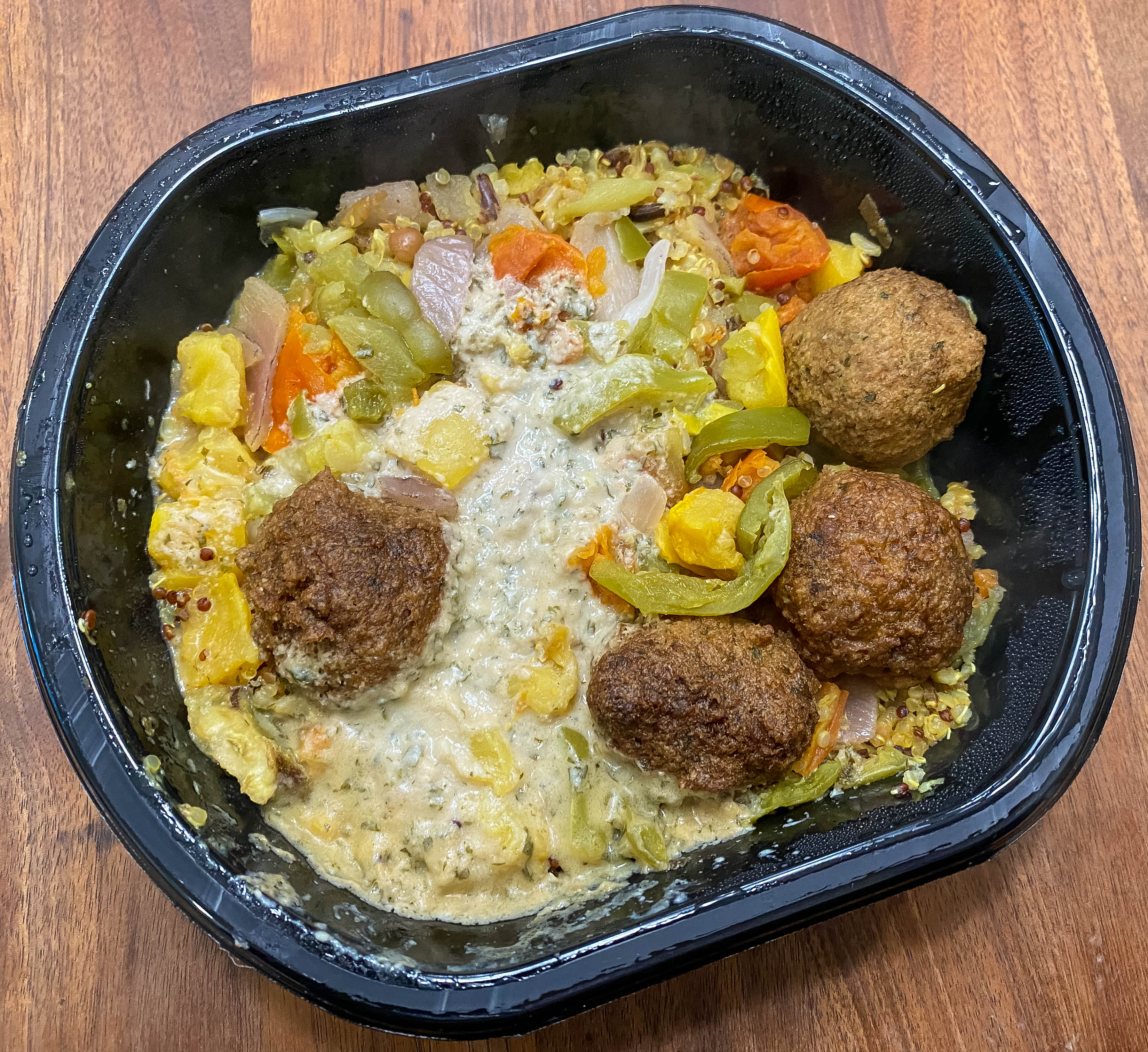 Middle Eastern Falafel Bowl. The first vegetarian meal in the box is inspired by Middle Eastern cuisine. This Falafel bowl has whole grains that make you feel full easily, plus added garlicky tahini sauce, which is smooth, creamy, and oozing with flavor. Each serving is packed with calcium, iron, and potassium.
As instructed, I placed it in the microwave for 3 minutes and let it sit for 2 minutes before serving. This meal smells so good already! The lentils, quinoa, wild rice, and brown rice is layered with roasted red, yellow, and green bell peppers with onions. Yum!
The falafel balls are made with garbanzo beans and seasoned with cumin, green onion, parsley, and cilantro. It was savory, and it pairs well with the sesame seed-based sauce that packs a punch!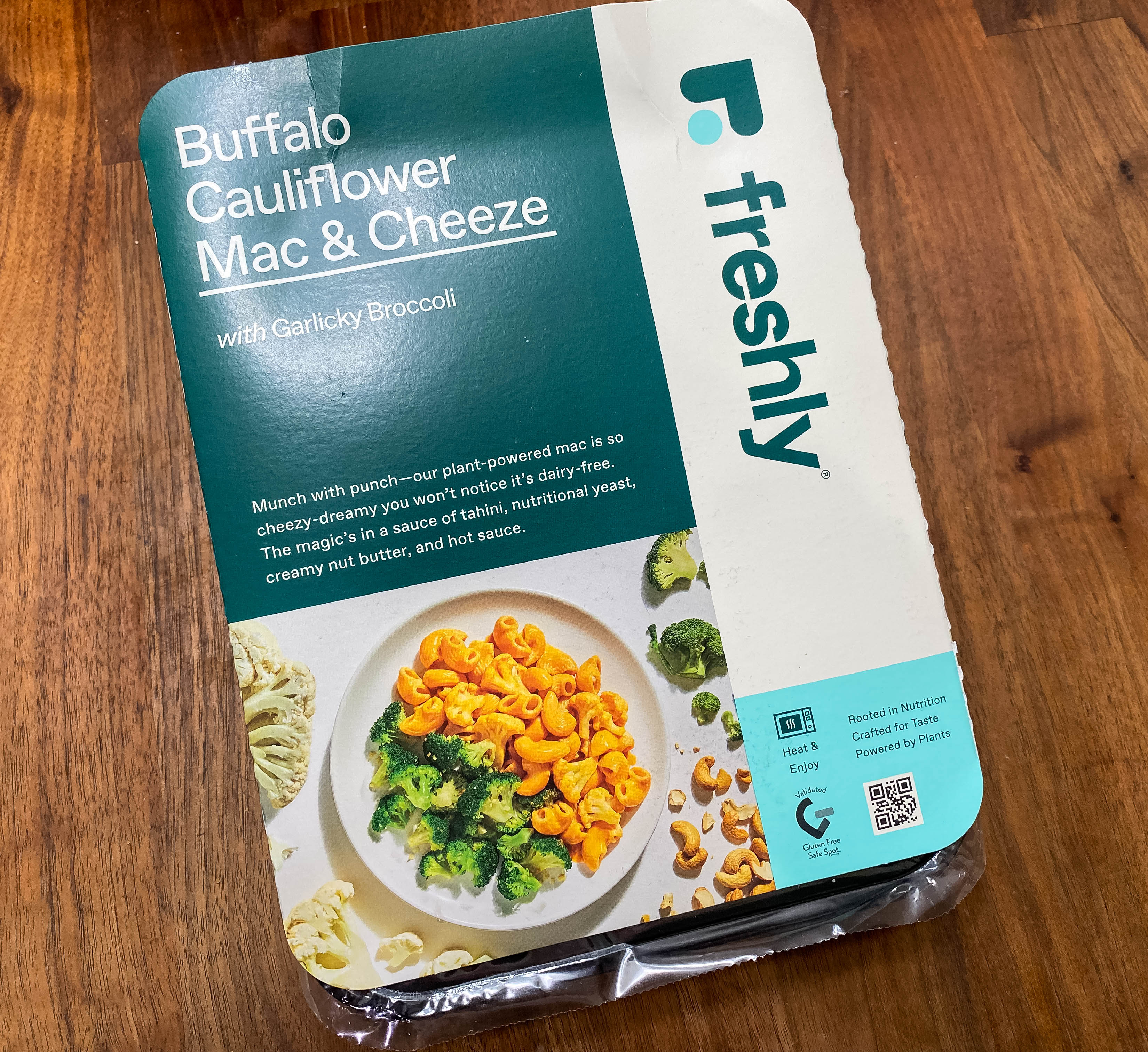 Buffalo Cauliflower Mac & Cheeze. Next up is a healthy and tasty combination of vegetables and pasta. This plant-powered mac contains a perfect blend of tahini sauce, nutritional yeast, creamy nut butter, and even hot sauce for a kick!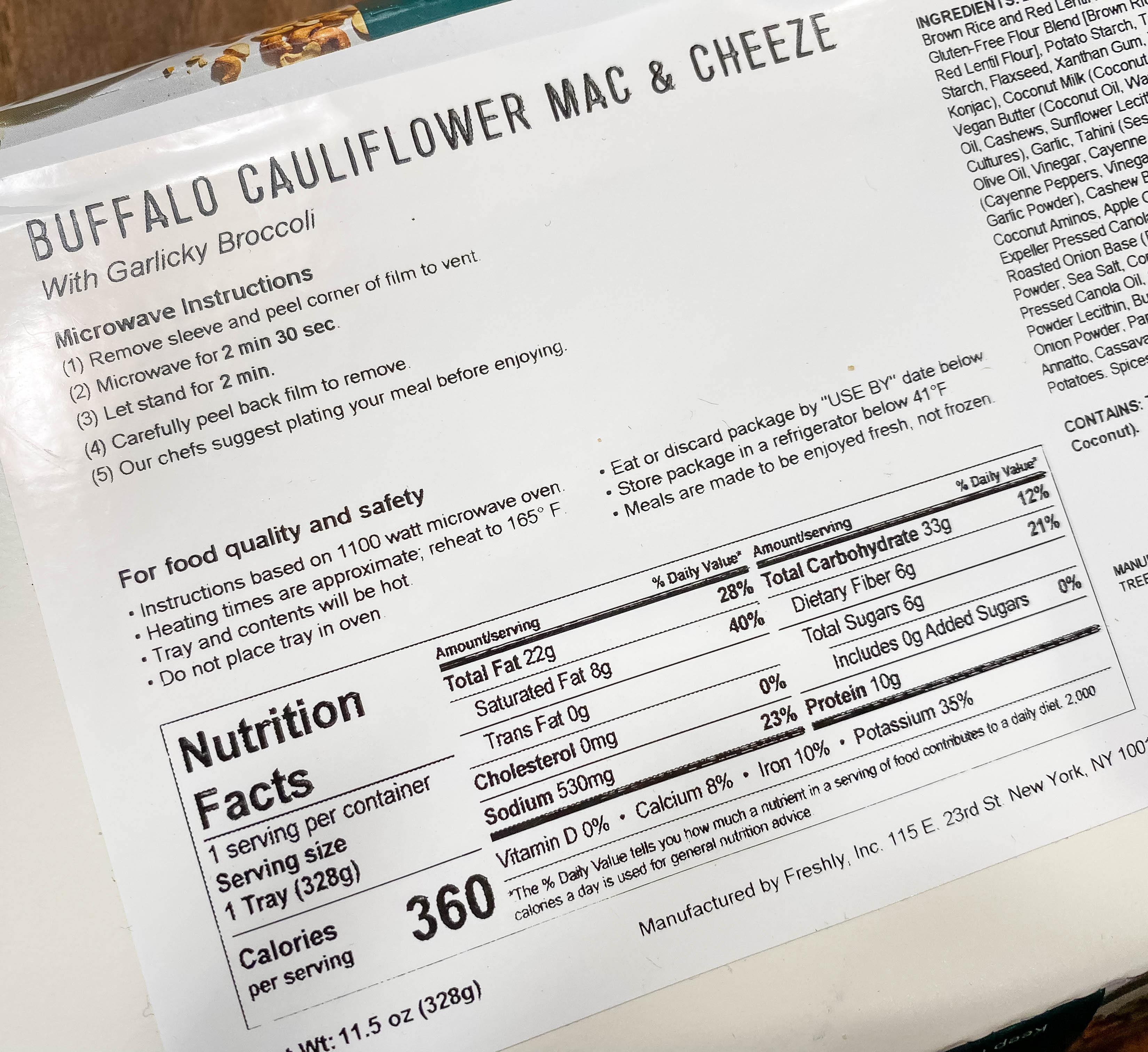 This dish is dairy-free, but you won't even notice because it's really cheesy. It needs to be microwaved for 2 minutes and 30 seconds. After heating it up, I let it stand for 2 minutes before I transferred it to a plate!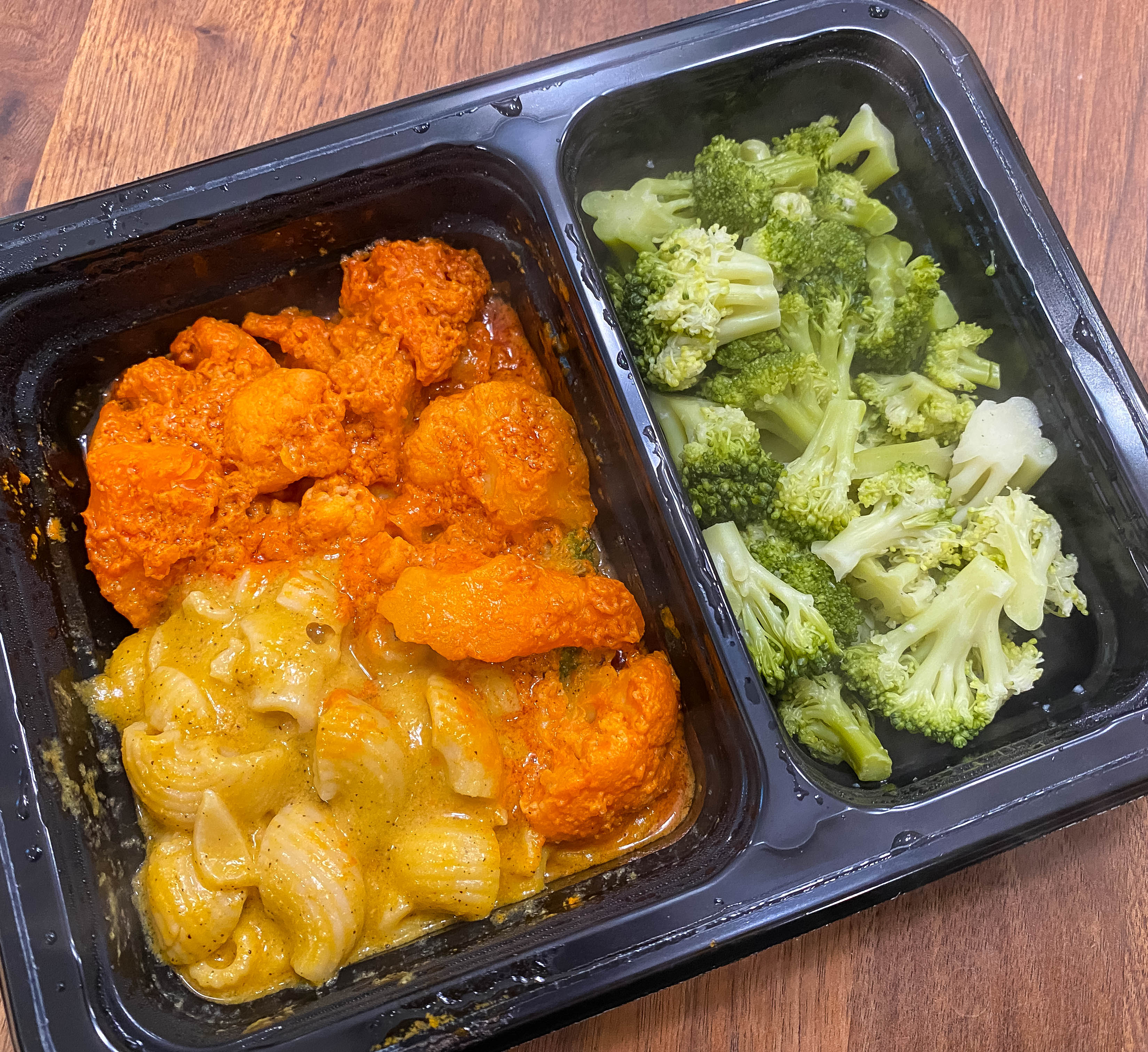 Tender cauliflower florets were oven-roasted in a tahini-buffalo sauce to make a spicy side dish. There's also broccoli that balanced the meal. They used gluten-free pasta, made of brown rice and lentils. It's perfectly cooked, as it was still firm and not soggy.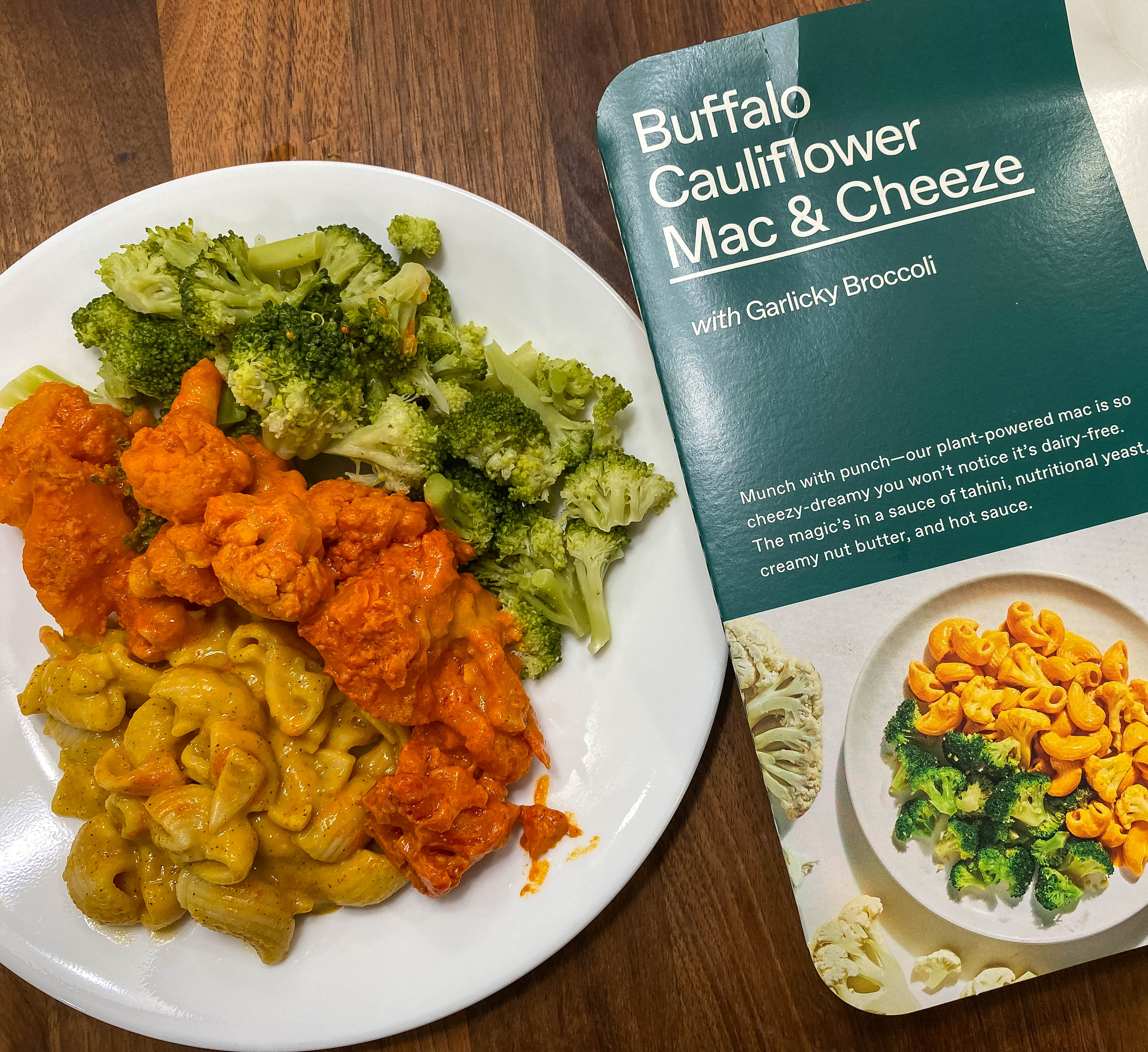 Meanwhile, the dairy-free sauce contains nutritional yeast, cashew butter, coconut milk, and butternut squash.
Indian-Spiced Chickpea Curry Bowl. Curry is a popular Indian dish, and this time, we're trying its plant-based version. It has the creaminess and the coconutty flavor that we love about curry, except that it's healthier and vegetarian-friendly. To make it filling, it's served on top of basmati rice!
If you want to add more protein to your vegetarian diet, this dish is a great option because it's packed with clean plant protein from chickpeas and brown lentils. Other ingredients include cauliflower, tomatoes, celery, and potatoes.
Look at that beautiful golden color! The curry contains turmeric, ginger, coriander, garam masala, cilantro, and lime – no wonder each bite tastes warm and comforting. It only took 3 minutes to heat in the microwave!
Unwrapped Salsa Verde Burrito. A burrito without a tortilla? I don't really mind, especially if it's plant-based, gluten-free, and dairy-free. Freshly's vegetarian burrito contains brown rice and roasted sweet potato, mixed with salsa verde for a satisfyingly spicy and tangy flavor!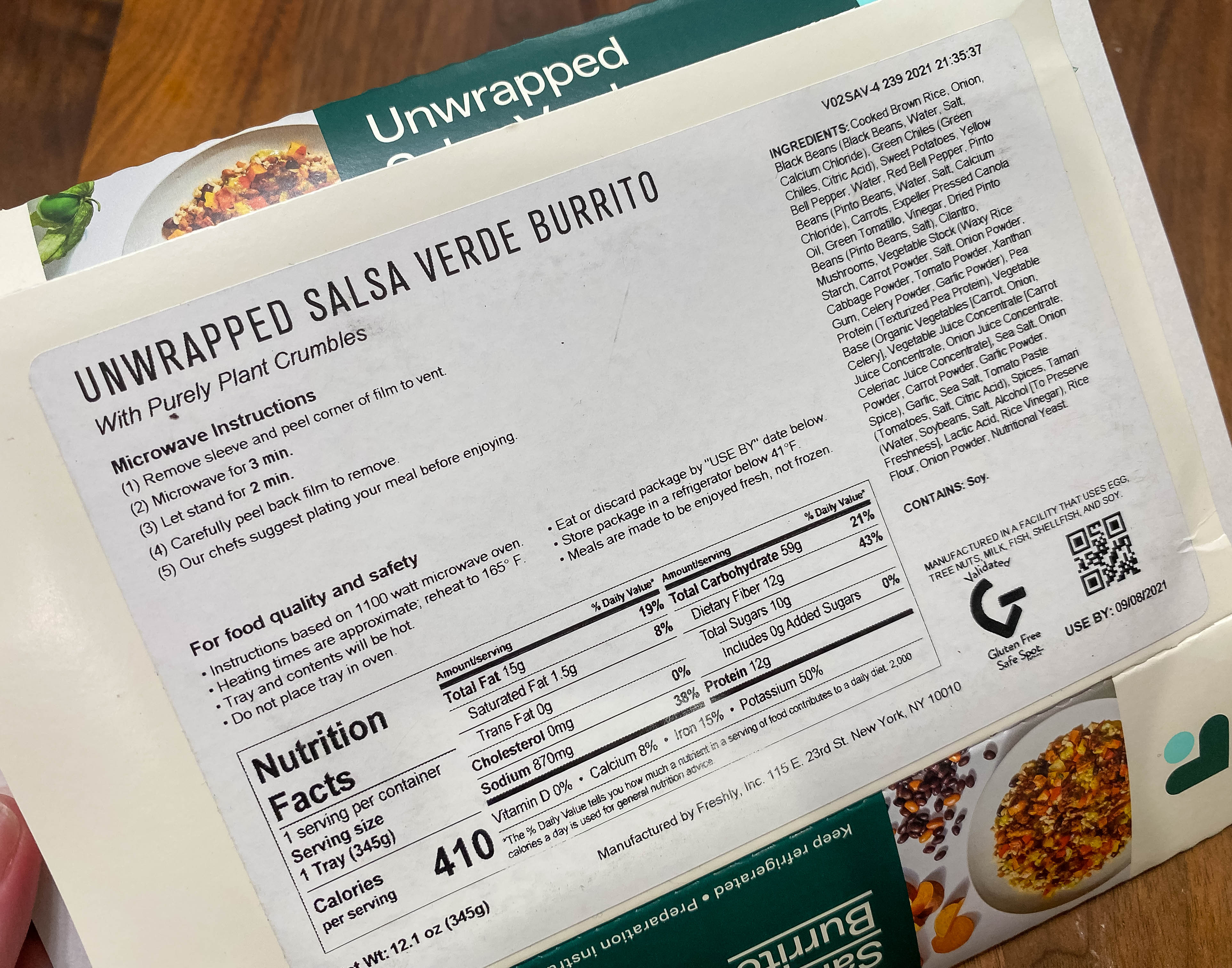 They also used plant protein crumbles for this one, which is composed of yellow peas, mushrooms, pinto beans, and fragrant spices. When you're craving your favorite takeout burrito, you no longer have to break your diet because Freshly has this one.
Here's what it looked like after I microwaved it for 3 minutes! The kick of heat is amazingly good. Plus, I feel good knowing that it contains a chock full of protein, fiber, vitamins, and minerals.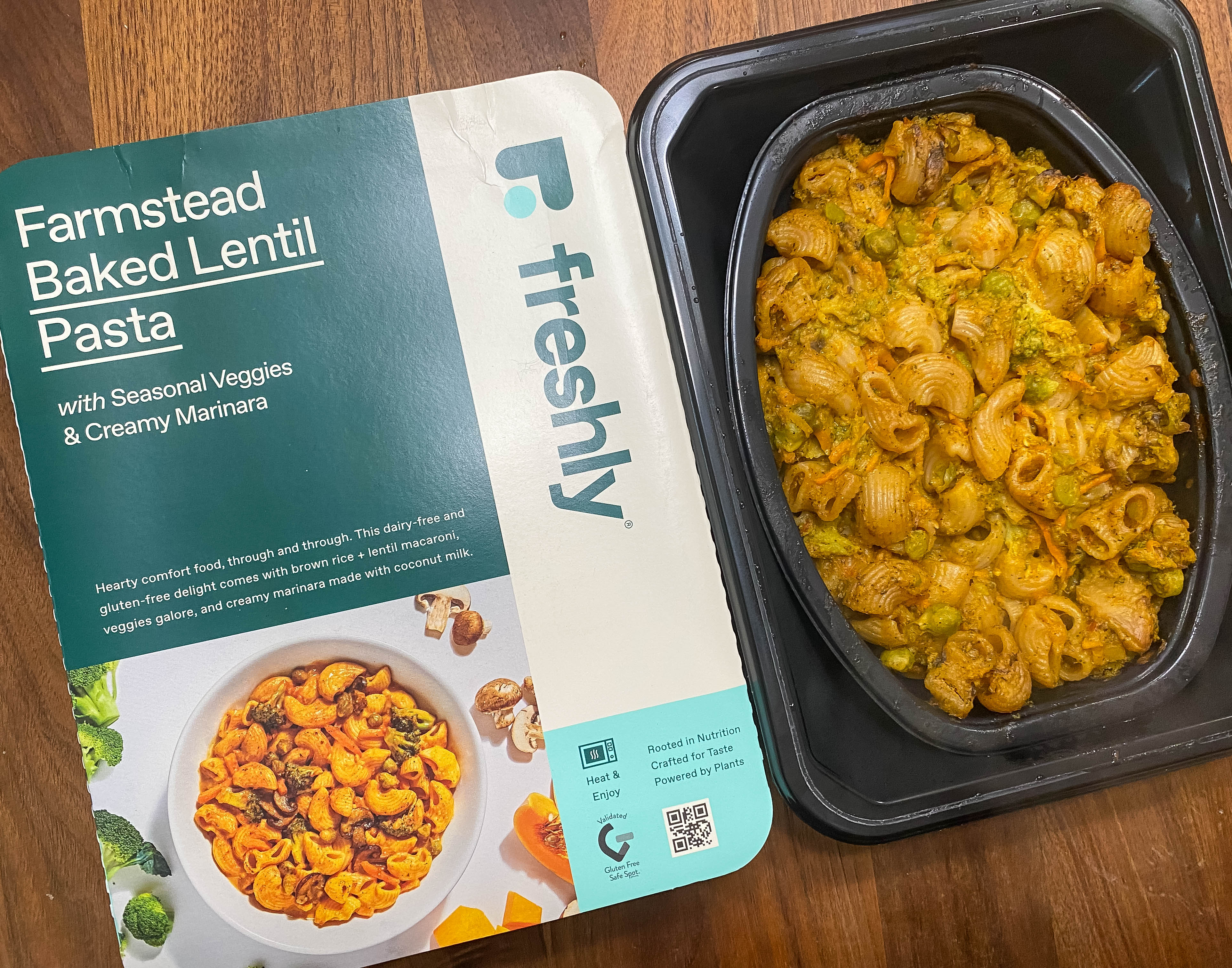 Farmstead Veggie Baked Pasta. We have another plant-powered pasta dish in the box, and this time, it's baked lentil pasta. It's packed with seasonal veggies that deliver nutrients our body needs, plus a creamy marinara sauce that's so hard to resist!
This one only needs to be heated for 2 minutes in the microwave before serving. Like the mac and cheese, this baked pasta uses gluten-free macaroni made with brown rice and lentil.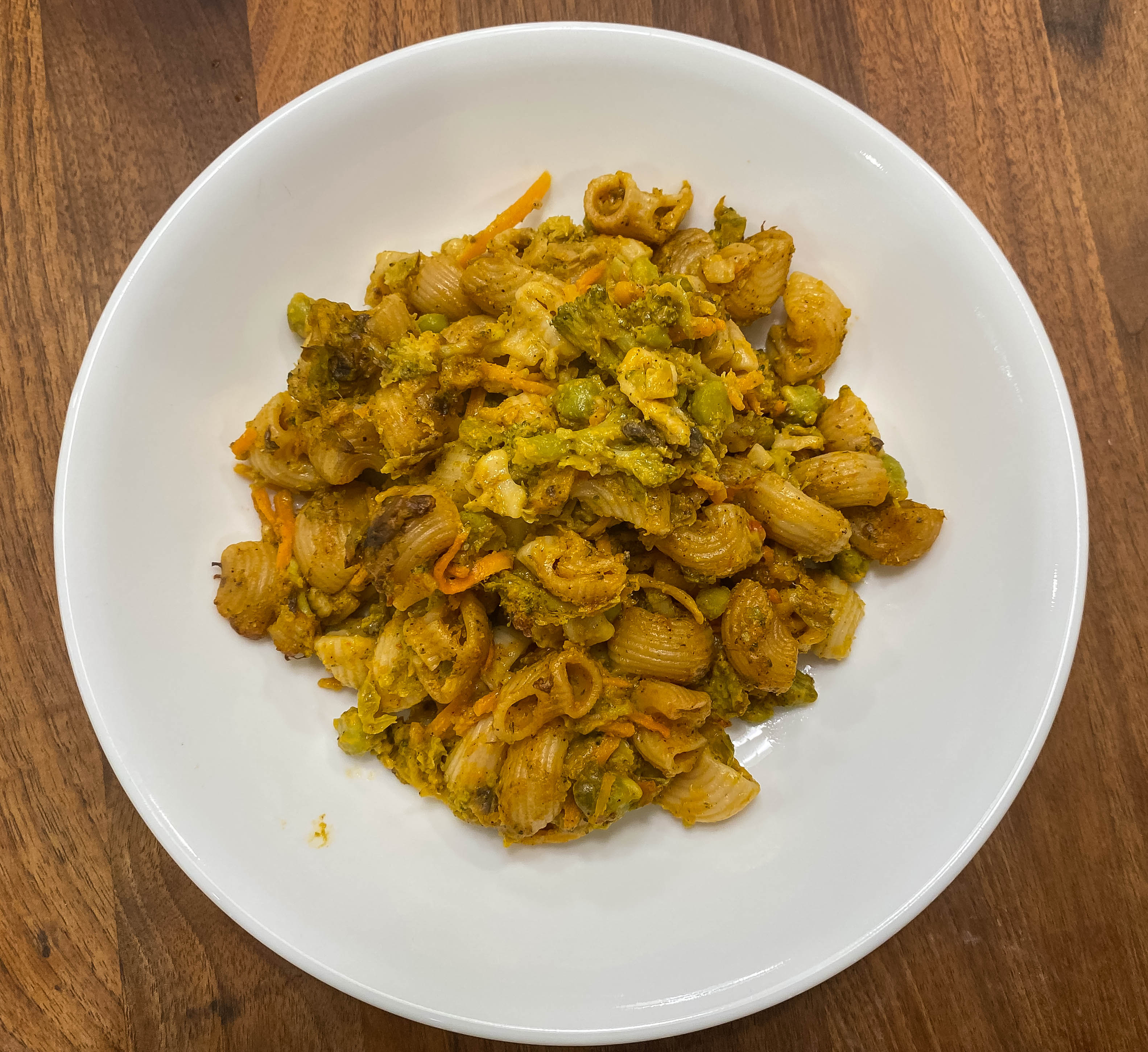 The sauce blended well with the macaroni and the included veggies (carrots, butternut squash, green chickpeas, broccoli, and mushrooms). It was so tasty and creamy! The coconut milk and creamy cashew butter were such an awesome alternative for dairy ingredients that usually go into pasta.
Is Freshly Purely Plant Worth It?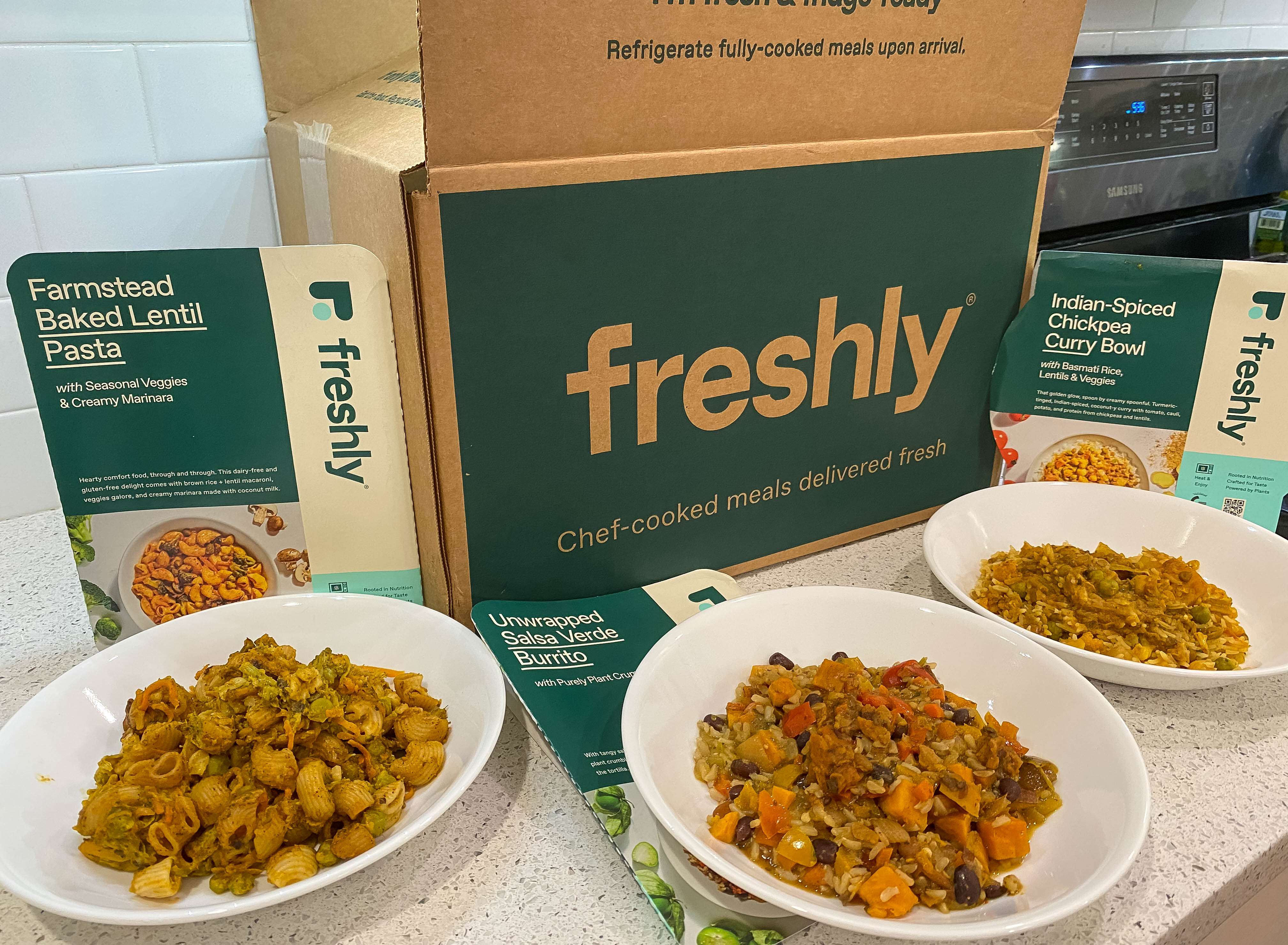 Freshly's newest offerings are plant-based meals. The initial menu is quite promising, and I was able to try five of them, which included vegetarian versions of popular international dishes and gluten-free healthy pasta! My favorite would have to be the vegetarian mac. It's dairy-free, but the pasta turned out creamy thanks to coconut milk and butternut squash. I also love that they added cauliflower florets in buffalo sauce, which added a kick of heat to the meal. I'm quite happy with these new vegetable-based meals from Freshly! They're not just nutritious, they are also easy to prepare so you can still eat healthy food no matter how busy you are.
What do you think of the Freshly vegetarian meals?