Dermy Doc Box sends a box filled with dermatologist-approved products every quarter! The Fall 2022 box included skincare and hair care items from a mix of drugstore and high-end brands, and some of them are ideal to use when the temperature starts to get lower. Read my review below and learn more about the products they sent this season!
DEAL: Get $5 off your first box! Use coupon code HELLODERMY.
ColoreScience Total Eye Hydrogel Treatment Mask ($12.33) Sometimes under eye patches can be messy and full of serum, but this patch wasn't messy at all. In fact, once I placed them under my eyes they didn't move until I told them to go. They felt cool while they were sitting there, but I can't say that they did anything that I can see. There was no serum to pat in afterwards either. These hydrogels are made of glycerin, gelatin, something called NS Phytomoist (a hyaluronic acid), and plant extracts. They are supposed to hydrate, depuff, reduce dark circles, and make you feel like you are in a spa. They are fragrance-free, always a plus when it comes to face products.
Slather Topicals Exfoliating Body Serum ($30) This is a serum and moisturizer that can be used a few times a week to remove dry skin, bumps, flakes, and that sort of thing. I have an area above my ankles that gets weird every winter so I will be using this in that area along with my elbows once it starts turning colder here. The instructions say it can make skin sensitive to the sun so make sure to wear with sunscreen, and skip it if you're going to be out in the sun for anything other than incidental exposure. It doesn't have any fragrance added and smells kind of clinical, for lack of a better word.
Pure'Am Authentic Barrier Cream Balm ($37) I have dry skin due to my age and although I'm pretty happy with my regular moisturizer, I want something creamier, heavier for fall and winter. I tried this and I think it's going to be perfect for my needs! I used way too much at first — it is a balm after all, but maybe the fact that it is in a tube made me squeeze too much out but I won't do that again. It is supposed to calm irritation and provide antioxidants, all while being anti-inflammatory. Some of the ingredients include yuzu water, glycerin, shea butter, jojoba oil, ceramides, hyaluronic acid, and cica. It was creamy and I appreciate that is is fragrance-free. I plan on using this tube up!
Beauty RX by Dr. Schultz Tetrafoliant 8% Peel Solution ($70) This exfoliating solution is supposed to remove dead skin cells, reduce pore appearance, and fade brown spots. It has glycolic acid as well as Tetrafoliant™, a proprietary blend of four different acids. It also has alcohol, glycerin, and green tea extract (among other ingredients). It's slightly thicker than water and doesn't have much smell, except for an initial whiff of alcohol. It's not for sensitive skin so I won't try it on my face, I think I'm going to try it on the backs of my hands instead, but the website has a helpful FAQs section to answer when and how often to apply, and stresses the importance of using with sunscreen to avoid getting burned.
Viori Hidden Waterfall Shampoo and Conditioner Bar ($17 each) I think these two products smell absolutely divine — sadly, I have a very sensitive scalp and cannot use scented products there (it creates an angry, irritable reaction called contact dermatitis). Therefore I can't tell you if they work well, but I can tell you the warm vanilla scent is dreamy. Plus, check out the packaging, it's super pretty and would make a beautiful gift. These two products are supposed to moisturize, strengthen, repair, volumize, and all of that other stuff that we want for beautiful hair.
BONUS: Dove Deep Cleaning Hand Wash ($3.97) A huge container of hand soap is a bonus item this quarter! I use Dove Sensitive Skin bar soap for my body, so I was pretty happy to get their hand soap. I must say, unlike their body bar, this pump soap isn't fragrance-free but it is creamy and has a mild scent. My husband seemed to like it too.
I was thrilled with the Fall 2022 products found in the Dermy Doc Box! There is something in here for everyone but if some products don't meet your needs, then perhaps you can gift it to someone who will love it (like I plan on doing with the shampoo and conditioner). I enjoyed using the eye patches and they stayed in place while I finished some chores. I also appreciated the body exfoliator serum and the hand wash. My favorite item was the moisturizing face balm, that was perfect for my skin's needs and especially as we move into the dry time of year. This box had a retail value of around $187!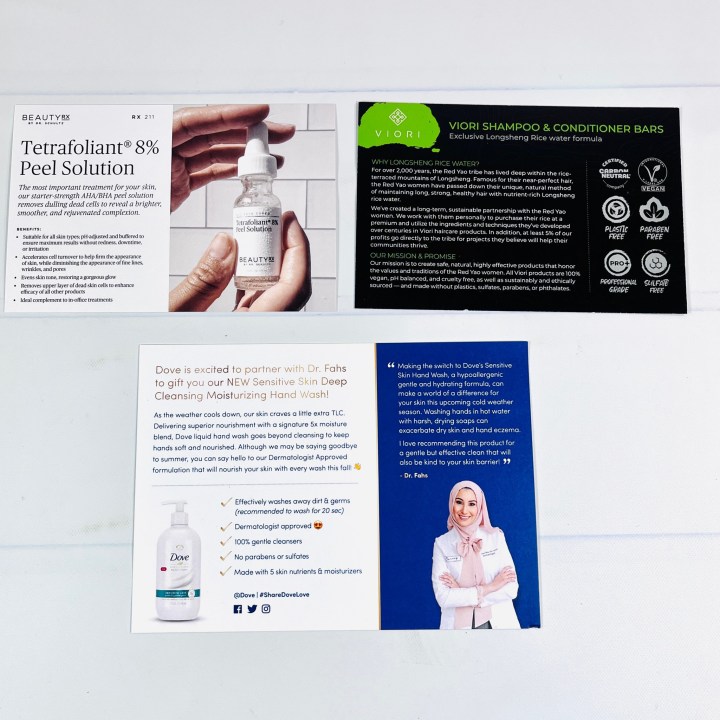 There were a few cards with info and coupon codes for some of the products and brands.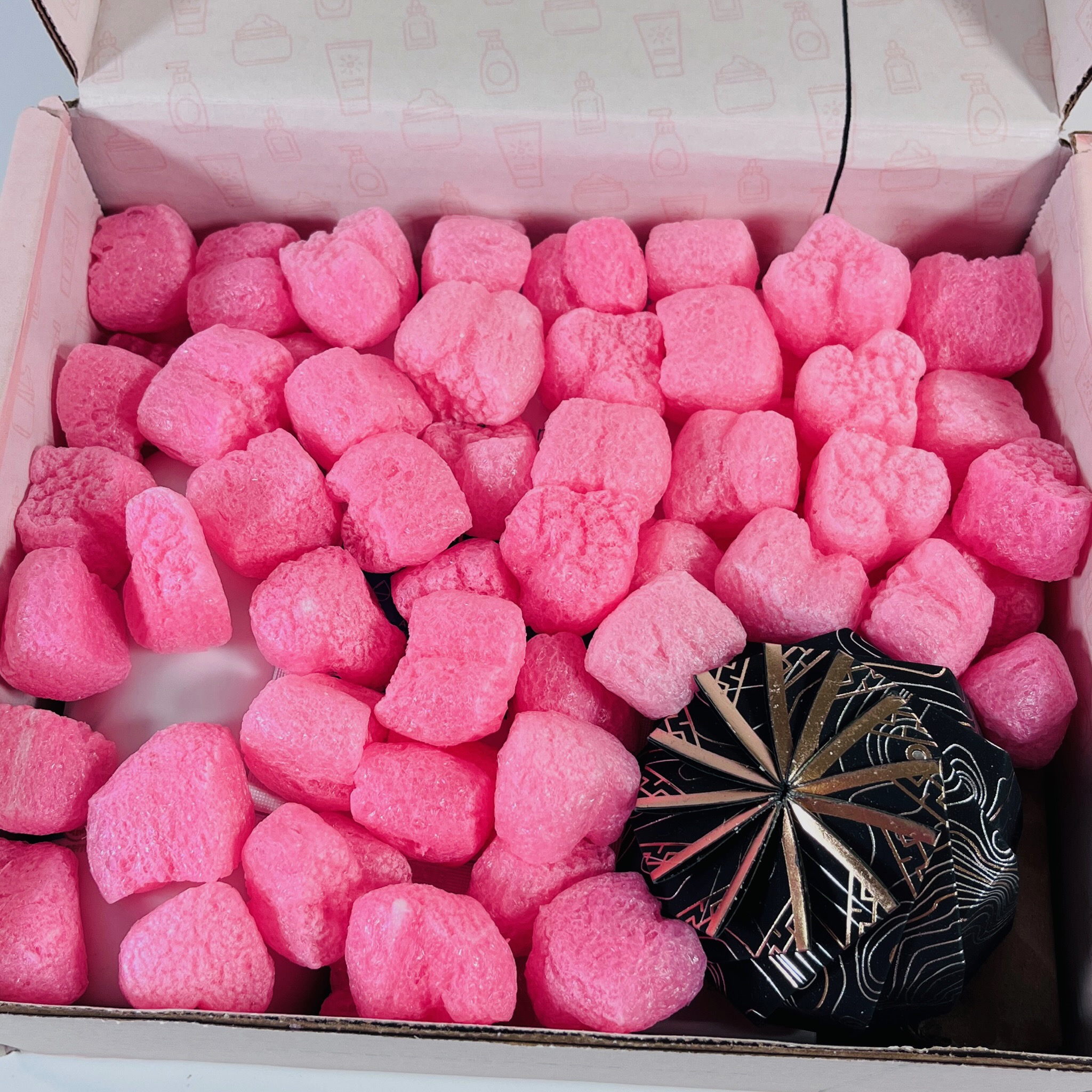 Here's some opening pictures. I placed the dissolvable packing peanuts in my compost pile.
This is the product info guide. Below is an info card about the different types of exfoliants out there.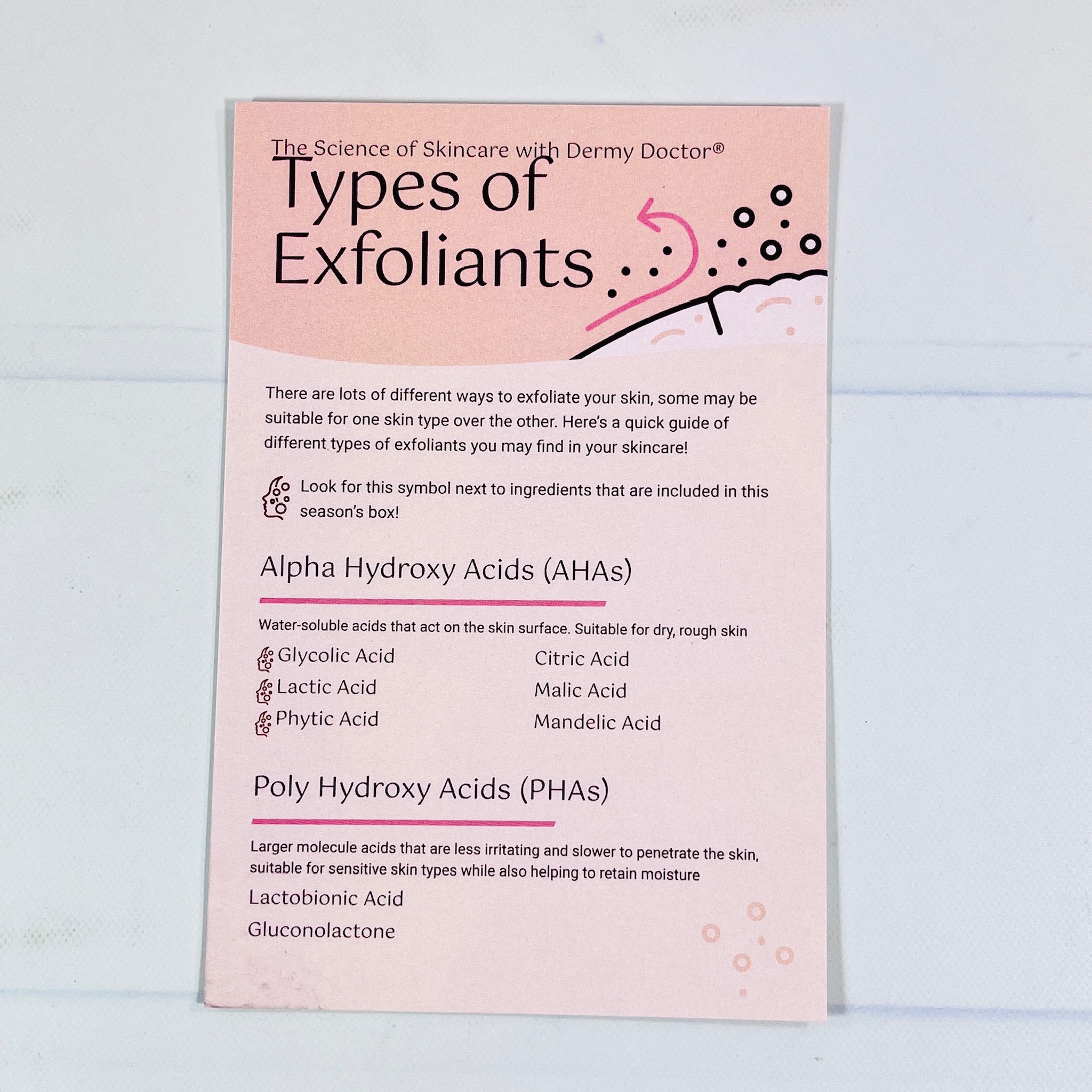 Dermy Doc Box is a quarterly subscription box full of skincare items that are curated by board-certified dermatologist, Dr. Fatima Fahs. The boxes will contain 5+ skin and haircare items and will have a value of more than $100. The brands will be both drugstore and high end and will be a combo of samples and full-sized. It's not customizable at this time but perhaps will be so in the future. Dermy Doc Box is $59.99 for a one-time purchase or subscribe and the price drops to $49.99! Shipping is free to the USA and it can be shipped to Canada for an additional fee.
What do you think of the Dermy Doc Box?