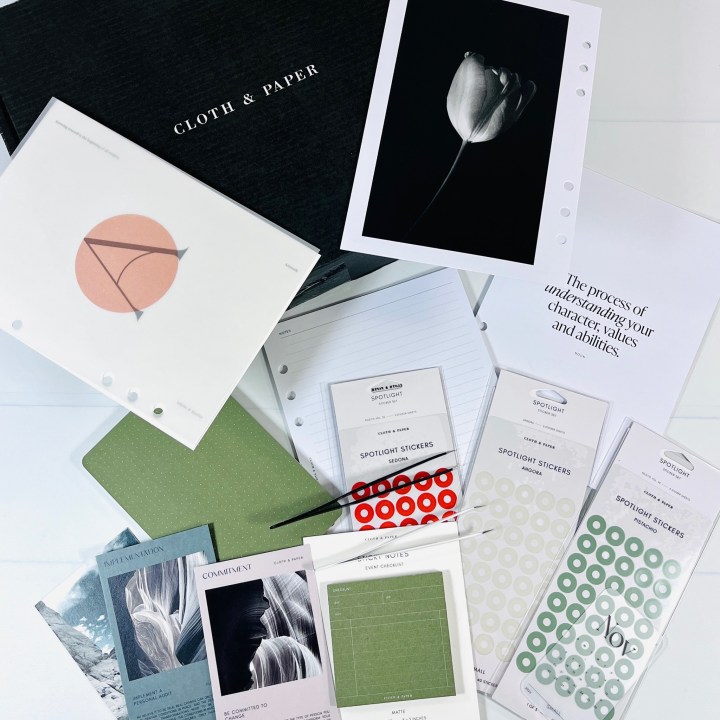 The September 2022 Cloth & Paper theme was Self-Discovery and had inserts to help us make transformative changes as we move into the end of the calendar year. If you are new to this box then know that they have a few different subscription options, and you can choose planner sizes based on the planner you use at home or work. This is a review of their Penspiration AND Planning + Stationery combo, which is $54.99 a month and drops to as low as $49.99 a month when you choose the 6-month term. This is the September box, and they send calendar cards etc. two months in advance, so you're never behind or have to worry about getting those supplies late.
DEAL: Want to try Penspiration Box, Planning + Stationery Box, OR Penspiration & Planning + Stationery Box? Get 10% off your first box! Use the coupon code HELLOSUB10 at checkout!
Planning + Stationery Box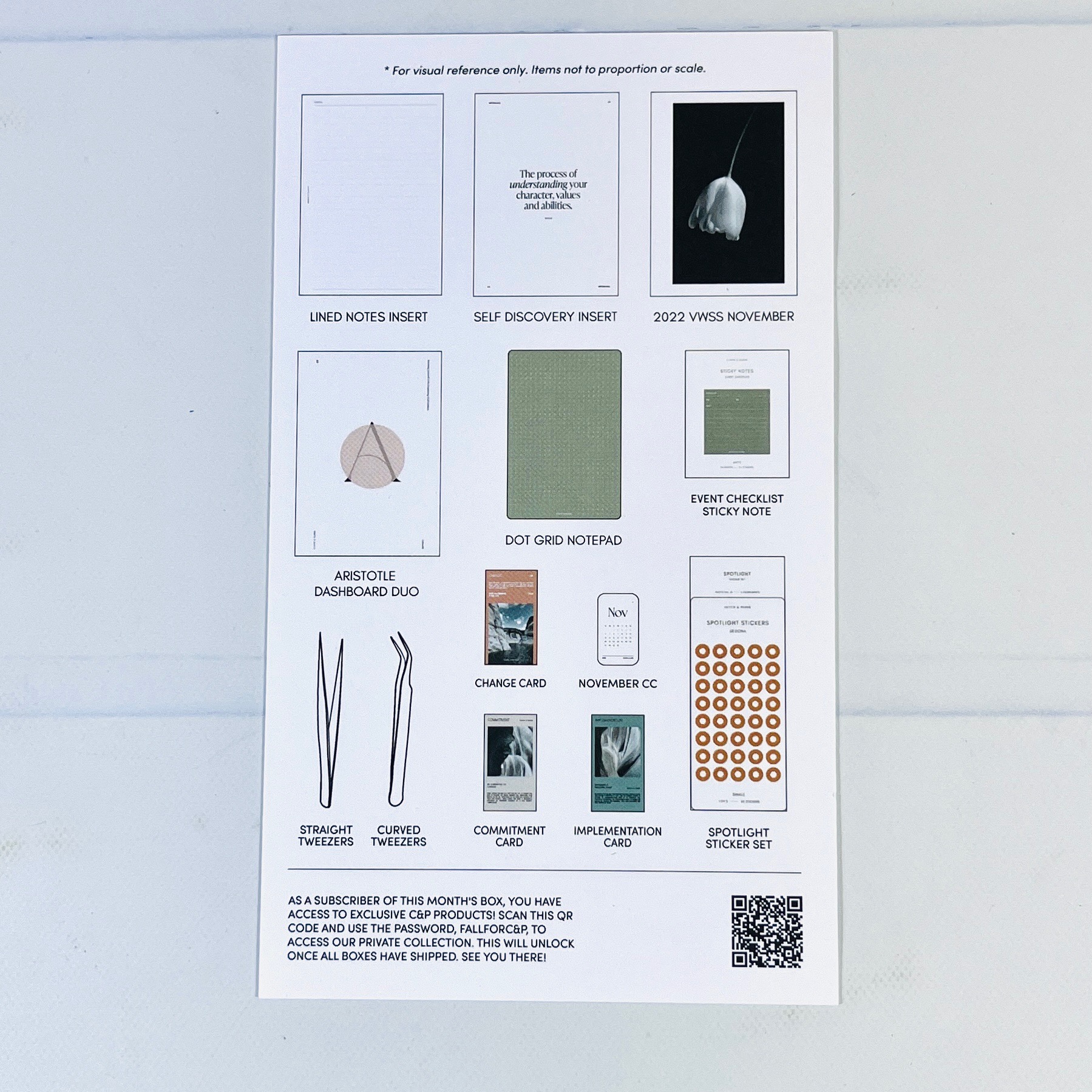 The card shows all of the items in the Planning + Stationery Box and has a picture of the items on the other side.
Lined Inserts I don't have a whole lot to add to the description here — it's a set of lined sheets for note taking. There are 16 pages total.
Self Discovery Insert This bundle uses the "Ikigai Method" and I have never heard of that before, but it is a way to help discover your self-purpose. There's a sample page and then 5 blank diagrams for you to fill in (you may need to search Google for some help here). Another 5 pages called Discovery Ledger follow and there's plenty of lined pages for notes.
This box and the next will both include a 2022 Vertical Weekly, Sunday Start Insert. This is for November and there's a monthly calendar, weekly spreads, and a place to note goals and intentions.
The Aristotle Dashboard Duo has two pages — one is vellum with a round orange circle and the other is sturdy cardstock with a quote from the Greek philosopher.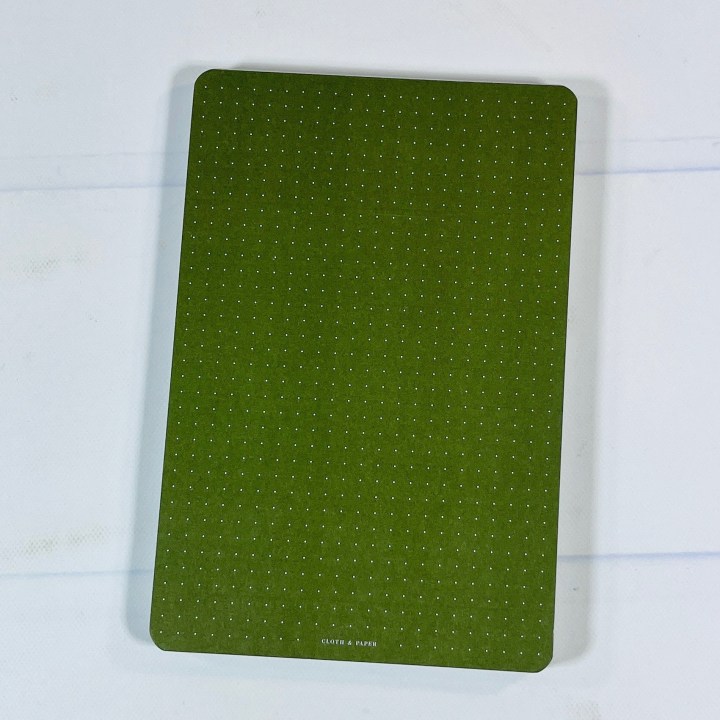 Dot Grid Notepad This dot-grid notepad is in olive green, which may make it hard for notes to show up. It has 50 pages and measures 6″ x 4″.
Spotlight Stickers come in 3 sizes and 3 colors!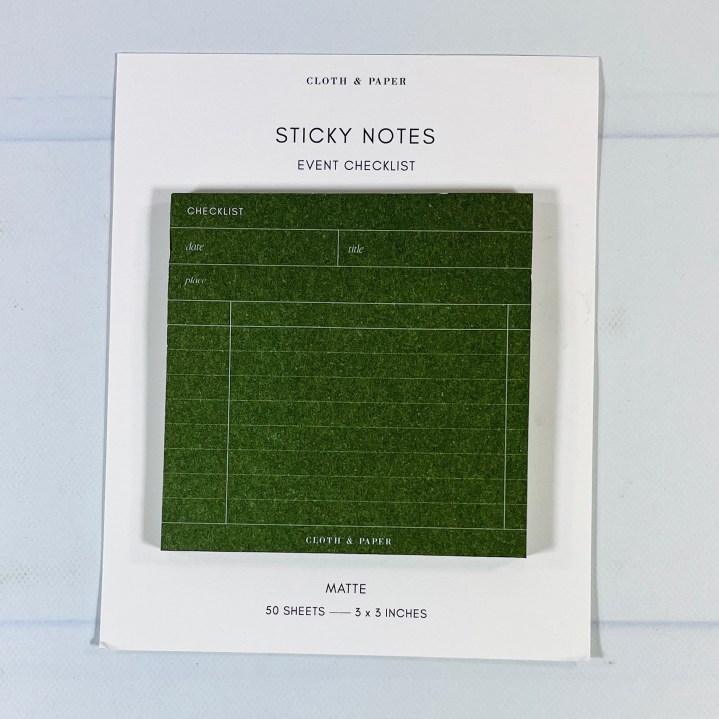 Event Checklist Sticky Notes Here is another rather dark notepad. It is an event checklist so you can list those to-do items and then check them off.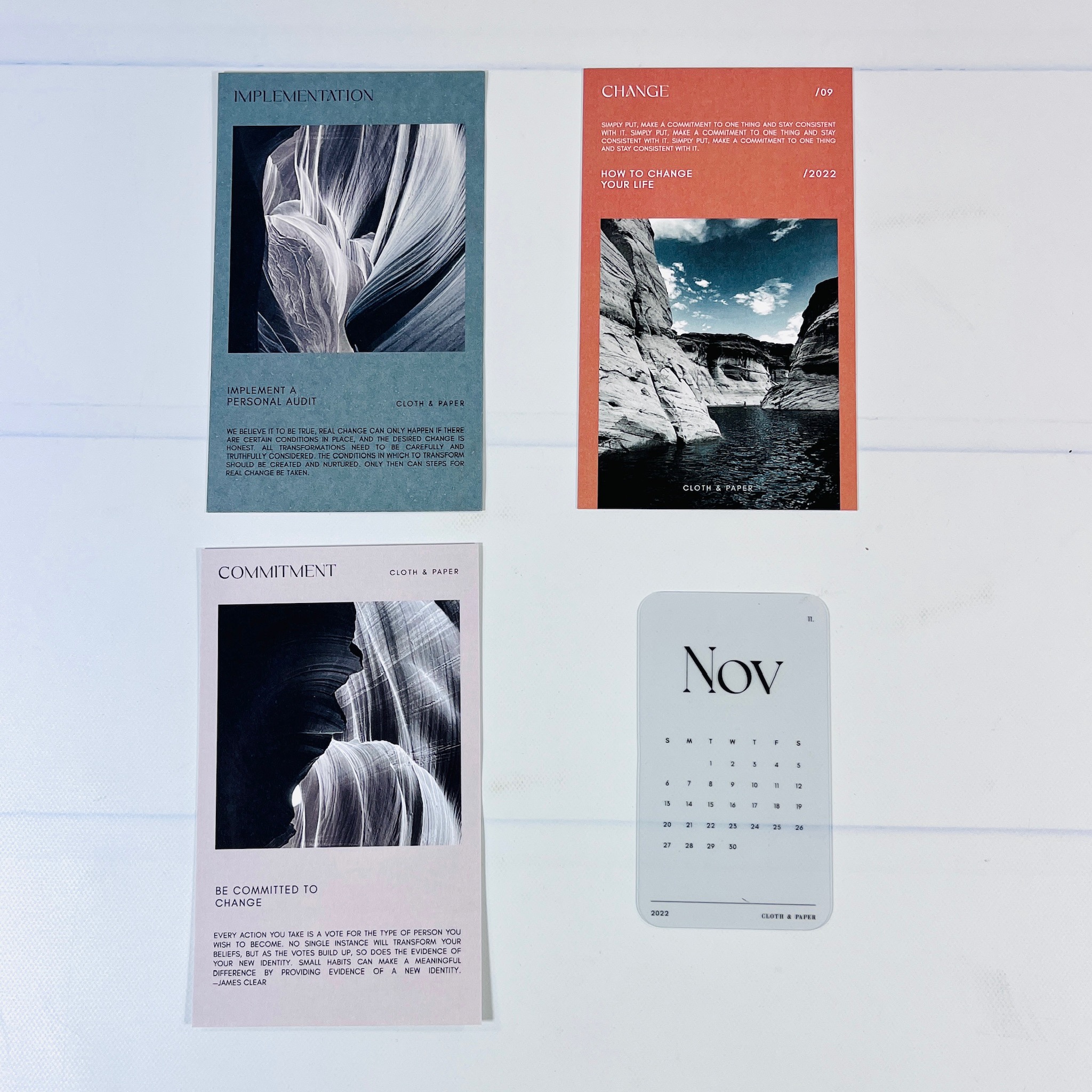 November CC is a small plastic card with the month at a glance. Change Card has a beautiful view on the front and back. Implementation Card reminds us we need to be in the right state of mind to make a true change. Commitment Card tells us to go for it!
I received two pairs of tweezers: Straight Tweezers are on the left, Curved Tweezers are on the right. These are helpful because it can be hard to pick up and accurately place those teeny tiny stickers that we sometimes receive in this subscription.
The next section has all of the items in the pen subscription.
Penspiration Box
Here's all of the items in the Penspiration Box!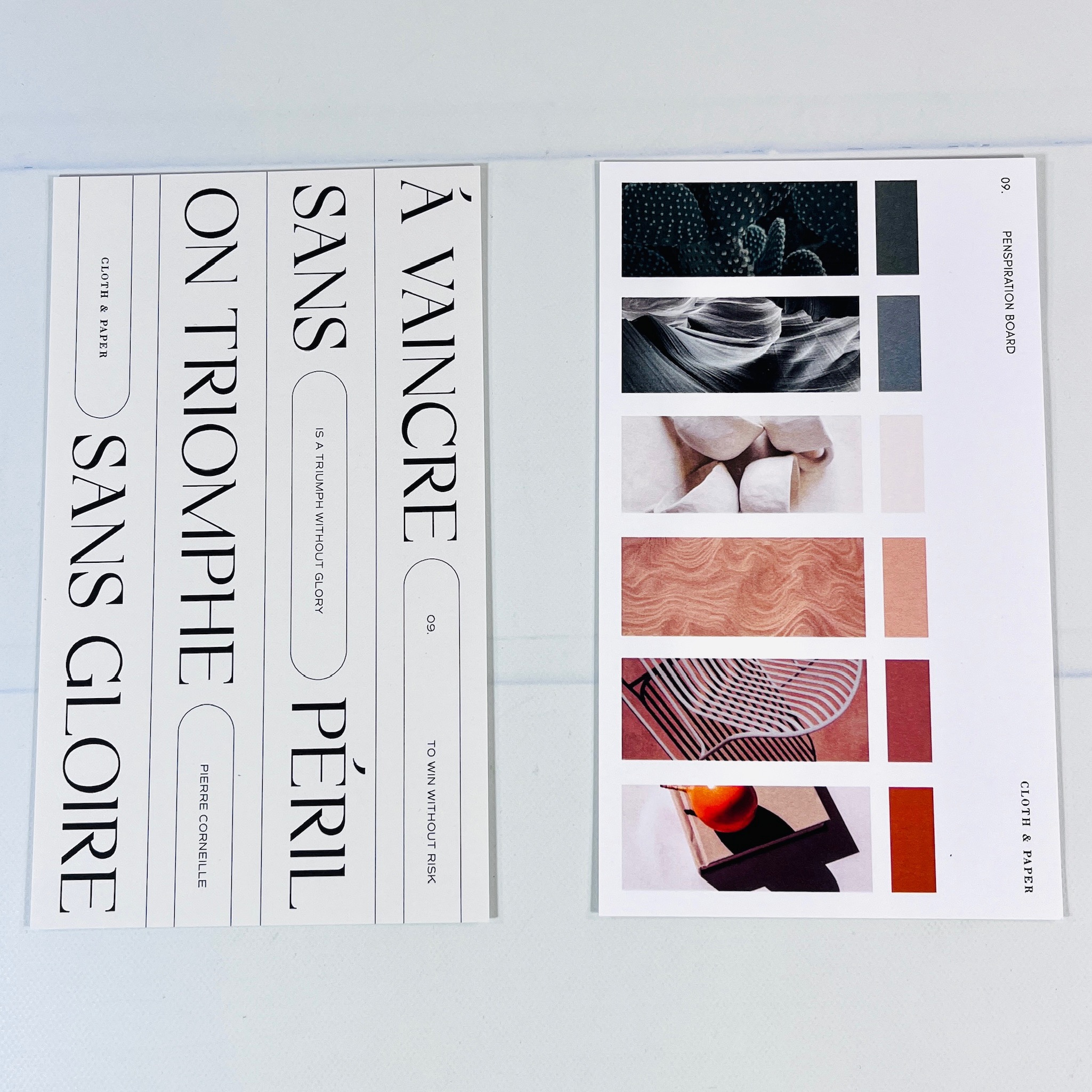 The card on the left is the September 2022 Journaling Prompt Card. The card on the right is the Pen Test Sheet.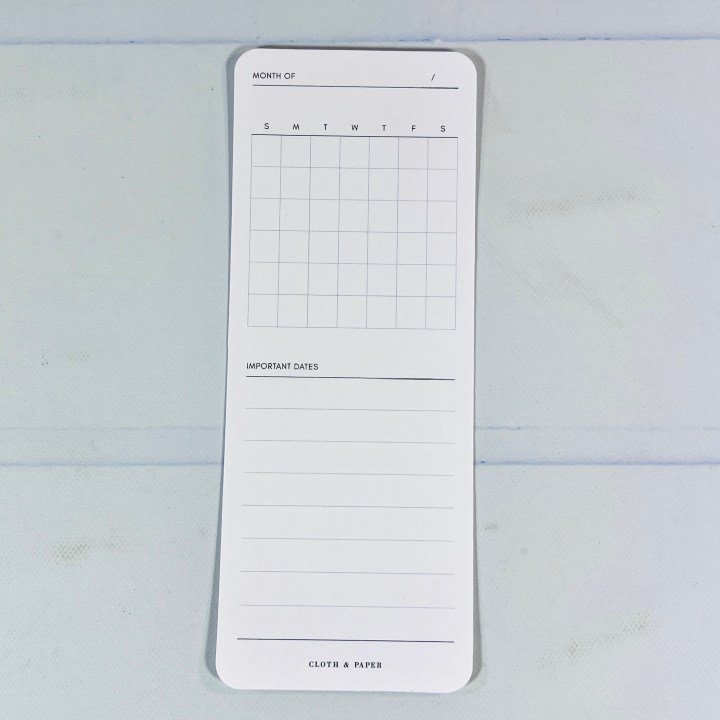 The Undated Calendar Card can be used whenever you want!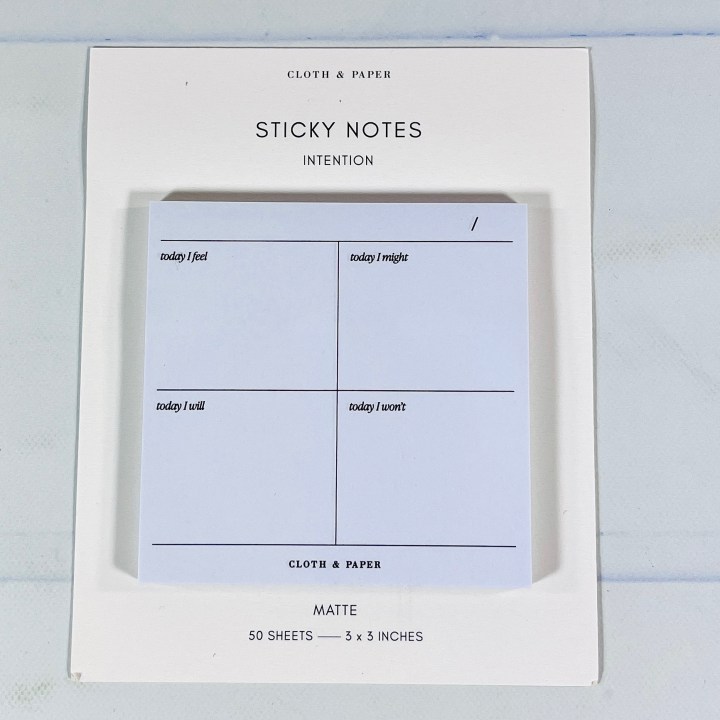 Start your morning with the Intention Sticky Notes to set your goals and keep your positive outlook on track.
The pens come in this cool pack.
You can read all about the pens in this month's box on the Cloth & Paper Unboxing Blog. All five of the pens have a 0.5mm nib, all but one have black ink, and they are all retractable and have a clip on the side. There may be variations, but usually it's something minor like a barrel color.
I hope the September 2022 Cloth & Paper Planning & Stationery Box and Penspiration Box are helpful to you! I liked the theme of self-discovery and appreciate that there are items in here to help me delve deeper and give some thought to some life-changes I may want to make soon. The tweezers are helpful too, because I have a hard time picking up those tiny stickers sometimes. As always I adore the pens and reach for them all the time, they are never far from my side.
Below you will find some more box opening pictures.
Cloth & Paper offers a monthly subscription box of their planner supplies, inserts, and writing instruments. The items look sleek and Cloth & Paper believes "there is luxury in simplicity". The Planning + Stationery box is $39.99 a month but drops to as low as $36.99 a month when you sign up for a 6-month term. The Penspiration box is $21.99 a month but drops to $19.99 a month for the 3-month plan. The Penspiration AND Planning + Stationery combo is $54.99 a month and drops to as low as $49.99 a month when you choose the 6-month term. Our readers love this subscription – Cloth & Paper was voted as the top pick for the best stationery subscription this year!
Visit CLOTH & PAPER to subscribe and find out more about this subscription!