The October 2022 BOXYCHARM Premium theme was tarte Takeover Box! so that means everything inside was from tarte! I received mostly makeup and one skincare item, but that's fine with me since I like their makeup. I also appreciate that this brand is cruelty-free and I believe all of the products I received are vegan too (and it said so on the sides of the product boxes). See what I received below!
There may be variations in the box – see the full spoilers here.
DEAL: Subscribe now and get a FREE gift: PHASE ZERO MAKE UP Bare Necessities Eyeshadow Palette OR KAT BURKI Vitamin C Intensive Face Cream, PLUS $10 credit to October Drop Shop!
Use this link and pick your FREE gift at checkout AND get your exclusive $10 Drop Shop code via email within 24 hours of subscribing.
tarte Drink of H2O ($39) I linked to what appears to be the same product but in a different container/box. It's a non-greasy gel moisturizer with hyaluronic acid, coconut oil, and dimethicone. It's scented with lavender and orange essential oils. It also leaves a slightly tacky feeling behind.
Boxy Exclusive: Tarte Cosmetics Sunrise Amazonian Clay Eyeshadow Palette ($30 listed value) There are a couple of tarte palettes with similar colors in them, namely the Toasted and Gilded Glamour palettes. These are warm neutrals and the color payoff for some of them is rather lacking on my arm swatch, but looks better once I apply them to my lids. I actually liked these shades and have been using the palette exclusively since it came in the mail — the shades are perfect any time of the year but especially go well with fall outfits.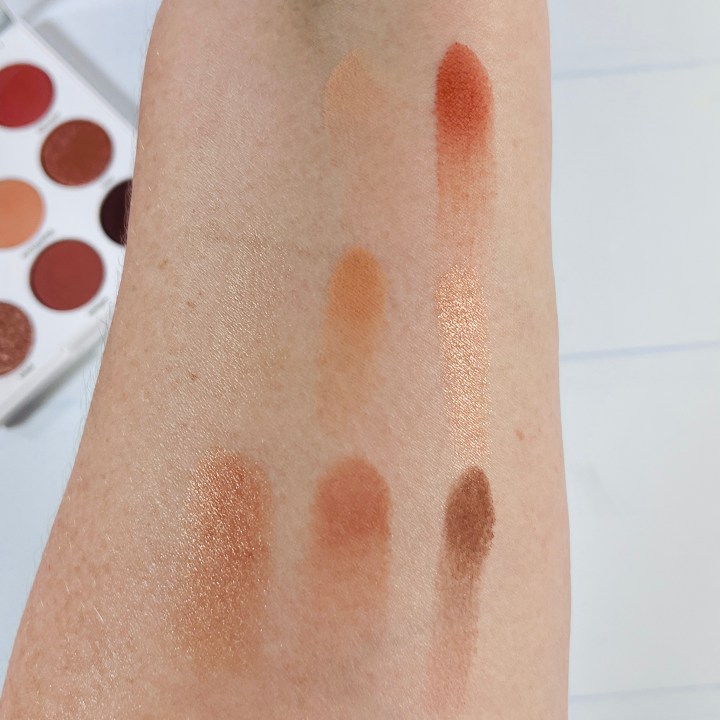 Here's the Sunrise palette swatched in the same order as shown in the palette.
Tarte Cosmetics Sea Breezy Cream Blush ($27) There were three shades available and I received Pink Sky, described as a soft pink color although that doesn't seem correct, it's deeper than that. It's easy to use, just dot some on cheeks and gently pat to disperse. Start with a small amount according to your skin tone and add more if necessary. I liked it, and it leaves behind a dewy look on my cheeks.
Tarte Cosmetics Lights, Camera, Lashes 4-in-1 Mascara ($24) I thought the case of this mascara was pretty cool, I guess I've never owned it before but it's certainly interesting! The formula worked well too, it gave my lashes volume and length and while I didn't want the spidery look as shown on the box, I was happy with the outcome and appreciate that it went on smoothly.
Tarte Cosmetics Maracuja Juicy Lip Balm ($21) I received the color Orchid (mauve) and I thought it coordinated nicely with the blush shade I received. There is a push button on the end and be careful, one push is all you need and the product isn't retractable. This was a nice lipstick/lip gloss combo that felt non-sticky on my lips and left them feeling moist. It had a hint of coconut scent. It's supposed to leave the lips plump but I think that's just an effect from the gloss, it's not a plumping/stinging product. Some of the ingredients may provide antioxidant, hydrating, and anti-aging properties. Swatched below.
Tarte Cosmetics Double Take Awake Micro Liquid Liner & Brightener ($25) To paraphrase Taylor Swift, I am never ever, ever, going to like liquid liner. This two-in-one was no exception. It bled all over, wouldn't go on straight, leaked into my eyes, and transferred to my crease as soon as I blinked. The opposite side of the pencil is flesh colored and is supposed to go onto the water line. It not only looks weird, but I prefer not to put makeup on that area. I now have smeared eyes and I expect it will only get worse as the day goes on. Swatched below.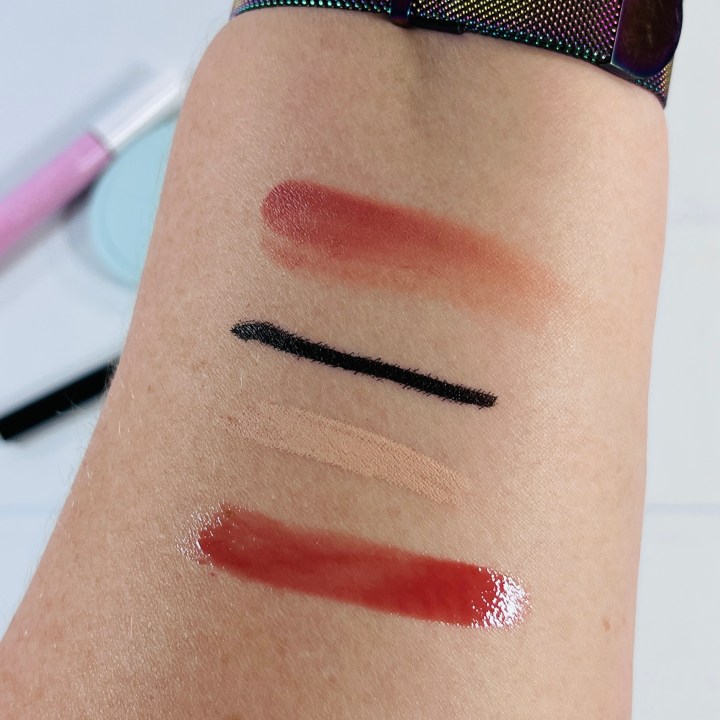 Swatched from the top are the Breezy Blush, the liquid liner and pencil brightener, and the Maracuja lip balm.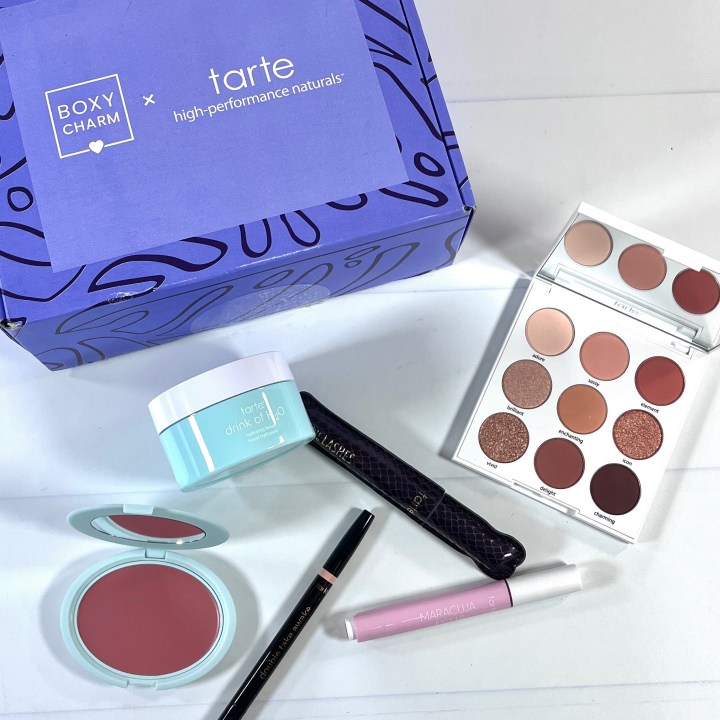 Obviously this was a takeover box and everything I received was from tarte! Four out of five items were makeup, and that's ok by me. I liked all of the makeup items with the exception of the liner/brightener duo, but that's mainly due to personal preference, and not the formulas (although the liner did smudge terribly by the end of the day). I can see myself using the rest of the makeup through the next couple of months, as the colors and textures work well for me (like wearing cream blush when my skin is extra dry due to the weather). The value was around $166! I went ahead and added the listed value for the exclusive shadow palette as it was similar in price to other tarte palettes on Sephora.
Below is the product info card plus a box opening picture.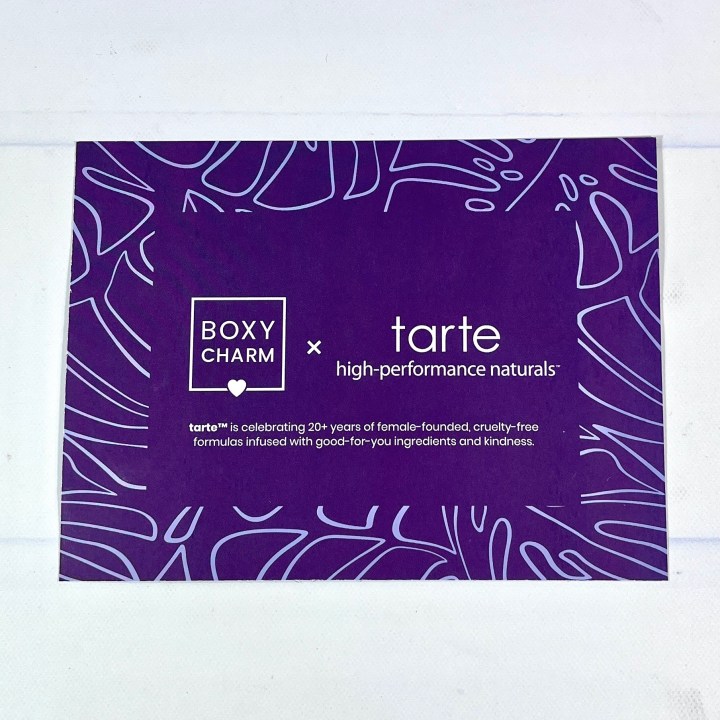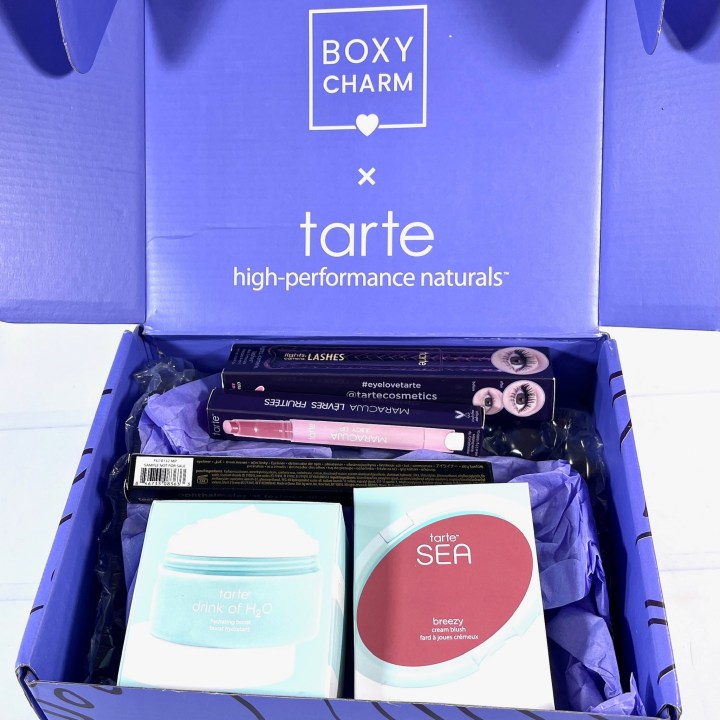 BOXYCHARM Premium is a beauty box from BOXYCHARM (who also has a base box for $27.99 a month and a BOXYLUXE upgrade option). For $39.99 per month (price drops for longer terms), you'll receive 6 items with 2 items chosen by the subscriber. They also state an average value of around $215 per box. BOXYCHARM's premium subscription box was voted by our readers as one of the best beauty subscription boxes for 2022, a best skincare box, and a best makeup subscription!
Did you get BOXYCHARM Premium? What's your favorite item?