The October 2022 BOXYCHARM theme was Under Your Spell and I received 5 items including an eye shadow palette perfect for fall, a primer, and more. See all of my items below!
Keep in mind that BOXYCHARM sends many box combos so your box items and value may be different than mine. There are variations in the box – see them here.
Please note that BOXYCHARM recently announced the addition of a $1.99 handling fee to all subscriptions per monthly billing cycle, starting in October. All Annual Subscribers who renew will also see a $9.99 handling fee charge. You can read more about it here.
DEAL: Subscribe now and get a FREE gift: PHASE ZERO MAKE UP Bare Necessities Eyeshadow Palette OR KAT BURKI Vitamin C Intensive Face Cream, PLUS $10 credit to October Drop Shop!
Use this link and pick your FREE gift at checkout AND get your exclusive $10 Drop Shop code via email within 24 hours of subscribing.
SOMME INSTITUTE TRANSPORT Exfoliating Glycolic Acid Pads ($65) I was surprised to see methylisothiazolinone as an ingredient in these pads – it is so sensitizing that it is recommended for use only in rinse-off products (such as shampoo and conditioner). I am allergic so I won't be using these pads. I was also alarmed to see lye (aka sodium hydroxide) as the fourth ingredient – I get that it works as a buffer but that seems awfully high on the list. These are supposed to help exfoliate the skin with chemicals rather than scrubby stuff but if I had a choice of using, say, cornmeal or these wipes, I'll go with cornmeal. I am flabbergasted by the retail value of these wipes.
EARTH HARBOR Celestine Hydra-Plumping Peptide Serum ($45) Whew, this smells like lemongrass and alcohol! It's a very fast drying non-sticky serum that is supposed to plump and hydrate skin. I feel like the alcohol and hyaluronic acid cancel each other out. After I applied it, it dried almost instantly and I couldn't tell it was there (except for that smell). The product is supposed to hydrate skin, provide antioxidants thanks to pomegranate powder, and niacinamide may fight fine lines and improve acne.
TOYFACTORY Superset Hyaluronic Acid Setting Spray ($24) I must admit, setting sprays are not something I use (I don't want to spritz perfume on my face, and these tend to have fragrance, including this version). It can be used after doing your face or as a serum/toner/rehydrating mist on bare skin. It has the usual, some man made chemicals plus plant extracts and sodium hyaluronate. It takes a while for it to dry, and I'm not sure what it's supposed to smell like, but reminds me vaguely of rosemary.
DEW OF THE GODS Tahitian Breakfast Dewy Collagen Primer ($32) Again, not really a primer person because of the same reasons as above (parfum and so many unpronounceable ingredients). This had a slight pink tint and smelled like bubblegum and possibly bananas. This is supposed to be used before moisturizer and has dimethicone, glycerin, and shea butter in the ingredients.
CIATÉ LONDON Spice Palette ($35) BOXYCHARM sends a whole rainbow's worth of palettes throughout the year, and this month we received some vibrant shades for autumn. I almost never wear all of the colors in a palette, and this is no exception, but I still found several that work for me and my target look (generally a well balanced look for daytime). I used a lid primer and placed Raincoat on my brows, Moonlit on my lids, then I used a combo of Acorn and Pine Cone in the crease. It looked good at the end of the day!
Here's the Ciate palette swatched in the same order as found in the compact (which was cool looking and sturdy). The second picture above shows the fall out from the swatch, and I had the same result when applying to my eyes.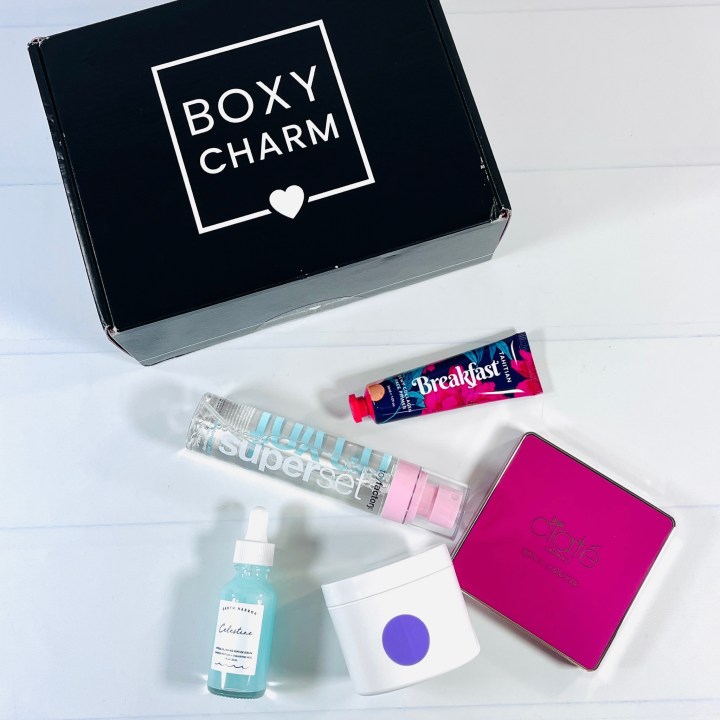 My October BOXYCHARM assortment only had one makeup item and the rest was pretty much skincare. I have to say, these are not really things I use on a regular basis (especially since my sensitive skin looks pretty good right now and I don't want to use anything harsh or potentially irritating). The primer is alright, the serum was ok, I won't touch the pads. That leaves the palette, and while I like some of the colors, I have to clean up after applying due to the fall out. I thought it looked good as the day wore on. The value for my box combo was around $201 but these brands are all sold on their own websites, and I prefer it when I can find them at Sephora or Whole Foods Beauty, or even Target.
Below is a box opening photo as well as the product info card.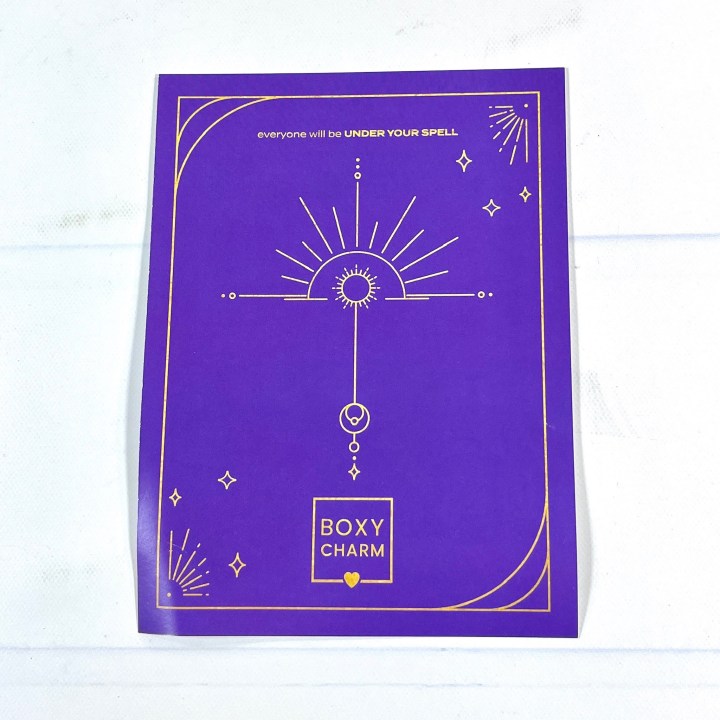 BOXYCHARM is a makeup and beauty subscription box that sends out 5 full-size items every month. Products include makeup, skincare, and beauty tools and each box has an average value of around $175. BOXYCHARM is $27.99 a month with discounts for those who prepay for longer terms. This subscription was the top pick of our subscribers for the best makeup subscription boxes in 2022!
What's your favorite item in this month's BOXYCHARM?