Astrology Zone x The Beauty Season Limited Edition Beauty Boxes are here for Fall 2022 and they are curated to best fit the element that corresponds to your astrological sign! Each box is $40 ($250+ value) and comes with 11 items and they are a collaboration between The Beauty Season and Susan Miller of Astrology Zone. They are packed with products and advice for Fall 2022 through March/April 2023 based on your star sign. The boxes have some items in common (three of the boxes have 2 mini wood wick candles, all have a haircare duo, a perfume, and a supplement) and feature a good assortment of beauty categories (hair, body, face, etc.) but if you have to have all 4 boxes then there's not much overlap.
Beauty products for every sign. Valued over $250 each box contains 11 products and an exclusive Fall 2022 astrological forecast from Susan Miller of Astrology Zone.
Each box comes with this forecast booklet, which has 68 pages and a forecast for each of the 12 zodiac signs. I'm a Libra so I shared those pages above. The rest of the booklet is exactly that: a forecast for each sign. The back has an opportunity to win a gift card.
The Air Box: Gemini, Libra, Aquarius – $40, approximately $260 value! I am a Libra, which is an Air sign. The other two star signs that this box is specially designed for are Aquarius and Gemini, and each of these signs are described as "open-minded, adventurous and innovative". Inside I found a super-hydrating hair oil in spray form, a lovely Viktor & Rolf amber floral fragrance, and a whole bottle of chewable vitamin C to help fight off winter bugs. I must say, the clear winner in this and all of the other boxes are the mini WoodWick candles, each one is PERECT for fall. I calculated a value of approximately $207.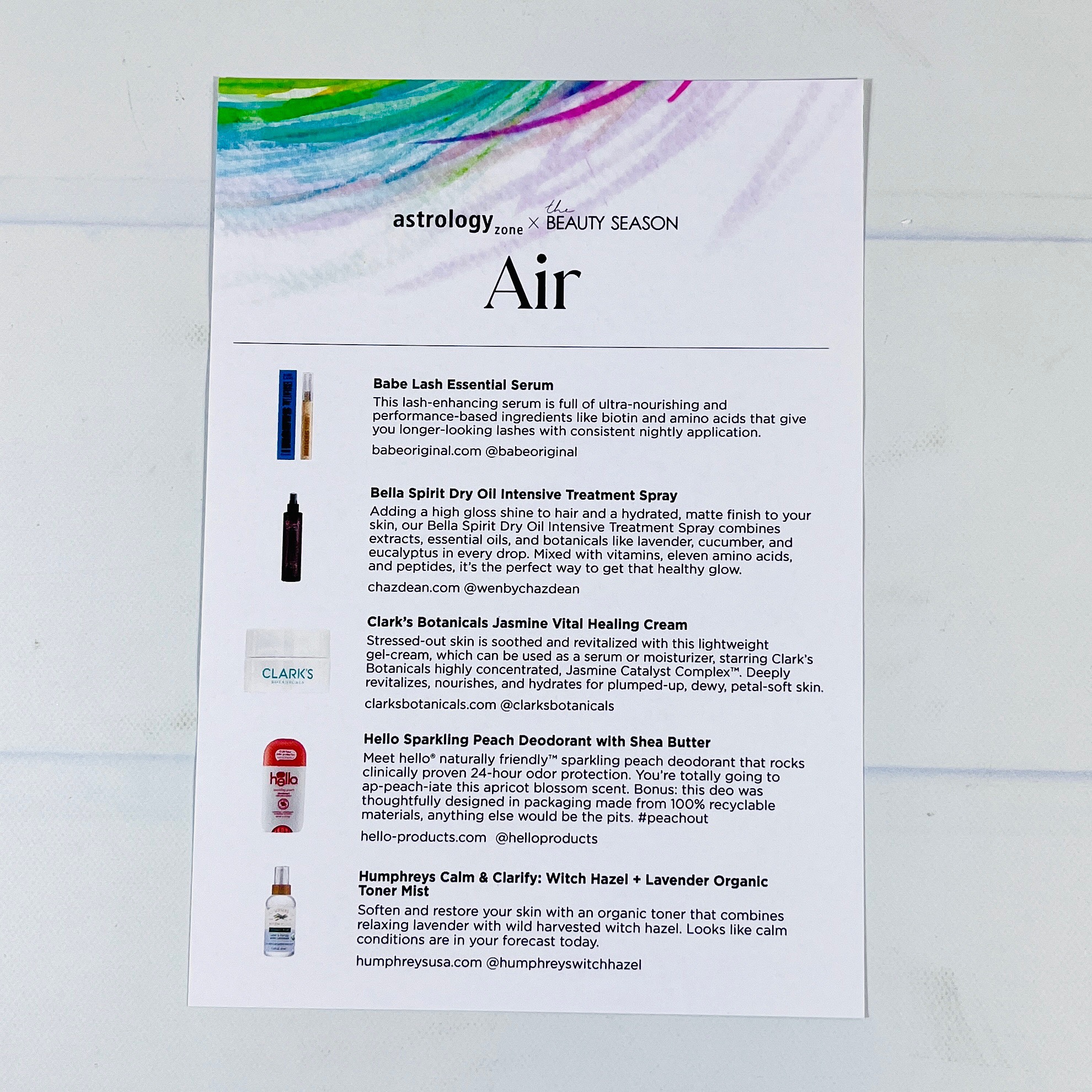 This box includes:
The Fire Box: Aries, Leo, Sagittarius – $40, approximately $265 value! This box is for those whose star signs have them pegged as "passionate, creative, and independent spirits". As you can see we have some of the same brands but in different formulations to keep it interesting. I am most excited about using the skinfix body cream to help keep old skin cells from building up when the weather cools off. It's unscented so I should have no problems with it clashing with my new Mix:Bar fragrance pen in Coconut Palm, which has hints of warm vanilla and which I accidentally left out of my picture, sorry about that! It has a soft brush applicator, how unique! I'm looking forward to trying Rahua's volumizing set, I'm so glad it's free of parfum! I calculated a value of approximately $269.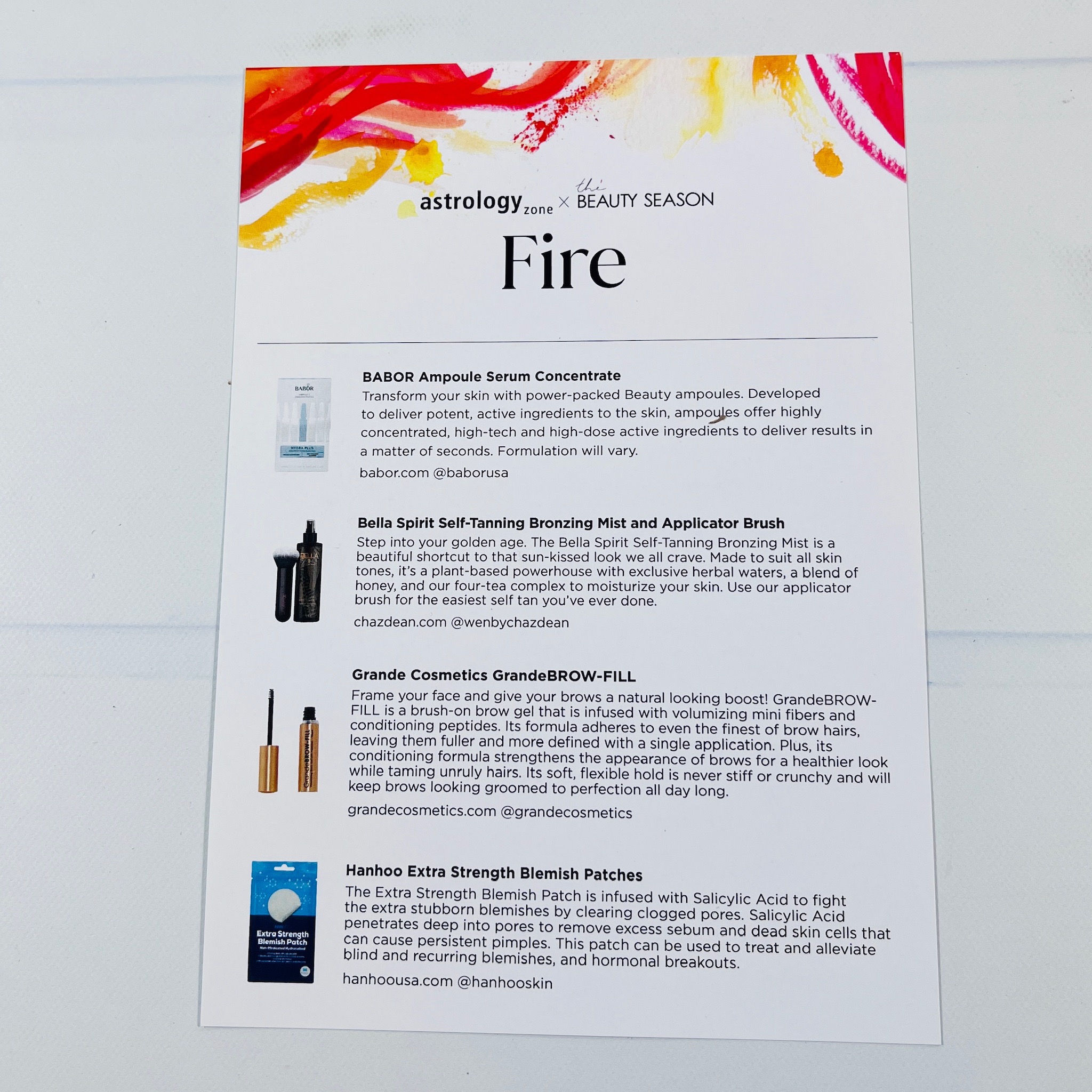 This box includes: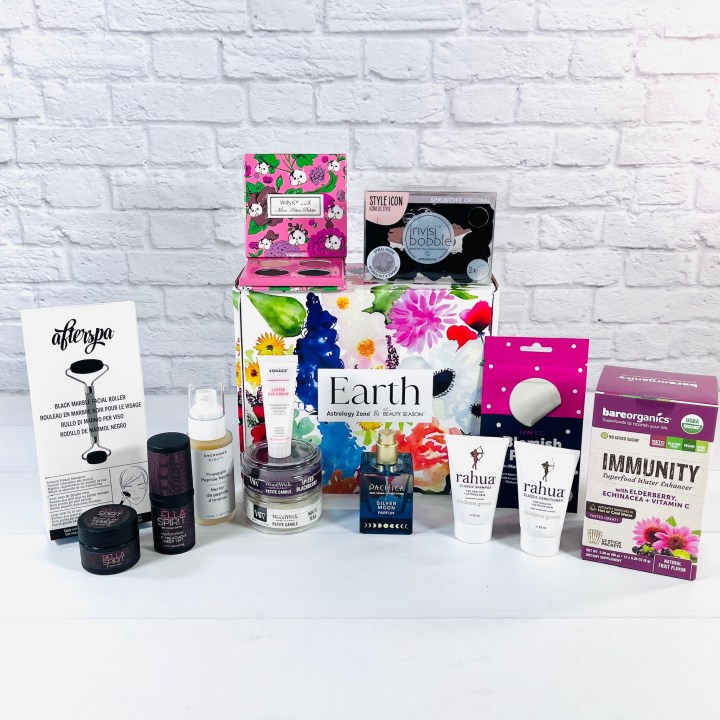 The Earth Box: Capricorn, Taurus, Virgo – $40, approximately $250 value! Here's the box meant for those who are the "grounded, undramafied, keeping-it-real pragmatists" of all of the zodiac signs. Inside there was a warm eyeshadow palette for fall with a hint of sparkle for those after-work parties. I was happy to have another supplement, but check your box, mine expires a few days from now. There's a perfume with notes of almond and vanilla plus a luxurious lip care duo. I calculated a value of approximately $253.
This box includes:
The Water Box: Cancer, Scorpio, Pieces – $40, approximately $250 value! Our friends from these signs are described as "compassionate, mysterious, and intuitive". This box had me at "sunscreen", and I was excited to see that it is mineral-based and scent-free! There was a tinted lip balm from a favorite brand of mine and one of my all-time favorite deep conditioners for the hair (Amika stuff smells so gooood). I calculated a value of approximately $259.
This box includes:
I have so many new beauty and health items to use over the next several months, thanks to the latest Astrology Zone x The Beauty Season Limited Edition boxes! I sensed a pattern with some of the same types of products and sometimes several of the same brands over all four boxes, but for the most part, there was a good variety so there wasn't much overlap. I appreciated that each box had a supplement of some type that may help boost the immune system in what may be an extra rough upcoming flu season. I know that each box is curated to a specific zodiac element but of course, you can choose whichever box fits you as an individual. The booklet is the same in all four boxes, so if you decide to choose a box that's not aligned with your sign then you will still be able to read your horoscope for the months ahead. The boxes were beautifully designed but I wish they were similar to last year's boxes, which had a removable top (and which I still have because they are perfect for storage and have easy access to whatever is stored inside). Keep in mind that some items may have a variation but it's usually something minor like the type of ampoule serum or perfume pen in the Fire box. I believe all except the Air box had over $250 value but it's possible I miscalculated somewhere along the way.
Are you getting one of these boxes? Tell me which one draws your eye and whether it aligns with your astrological sign or not (which is all in good fun of course).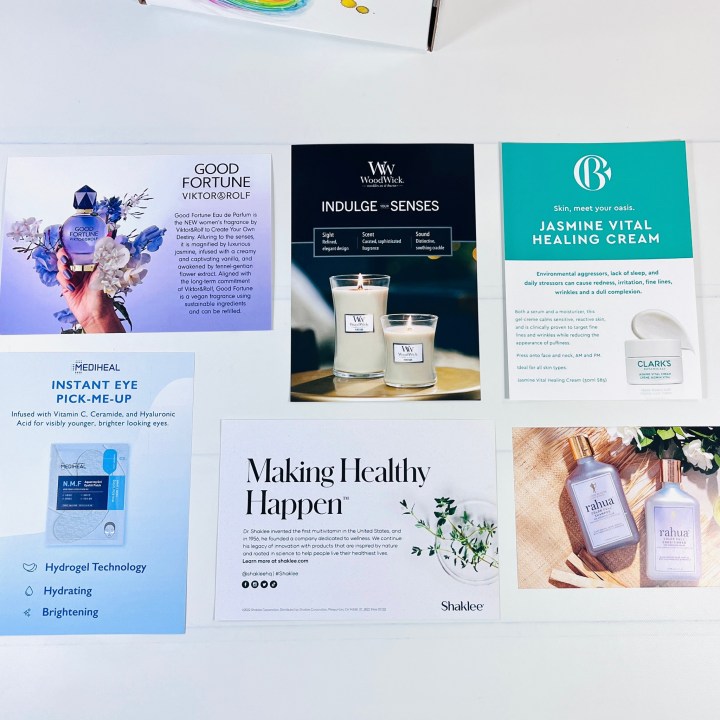 Each box had some inserts, many with coupon codes for future purchases or additional info on products. These are the inserts from the Air box but the other boxes may have different inserts based on their contents.
The boxes were packed simply and had a piece of bubble wrap for protection and tissue paper wrapped around the items.
Are you grabbing the Astrology Zone x The Beauty Season Limited Edition Beauty Box?