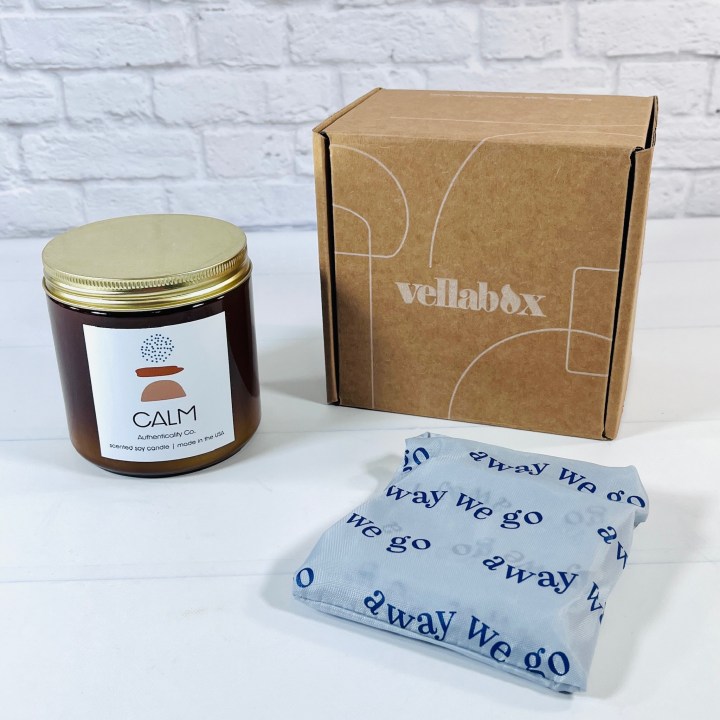 The September Vellabox contained one of three different candle scents and I believe they had a self love/self care/serene environment type of theme and I received the fragrance for those who are into fresh and floral types of scents. I also received a reusable and perfectly packable tote/shopping bag. I am reviewing The Vivere Box, which comes with a 16 ounce candle and is $38 a month.
DEAL: Save 50% on your first box! Use coupon code HELLOSUB50.
BONUS: Away We Go Tote Bag ($12 listed value) I've already used this bag — I gave it to my daughter along with some other subscription box items and then she brought it back with something else inside. It folds down into a small square so I will keep it in my purse for those times I go to buy a couple of things at a store and this way I won't need to use a disposable plastic bag. It's also machine washable!
Authenticality Co. CALM Scented Soy Candle (buy a 14 ounce candle for $36) Say the word calm and my mind immediately goes to lavender, but I didn't see it as a listed note. Instead, Calm has notes of sea salt, fresh air, and linen, and those all seem subjective to me. I detected a floral fragrance along with "airy" notes plus something that generally shows up in scents described as "sea salt" and let's add powder in there too. A powdery floral ocean scent. Personally, I don't care for the scent but my husband said he liked it. I thought the fragrance while burning (hot throw) was pretty strong — I'm not sure it reached a nearby room but it overwhelmed me when I was sitting in a recliner nearby. (FYI, the candle that I linked to comes with a wooden wick.)
My September candle from Vellabox and Authenticality Co. had a strong floral and sea air type of scent that I'm sure lovers of that type of fragrance will thoroughly enjoy. The scent was strong both while hot and while cold, it could probably pass for an air freshener in a small room. I also appreciated the bonus gift because I always forget to take a bag when I'm just browsing at a store and inevitably end up buying something. Now I can whip out this portable, foldable tote!
Here's a couple of box opening pictures. There's always a beautiful picture inside the lid of the box. There's even a curated Spotify playlist plus you don't have to pay for the Spotify service, and it's pretty much the only music streaming service that I use now.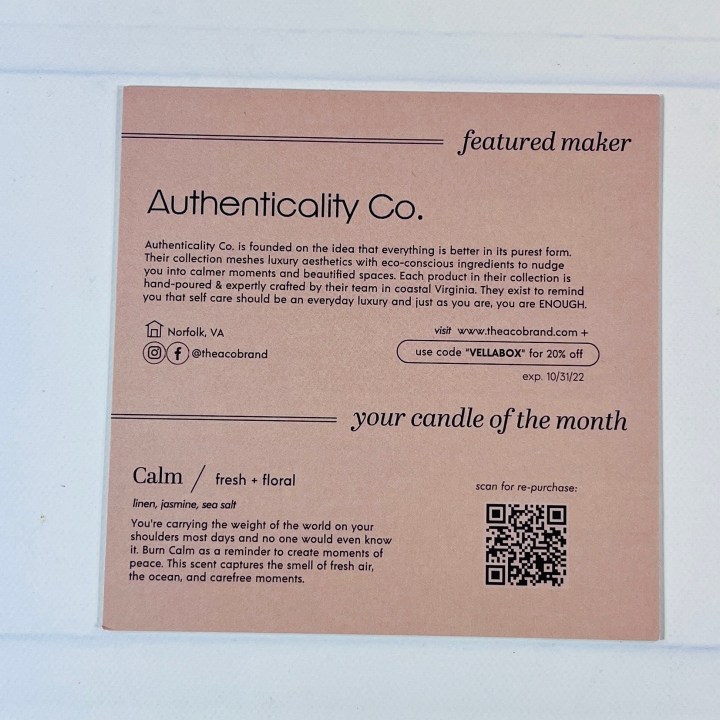 The info card lists both the candle brand and the descriptions of the items in the box.
The candle comes in a reusable bag too!
Vellabox is a monthly natural candle subscription box. The candles are always in seasonally inspired scents and are created by the finest American artisans. Each box features a different candle brand. The candles are from small businesses and are made of all-natural wax, cotton braided wicks, and premium fragrance oils. Vellabox also includes a surprise lifestyle gift in every box. There are three boxes to choose from based on size. When you sign up for Vellabox, you need to choose which size candle you prefer and you can also pick the scent group you prefer. You can choose from The Lucerna Box ($18) which includes a 4 oz candle monthly, The Ignis Box ($28) with an 8 oz candle monthly, and The Vivere Box ($38) with a 16 oz candle monthly. Each level receives a bonus lifestyle gift and shipping is included to the US, and all have great discounts for longer-length plans.
The Vellabox candle subscription box made the list in our 2022 readers' choice picks of best home and decor subscription boxes and as a favorite affordable subscription!
What did you think of the September Vellabox? Let me know in the comments!