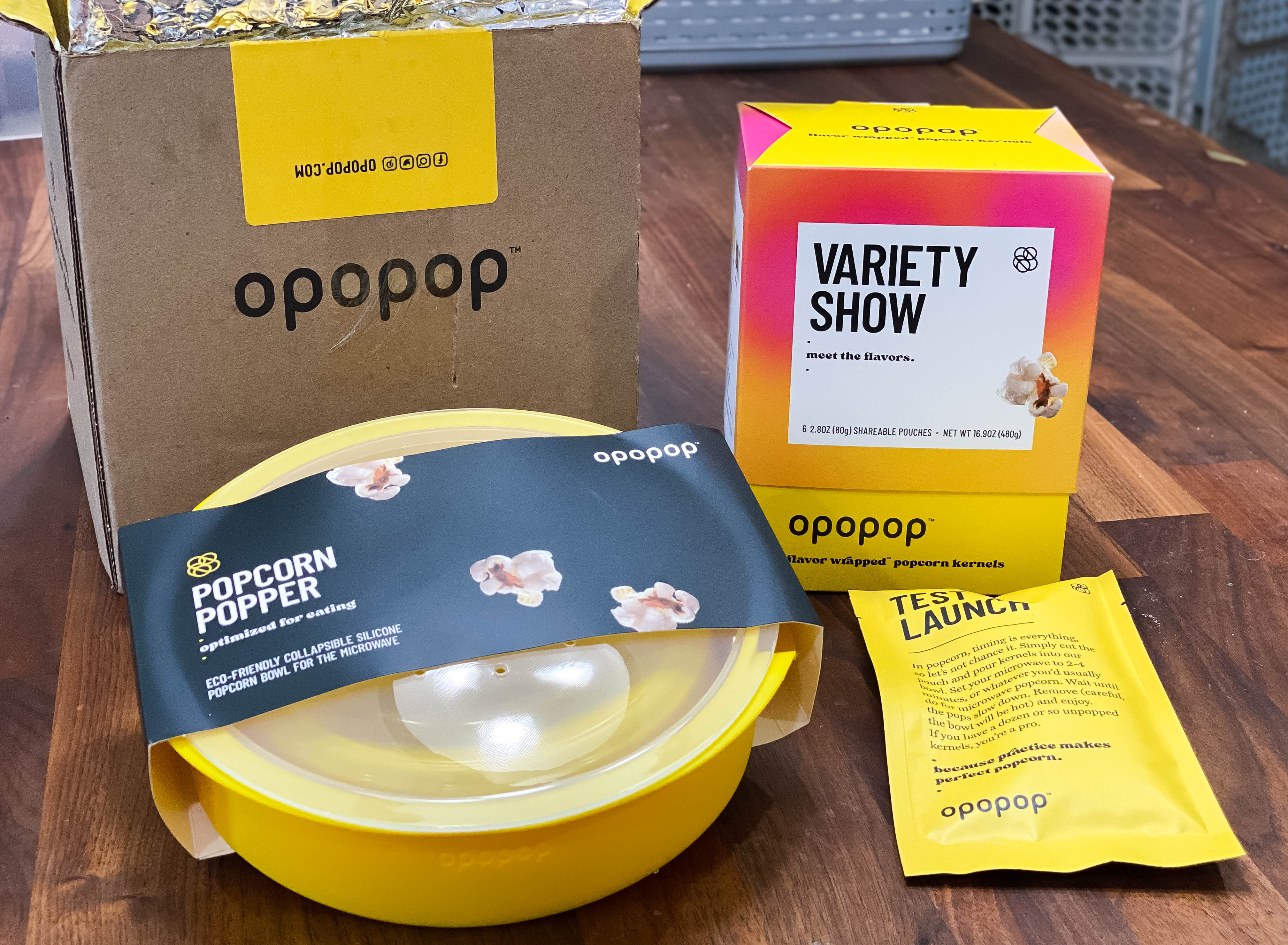 Opopop Gourmet Popcorn Review
Popcorn is one of my family's favorite go-to snacks, whether for watching movies or when we're just craving something tasty and easy to prepare. With unique flavors to choose from, Opopop's Flavor-wrapped Popcorn Kernels make a great alternative to regular store-bought popcorn. They call their popcorn flavor-wrapped because they use a proprietary technique of wrapping each kernel in a mix of unique ingredients so once they're popped, they become really flavorful! Keep reading to learn more about this delicious gourmet popcorn from our review!
Opopop Benefits & Drawbacks
Opopop Benefits
New and unique popcorn flavors
Specialized popcorn popper
They grow their own kernels
Gluten-free, nut-free, and non-GMO
Opopop Drawbacks
Doesn't ship outside US and Canada
All About Opopop
Opopop, a Colorado-based company, makes delicious gourmet popcorn in unique flavors. From sweet to salty and everything in between, you can look forward to a yummy popcorn stash whenever you want it!
How does Opopop work?
Opopop brings your favorite popcorn flavors straight to your door! Simply purchase a membership to get free shipping for an entire year, and log in when you need to shop. Members will also get a free Starter Kit plus early access to the newest popcorn flavors.
How much does Opopop cost?
Individual bags of Flavor-wrapped Popcorn Kernels start at $13.99 and you can order as many bags as you like. If you're a big popcorn lover, they also offer a Variety Show 2-pack ($34.99) that includes 2 Variety Show cartons (12 pouches), which means you get 2 pouches of each of their 6 popcorn flavors in every box. Another option is to try their one-time Discovery Kits. The Flavor Wrapped Kernels Discovery Kit ($44.99) includes 7 pouches of Flavor Wrapped Kernels plus 1 Popper, while the Pop Cups Discovery Kit ($34.99) includes 12 Peel + Pour Pop Cups (3 Pop Cups of each flavor) and 1 Popper.
Where can I buy Opopop?
Simply visit the Opopop shop and head on over to the Kernel Club page, then click the Become a Member button to sign up. Once your sign-up is successful, you can choose among the popcorn kits or individual flavors, then add them to your cart and checkout!
Where and how does Opopop ship?
Opopop delivers to the US (including Hawaii) and Canada. However, they do not currently ship in PO boxes. If you're a Kernel Club member, you will enjoy free shipping for up to 1 year!
How is Opopop packaged?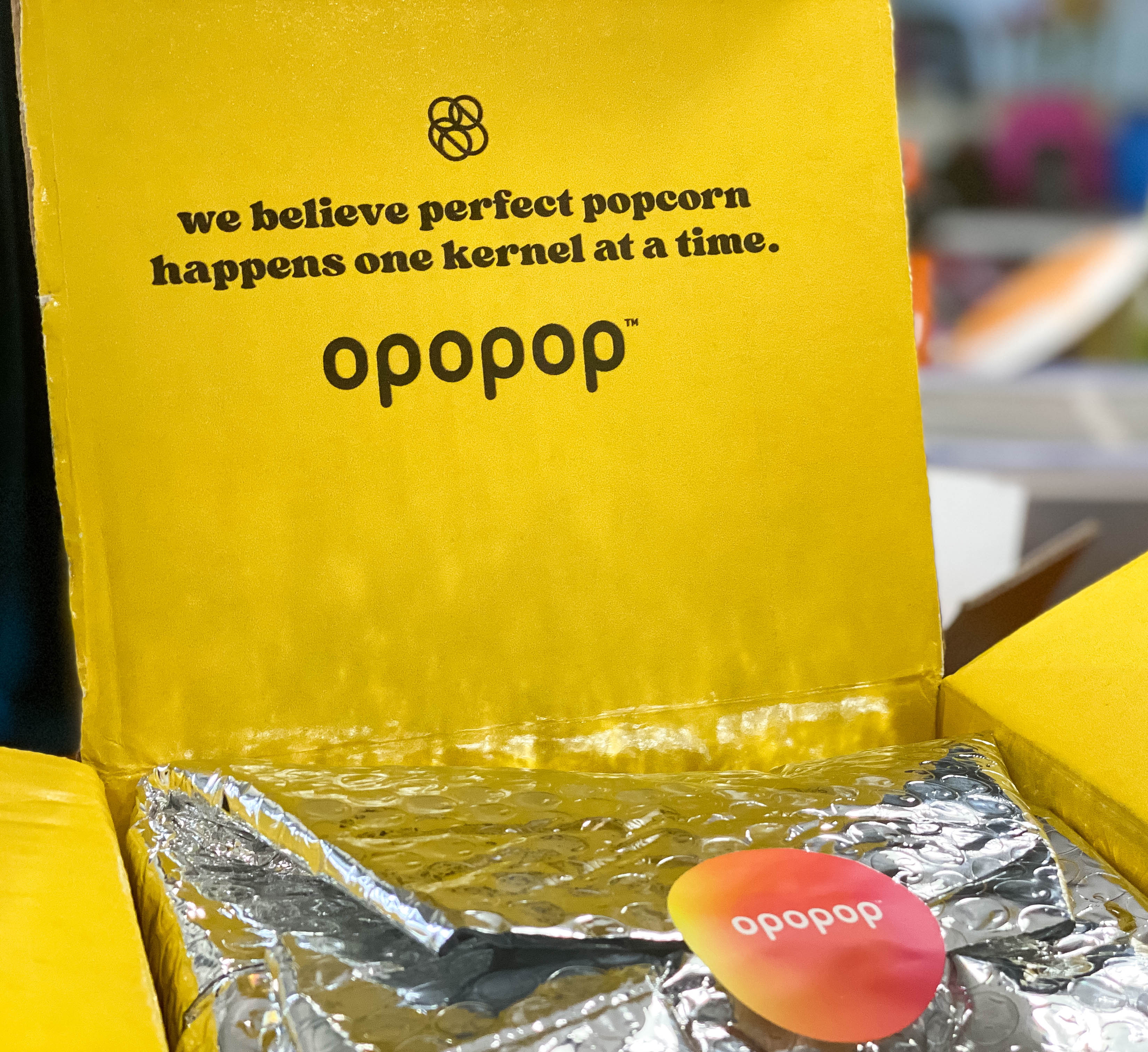 Opopop uses cold packs to keep the kernels cool while in transit and to avoid the flavor coating from getting squishy – you don't have to refrigerate them when they arrive because they are shelf-stable. You can reuse the ice packs or toss them out. During winter months, they skip the ice packs when shipping to certain locations.
What products does Opopop sell?
Opopop is known for their gourmet popcorn called Flavor-wrapped Popcorn Kernels! You can purchase individual popcorn packs or grab a kit for a full Opopop experience. Currently, the available flavors are Fancy Butter, Lightly Salted, Maui Heat, Cinnalicious, Vanilla Cake Pop, Salted Umami, Chedapeño, Wasabi, Pickle Monster, Birthday Cake, and Extra Spicy Maui Heat. From time to time, they also offer limited flavors like Salty Caramel, Gingersnap, and Holiday Edition Fancy Butter. Preparing the popcorn requires a unique Opopop Popcorn Popper and that is also exclusively available on their website.
How do I gift Opopop?
It's totally possible to share your love for gourmet popcorn with your friends and loved ones by gifting Opopop. You just have to click the "This order is a gift" option at checkout.
My Opopop Review
We're reviewing the Opopop Variety Show 2-pack, perfect for families, friends, and popcorn fans!
We have 12 pouches in the box, which is equivalent to 108 cups of popcorn! The flavors in the box are Salted Umami, Fancy Butter, Chedapeño, Maui Heat, Cinnalicious, and Vanilla Cake Pop! They are non-GMO, gluten-free, and nut-free. Except the Fancy Butter, everything is also vegan.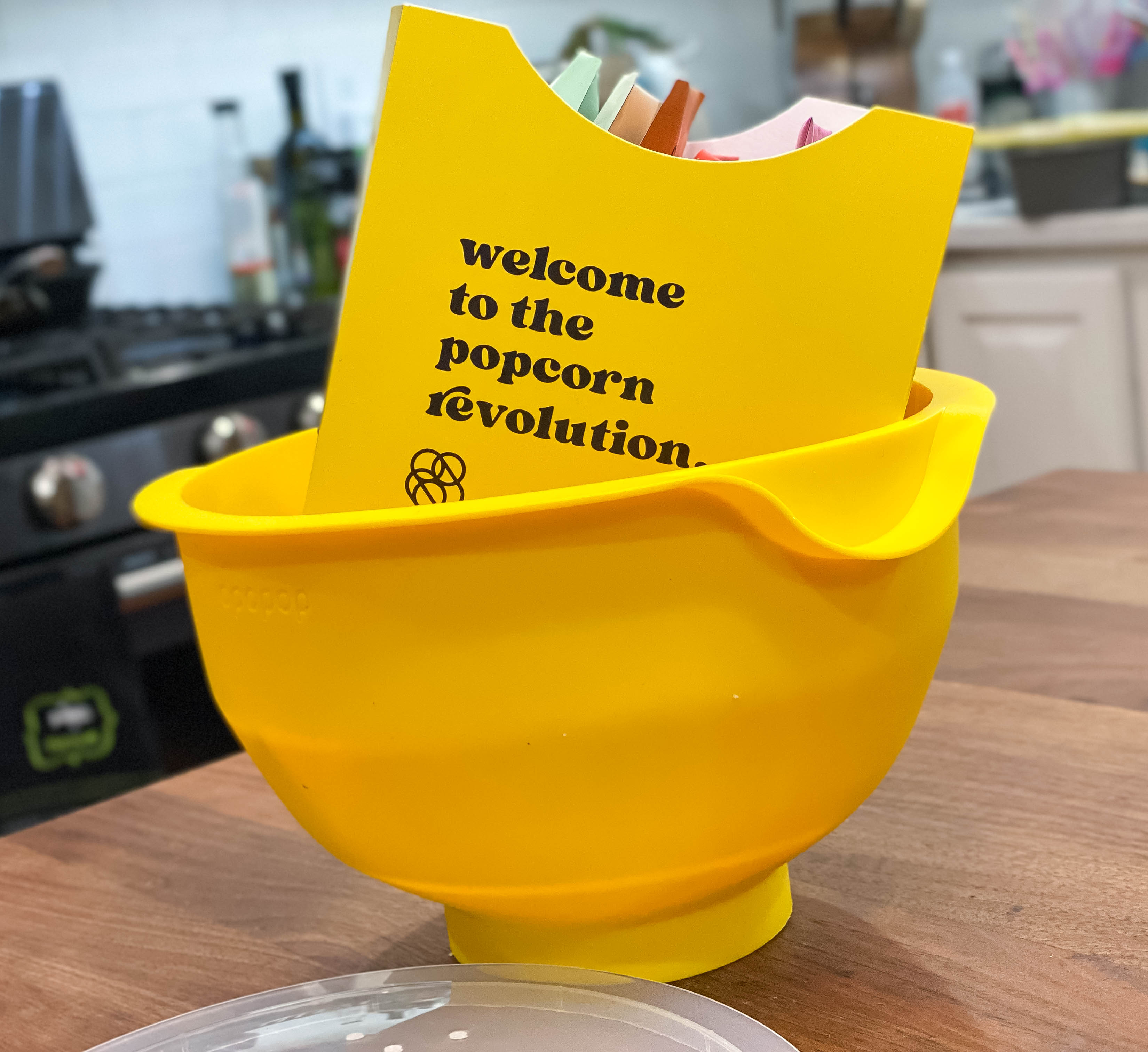 Our box also includes the Opopop Microwave Popcorn Popper! It's reusable, BPA-free, and dishwasher-safe. The popper isn't included in the Variety Show 2-Pack, but it can be purchased individually for $23.99. If you purchase the Discovery Kits, the Popper is free! We have the original version of the popper but they now offer a newer version that makes the cooking time for popcorn shorter.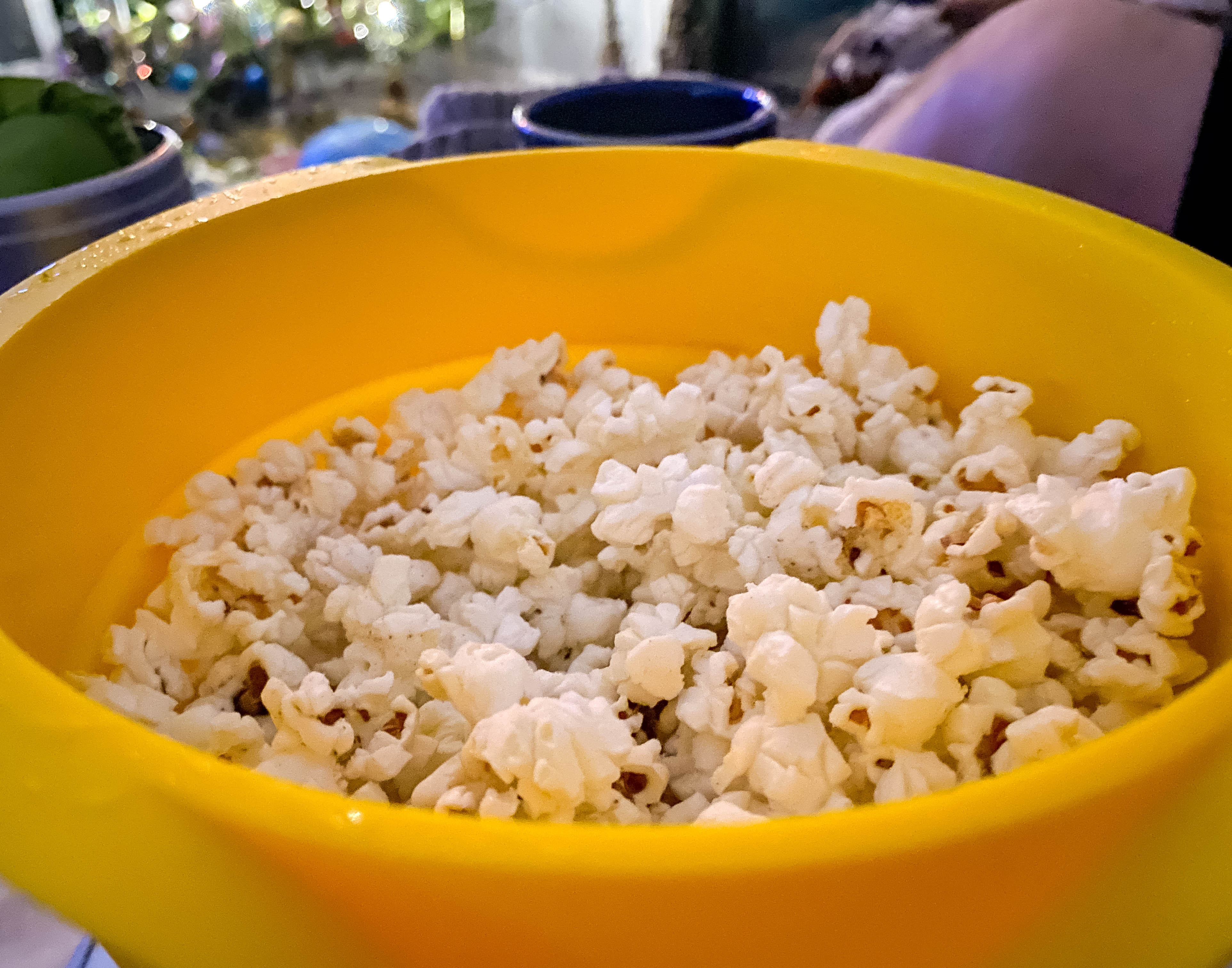 To cook the popcorn, expand the bowl fully, pour in the kernels, and microwave for 2-4 minutes. Stop when the pops are a couple seconds apart, then remove the popper. Don't forget to use hot pads because it's going to be hot. Then, firmly hold the lid, shake, and enjoy!
Is Opopop Worth it?
Our movie nights just got better because of this premium gourmet popcorn! Opopop Flavor Wrapped Popcorn Kernels are easy to prepare and eat, plus they're really tasty. As promised, each kernel is bursting with flavor! The texture is also great, not too hard, and not too chewy. The variety of flavor offerings is amazing. There's Chedapeño and Maui Heat for those who love a kick of heat, Cinnalicious and Vanilla Cake Pop for those who have a sweet tooth, and Salted Umami and Fancy Butter for people who love the classic popcorn flavors. Aside from enjoying it on movie nights, the delicious gourmet popcorn is also an ideal snack to have any time of the day. Whether you're a popcorn lover or you simply want to try something different from traditional popcorn, Opopop might just be your new favorite!
Which Opopop flavor is your favorite?