The September 2022 My Paper Box theme was Back to School and I saw so many retro computers and cell phones all over the place! I received highlighters, stickers, and more. See all of it below!
DEAL: Get $5 off your first box. Use the coupon code 5OFFMYBOX.
Some of the items were packaged together in reusable bags.
Notepads The pad on the left is the largest at 8″ x 5″ and looks like the MS Paint program of old (or maybe it's still a thing, I'm not sure). The pad at the top right looks like a Scantron sheet, the kind where you would bubble in your answer with a number 2 pencil. It's about 6″ x 3″ and my daughter the college student will get a kick out of this. The pad at the bottom right is 4″ x 4″ and it took me a while to figure it out but it looks like a floppy disc!
Dangit Greeting Card It's probably a good idea to keep a belated birthday card on hand, and this one comes with a super cool pink marbled vellum-like envelope. Swipe on the picture above to read the sentiment.
I Can't Even Greeting Card comes with a cell phone on the cover plus lots of hearts. Swipe to read the sentiment inside!
Incoming Message Greeting Card looks like an old computer plus those messages that would pop up onscreen. More messages are on the inside, swipe to see!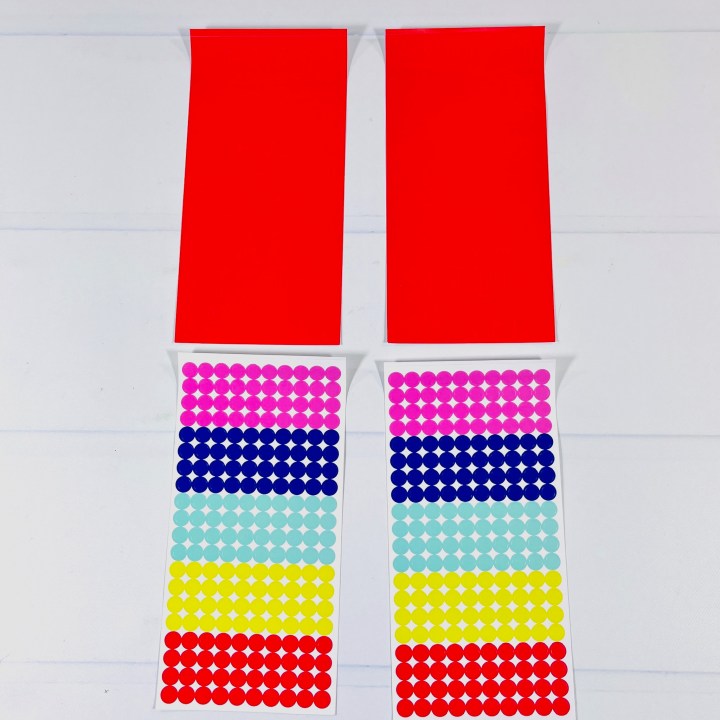 Stickers I received 4 sheets of stickers. Two pages have bright red letters on them and the other two are colorful dots.
Highlighters I tend to use different colors to highlight my grocery shopping list. For instance, produce is green or yellow, meat is orange or pink, and anything out of the ordinary is whatever color is left (so I don't forget to go down, say, the pet food aisle as I don't shop from that section weekly). This set came in blue, yellow, orange, and purple (which looks blue in my picture) and the size is perfect for my needs.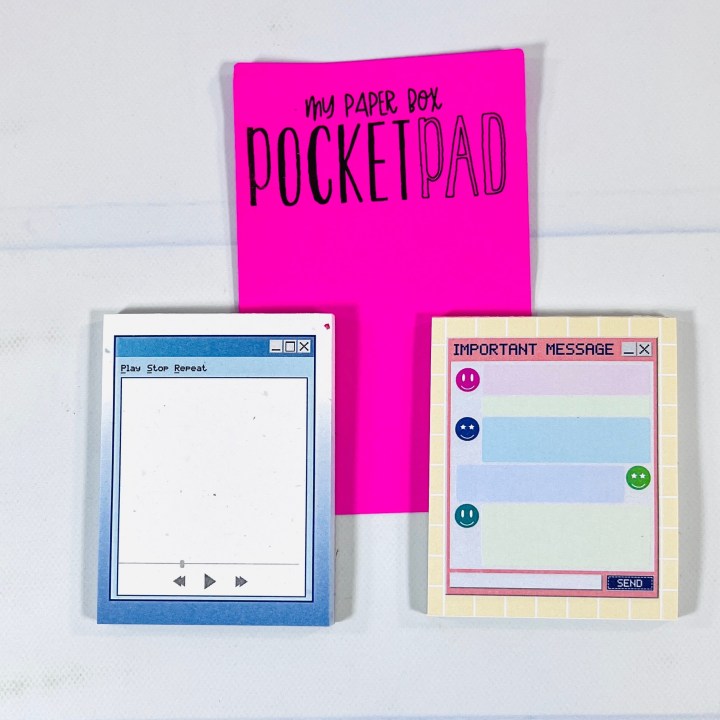 Pocket Notepads Here's two more notepads! These are small enough to fit in a pocket, about 2″ x 2.5″ and are non-sticky.
Stickers Here's a set of 8 stickers that are roughly 3″ x 1.5″. They will look cool in my planner.
Washi Tape ($1.99) This roll of washi tape is bright pink and says "i can't even" over and over again. Did you imagine someone (possibly even yourself) rolling your eyes when you read the sentiment? I know I did!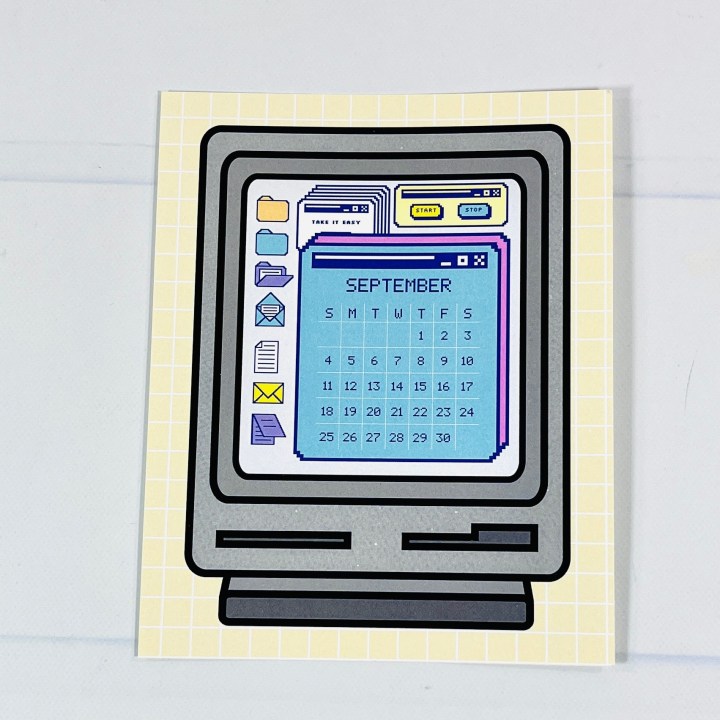 Desk Calendar The calendar is perfect for placing on a desk in a holder and has the month at a glance. The other side has a lot of unusual holidays in case you like to celebrate things like Cheeseburger Day (September 18th) or Rabbit Day (September 24th).
I liked this theme, it reminded me of the '90's with the floppy discs, computers, and cell phones all over the place, along with the Scantron notepad and all of the rest. The highlighters fit well in my pen holder and I appreciate that they came in 4 different colors. I also adored the notepads, and you can even get a separate subscription of just the pads, they are so good!
FYI: The next box is the Halloween edition!
Below is an opening picture and below that is a couple of pages from the mini magazine/brochure, which has 23 pages in all!
My Paper Box is a monthly subscription box filled with personalized stationery! Each box will be curated to a theme and you can choose from three different levels and price points. The Mini Subscription is a collection of 3 personalized notepads and is $18 a month; The Grand Subscription comes with a Personalized Paper Box and a selection of items such as personalized notepads, cards, planners, and more and is $32 a month; The Greeting Card Subscription comes with 4 cards, envelopes, and USPS Forever stamps and is $15 a month. Each month there will be a new theme and you receive the order for the month before so you will have everything ready to go when the calendar changes. My Paper Box made it to the list of our readers' favorite stationery subscriptions!
What do you think of this month's My Paper Box?