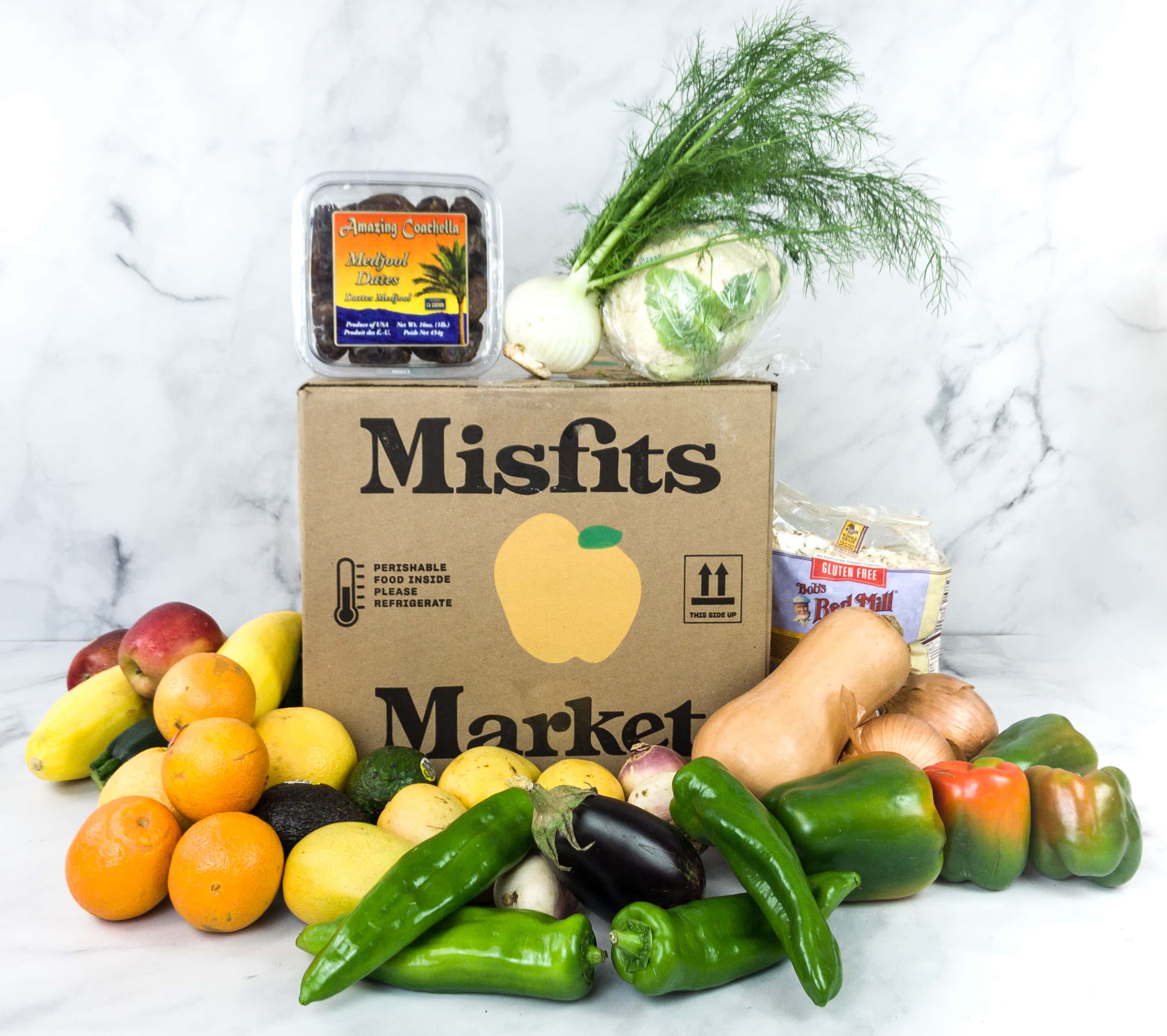 Everything you need to know about this fresh produce subscription
Misfits Market
Incorporating fresh produce into daily home cooking ensures full nutritional benefits. It adds more flavor to your food and promotes improved health with natural vitamins, minerals, fibers, and other nutrients. But if you aren't much of a fan of grocery shopping, we know of a subscription that delivers fresh and organic fruits and vegetables that may look a bit weird, but are still completely edible.
Misfits Market is an online grocery subscription that sends "ugly" food that would otherwise go to waste. It is really convenient, especially for busy people who can't take time off from home chores or work. They deliver boxes of fresh produce and other grocery staples to your door, so you don't have to step outside your home.
They work directly with farmers and producers to rescue organic produce and other products, all while passing the savings directly to you – no middlemen, no higher markups! So to know more about this grocery delivery service, continue reading below. We've gathered the most common questions and provided some answers to help you decide if this subscription is right for you.
DEAL: Get 25% off your first order! Use coupon code HEIRLOOM25.
Misfits Market Benefits & Drawbacks
But first, we've listed some of the advantages and disadvantages of Misfits Market:
Misfits Market Benefits
Customizable boxes
Wide selection of products, including fresh fruits and veggies and other grocery staples
No membership required
Most products are organic and non-GMO
Prices are up to 40% less than grocery stores
Produce sourced from small farms
Skip, pause, or cancel the subscription at anytime
Misfits Market Drawbacks
Limited shopping window
$30 minimum order
The shipping fee applies and varies depending on your location
All About Misfits Market
Combatting food waste is easy with Misfits Market! They save those "misfits" or weird-looking fruits and veggies and offer them at prices lower than traditional grocery stores. They make it affordable and accessible to get high-quality produce while helping break the cycle of food waste.
How does Misfits Market work?
Subscribing to Misfits Market is easy! You only need to sign up for an account to start customizing your box. Also, their shop changes all the time due to the season. What you have ordered, say last week, may not be available this week.
They'll start your subscription by giving you a box with a selection of high-quality grocery items curated just for you. The Essential box includes 8-12 best-selling items. It is ideal for 1-2 people and may include fruits, vegetables, bakery, beverages, snacks, and pantry staples. The Value box, on the other hand, includes 11-14 best-seeling items and is ideal for 3+ people. The grocery items you'll receive may be too big or too small, a little off-beat, short-dates, or have superficial differences and out-of-date packaging.
Misfits Market gives a three-day shopping window so you can check what's in your box and customize it. You can add more grocery items, including meat & seafood and dairy & eggs. Just remember that there is a $30 order minimum to meet to make sure your order ships. Going below it means your order will automatically be skipped. As a subscriber, you can also easily skip a box if you wish or cancel at any time – no strings attached!
How much does Misfits Market cost?
The price for each shipment depends on your box and the exact items you order, plus add-ons. The Essential box starts at $30, while the Value box starts at $35. There is also an order minimum of $30.
For example, the organic blueberries they offer cost $3.99 (vs. ave. price of $5.99 at groceries), which saves you up to 33%. Another one is organic nectarines which are offered at $4.99 vs. $5.99 at grocery stores, giving you 17% off. You can also get organic oat milk at $2.99, fresh mozzarella at $5.49, organic popcorn Himalayan pink salt at $2.99, and many more! There is also a flat rate shipping by zip code, which starts at $6.99 per order.
Where can I buy Misfits Market?
You can purchase a box of fresh produce and other grocery staples from Misfits Market's official website. Ordering a box and subscribing is pretty straightforward, and there are no complicated steps required. Simply choose a plan, customize your box within the three-day shopping window, and you're done!
Where and how does Misfits Market ship?
Misfits Market ships to Alabama, Arkansas, Arizona, California, Colorado, Connecticut, District of Columbia, Delaware, Florida, Georgia, Idaho, Illinois, Indiana, Iowa, Kansas, Kentucky, Louisiana, Maine, Maryland, Massachusetts, Michigan, Minnesota, Mississippi, Missouri, Montana, Nebraska, Nevada, New Mexico, New Hampshire, New Jersey, New York, North Carolina, North Dakota, Ohio, Oklahoma, Oregon, Pennsylvania, Rhode Island, South Carolina, South Dakota, Tennessee, Texas, Utah, Vermont, Virginia, Washington, West Virginia, Wisconsin, and Wyoming.
Because they offer perishable goods, they can't ship to P.O. boxes or business addresses. Misfits Market uses different third-party providers for shipping orders. You'll receive a shipping email with tracking information when your order is ready to ship out, within 1-2 days after your billing date.
How is Misfits Market packaged?
Your order will arrive in a brown cardboard box with the Misfits Market branding. Everything is well-packed and sealed with a brown folder to keep the items inside intact. The box is fully insulated inside, making sure that all the vegetables and fruits are protected from any possible damage or spoilage. All the items are arranged accordingly. The large and heavy fruits and vegetables are placed at the bottom while the light ones are on top. There's a booklet included, which lists all the fresh produce in the box.
What products does Misfits Market sell?
Misfits Market offers almost everything to keep your fridge or pantry full, which varies from season to season. They have fresh produce like organic fruits and veggies in line, along with meat & seafood, dairy & eggs, deli, pantry, beverages, bakery, snacks, pantry staples, and more grocery items!
Our past box included garlic, oranges, pears, spaghetti squash, potatoes, cucumber, sunchokes, yellow squash, onions, red radish, carrots, and kale.
My Misfits Market Review
Misfits Market offers a selection of fruits and vegetables tagged as "misfits," or those produce that look weird but are definitely ideal for consumption. They source the products from organic farms and offer to subscribers for a much lower price than grocery stores. Their mission is to reduce food waste while providing affordable, organic, and healthy products to the world.
Before, you can choose from two types of boxes depending on your needs: Mischief Box ($22) is good for 1-2 people and Madness Box ($35) is good for 3-5. Now, you need to choose between Essential (starts at $30) and Value (starts at $35). You need to meet the order minimum of $30, or your order will automatically be skipped.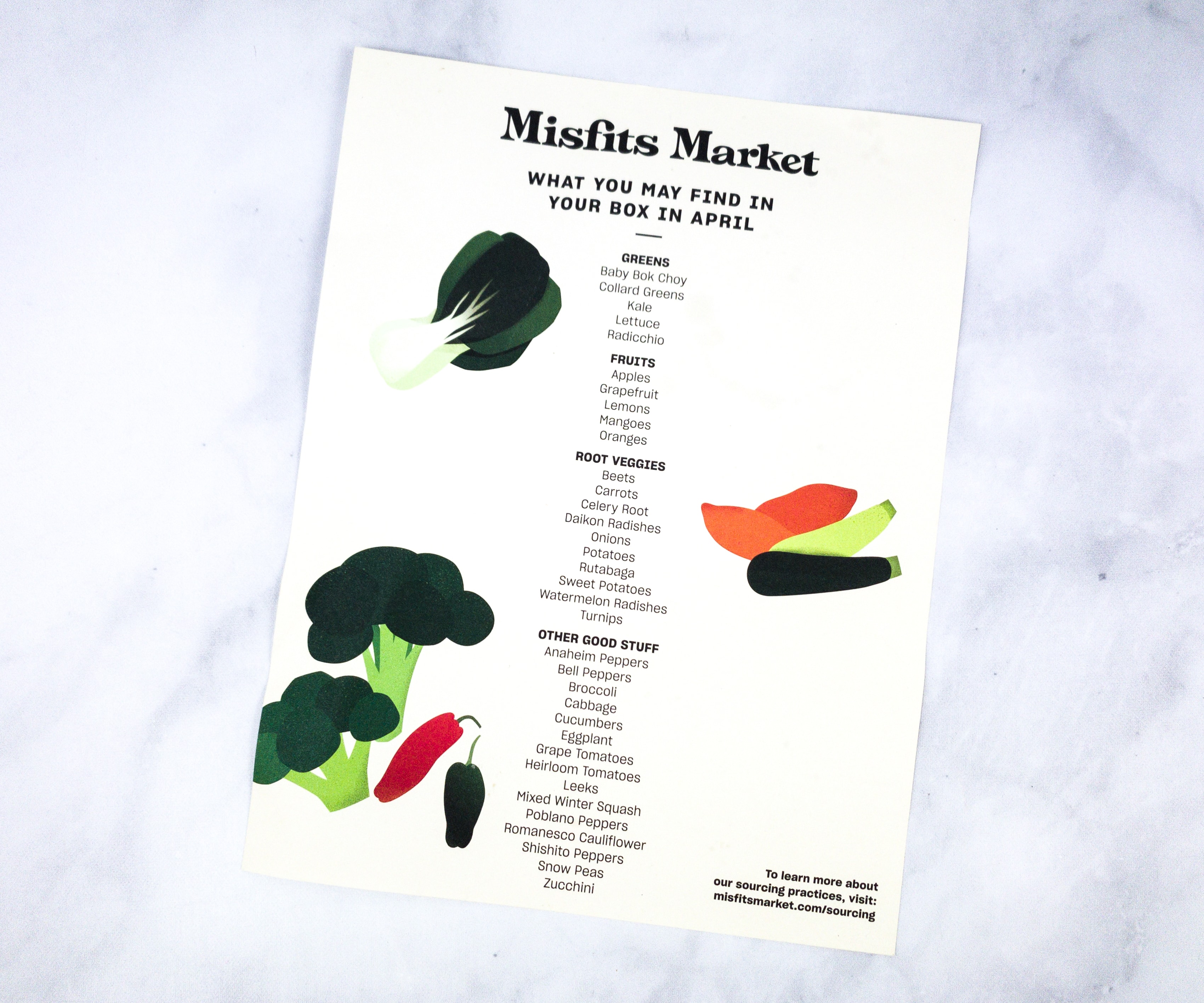 The box includes a sheet that lists all the goods in our box! On the back, there are tips on how to store and use fennel, Tommy Atkins mango, snap peas, and French breakfast radish.
They may be funny-looking but they're all good! Here's everything in my box! Our account has access to customization (they are still rolling it out), so we're able to choose a set amount of produce in 3 categories. There seems to be no rhyme or reason for this!
Bob's Red Mill Old Fashioned Rolled Oats ($8.49) It's a bag of all-organic, whole grain oats which makes a great source of fiber. Aside from keeping your digestive system on track, it also helps prevent the risk of heart disease. It's non-GMO, gluten-free, vegan, and kosher as well. This appeared instead of one of our selected items. In a COVID-19 lockdown, we'll take it! I didn't even bother reaching out.
On to the produce! First up are the green bell peppers and Anaheim peppers.
Anaheim Peppers. These are a mild variety of Chile pepper typically used in Mexican and Southwestern cooking. It brings a fantastic flavor and some added heat to any type of dish.
Bell Peppers. These bell peppers are low in calories and rich in vitamin C! We got 2 small ones and 2 big ones. The big ones are perfect for making stuffed peppers while the small ones can be cut into smaller pieces and added to salads or even as a topping on pizza!
We also have different root veggies in our box, including turnips, onions, and fennel.
Turnips. These turnips were still crunchy when we got them! The texture is similar to a carrot and the taste is similar to a potato. Turnips are also high in fiber and low in calories, perfect for adding to salads and other healthy dishes.
Onions. Our box wouldn't be complete without this kitchen staple! We have 3 big onions in the box, and it's nice to have them in handy for sauteing and cooking all sorts of meals.
Fennel. It's a Mediterranean herb known for its odd appearance and a sweet anise taste. Fennel features a huge white bulb at the bottom and stalks that look like celery. What's awesome is that all of its parts are edible!
We also got a pair of yellow squash and zucchini.
Zucchini. My favorite veggie! Some people feel a zucchini overload in the summer, but I can't ever get enough. They're so versatile – you can make zucchini noodles (zoodles!) with them, cook with them shredded, chopped, and more!
Yellow Squash. These veggies feature a fat bottom that dwindles towards the neck. Yellow squash is perfect for sautéing and baking, and it's also a rich source of vitamins and minerals!
Next up we have eggplant, cauliflower, and mixed winter squash.
Butternut Squash. It's the sweetest winter squash with a thick, bright orange, moist flesh that contains very few seeds. This squash features an elongated pear shape with a thin, pale tan skin that is really easy to peel.
Eggplant. The eggplant is a nightshade vegetable, just like potatoes, tomatoes, and pepper, which originated from India and Asia. It has a rich, meaty inside that takes gets softer, creamy, or hearty texture making it a good alternative for meats.
Cauliflower. This vegetable is considered to be one of the healthiest foods on earth! Cauliflower contains a high level of anti-inflammatory compounds, carotenoids, tocopherols, and ascorbic acid. It's also perfect for those who want to lose weight as it's low in calories.
Our box also has fruits such as apples, oranges, grapefruits, and mangoes.
Apples. Apples are a popular fruit that contains antioxidants, vitamins, dietary fiber, and a range of other nutrients. We got 4 Fiji apples in the box and they were sweet and delectable!
Mangoes. Like apples, mangoes are also one of the most popular fruits. They are delicious seasonal fruits that usually grows in tropical places. They are rich in dietary fiber, vitamins, minerals, and antioxidants. The ones we got were rich and juicy. They were sweet and just a bit tart.
Grapefruits. These grapefruits didn't disappoint either, they were juicy and refreshing. It's a rich source of dietary fiber and lycopene that helps improve the body's immune system!
Cara Cara Oranges. Like other citrus fruits, oranges are an excellent source of vitamin C. It's also a great source of fiber and other nutrients that help boost the immune system. We have 2 Cara Cara oranges in the box and we loved munching on them right after peeling, but they're also perfect for making juices!
Here are more fruits – avocados and dates.
Avocados. Also known as alligator pear, avocado is high in mono-unsaturated fatty acids like oleic and palmitoleic acids that help lower bad cholesterol. It even has vitamins A, E, and K concentrated in its creamy pulp. We love making guacamole and these avocados were perfect because they have a rich, thick, and buttery texture. This is an add-on grocery item! It was $2.99 and worth every penny.
Amazing Coachella Medjool Dates These dates were grown and carefully handpicked in Sunny Southern California, USA. This is an add-on item and cost us $4.99. These dates are recommended to be refrigerated or frozen to keep them fresh. These dates are organic, gluten-free, and non-GMO. They are also a great source of fiber and are free from saturated fat, trans fat, cholesterol, and sodium. Each piece features a rich caramelesque flavor with a chewy, moist texture!
Now, we're on to cooking! We used eggplant, yellow squash, zucchini, bell pepper, and onion for making a ratatouille.
We sauteed the bell peppers, tomatoes, and onions for a minute or two and then transferred them to a large bowl.
We then thinly sliced the zucchini, yellow squash, and eggplant into thin slices. After slicing, we arranged them in alternating positions. We transferred the sliced squash, eggplant, and zucchini on top of the sautéed veggies and sprinkled some French herbs and spices on top. We baked it for about 30 minutes to produce this delicious veggie dish! The veggies were so juicy, tasty, and absolutely yummy!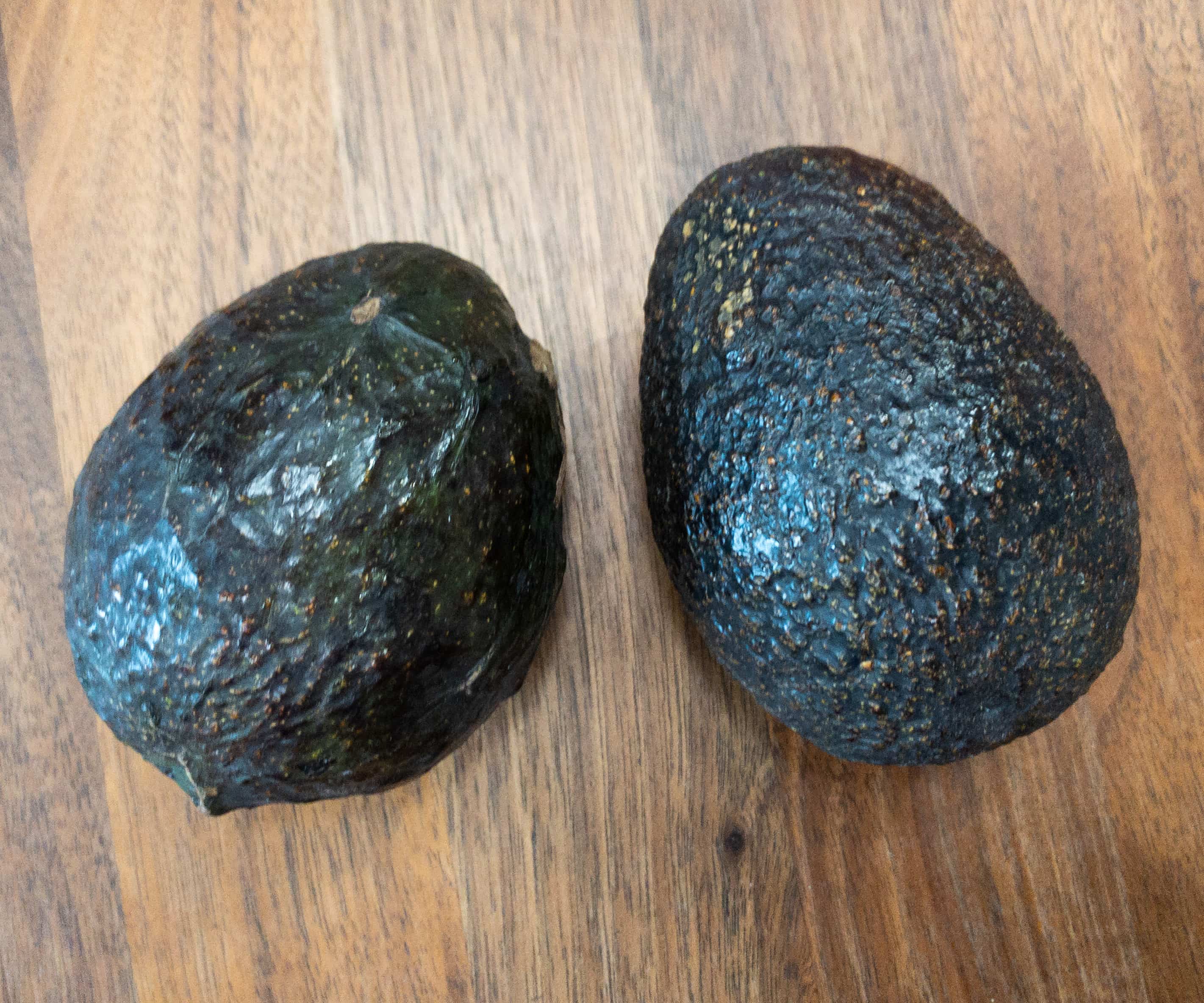 There are definitely a lot of things you can do with avocados! We opted to make a delicious guacamole dip using the avocados in our box. First, we peeled, pitted, and mashed the avocados, then added a pinch of salt and a splash of lime juice. We then mixed in onion, cilantro, tomatoes, and garlic. The quality was stunning!
We refrigerated the dip for an hour and served it with a baked pita. So yummy!
After every meal, it's really great to follow up with fresh fruits! We placed all our fruits on a large plate. They were so fresh and juicy! The grapefruit and mango are so refreshing. We think they would be great for juices or smoothies as well, but our fruit never lasts that long! The apples were sweet and the oranges weren't overly tart. My kids loved them, and so did I! The apples were perhaps the best I'd ever eaten and the oranges too. It was mind-blowing. We ate this entire plate of fruit in minutes. See the nice reddish tint of the oranges? You can tell they're really Cara Cara, which have such a delicious flavor.
The main ingredient for our next recipe is fennel.
We sliced the fennel into thin pieces, topped them with shredded parmesan cheese, and baked them. Here's our own baked fennel! They turned out sweet and tasty!
For the butternut squash, we peeled and diced it into small pieces.
Once done, we also baked the small pieces until they became bright orange in color. Each cube features a crispy texture on the outside. They were also a bit sweet.
For our last recipe, we made roasted cauliflower!
We cut the head of the cauliflower into large florets, tossed with olive oil, and seasoned them with some salt and pepper. We roasted them until they became tender.
Is Misfits Market Worth It?
Misfits Market is quite impressive! This is our second box from them, and it contains a variety of "misfit" fruits and veggies. Their physical looks might not be up to par with the produce you can buy in stores, but they're just as fresh, tasty, and healthy. We loved everything we got this month, and we loved cooking them for our meals. Getting these items in one box for an affordable price, while helping reduce food waste, is truly a great deal!
What do you think of our review of Misfits Market?