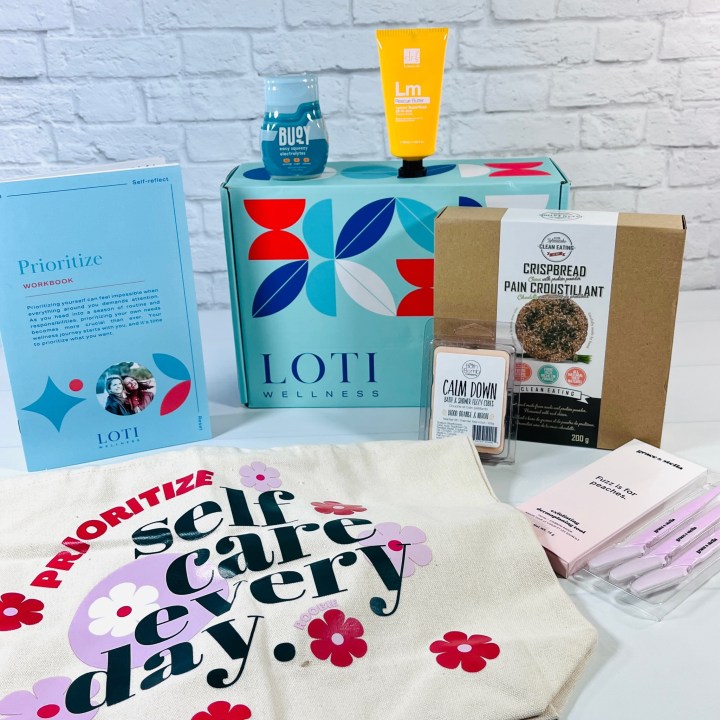 It's time to see what came in my Loti Wellness box for this month! September's theme was PRIORITIZE and reminded me to take time out for myself as a necessity. Inside I found a workbook, tote bag, and more. Read on to see the full review of the Loti Wellness box plus grab a coupon!
DEAL: Save 10% on your first box! Just use this link and coupon code SUBSCRIBE10.
Prioritize Workbook The theme this month was focused on how to prioritize self care while setting boundaries on your time and energy. They discuss why this is important and there are worksheets to help you identify how to achieve those goals. There are 14 pages in all.
Grace & Stella Exfoliating Dermaplaning Tool ($16) I've bought these before, so I know this retail value is silly, you can buy 3 packs of 3 for about the same amount at my grocery store. I've used my mini razors to remove the peach fuzz along my chin/cheeks, and I call it dry shaving — I don't think the blade even touched much of my skin. The claims that this will take off "unneeded skin cells" and leave my skin "looking fresh with fewer fine lines" seems far-fetched. I watched an actual dermaplaning session on YouTube and the esthetician used a scalpel to scrape off dead, dry skin and that's not happening with this safety razor. I do NOT suggest using a scalpel so it's either this or go see a professional for the full effect.
Bath Bomb Co Bath & Shower Fizzy Cubes ($8.95) These shower steamers smelled really nice in the container, but the scent output during my shower was either very light or I became nose blind after one minute or so. The neroli and blood orange fragrance was fruity and reminded me of California (neroli is a favorite scent from my childhood) and with the additional jasmine notes it made me think of a beachy perfume. You will need to remove the whole product from the case and then break off a cube, hitting it with a knife on the unscored side didn't work for me.
Dr. Botanicals Lemon Superfood All-in-One Rescue Butter ($14.99) I have received this product in multiple subscription boxes throughout the years, including from Loti. It can be used on the face, hands, and so on and isn't as greasy as the name suggests. This usually has a very bright and noticeable lemongrass fragrance, and it's missing. In fact, it almost smells like it's about to go bad (the product was sealed when I received it). I went to compare it to an old one that I haven't gotten around to tossing and they both smell pretty similar. The reviews on the brand's website lately have a similar theme: it doesn't smell very lemony, it smells like plastic, it doesn't smell nice. An Amazon review dated 9/16/2022 says it smells bad. I'm guessing they are going through something right now.
Buoy Hydration Drops ($16) I tend to avoid hydration drinks, whether in a bottle or a quick dissolving pack, because they tend to be high in sodium, or they're sweetened with sugar, or they're sweetened with sugar substitutes, and so one. I'm also not a fan of getting megadoses of vitamins. This is a quick and easy way to get some trace minerals and the best part is that it has no sweetener at all. It does have some sea salt so watch how often you use it (they suggest no more than 12 servings a day, which would be 24% of the daily allotment of sodium for most people). They claim it's flavorless in all but water and can be added to pretty much any drink. I even tried it straight from the bottle just to see what it was like and it's salty, with a hint of orange and vitamins (I must have tried a liquid supplement at some point). Next time I'll just put it in water.
Protein Crispbread ($5.99, flavors may vary) I grew up eating crispbreads such as Wasa and I tend to think of them as being Nordic, but this version was made in Poland. They have a short ingredient list that includes flax, psyllium, wheat, and more and are similar to a hearty cracker rather than a slice of bread. They can be eaten as is or paired with cheese, topped with a spread, or broken up and placed in a salad, like a crouton.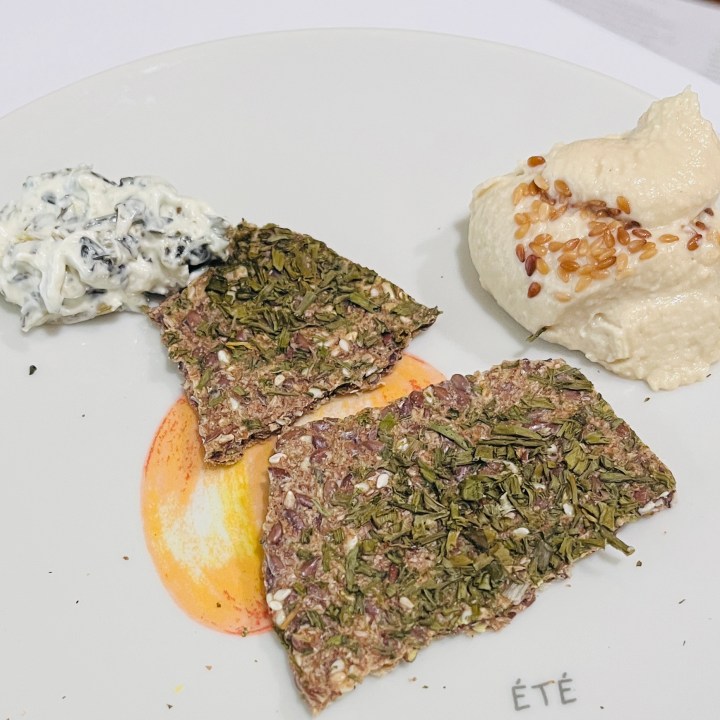 I couldn't eat a whole cracker, they are dense and hard to chew. I broke off a couple of pieces and then ate them with spinach dip and hummus. I can't say I'll ever be a big fan, the texture was kind of weird, but then again, Ritz and those types of crackers aren't exactly good for my health and I'm trying to make better choices and when I consider what I should be eating (rather than what I want to eat), this seems like it falls into the first category.
Canvas Self Care Tote ($30) As I was scanning this brand's website I noticed that it's the second bag from this maker that I've received lately (but the other bag was from a different subscription box). It's a typical thin canvas tote bag with a cute graphic on the front.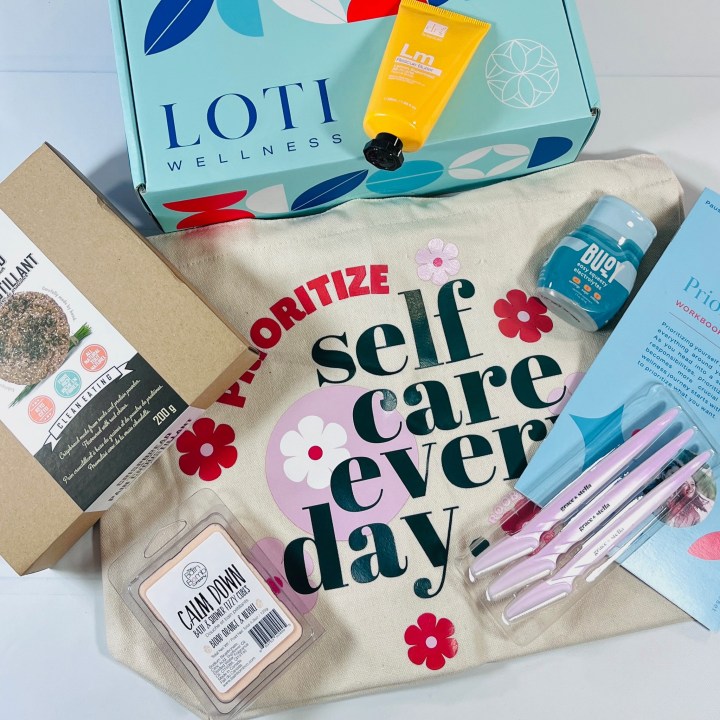 Loti reminded me to take time out for myself and helped me avoid time and energy sappers. I especially liked the tote bag and am glad to have some new peach fuzz razors, mine needed to be replaced. I wasn't a fan of the lotion but I have always liked it in the past so perhaps there was a hole in the seal or something. The shower fizzies smell good and I take a deep breath when I open the container, they remind me of the beach. It may take some time to get used to the crispbread crackers and for some reason I keep squirting the Buoy drops into my mouth, I don't know what's wrong with me but then I remember that people eat dried salted plums and I don't feel so guilty.
Below you will find the product info pamphlet and box opening pictures!
DEAL: Save 10% on your first box! Just use this link and coupon code SUBSCRIBE10.
Loti Wellness is a subscription box with a focus on self-care. The box has a monthly theme curated by therapists to focus on items and rituals to promote positivity and improve one's self. Loti Wellness works with local brands and small businesses whenever they can, and choose cruelty-free and natural products. The box will have 5-7 products for self-care and wellness. The box is $45.95 USD with lower prices on multi-month subscriptions and drops to as low as $37.95 USD when you sign up for 12 months. Shipping is $10.95 USD.
What do you think of this self-care subscription?