Here's everything you need to know about this coffee subscription
Jot Ultra Coffee Review
Coffee is not just coffee. It's a boost of caffeine in the morning that helps keep us awake and alive the whole day. The kick of rich coffee flavor spikes the mood and makes any day better than usual. It's even considered one of life's great guilty pleasures. For many, including me, a decent cup of joe is a must-have!
If you don't have much time to brew your coffee, can't stop at a drive-through coffee shop, or order over the counter, there is a subscription brand that delivers a bottle of concentrated coffee that you can mix in with water, milk, or syrup at anytime you want!
Jot Ultra Coffee is earning a name for itself due to its convenience and, of course, flavor! It is much stronger than your usual cup of joe, and it's pretty much versatile. With this coffee, the sky is the limit! It allows coffee lovers to make their fave cup, whether it may be a latte, cappuccino, or macchiato and more.
We've tried out Jot Ultra Coffee for the first time, so check out what we have to say about this convenient coffee subscription. Below are some frequently asked questions that will help with your curiosity about the brand.
DEAL: New Duo subscribers get a FREE welcome gift worth $30! Just use this link to subscribe, and pick your welcome gift: White or Black Fellow Mug, Iced Coffee Glasses, OR MiiR Tumbler! You can also get 15% off on all products, including subscriptions and one-time orders! Use this link and coupon code HELLO15 at checkout.
Guide to our Jot Ultra Coffee Review
Jot Benefits & Drawbacks
Before we get into my review, here's a list of the advantages and disadvantages of Jot Ultra Coffee:
Jot Benefits
It is a concentrated coffee that is 20x stronger than regularly brewed coffee
Uses a blend of organic and ethically sourced coffee beans
No sugar, additives, or preservatives
Possibilities are endless! You can make whatever coffee you have in mind – iced, hot, lattes, cappuccinos, affogatos, and more
Can be used for flavoring baked goods
Can be purchased one-time or on recurring delivery
Minimal waste; no single-use plastics, no pods, no filters
Jot Drawbacks
Only two coffee blends available
It is pricey, but that depends on how you look at it. If it's against instant coffee, it's expensive. But in comparison to modern coffee shops that serve coffee for an average cost of $3+, it is budget-friendly.
Only ships to the US
Jot Review
Summary
Jot Ultra Coffee is a subscription that offers coffee in the most concentrated form! They'll send you a bottle of coffee that is 20x stronger than your regular one. You can make your favorite coffee in seconds and without the hassle! Grab a spoon, measure, and pour it into your cup, then add a splash of milk, syrup, or just water. There are endless possibilities, and you can make iced coffee, hot coffee, macchiato, latte, Americano, and even affogato! Subscribe to save money and cancel at any time.
My Jot Ultra Coffee Review
Jot makes delicious concentrated coffee called Ultra Coffee! They use a proprietary extraction process to produce coffee 20 times more concentrated than regular coffee. You can get this coffee on a subscription for $19.50 for a single bottle, $39 for 2 bottles, and 3 bottles for $58.50. Each bottle is packed with enough coffee to make 14 standard 8-10 oz cups. Once subscribed, you can easily customize your subscription, add an extra bottle, or skip a delivery.
The box came in perfect condition. It's in black, with the Jot logo on top. I'm excited to finally open this box!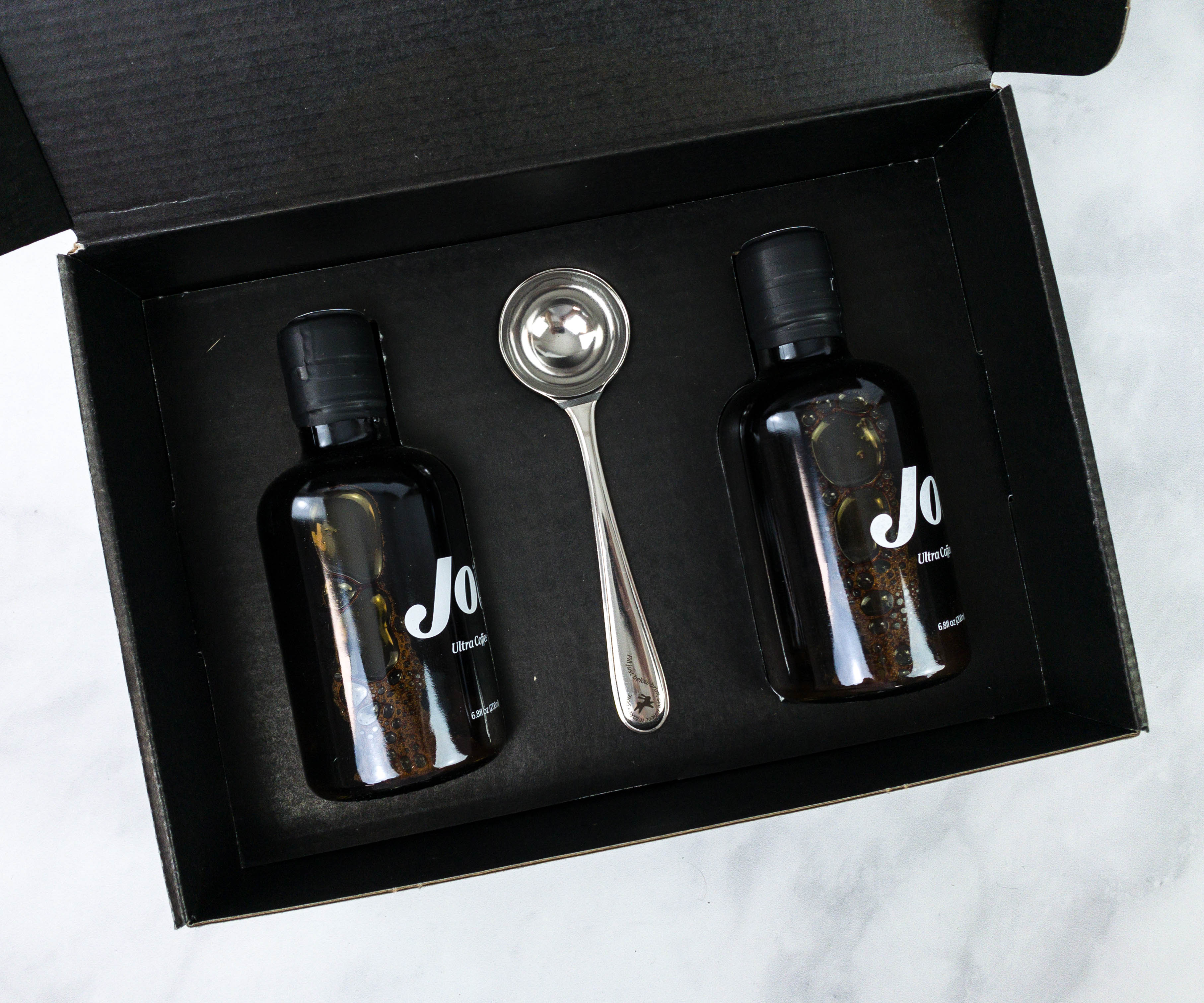 All of the items were neatly arranged inside the box, cradled in custom cardboard packaging. The coffee is in an Italian glass bottle, and it's recyclable! You can up-cycle or repurpose them as well, whether as flower vases or cooking oil and vinegar containers.
The box includes an information card.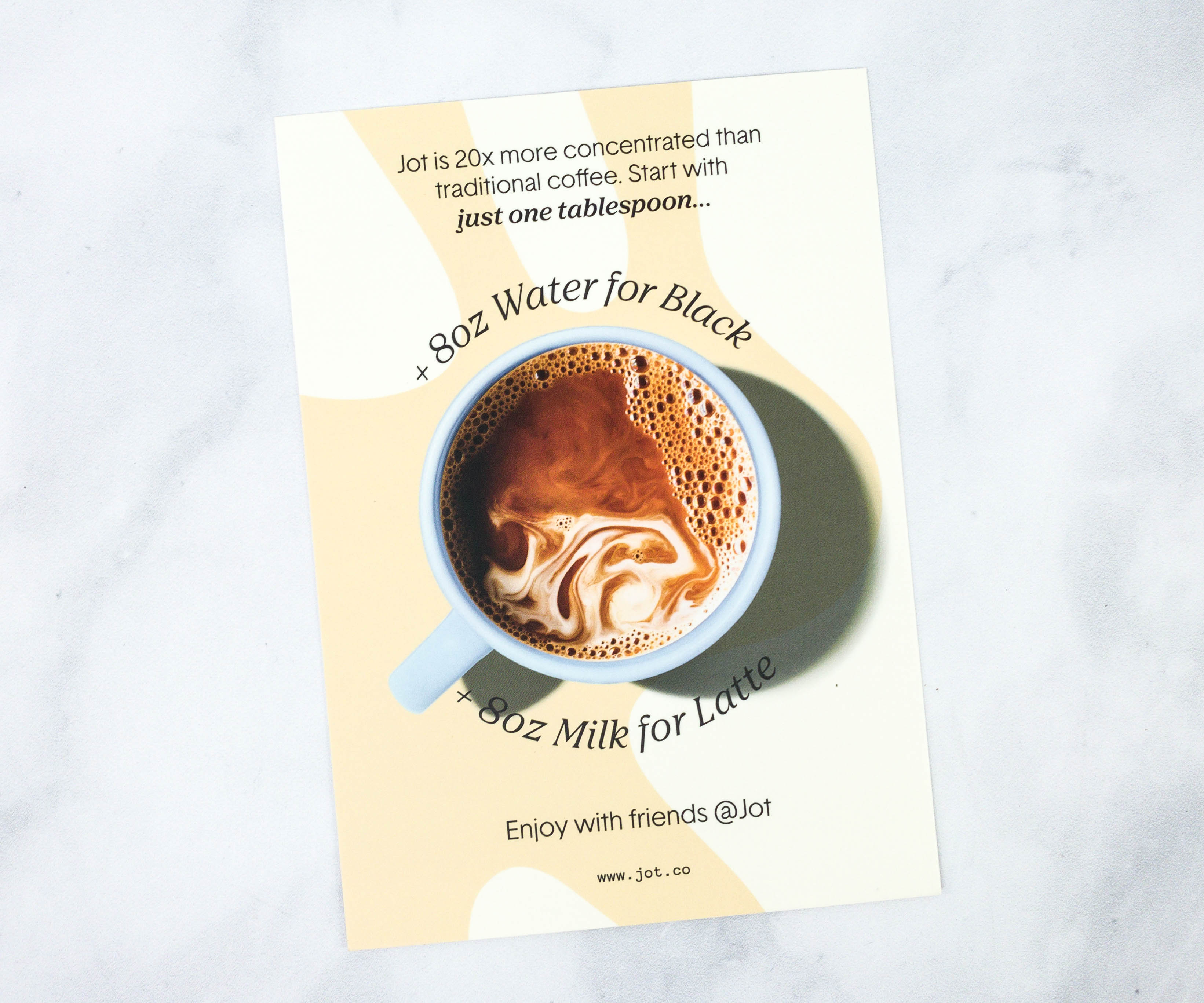 What's great about Ultra Coffee is that it's totally versatile! As shown on the back of the card, you add 8 oz. of water if you enjoy black coffee or add 8 oz. of milk if you prefer lattes.
This Jot tablespoon can be used to measure the concentrated coffee. It comes free with your first box!
Fill just below brim, see where it takes you.
Ultra Coffee Double ($52 for a one-time purchase; $39 on a subscription) I received two bottles of Ultra Coffee in my box! This is a pure and concentrated form of liquid coffee, and a single tablespoon is enough to make an extraordinary cup. To make this, they used beans sourced from organic and fair trade farms in South and Central America. They have an environmentally conscious process because once the beans are brewed, their spent grounds are composted to be used for farming.
It's recommended to refrigerate the bottle after opening. According to Jot, the caffeine content of Ultra Coffee can vary slightly from 140 mg to 150 mg per tablespoon.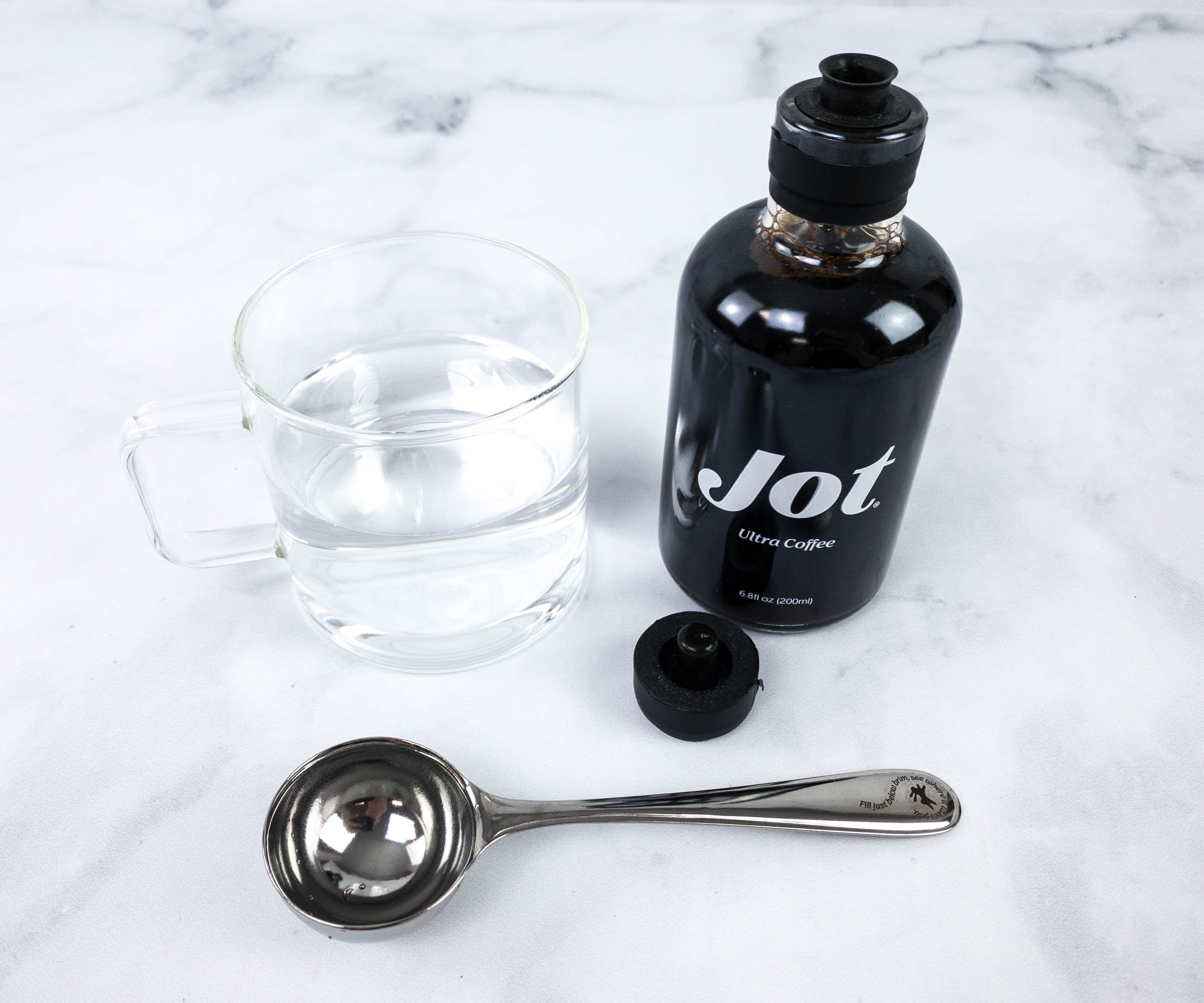 A 200 ml bottle can make up to 14 cups of coffee. If you only occasionally drink coffee, one bottle a month will be enough. For those who are like me, and drink at least one cup a day, two bottles would be enough supply for a whole month. For ultimate coffee lovers who drink more than one cup of coffee a day, it's best to get 3 bottles to make sure you won't run out!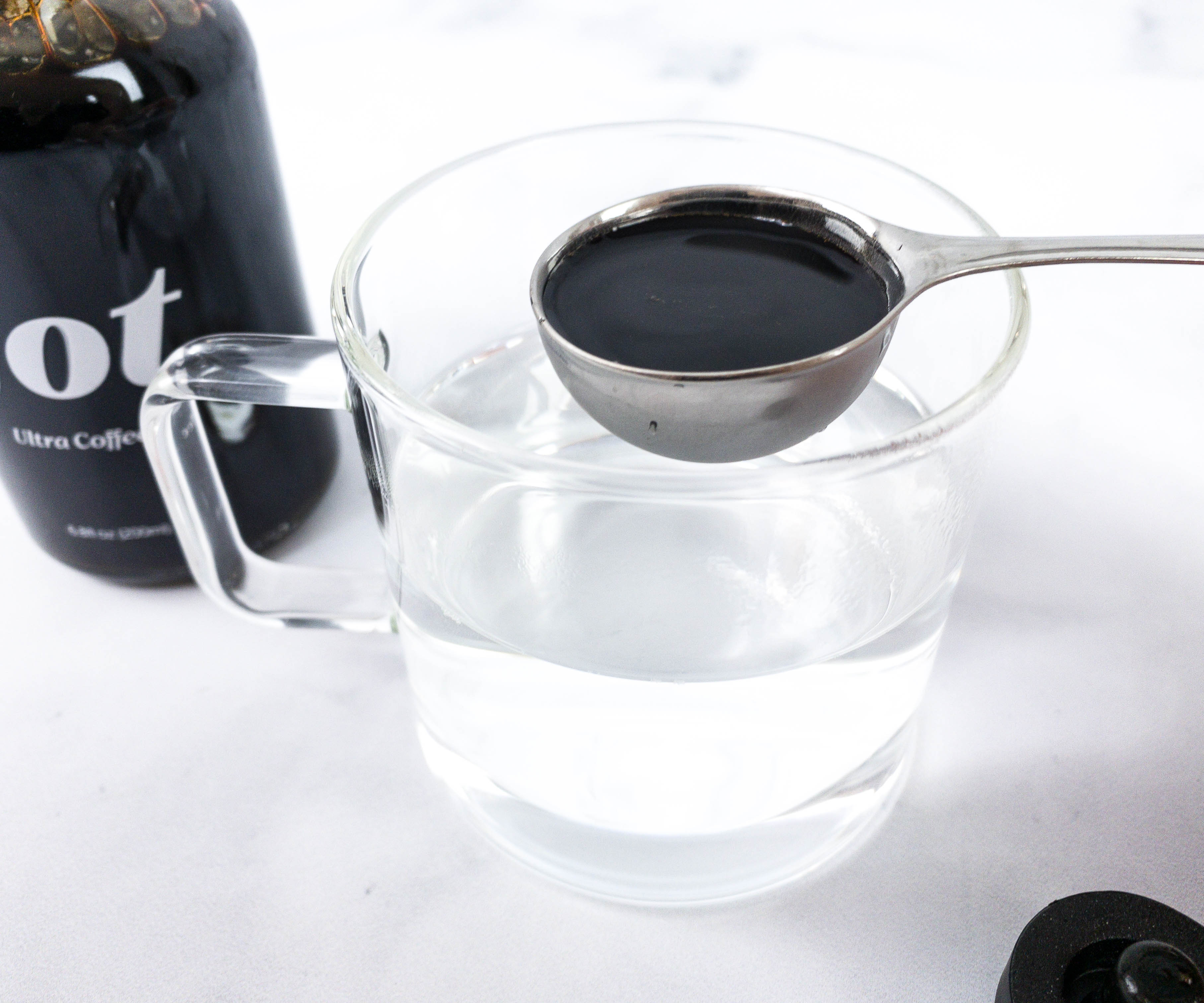 I decided to make black coffee! I put 8 oz. of hot water in a mug and then added a tablespoon of concentrated coffee using the provided spoon.
The water changed its color as soon as the concentrated coffee was poured into it. After mixing it well, it's ready to be enjoyed!
It's quick and easy to make, which is perfect for busy mornings. I love its aroma and intense flavor!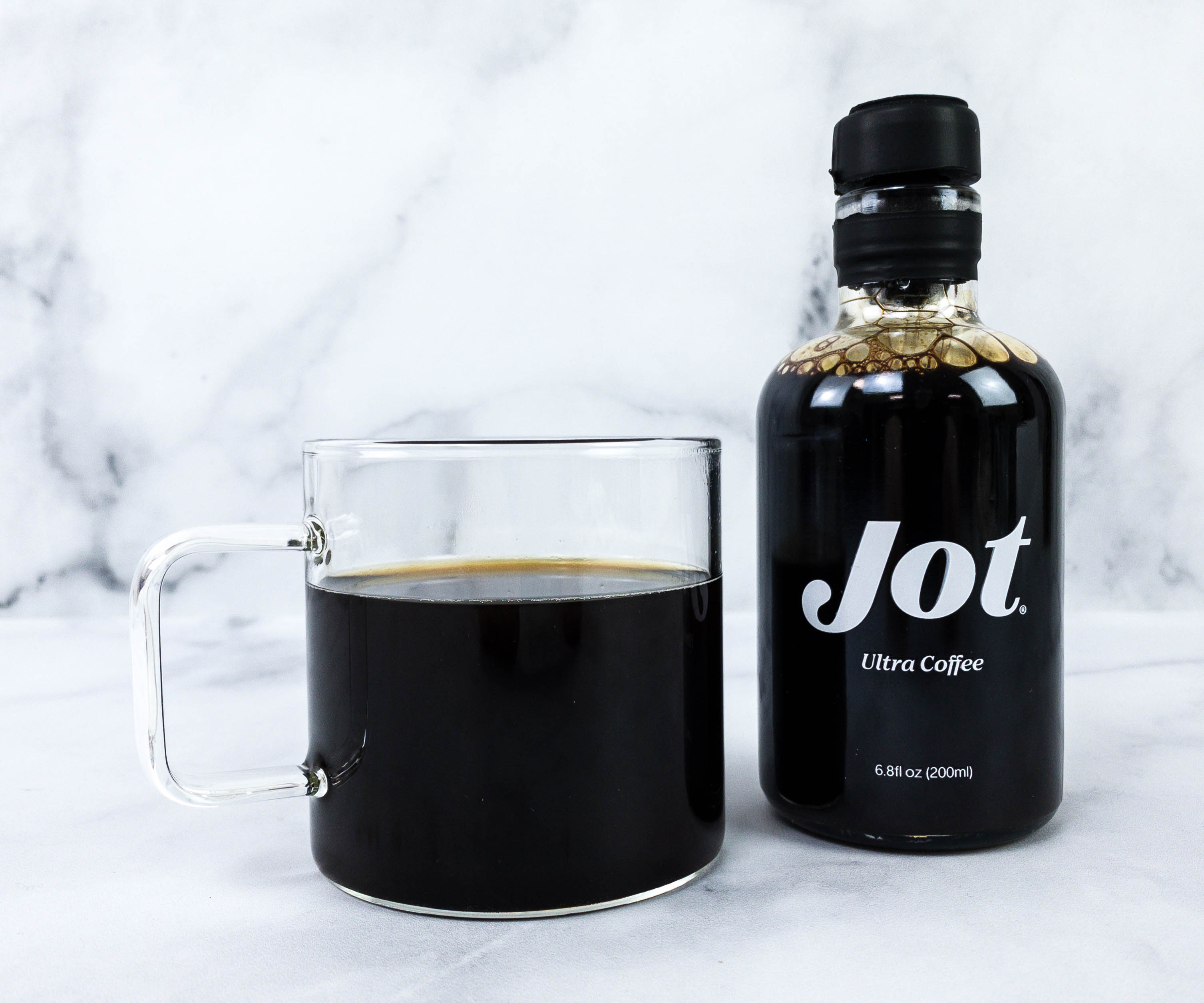 If you're not into black coffee, you can use milk in place of water to make a latte. You can also use this concentrated coffee for making affogato, iced coffee, or as a drizzle for desserts!
I'm quite satisfied with my first try of this concentrated coffee.
Is Jot Worth It?
As a coffee lover, I'm always on the lookout for new types of coffee to try. I was delighted with the concept of Jot's concentrated coffee, and I'm so glad that it didn't disappoint! They promise high-quality, liquid coffee with intense flavor and freshness, and that's exactly what I experienced with my first sip. My box included 2 bottles which are enough for a month supply since I usually have one cup a day. Preparing it is quick and easy, making it a convenient choice for any coffee lover or any busy person who needs a dose of caffeine to start their day. Getting Ultra Coffee on a recurring plan is a great idea because it ensures that you won't run out of concentrated coffee for your household! I also think that Jot might be an excellent choice for bakers that use coffee in their recipes.
All About Jot
Wake your morning with a cup of joe! Jot Ultra Coffee will help you make the perfect cup so you can save time and kickstart your day.
How does Jot work?
Getting a bottle of this concentrated coffee is pretty much easy than it looks. You simply scroll to Jot's website and shop. There is an option to buy one time or subscribe to auto-delivery. There are two coffee blends offered, and you can choose between the original and dark blend. Sometimes, they also offer a member-exclusive blend for subscribers to try!
The original blend has a smooth and balanced flavor, while the dark blend has a darker flavor-forward profile. Each bottle contains 6.8oz or 200 ml that can make 14 servings of 10oz cups, with a caffeine content of 140-150mg per tablespoon.
Jot presents the purest form of coffee. Using coffee beans from organic farms in Central and South America, they extract the maximum flavor out of every bean via their proprietary extraction process that results in a concentrated liquid coffee 20 times stronger than usual with nothing added to give you an unparalleled combination of freshness and flavor!
When you opt for the subscription, you can expect delivery once every four weeks, and they'll send you an email two days before it ships. You can also swap your coffee, add an extra bottle, skip, pause, or cancel anytime. New subscribers also receive a free gift with their first orders.
If Jot Ultra Coffee does not match your taste, you can return the product within 20 days from the date of your first purchase for a full refund.
How much does Jot cost?
Whether you choose original or dark, a bottle of this ultra-concentrated coffee costs $26 for a one-time purchase or $19.50 on a subscription, giving you savings of 25% on every order. You can also add a Just One Tablespoon to your order for $4 to measure your coffee concentrate.
Shipping is free for orders of two bottles or more, or pay a flat $7.95 shipping fee if you only purchase one. For orders in the non-contiguous US (excluding military), 1-2 bottles is a flat $10 shipping fee and free for orders of 3 bottles or more.
If you have a coupon code or discount code, you can use them one at a time at checkout.
Where can I buy Jot?
You can purchase Jot Ultra Coffee one-time or via subscription by clicking this link, which will direct you to Jot's official website. No lengthy distribution method and no line, just direct-to-your-door caffeine goodness!
Simply add original or dark (or the member-exclusive blend) to your cart, adjust the number of bottles, then checkout. Provide them with your contact info, shipping address, and payment details to place your order. All that's left to do is wait for your order to arrive to start making your mornings even better!
Where and how does Jot ship?
At this time, Jot Ultra Coffee ship only to the United States and do not ship internationally. They ship to Alabama, Alaska, American Samoa, Arizona, Arkansas, California, Colorado, Connecticut, Delaware, Florida, Georgia, Guam, Hawaii, Idaho, Illinois, Indiana, Iowa, Kansas, Kentucky, Louisiana, Maine, Marshall Islands, Maryland, Massachusetts, Michigan, Micronesia, Minnesota, Mississippi, Missouri, Montana, Nebraska, Nevada, New Hampshire, New Jersey, New Mexico, New York, North Carolina, North Dakota, Northern Mariana Islands, Ohio, Oklahoma, Oregon, Palau, Pennsylvania, Puerto Rico, Rhode Island, South Carolina, South Dakota, Tennessee, Texas, US Virgin Islands, Utah, Vermont, Virginia, Washington, Washington DC, West Virginia, Wisconsin, and Wyoming.
They also ship to Armed Forces America, Armed Forces Europe, and Armed Forces Pacific. Orders are processed within 1-5 days of confirmation, and you can expect the shipment to arrive within 3-5 business days. You can check the shipping status of your order through the tracking info in the shipping confirmation email.
How is Jot packaged?
Jot Ultra Coffee is delivered in a simple cardboard box. Inside is a smaller black mailer box with the Jot logo printed on it, which looks quite classy. When you open the box, there's an information card that welcomes you.
The Jot bottles are nestled in custom cardboard packaging. There's no single-use plastics, no pods, no filters to throw away! Jot concentrated coffee is housed in a glass bottle that you can repurpose or recycle.
What products does Jot sell?
Jot is a coffee brand offering a one-time purchase or subscription of its concentrate coffee. Therefore, the product they sell is the purest, most concentrated form of liquid coffee in the world. They have Original, a smooth and balanced blend, and Dark, a darker, flavor-forward blend.
For members, they offer a rotating, small-batch brew of some of the world's most remarkable coffees. One example is the Golden Hour, a rare Vietnamese brew with notes of toffee and vanilla.
To measure a tablespoon of Jot more easily, they sell a Just One Tablespoon for $4. There's also a set of two Iced Coffee Glasses available for $20 to stylishly create and sip your fave coffee!
Have you tried Jot's Ultra Coffee? Let me know your thoughts in the comments!