Japan Crate showcased all-time favorite Japanese treats for September 2022! Themed BIRTHDAY BOX, this month's snack box is a celebration of their 8th anniversary. It sure feels like a party in a box, with the excitement of receiving a new stash of tasty snacks and candies. Best enjoyed with family or friends, this box brings a fun and delightful snacking experience!
The subscription levels available for this box are the Original Box and the Premium Box. You can choose depending on how many new snacks you want to try each month! We received the Premium Box to review.
DEAL: Save $3 on your first regular or premium crate! Use coupon code HELLO.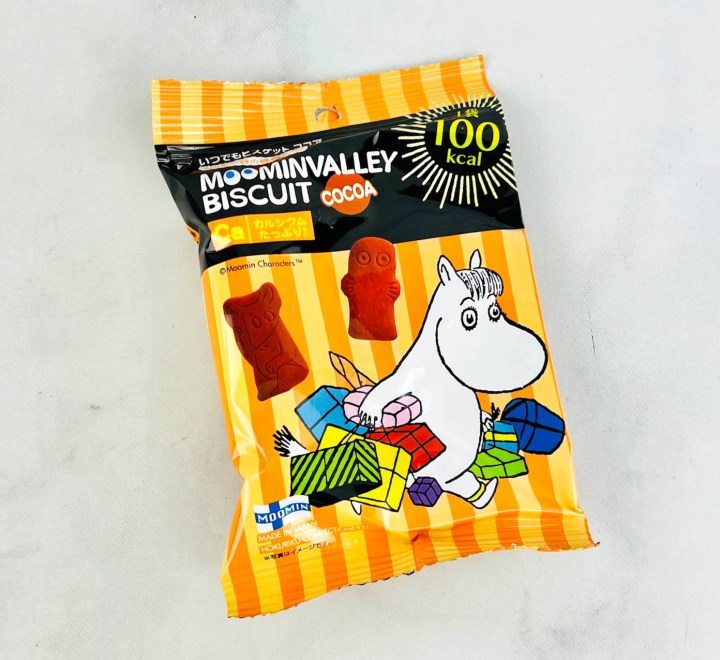 We're kicking off the celebration with Moomin Cocoa Biscuit. Each piece of this snack is shaped differently! There's Moomintroll, Sniff, and other Moomin characters to join the party – and they all look cute. Although quite lacking in cocoa flavor, the biscuits still taste good, especially when paired with milk.
Here's the featured drink in this month's box: Cream Soda in a can! Best served cold, it captures the taste of the famous Japanese ice cream float. It already tastes great on its own, but if you want to recreate the full cream soda experience, simply pour the soda into a nice glass and top it with vanilla ice cream! Yum!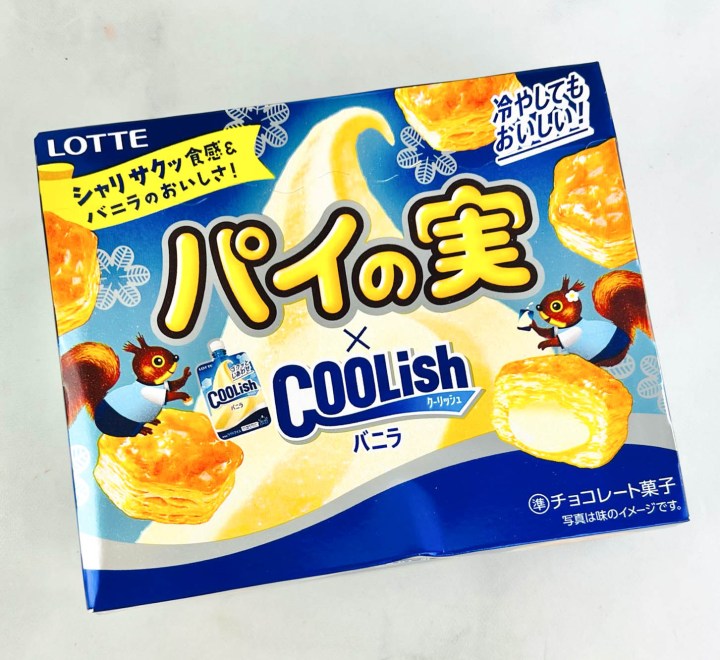 Next up is Pie Nuts Coolish Vanilla! It's a bite-sized pastry snack with a creamy vanilla filling inspired by Japan's drinkable ice cream called Coolish. Each piece was flaky yet moist, topped off with crisp sugar for a touch of sweetness. The booklet suggests to chill the snack first before serving. This also goes well with either coffee or tea!
Arare: French Dressing is a crispy rice snack shaped like twisted french fry sticks, so it's easy to munch on them. The French dressing added a refreshing flavor to the traditional Japanese rice snack. Each piece had a tangy and sweet taste, and I liked it!
Healthy Japanese snacks? Yes, please! These Vegetable Sticks are made with 11 different veggies, including tomato and spinach, and are free of coloring agents. They're in the form of little sticks with a cracker texture. Each bite provides a nice crunch that makes snacking fun! You'll get one of four packaging designs, and mine looks simple but kawaii!
Sherbet Perocola is a candy surprise with a dipping powder. The lollipop has a Ramune cola flavor, while the sour sherbet dipping powder enhances the taste more with a bubbly effect. It requires licking and dipping all over again! It's fun and a sure treat to the sweet tooth.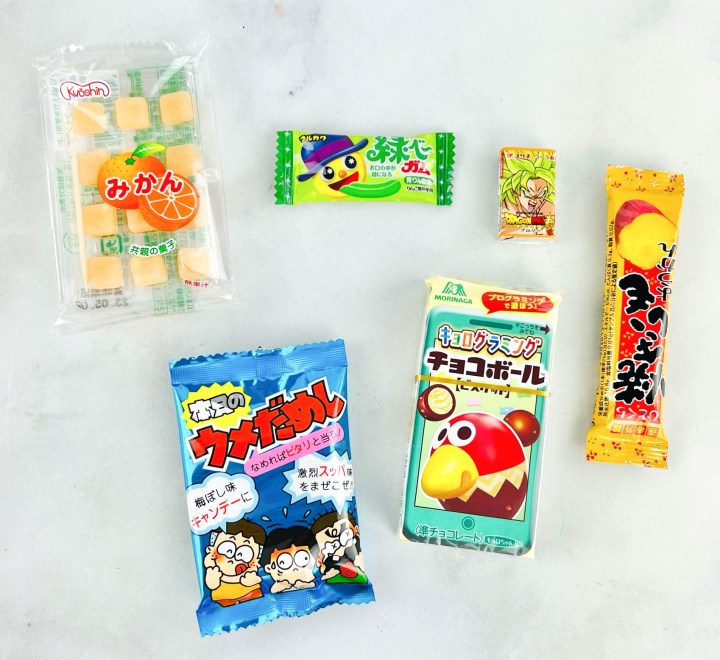 Here, we have Japanese candies! Mikan Mochi is a refreshing mandarin orange-flavored candy. There were 12 mini squares in the pack, and they're soft and chewy like a real mochi! It also comes with a toothpick, so you can easily get and eat one. There's also a Chewing Gum that turns your tongue color into green! It's green apple-flavored and very fun to eat especially for kids. Another gum in the box is the Dragon Ball Gum. It's soda-flavored, and subscribers will get 1 of 10 different Dragon Ball packaging designs.
We also have Yakimoyokan, a candy stick that looks gummy. It's flavored with Japanese sweet potato, which sounds like a weird and unique thing to incorporate into a candy. It has a firm gelatin-like texture and a potatoey taste that is very interesting. It's sweet, with a savory kick to it. Ume Plum Candy, on the other hand, is a round hard candy. It tastes jammy and tangy, maybe because it is made with plum. Although it can be a little sour, it also tastes good! The last goodie in this batch is the Choco Ball. Each ball has a crisp biscuit in the center, then coated with milk chocolate. They're also bite-sized!
I also received Funyarich Soft Candy, a taffy-like candy with a grape flavor. It's chewy, refreshing, and a pure delight to taste buds. There's also Umee Paper, which is similar to fruit roll-ups. It combines the sour flavor of plum with a bit of sweetness. The sheet form makes it interesting to eat and chew! If you love the taste of Japanese plums, you'll enjoy this treat.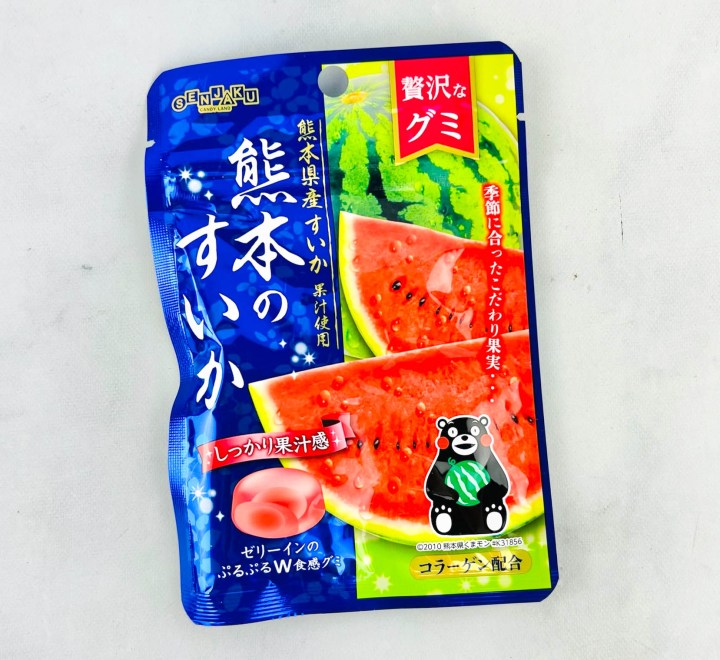 This pack of Watermelon Gummies is a lovely addition to this month's box, inspired by the juicy and sweet watermelons of Kumamoto Prefecture. They gummy candies are not as sweet, but they do smell and taste like a real watermelon. Each piece has a jelly filling in the center that burst when you bite into it, which is amazing. It's so good, and kids will definitely like it too!
Shimichoco Salt Vanilla is a new take on the popular Japanese corn puff snack. The original version is known for its rich chocolate flavor, and this time, they infused the corn puffs with a salted vanilla ice cream flavor. It didn't disappoint – the milky and creamy taste was well balanced by the hint of saltiness. This is a seasonal flavor, so it's really worth it having in the box. You'll never go wrong munching on these corn puffs!
One more thing to love about Japan Crate is that every month, they include DIY snacks! This time, we received Shin Chan's Experiment, a DIY kit that comes with two powder packets, a straw, and a mini Florence flask. It's like making a potion at a science lab! The beverage also fizzes and changes color when you pour the second packet in. It makes a fun activity for the kids!
The last item in the box is the Cookies & Cream Mini KitKats! This flavor tastes heavenly. The signature crisp wafer is covered with cookie crumbs and cream, and it makes a perfect quick dessert. If you love cookies and cream, it's a sin to pass up on this treat. It tastes very sweet and creamy!
Everything in this Birthday Box is amazing! There are different varieties of snacks and candies that are very interesting and exciting to try. We enjoyed tasting the candies in the package, from the Sherbet Perocola to the Watermelon Gummies. The Pie Fruit Coolish is also very yummy! The cream soda tastes like vanilla ice cream, and we also enjoyed munching on Shimichoco Salt Vanilla. Of course, there's also a DIY kit that looks like magic for children. Even the KitKat tastes yummy! Overall, this month's box is another hit with our family. If you enjoy snacking and trying out different snacks and candies from The Land of the Rising Sun, Japan Crate is for you!
Japan Crate is a monthly subscription of Japanese candy and snacks, curated for you to "experience the excitement of Japan"! Currently, there are two subscription levels – Original ($35.95 per month) and Premium ($49.95 per month). All crates ship free from Japan to all around the world. Yes, this subscription is based in Tokyo, Japan which means you will only receive authentic Japanese snacks!
What item are you excited to try from this month's Japan Crate? Let me know in the comments!