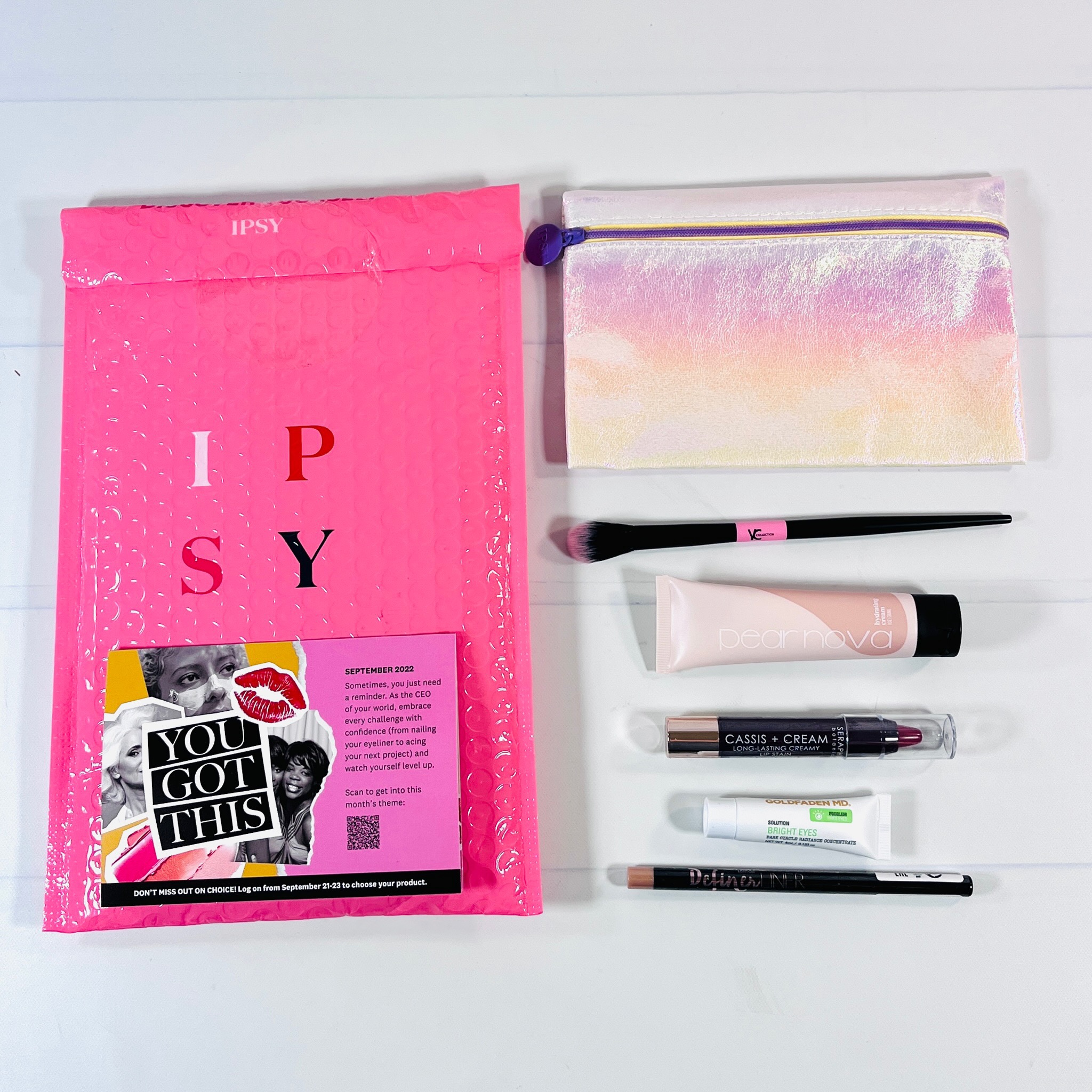 Ipsy Glam Bag for September 2022 reminds me that YOU GOT THIS, that I need to just keep going forward as the season, the world, and my life goes through changes. Keep on reading to learn more about what we received this month!
Note: Ipsy sends many variations, so the bag we're reviewing may not match everyone else's.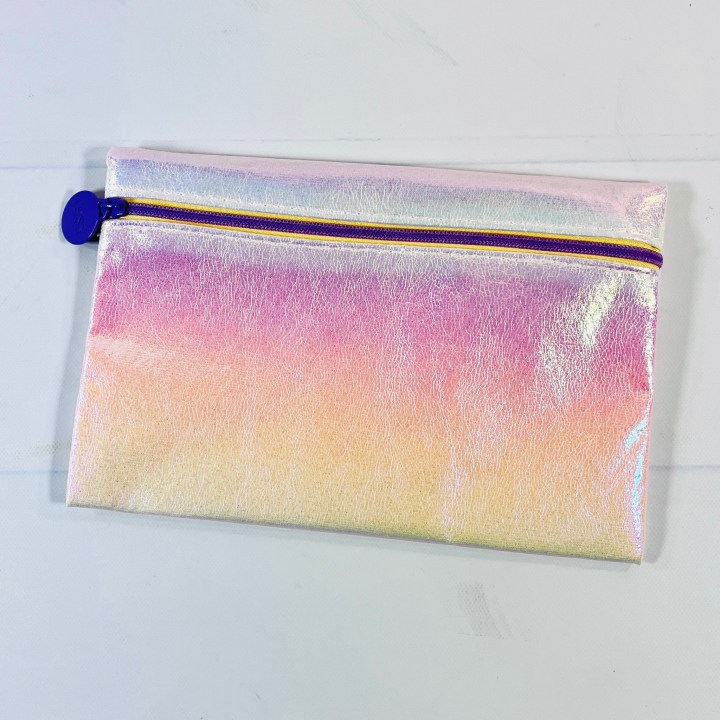 Ipsy Glam Bag The bag is totally adorable and has a cool rainbow iridescent sheen over top of a silver metallic material. The zipper pull is lavender (it's lighter than my picture) and the inside is lined in pink.
Pear Nova Hydrating Cream Mini in Coconut & Eucalyptus (My choice item, $4.38) Ipsy called this a hand cream but the brand calls it a hydrating cream and states it can be used on hands, feet, or body. I plan on placing it in my purse so I can have it nearby as the weather starts to turn cooler (and as my hands start to dry out). It has shea butter and coconut oil but is non-greasy once it's been absorbed. I didn't smell any eucalyptus (and no essential oils were listed in the ingredients) but all I can detect is a beachy coconut fragrance.
Goldfaden MD Bright Eyes Dark Circle Radiance Cream ($14.67) All of the consumer study results (wait, who did the study? Goldfaden or an independent company?) said that most participants saw all kinds of improvement after about 28 days of use, but obviously this sample isn't going to last that long but sometimes sampling is about seeing if the smell/consistency/reactions work for you. It's supposed to brighten the area, decrease puffiness, and minimize fine lines. Some of the ingredients are jojoba oil, glycerin, sodium hyaluronate, and mica (for that "brightening" effect). It also has grapefruit peel oil so make sure to wear sunglasses if outside.
YC Collection Y02 Glow Brush ($22) This brush is to be used to apply and diffuse powder highlighter. It's not super dense and reminds me of a bigger than normal crease brush for the eyes, it's not super big. It also doesn't seem worthy of that retail value. The bristles are vegan.
Seraphine Botanicals Long-Lasting Creamy Lip Stain in Cassis + Cream ($24) It wasn't until I sat down to review this product on the Ipsy website that I realized it was supposed to be a lip stain. At first, it didn't go on smoothly but after a couple of swipes, the bold color showed all over. It is a bright fuchsia shade so if you want to play it down you could lightly apply it with a lip brush. After a while, I wiped it all off (I didn't want a ring on my water glass) and my lips had a hint of color. I repeated the process and got a really bold stain. Swatched below.
Ciaté LONDON Definer Liner in Starburst ($15 listed value) This item was a huge miss for me. It's not even available on the brand's website so if the phrase "try before you buy" is all about sampling, then what's the point of sending something that no one can buy (except on eBay, there's a whole lot of them on eBay). This is a shimmery gold liner that flaked as soon as I tried to apply it to my eyes, smearing all over the inner corner and under my eye, what a mess. Of course, it barely showed up so maybe no one will notice. Swatched below.
Swatched on top is the Ciate eyeliner with the Seraphine Botanicals lip stain below.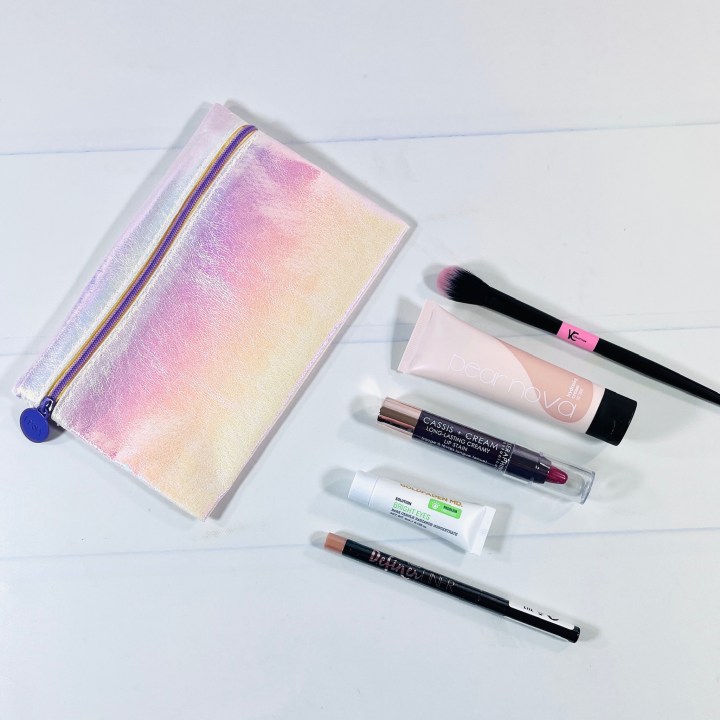 I'm liking the assortment of beauty products in my latest Ipsy Glam Bag! My favorite ended up being the lip stain, it felt good on my lips and the color was pretty playful. I also liked the lotion, the brush will be used, and I can always use more eye cream. The only product that didn't work for me was the eyeliner, but they can't all be winners. I thought the bag was super cute, I love the color and it reminds me that I have a playful side and happen to like pink sparkly things.
Below is the product information card I received.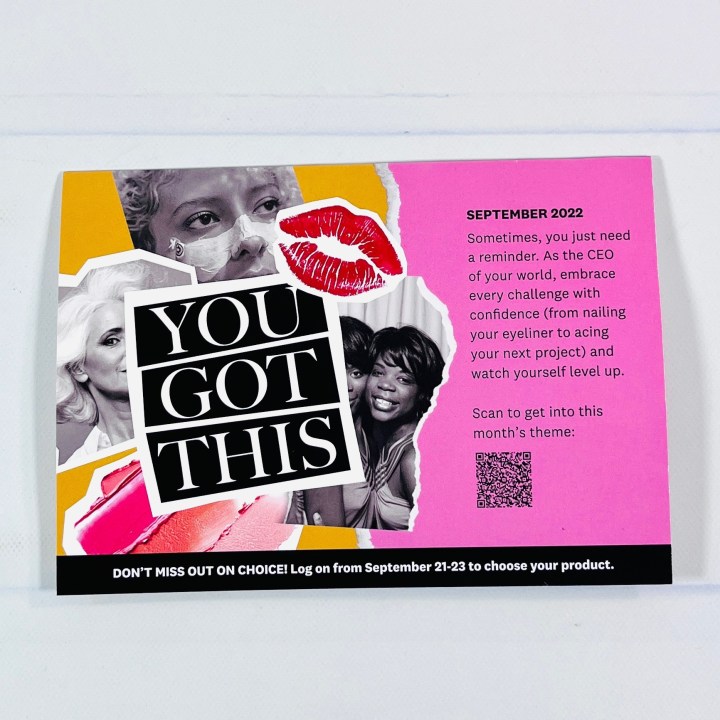 IPSY is a women's monthly subscription beauty membership known as The Glam Bag and contains sample and/or full-size makeup and beauty products delivered straight to your door. Depending on your plan, once a month members receive a makeup bag filled with 5-9 cosmetic items such as perfumes, nail products, skincare items and of course makeup! Items in your Glam Bag are personally curated based upon your beauty preference results from your personalized beauty style quiz.
What did you get in your Ipsy this month? Let me know in the comments!