Here's everything you need to know about this baby food subscription
Yumi Baby Food Review
Food plays an important role in a child's neurological and physical development. Processed food is certainly not the best choice, as they are often laden with preservatives and too much sugar. That being said, fresh food for babies is the way to go – but the thing is that it's often tedious to make baby food from scratch. Yumi solves this dilemma by offering fresh, delicious, and nutrient-dense meals and snacks for children ages 5 months and up! When you subscribe, you'll get a constant supply of baby food ideal for your child's age and nutritional needs. This includes single-ingredient purees, as well as signature blends in 60+ flavors.
Yumi makes it easy for parents to feed their little ones a balanced meal. Everything is formulated by Yumi's in-house experts, including nutritionists, chefs, doctors, and doulas. Meals start at $5 per day and you can edit or cancel your subscription at anytime. Want to find out more about this baby food subscription? Then, let's dig in!
DEAL: Get 50% off your first order! Use coupon code HELLO50.
Yumi Baby Food Benefits & Drawbacks
Yumi Baby Food Benefits
Freshly made baby food
Certified organic
Formulated by experts
Ready-to-eat, zero prep required
Customizable subscription
Meals are tailored to the child's age
Recyclable packaging
Yumi Baby Food Drawbacks
Pricier compared to other baby foods
My Yumi Baby Food Review
Yumi Baby Food is prepared using the exact same methods as home-cooked food. It's real food, but made more conveniently so parents like me can skip the planning, shopping, chopping, steaming, slicing, boiling, baking, and so on. The meals contain only whole and organic ingredients, making them a better choice nutrition-wise compared to pre-processed purees from other baby food brands. They are good in the fridge for 7 days, 2 months in the freezer, and 24 hours once opened. That's more than enough time for my daughter to finish everything in the box!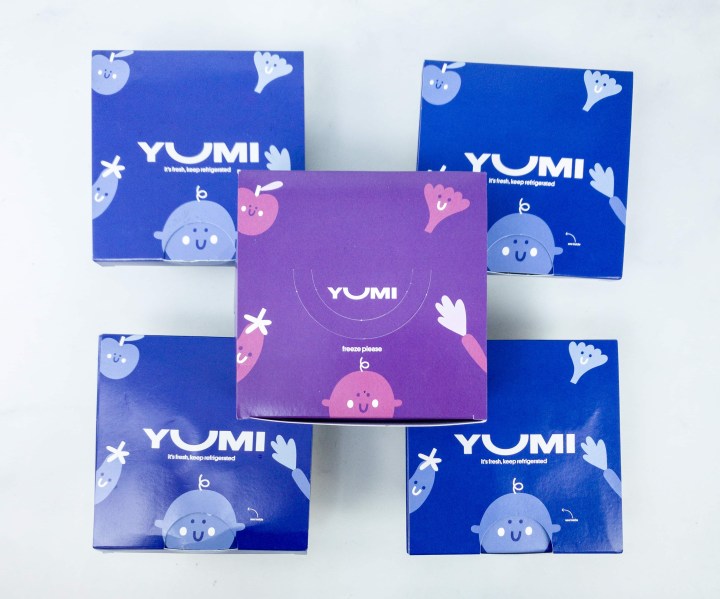 All the bites, packed in containers with dark lids, should be kept frozen. You can prepare them by using an oven or microwave and heating them at a high temperature for about 30 seconds. Meanwhile, the snacks, packed in containers with light lids, are ready to eat.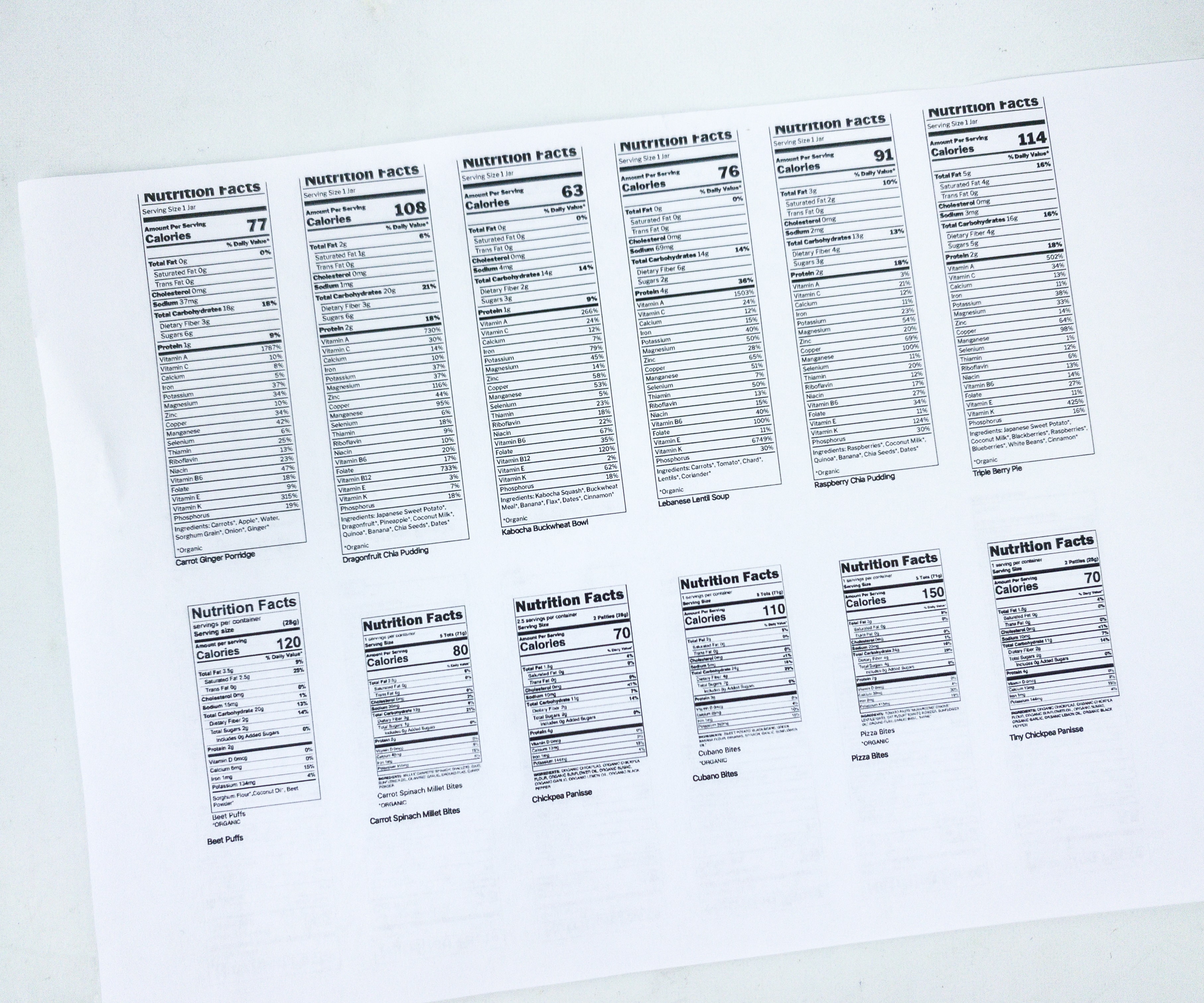 Also included inside the box is an information sheet that contains all the nutritional content of each and every meal.
Yumi Smooth Singles – Single-Ingredient Purees (Stage 1, 4+ months)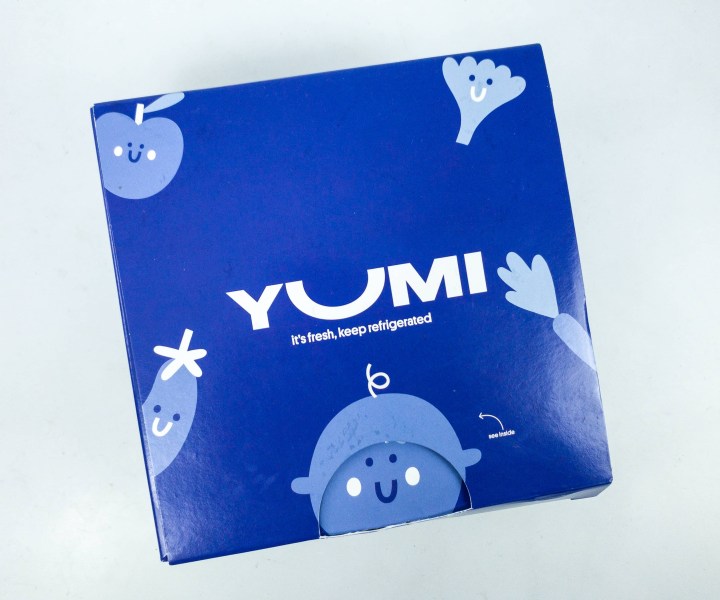 Yumi Smooth Singles are single-ingredient purees that can be served either hot or cold. These are good for 7 days in the fridge and 2 months in the freezer.
The Single-Ingredient Purees are ideal for babies ages 4 months and up. The flavors in our box are Carrot, Dragon Fruit, Mango, and Blueberry!
Carrot Purees – Stage 1. Carrot is one of the best sources of beta carotene which boosts the immune system, decreases inflammation, and improves the health of new cells. The carrots used for this puree are organic.
It was soft, fresh, and definitely tasty!
Mango Puree – Stage 1. This mango puree is rich in potassium, a nutrient that is essential for your baby's body to further control the electrical system of the heart and muscles.
It's also a single-ingredient puree made from organic mango. It wasn't too sweet and it definitely captured the delicious taste of mango!
Dragon Fruit Puree – Stage 1. Dragon fruit is loaded with vitamins and minerals that include beta-carotene, vitamins B and C, calcium, and phosphorus.
This fruit is known to be low in sugar and full of nutrients, making it an ideal food for a baby who is just starting to eat solid foods.
Blueberry Puree – Stage 1. This puree is made with blueberry, which is rich in antioxidants, fiber, vitamin C and K, and manganese.
This meal is so juicy and truly appetizing, my baby loves it so much!
Yumi Smooth Soups & Pies – Multi-Ingredient Smooth Purees (Stage 2, 4+ months)
We also have soups from Yumi's Smooth Soups & Pies line: Lebanese Lentil Soup and Carrot Ginger Porridge! They are ideal for babies ages 4 months and up.
Carrot Ginger Porridge – Stage 2. It's a nutritious porridge packed with protein and iron that supports brain growth while helping produce healthy red blood cells to the body. The recipe includes carrot, apple, sorghum grain, onion, and ginger.
The carrots chunks are pretty visible, so are the sorghum grains!
Lebanese Lentil Soup – Stage 2. Lentil soup is a nutritious plant-based meal filled with beta-carotene, vitamins, and minerals sourced from tomatoes, chard, and carrots. Lentils are known to be a great source of protein and fiber that help develop a healthy tummy, bones, and muscles.
This may not look appealing, but the taste is just perfect!
More soups for my baby! These are Kabocha Buckwheat Bowl and Broccoli Mash Bowl meals, also from the Smooth Soups and Pies line.
Kabocha Buckwheat Bowl – Stage 2. Kabocha and buckwheat are definitely a great combination. They make a great source of beta carotene and fiber. It also contains banana, flaxseed, dates, and cinnamon!
The mix of sweet and savory flavors in this bowl is really appealing!
Broccoli Mash Bowl – Stage 2. It's a broccoli-based meal that contains a generous amount of protein and chromium! To make it more filling and nutritious, they also added sweet potato, amaranth, apricot, and flaxseed.
This meal is not only nutritious, but the texture is really good and it tastes yummy too. Who would have thought it contains broccoli?
Yumi Chunky Pudding & Bowls – Multi-Ingredient Chunky Purees (Stage 3, 9+ months)
Next, we have Chunky Puddings & Bowls, which are multi-ingredient chunky purees ideal for babies ages 9 months and up. The flavors we have are Raspberry Chia Pudding, Dragonfruit Chia Pudding, and Triple Berry Pie.
Raspberry Chia Pudding – Stage 3. Quinoa and chia are combined in this pudding, making it a great source of protein and omega-3 fatty acids which are essential for your baby's brain and body development. Other yummy and healthy ingredients are raspberries, coconut milk, banana, and dates.
It's a little creamy, a bit denser, and oh so delectable!
Triple Berry Pie – Stage 3. It's a berry-filled recipe so it contains a lot of antioxidants that'll help improve your baby's immune system. Aside from strawberries, blackberries, and blueberries, it also includes Japanese sweet potato, coconut milk, white beans, and cinnamon.
It's also rich in protein, potassium, and magnesium that help support healthy bone, and muscle growth and development.
Dragonfruit Chia Pudding – Stage 3. We received another dragonfruit in our box, and this time, it's blended with Japanese sweet potato, pineapple, coconut milk, quinoa, banana, and chia. This is full of vitamins and minerals including beta-carotene, b-vitamins, vitamin C, calcium and phosphorus.
It is generally low in sugar and it's deliciously chunky as well.
Yumi Fingerfoods – Bites and Puffs (Stage 4, 10+ months)
Here are the Yumi Bites and Puffs in our box: Cubano Bites, Carrot Spinach Millet Bites, Pizza Bites, and Beet Puffs. They are ideal for babies ages 10 months and up.
Pizza Bite. These snack bites are made from lycopene-rich tomatoes, fiber-rich lentils and oats, and other gluten-free and organic ingredients. It gives your baby the scrumptious taste of pizza in a healthy and age-appropriate way!
Beet Puffs. These look like regular puffed snacks but are definitely healthier as they are made with beet powder and packed with fiber, potassium, vitamin C, and antioxidants. Each piece melts quickly inside my baby's mouth!
Carrot Spinach Millet Bite. These bites are made with carrots, millet, spinach, oats, shallots, sunflower, and curry powder. It's a protein and iron-rich snack that supports brain growth and a healthy red blood cell formation, while the spinach provides a significant amount of vitamin K and carrot for healthy vision. They were soft and filling, and they are definitely one of my baby's favorites.
Cubano Bite. Here's another power-packed snack, and this time it features a mix of quinoa, black beans, kale, bananas, and flax seeds. Rich in magnesium and calcium, this meal supports a healthy heart, eyes, brain, and tummy. It was savory, which was another hit with my baby!
Here are the Pizza Bites, Cubano Bites, and Carrot Spinach Millet Bites! After putting them in the oven for 30 seconds, they're ready to be served.
Here are the bites after being re-heated. We also added the Beet Puffs!
My baby loves them all!
Is Yumi Baby Food worth it?
Yumi's well-crafted baby food is definitely worth subscribing to, especially if you're a busy parent and you want to make sure your child is getting the proper nutrition even when you can't make their meals from scratch! The meals are tailored to your baby's age, making sure that you get only what your baby can actually eat. They are packed with vitamins and nutrients to support healthy development, and of course, the goodies are delicious and appealing to their palate as well. The signature blends alone include over 60 flavors to choose from – even picky eaters won't be able to resist them! Indeed, Yumi makes it easy for parents to feed babies fruits and vegetables they might not otherwise eat. My daughter enjoyed the meals a lot and I couldn't be happier!
All About Yumi Baby Food
Yumi reimagined baby food – making it more delicious and nutritious for children, and more convenient for parents. This subscription company that specializes in organic baby food is founded by former private equity executive Angela Sutherland and former Wall Street Journal reporter Evelyn Rusli.
How does Yumi Baby Food work?
Signing up for a regular supply of delicious and nutritious baby food from Yumi is easy, peasy – and all done online! Just answer a short quiz and pick a plan that suits your baby's needs, then you can look forward to automatic shipments of organic purees, organic soups, organic finger foods, and more. Yumi has in-house nutritionists who have created amazing meal options, so parents can skip the hassles of making baby food from scratch. They also ensure that every meal arrives fresh to your door by packing them in a recyclable, insulated box. Yumi subscriptions can be customized or canceled at any time.
How much does Yumi Baby Food cost?
Your subscription cost depends on how many baby or toddler meals you want to receive in your box. The more meals you get per day, the lower the price gets!
Meals cost $5 for a 1 meal per day shipment ($35 per week)
Meals cost $4.64 for a 2 meals per day shipment ($65 per week)
Meals cost $4.29 for a 3 meals per day shipment ($90 per week)
You can also buy 7 meals and get 1 free, and save 20% by paying monthly.
Where can I buy Yumi Baby Food?
Head on over to Yumi Baby Food's official website to start your subscription! Click the Try Yumi button on the upper right part of the webpage, and you'll be redirected to a quiz where you will input your email address, your baby's birthday, and your zip code. Then, you can pick how many meals you want to receive. You'll also see a list of flavor suggestions you will receive in your first Yumi box, plus the available add-ons. If you don't like the suggested flavors, no worries because you will be able to edit them once you place your order. Sign-up just takes a few minutes – so it's convenient for busy moms and dads!
Where and how does Yumi Baby Food ship?
Yumi currently ships baby food to anywhere in the contiguous United States. Depending on your address, your box will arrive between Monday to Wednesday by 9 pm. You can find more detailed tracking information by logging into your account and checking the Orders page.
How is Yumi Baby Food packaged?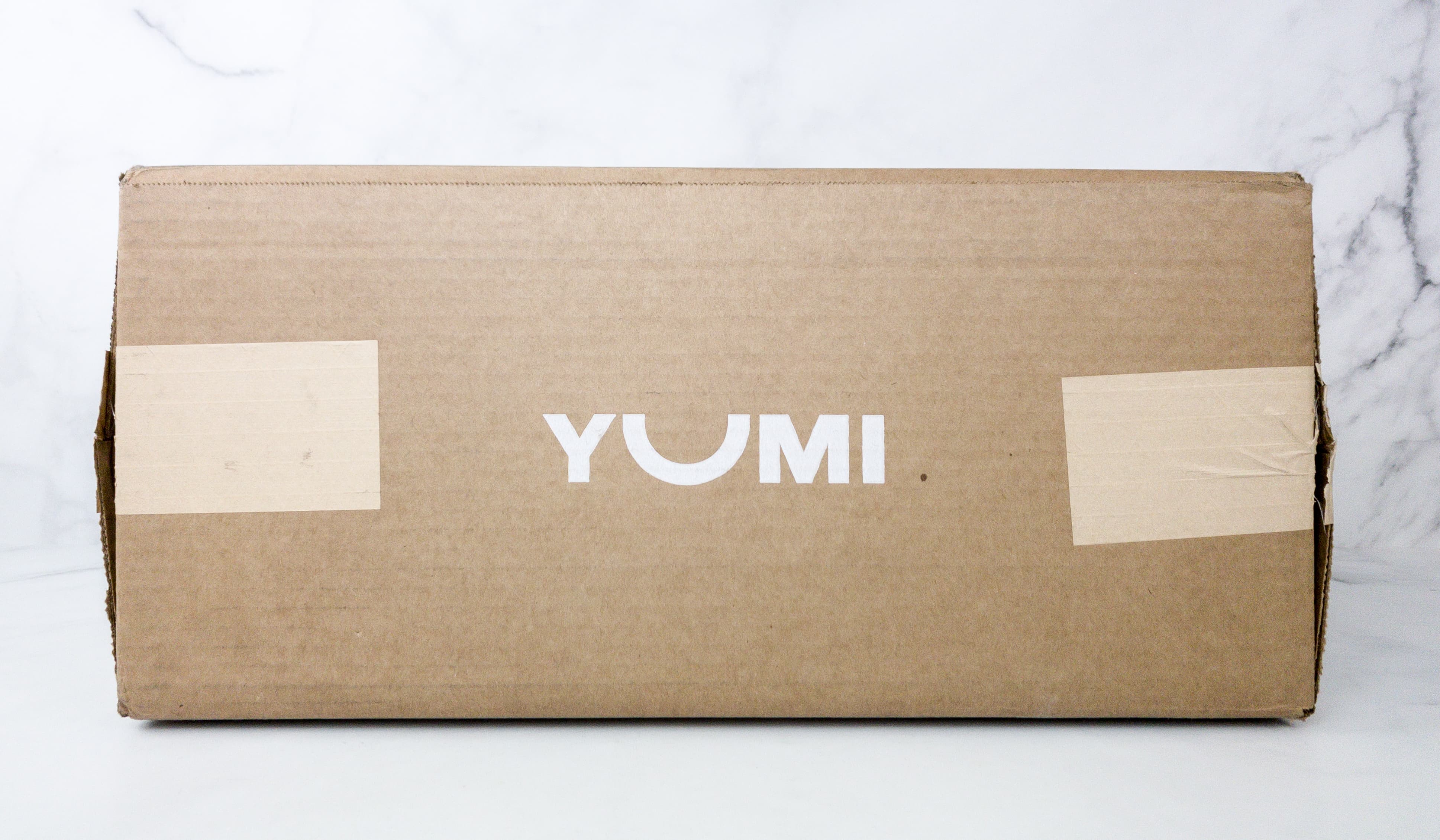 All the meals are carefully packed inside temperature-controlled boxes to help them stay fresh in transit for up to 72 hours. Each box has thermal liners made of recycled water bottles, as well as a non-toxic and non-caustic icepack.
The baby food itself is inside a BPA/BPS-free plastic jar – not glass. Yumi took into consideration that some babies self-feed, and they wanted to avoid breakage in case the jar gets knocked off a high chair. Plastic has the tendency to leech when exposed to extreme temperatures, but parents don't have to worry because the baby food is completely cooled before it's transferred into these plastic jars. It's also worth noting that these plastic jars are not microwavable nor dishwasher safe. If you want to warm the baby food, make sure to transfer the food into a heat-safe container first. All of the packaging materials used by Yumi are curbside recyclable and the ice packs are reusable.
What products does Yumi Baby Food offer?
Yumi divides their food offerings into familiar stages, to make sure you only give what your baby can accommodate in their current stage. If you need help in choosing the appropriate stage for your baby, or if you have other related concerns, you can consult with Yumi's nutritionists.
Stage 1: Smooth single-ingredient purees. These are great for babes just starting solids. (4+ months) Flavor examples: Spinach, pumpkin, purple sweet potato, peach, apple, split pea, dragonfruit, kabocha squash
Stage 2: Smooth multi-ingredient soups and pies. (7+ months) Flavor examples: Mulligatawny soup, pumpkin soup, kabocha squash soup, split pea soup, coconut cream pie, strawberry basil pie, triple berry pie, apple pie
Stage 3: Chunky multi-ingredient chia puddings and bowls. (9+ months) Flavor examples: Peaches & blackberry chia pudding, dragonfruit chia pudding, coconut amaranth pudding
Stage 4: Nutrient-dense meals and snacks for independent eaters. (10+ months) Flavor examples: Cubano bites, beet puffs, broccoli lentil bite, cauliflower puffs, pizza bites, carrot spinach millet bites, southwest bite, chickpea panisse bite
You can choose food items from one stage or a mix of different stages, depending on the meal plan you choose.
Available meal plans:
Variety Pack: A variety of Stage 2 or 3 blends.
Starters Only: One jar of each Stage 1 puree.
Finger Foods Only: A variety of bites and puffs.
Bites and Blends: Bites and blends from collaborations with different chefs.
How do I gift Yumi Baby Food?
Yumi baby food makes a great gift! You can purchase a digital gift card, which ranges from $40 to $500, and you also have the option to add a Future Foodie Kit for $45. Made especially for gifting, the kit includes two full-coverage bibs, a custom Muslin Wipe cloth, a guide to starting solids, and a chat with a registered nutritionist.
Will you be getting Yumi Baby Food for your little one?