This is my first time reviewing Pusheen Box! The Summer 2022 box was themed Sweet Picnic, and let's be honest, most of this stuff will be going to my 18-year old daughter, although there were several items I wouldn't mind keeping for myself! Keep reading to see what came in the latest box!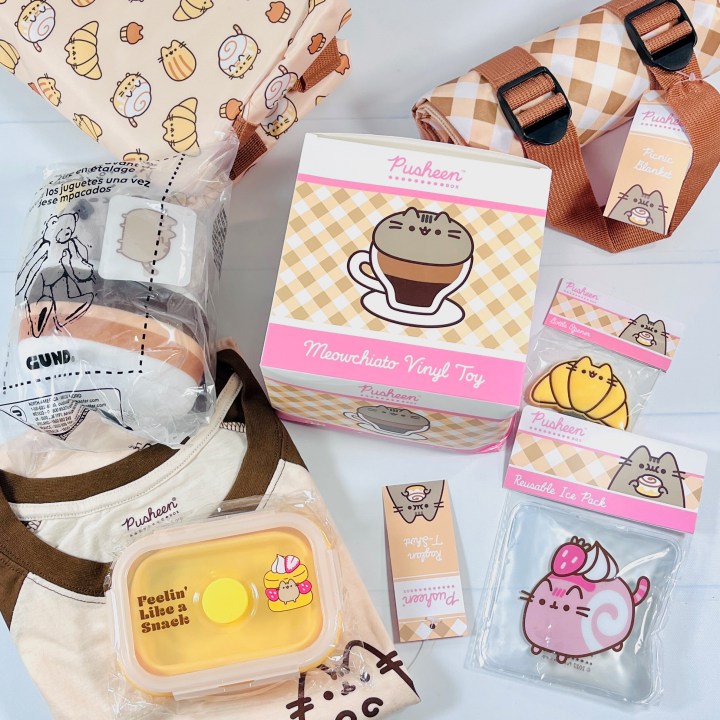 Everything came with tags, in a box, or wrapped in plastic.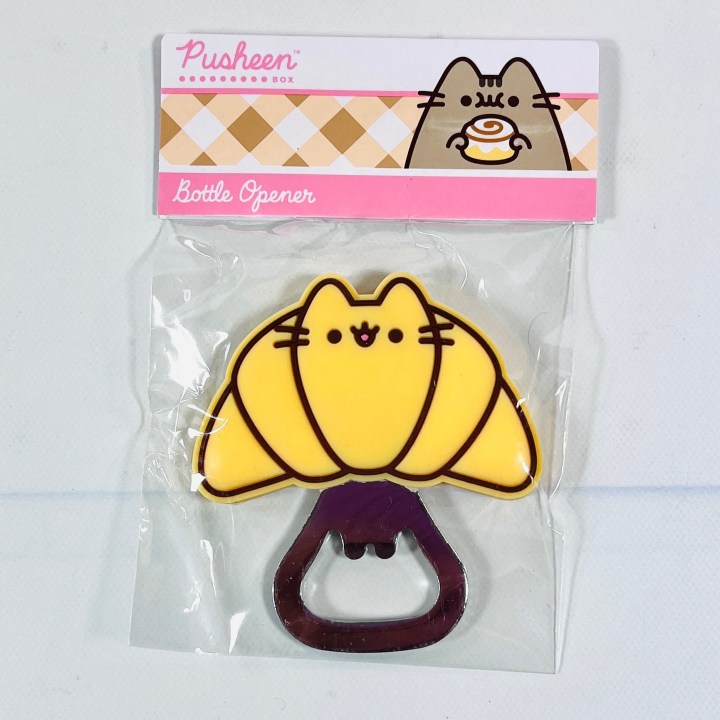 Bottle Opener It might be a good idea to keep a bottle opener handy in a picnic basket just in case you need to open some of those old-fashioned caps (or for beer I guess?) and this one has Pusheen in the shape of a croissant!
Reusable Cold Pack Pusheen looks like a strawberry roll as she poses on this little ice pack. The pack is filled with gel and should sit nicely on or under the next item.
Collapsible Snack Box The cuteness just keeps coming! Here Pusheen is on top of a collapsible snack box that folds almost flat after you consume its contents. The bottom says "care instructions to be finalized" so I would go ahead and hand wash to be safe.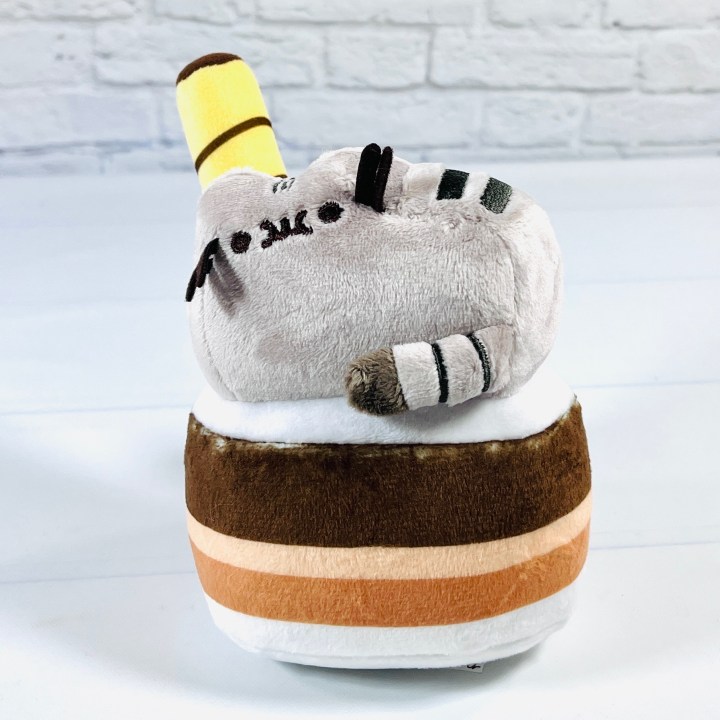 Gund Affogato Plush Pusheen is sitting atop an Italian coffee/dessert combo, and there's a straw coming out the back. Her whiskers might need to be steamed into place as they are currently in her face but she still looks adorable.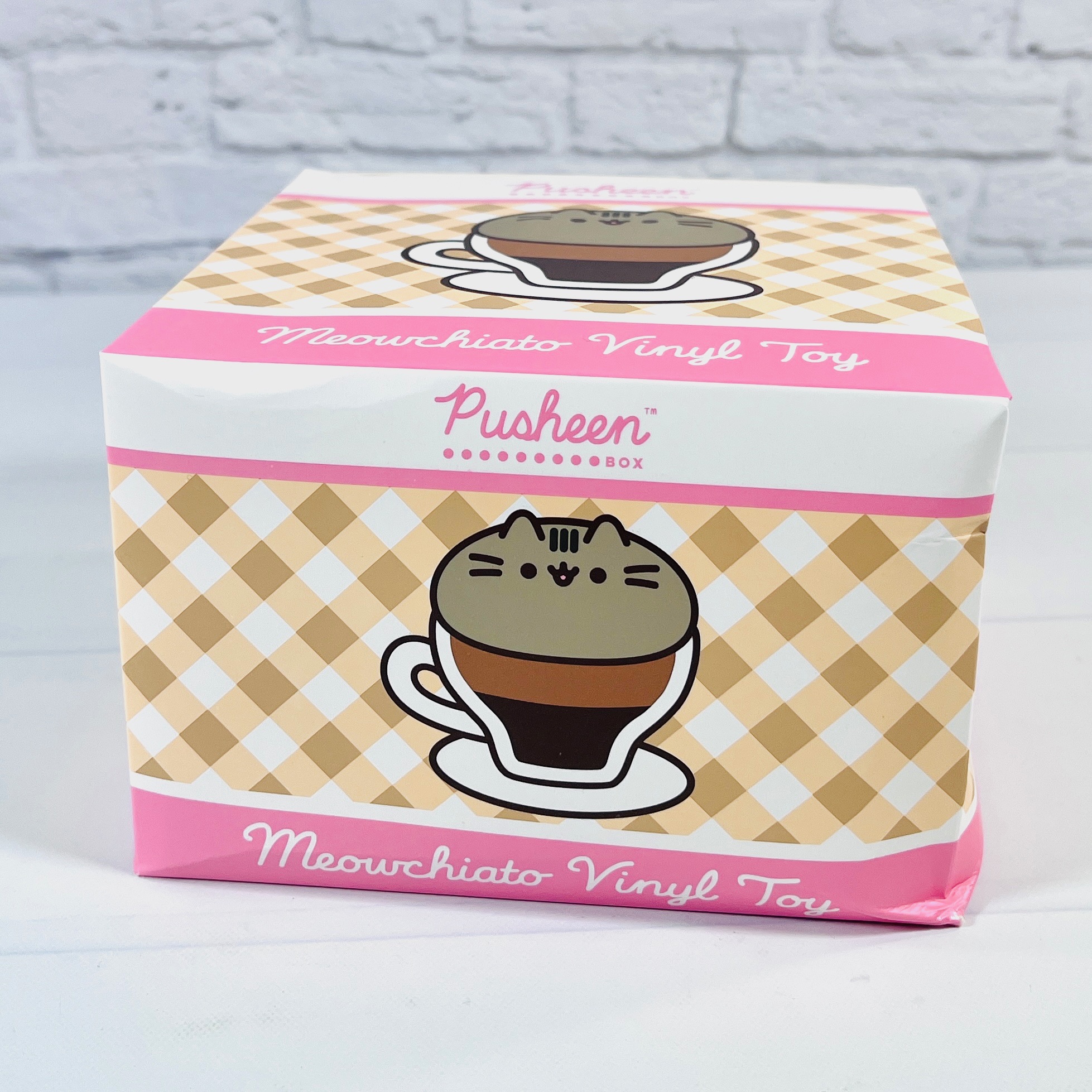 Meowchiato Vinyl Toy I think Pusheen must really like coffee because now she's sitting on top of a macchiato! It even has a saucer attached to the bottom!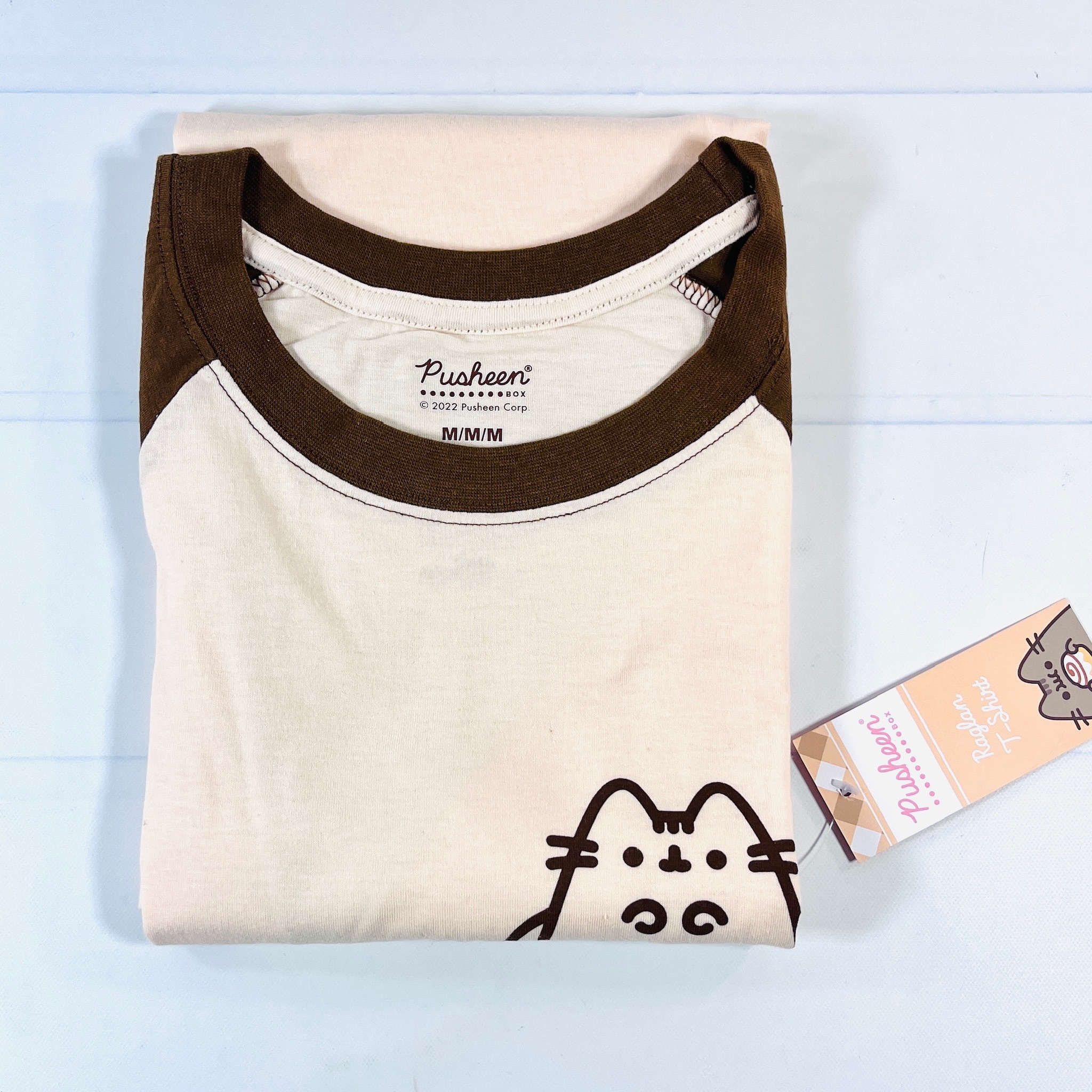 Catpusheeno Raglan Tee Who knew there were so many Pusheen coffee puns! My daughter spotted this item first from the box and loved it, and it looks similar to the vinyl figure above, except of course a different coffee pun was used this time around. The shirt is made of 60% cotton and 40% polyester and can be machine washed on gentle.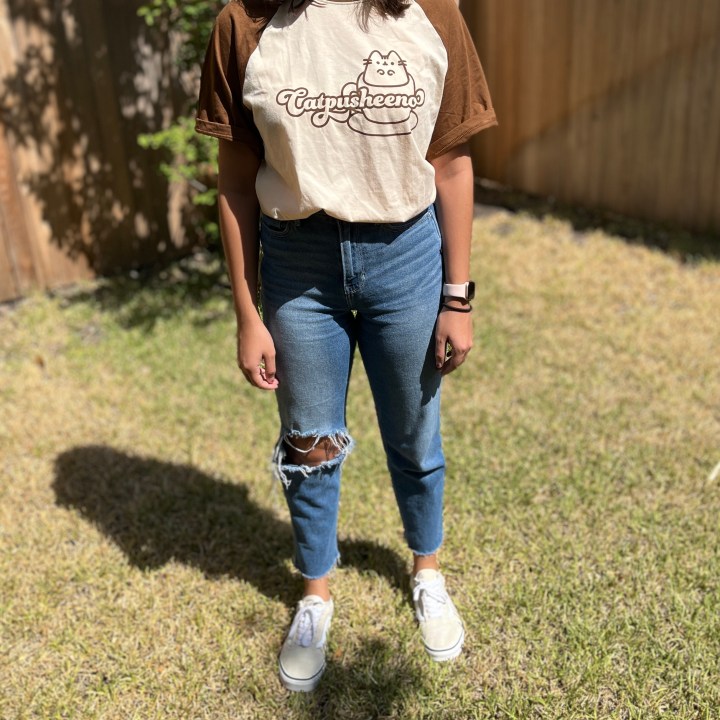 It's a medium and kind of big on her (long enough to be sleepwear when not tucked in) and she rolled up the sleeves a bit.
Picnic Blanket I think this is a great item to sit on when out on a picnic, or for topping a table when eating al fresco, like if you stop somewhere on a car trip but don't want to eat on the picnic table without protection. It's nicely sized, about 37″ x 57″, and it is made of 100% polyester, but in vinyl form, you would need to hose it off to clean. It has two removable carrying straps that are adjustable.
Insulated Picnic Tote When I think of insulated totes I picture a silvery metallic lining but this doesn't have that lining, and the tag doesn't say "insulated" either, only the info card uses that word. The bag is made of 100% polyester and has Pusheen shaped like different foods, like a croissant and cinnamon roll. It's generously sized, but there's no zipper or other closure, which gives me further proof that this is a lovely tote bag, but wouldn't work to keep foods cool as a picnic tote.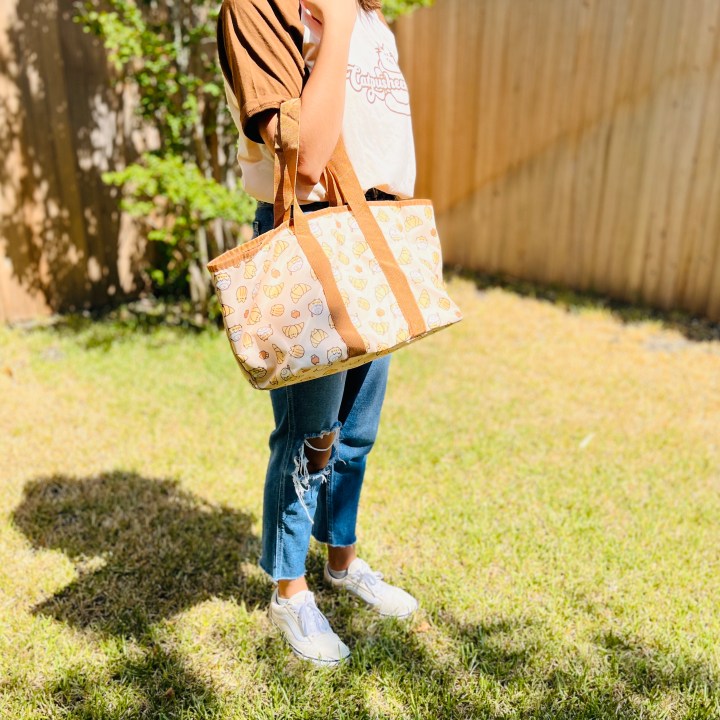 Here's my daughter holding the bag so you can get an idea of the size. It's a good sized bag!
This was my first time reviewing Pusheen Box (with the help of my daughter) and I can say it was a big hit with my 18-year old! She adores the shirt, has already displayed the stuffed animal and figurine in her room, and placed the ice pack in the freezer. I know she liked all of the items and the shirt is her favorite, I know it will get lots of wear over the next year.
Each seasonal box also includes a card with pictures and names of the items inside. Here's a look: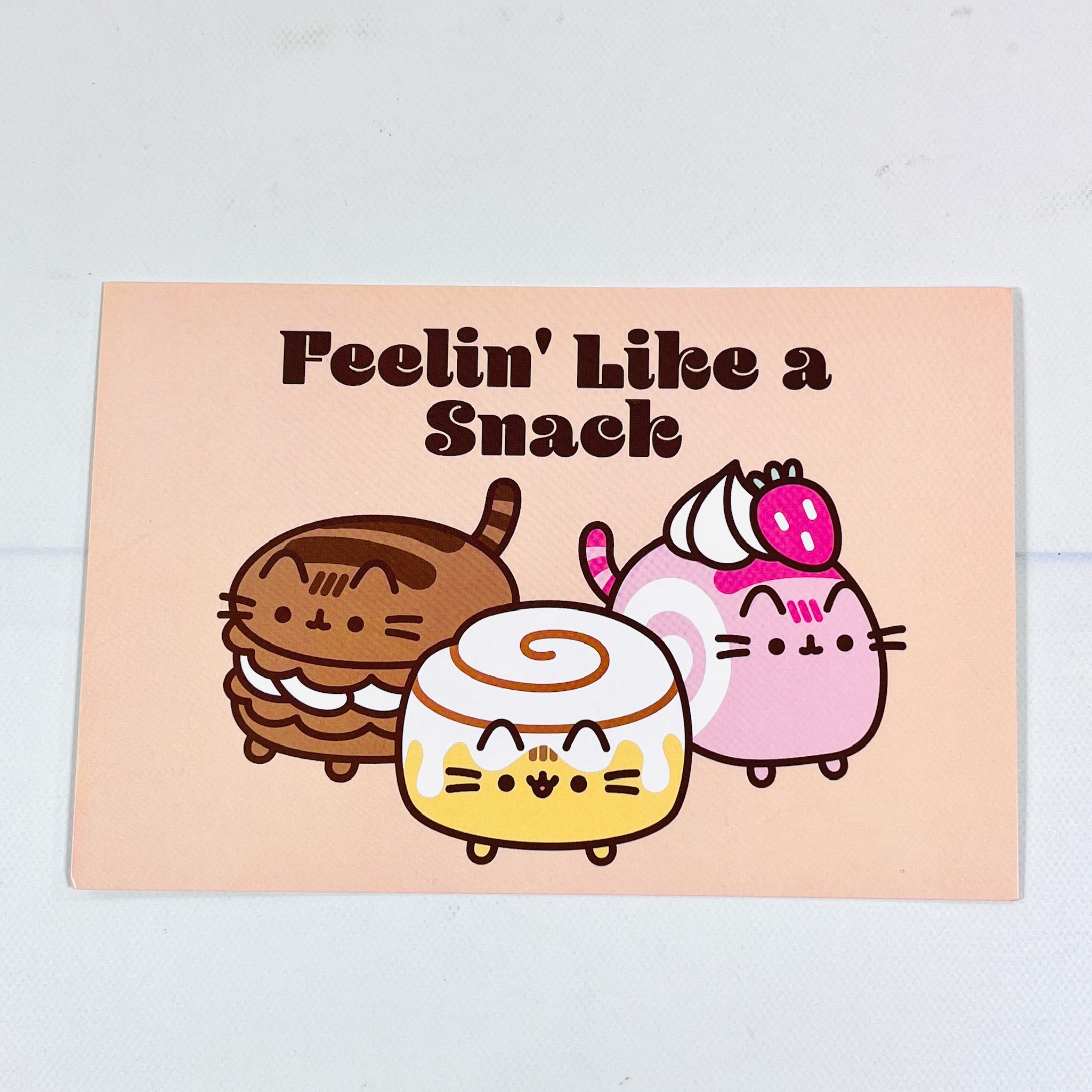 Pusheen Box is a quarterly subscription box that delivers everything Pusheen the cat! Boxes hold a variety of Pusheen items with at least $100 in value, including exclusive products and pre-release items. Some of the items that could be inside include clothing, accessories, electronics, toys, stationery, and more! The box is $43.95 per quarter plus the shipping fee. You can also get a pre-pay annual plan, which reduces the box's cost to $39.95 per quarter plus the shipping fee.
Pusheen Box made the list in our 2021 readers' choice picks of best subscription boxes for teens!
What did you think of the Pusheen Box this quarter?