Whether you're going on a summer date, looking for summer love, or just looking to enjoy a fun summer day with friends, we got you the latest and loveliest J&K-beauty, perfect for a love-ly summer look!

Try them out and share your best summer date look with the #nomakenolife and #nmnlkiss hashtags! You may win some great prizes if you do!
nmnl is $35 per month + $12.50 US Shipping (Varies International Shipping), and includes 8-9 Korean and Japanese cosmetics plus skincare! See all our nmnl reviews to find out more!
DEAL: Use this link and use the coupon code KISSME to get FREE Kiss Me Beauty Bonus! Ends 8/31 MIDNIGHT JST.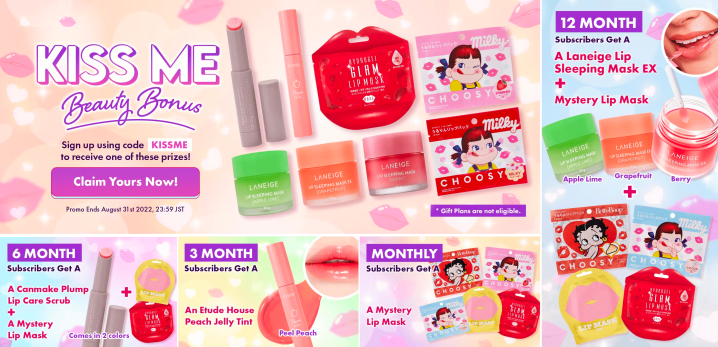 Sign up for a 12-month subscription and get a FREE LANEIGE Lip Sleeping Mask EX and a Mystery Lip Mask!
Sign up for a 6-month subscription and get a FREE CANMAKE Plump Lip Care Scrub and a Mystery Lip Mask!
Sign up for a 3-month subscription and get a FREE Etude House Peach Jelly Tint!
Sign up for a monthly  subscription and get a FREE Mystery Lip Mask!
Each box includes:
Get a gorgeous shimmery eye look with this beautiful sunset palette! Use a single color or build a fab gradient!
Combine and layer the super cute color lip tint with the pearl lip finish for lips that practically scream: "Kiss me!"
Need a bit of a face lift before a date or just love Japanese face tools? Get a jawline-lifting workout with this fun tool!
(nomakenolife) is a monthly beauty subscription box by the brains behind Tokyo Treat and Yume Twins. Each box comes with Korean and Japanese makeup monthly! Get cute, fun and unique makeup products you can use daily or for special occasions!