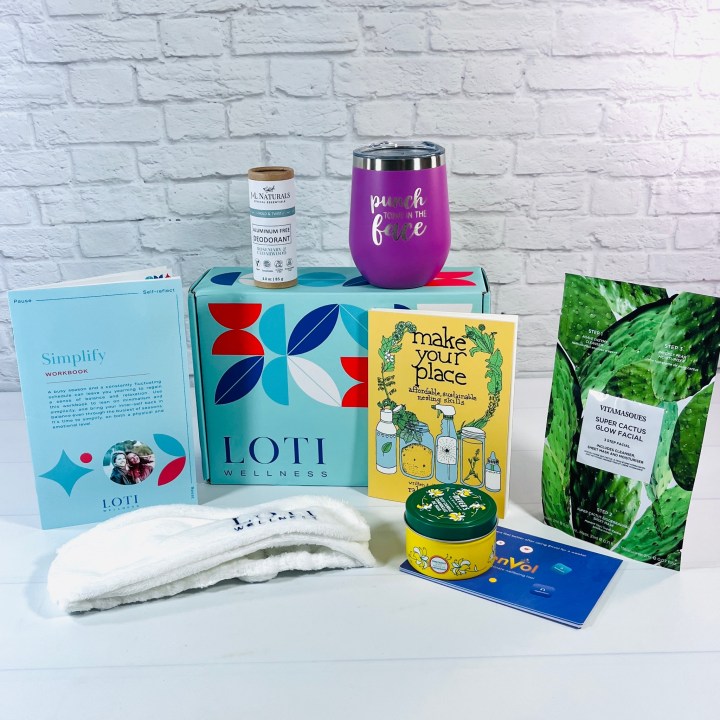 It's time to see what came in my Loti Wellness box for this month! August's theme was SIMPLIFY and reminds me that we are about to become busy with all of the activities that come around this time of year and how I can balance that with me-time. Inside I found a workbook, a candle, and even a book! Read on to see the full review of the August Loti Wellness box plus grab a coupon!
DEAL: Save 10% on your first box! Just use this link and coupon code SUBSCRIBE10.
Simplify Workbook There were 14 pages in all and sections on how to plan time for myself and focus on activities that matter the most to me. There were spaces to write down things to simplify at home plus a 7-day planner and more.
Make Your Place: Affordable & Sustainable Nesting Skills by Raleigh Briggs ($7) What a cute book! It has a different type of font, perhaps the idea is to make it look like you're reading someone's notebook. It has ideas on how to make changes in your routine that are sustainable and possibly less toxic. It has sections on Health and First Aid, Cleaning and Body Care, plus Gardening. You can learn how to make your own shampoo, or a salve, or natural pest control. I can't say for sure if I'm going to agree with it 100% but I look forward to seeing which changes I can make in my routine.
Loti Spa Headband ($15) This headband has wire or something like that to keep it fitted to the head, and it's covered in plush white fabric. Ok, I've tried it on and I think you are supposed to fit the stretchy part to the back of the head and then twist the other sections together to keep hair off of the face. I looked like a one-eared bunny when I put it on!
Vitamasques Super Cactus Glow Facial ($6.90) There are 3 different products here — detach them and use them as a mini in-home facial! Step 1 is an enzyme cleanser, step 2 is to apply the biodegradable sheet mask, and finally, step 3 is a moisturizer that is supposed to be massaged in for 5 minutes. All 3 have cactus ingredients but I also saw that all 3 had parfum/fragrance added.
Envol App – 3 Months Access ($35) Not only does this card come with an access code for 3 months of the Envol app for free, it has an additional code on the back that you can gift to a friend! You can use the app to provide guided meditations, affirmations, and more with the goal to help you feel recharged. I redeemed it and downloaded the app to my iPad and can't wait to get started!
Loti Tumbler ($28 listed value) I wish we had received more info on this tumbler but the booklet says it can be used for hot or cold drinks. It doesn't say anywhere what material it's made off (I will use stainless steel but not aluminum), washing instructions (I'm going to hand wash and dry), or amount it can hold (I measured it myself and it's around 12 ounces). I tried getting a magnet to stick and it wouldn't but all of the other supposedly stainless cups in my home won't hold a magnet either and after further research I discovered that's not a good test anyways. I've reached out to Loti twice and haven't heard back as of yet. EDIT: I received a message that they have reached out for more info but again, no answer as of the time I finished this post.
Mrs. Meyer's Clean Day Tin Candle ($4.49) My daughter liked the scent of this candle, which is a sweet floral. It's supposed to burn for around 12 hours and is made of soy wax. It should be burned for around 2-3 hours at first use to help the candle develop memory to the edge so it won't form that weird tunnel down the middle.
J&L Naturals Aluminum Free Deodorant ($9.34) Y'all. It has been one of the hottest and driest summers on record here in the Austin area. I cannot leave the house without an antiperspirant/deodorant combo because that's how I am, and this is only a deodorant, it won't stop the sweat. It smells really good, I like the combo of rosemary and cedar, it reminds me of the healthy body section of Whole Foods. It is free of aluminum but it has baking soda so if that sets your pits to itching then beware. I am willing to try this out but it's going to have to wait until the weather is cooler.
I love to indulge in boxes that have self-care items and this one had a wonderful assortment of items, it wasn't heavy on skincare or anything like that — it had a little bit of everything! The headband was soft and adjustable, the candle smells good, and the deodorant smells good too, but I will have to try it out later in the year to see if it helps keep ME smelling good! I liked the book and of course the workbook, while my daughter will use the mask set (her skin isn't as sensitive as mine). I now have the enVol app and get to try it out for the next 3 months for free (cancel before the next billing date if you want, maybe set a reminder on your phone so you won't get charged and who knows, you may love it!). The only thing I was unsure of is the material of the cup, as I prefer stainless steel (actually I prefer glass) and choose not to drink out of aluminum as much as possible. Other than that, it was a fun box for me!
Below you will find the product info pamphlet!
DEAL: Save 10% on your first box! Just use this link and coupon code SUBSCRIBE10.
Loti Wellness is a subscription box with a focus on self-care. The box has a monthly theme curated by therapists to focus on items and rituals to promote positivity and improve one's self. Loti Wellness works with local brands and small businesses whenever they can, and choose cruelty-free and natural products. The box will have 5-7 products for self-care and wellness. The box is $45.95 USD with lower prices on multi-month subscriptions and drops to as low as $37.95 USD when you sign up for 12 months. Shipping is $10.95 USD.
What do you think of this self-care subscription?