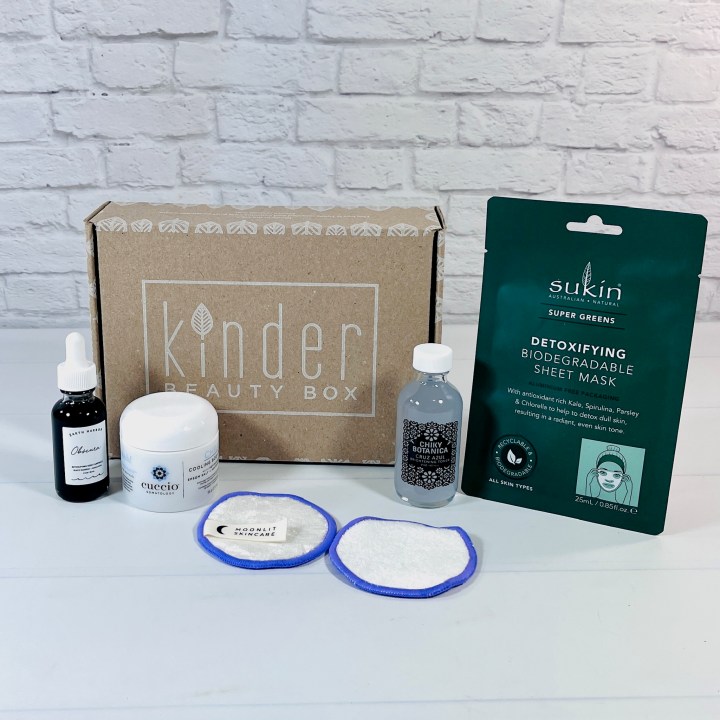 Kinder Beauty Box is a vegan beauty subscription box. This subscription sends out two variations every month and I received the DETOX box for July (the other box was called HARMONY). I received a toner, minty body scrub, reusable pads, and more! The difference between the DETOX box and the HARMONY box is that the Earth Harbor product is an eye cream and the mask is oil-controlling in the HARMONY box.
DEAL: Use coupon code HELLO5 for $5 off your first order!
Sukin Detoxifying Biodegradable Sheet Mask in Super Greens ($5.99) This skin mask that was inspired by green juice is supposed to hydrate and revitalize dry skin, something I'm sure my face can use after this record-breaking heat we've been experiencing in my part of the country. It has kale, avocado, and baobab plus spirulina, chlorella, and green tea. Place on clean skin and let sit for 15-30 minutes. You can pat the remaining essence into your skin afterward.
Moonlit Skincare Bamboo Pads ($2.80 value) I have several large "makeup remover" cleansing cloths, and I use one every night before following with a second cleanse with an actual cleanser. These can be used to remove eye makeup, or they can be used the same way you might use a cotton ball or pad. You can put toner or micellar water on the pad, wipe your face or eyes, and then place these in the wash to reuse over and over again. One side is very soft and the other has a bit more texture but again, it's soft too.
Chiky Botanica Cruz Azul Brightening Toner ($42) Please note that this lid is different than the one shown online, which has a sprayer and would make this easier to use – be careful because it comes out quickly. I used it on a pad (you could use the pads above if you have them) to wipe my face clean after washing. The toner has water, aloe, witch hazel, lavender hydrosol, and more. It smells mostly of witch hazel. I wasn't sure what "larimar essence" was, and still can't find a definitive answer, something about a stone, but does it have water that the stone sat in or was the stone ground up?
Earth Harbor Obscura Detoxifying Reset Ampoule ($44) What an interesting shade for this line, which usually has colors you are more likely to find in a rainbow. It's a night treatment that is supposed to help detox skin while fighting breakouts and ridding skin of excess oil. Some of the ingredients are black cumin oil, tamanu oil, kiwi, seaweed, and other oils plus some charcoal and other stuff. You can apply a couple of drops after cleansing just as it is or mix them with another treatment or moisturizer before turning in for the night. It doesn't look black after it's rubbed into the skin. There's virtually no scent, which is surprising because I feel like other products with black cumin seed oil are almost overwhelmingly strong. It is oily at first but then not so much and leaves behind slightly shiny skin.
Cuccio Chill Cooling Body Scrub ($27.30 value) I was looking forward to the cooling effect this body scrub was supposed to provide and although it felt good on my skin, I never felt cool or tingly. The scrub is made of various plant oils like safflower and sunflower plus peppermint oil, menthol crystals, sea salt, and Epsom salts. I used as directed, massaging it onto damp skin, but the consistency is like solid coconut oil, so I never felt like it scrubbed any dead skin away, and water wouldn't rinse it away. I didn't need a separate moisturizer after using. I rubbed it on dry skin and felt the scrubbiness of the salts much better that way. But it's not easy to rinse – think of how hard it is to rinse hands that have been in solid coconut oil or vegetable shortening, water won't touch it. As for the scent, I absolutely love it, it reminds me of my favorite sweet mint gum! TL:DR: Use on dry skin, rinse off salts, no body lotion needed.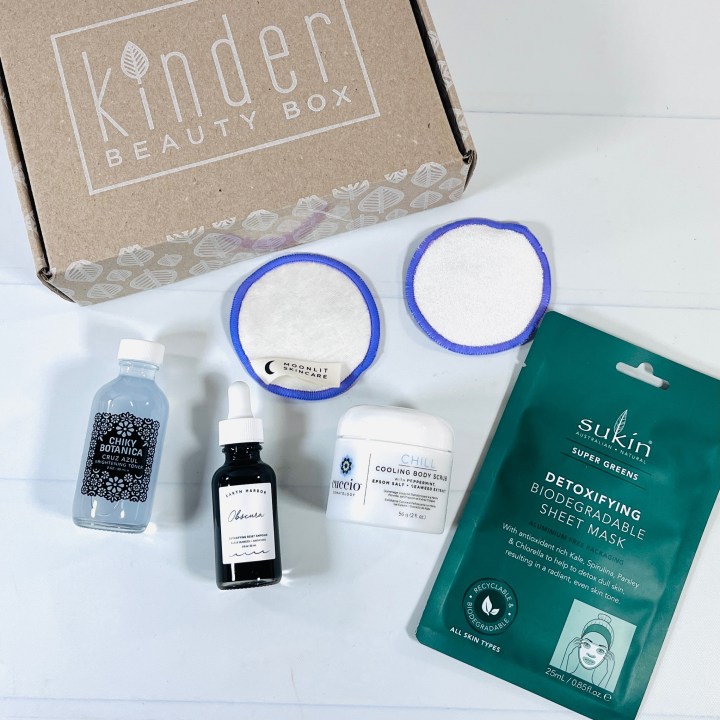 The Kinder July box had products to detox the skin, something that I usually think the skin does quite well on its own but I guess it needs some help every once in awhile. My favorite product was the minty body scrub, but then I love most products that have anything to do with mint. I also liked the sheet mask, and the mask itself is compostable. My daughter will use the cotton pads, I think she's wants to have a week's supply of them to get her through laundry cycles. Earth Harbor and Chicky Botanica always has fun beauty products so overall this was a winning box!
Below is the product info card and a box opening pic!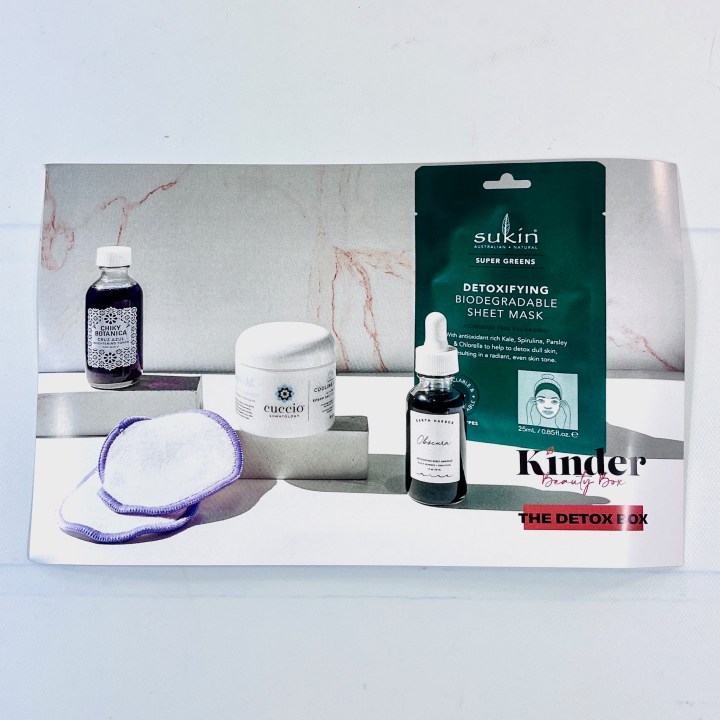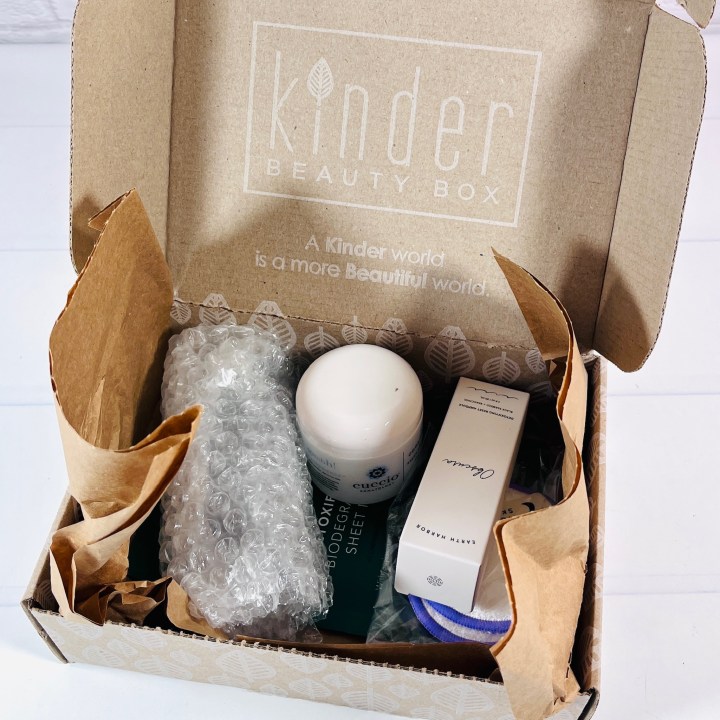 Kinder Beauty Box is a vegan and cruelty-free subscription box that sends skincare, haircare, makeup, and accessories. Each month you will receive more than $85 worth of products. The items are compassionately curated by Daniella Monet and Evanna Lynch. All Kinder Beauty Box products are guaranteed to be 100% vegan and cruelty-free. Kinder Beauty Box is $26 a month, with free shipping to the US, $5.95 elsewhere. Price drops to as low as $23 a box with a prepaid 6-month plan. Buy a multi-month plan to receive a free bonus box and to pick out which of the two monthly boxes you prefer (after the first box). A portion of all sales will go towards benefiting the founder's favorite animal rights and environmental causes.
Kinder Beauty's subscription box made the list in our 2022 readers' choice picks of best skincare subscription boxes!
What do you think of Kinder Beauty Box?