We have spoilers for the September 2022 Ipsy Glam Bag!
Settling into fall is easier said than done, especially when we've had our fun in the summer sun. Instead of dreading the busy schedule ahead, why not make sure you're prepped and ready to take on the responsibilities? Whether it's academics, business, scheduling interviews, the beginnings of a new venture, or whatever else is motivating you to get back on your grind, this Fall is all about feeling confident and ready to rule. There's plenty to look forward to—a new, cozier wardrobe, the familiar fall-time scents and flavors, and a new fall haul for our beauty routine.

Before stress has its chance to creep in (who has time for a stress zit or hair loss, anyway?), relax. IPSY's been on our grind to make sure that we've got all the beauty and skincare essentials you need in your 2022 September Glam Bag.
First, bag reveal!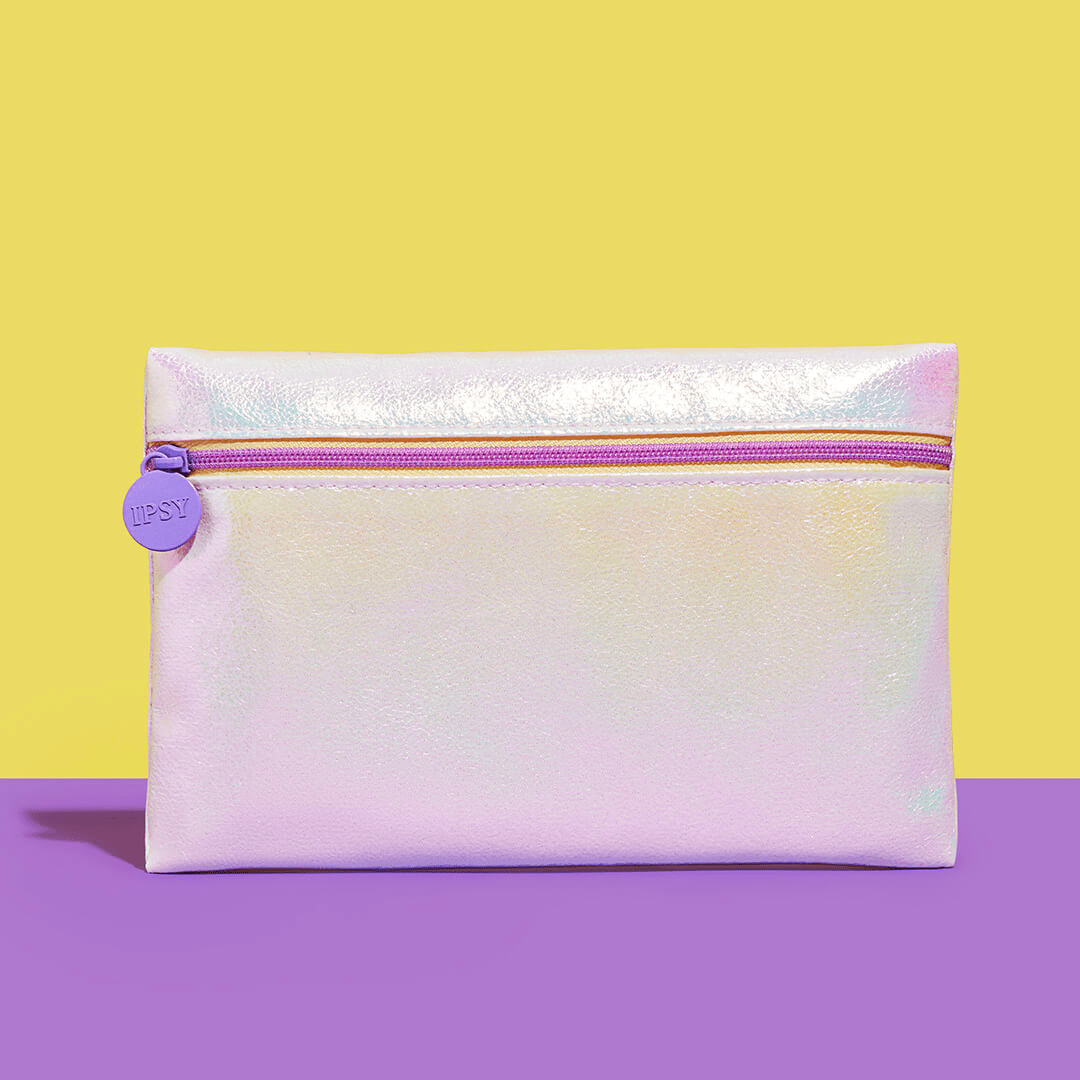 "We listen to our Ipster's feedback," says Wong of her design process. "We read our social media comments as part of our inspiration to come up with better design, and we got great feedback from January's limited edition iridescent mystery bag as well as June's glitter and holographic limited edition mysetday bag. We wanted a design that our Ipsters would love." And the September 2022 Glam Bag design will not disappoint.

The shell is made of a lightweight holographic fabric that will serve as all the glam inspiration you need this month. But the design doesn't end there. To bring in these on-trend bright colors, the bag design includes a bright purple zipper and pull, a yellow zipper fabric, and a highlighter pink lining to make you smile every time you reach to grab another product (or however you end up using your Glam Bags). "We brought back the front-zipped Glam Bag this month," says Wong. "The contrasting colors of the zipper on the front of the bag and the bold inside lining make this holographic bag more fun to use."
Ipsters signed up to receive a Glam Bag this September 2022 might receive:  
HEMPZ Sweet Pineapple & Honey Melon Herbal Body Butter
Don't let Summer's departure leave you high and dry. With the seasonal change, your skin will definitely need more moisture to combat the cooling temps. Body lotion might not be enough to keep your skin soft. Cue: thick and super emollient body butters. This decadently whipped body butter not only smells like you're still on a vacation in paradise, it also locks down moisture in your parched skin using 100 percent pure hemp seed oil, shea butter, avocado oil, and plant extracts. Slather this thick cream onto your damp skin right out of the shower or bath to soak up all the silkiness and bask in your skin's baby-smooth softness, or apply after your body oil to lock in the moisture and protect your skin's barrier.
BELLÁPIERRE COSMETICS Banana Setting Powder in Light
Being ready to face the day means your face makeup should be ready for whatever the day may entail. This color-correcting banana powder is perfect for locking down your flawless foundation and/or concealer application (the baking method is the suggested way to ensure all-day staying power), and creating an even and smooth-looking complexion. This ultra-fine loose powder is light in weight and easily glides onto the skin without caking, and we love that its nontoxic formula means we can pile it on and bake to our heart's desire.
SOPHIA + MABELLE I Woke Up Like This – Skin Perfecting Primer in Clear
If you're worried about patchy, dry skin messing with your makeup, try this super hydrating primer that creates a nice, smooth canvas for your foundation and concealer. It also contains the holy grail ingredient for dry skin—hyaluronic acid, which plumps up dehydrated skin. Kiss dry patches goodbye!
CIATÉ LONDON Definer Liner in Gold
The fall color palette would not be complete without gold, and this liner is a great way to incorporate it into your eye looks. It's great for tracing inside the waterline and inner corners of the eye to make them sparkle. You can use it to add detail to your negative-space eyeliner looks or use it to create sharpness and dimension anywhere you would normally highlight. The possibilities are endless.
FENTY SKIN Total Cleans'r Makeup Removing Cleanser
This two-in-one makeup remover and cleanser is perfect for our busy beauties seeking to simplify their skincare routine by cutting out the double-cleanse method. This also means less tugging of the skin, less water used, and less overall waste. This face wash goes deep to purify pores and get out the grime—all without stripping the skin. It's formulated with vitamin C-packed tropical cherries from the island of Barbados, clarifying ginkgo biloba, and antioxidant-rich green tea. Rihanna has yet to let us down.
GOLDFADEN MD Bright Eyes Dark Circle Radiance Concentrate
If your dark circles are as heavy as your book bag, it's time to bring in the professionals. This dermatologist-developed eye cream is rich in vitamins A and E to hydrate and soothe, while the apricot kernel targets even the darkest under-eye circles to brighten, tighten, and smooth fine lines so that you can look like you're up and at 'em—even after a grueling night of finishing your presentation.
YOUTH TO THE PEOPLE Adaptogen Deep Moisture Cream
Don't let stress get to your skin; let your skincare shoulder some of the workload so you can focus on more important things. We know the benefits of adaptogens in skincare, and this moisturizer is a perfect way to reap those benefits if you have stressed-out, dehydrated skin. Boasting a proprietary blend of ashwagandha, rhodiola, and reishi mushroom to detoxify, deeply hydrate, and protect the skin on a cellular level, this cream bases its ingredient list on 5,000 years of Eastern medicine and ayurveda teachings. Its texture is incredibly light and silky but is deeply hydrating, and the fragrance-free formula makes it safe for sensitive skin types.
One variation includes:
GOLDFADEN MD Bright Eyes Dark Circle Radiance Concentrate
BELLA PIERRE Pressed Banana Setting Powder
FENTY SKIN Total Cleans'r
CIATÉ LONDON Definer Liner
HEMPZ Sweet Pineapple & Honey Melon Herbal Body Wash
Don't forget that Ipsy recently announced a new handling charge for all Glam Bag subscriptions of $1.99 per bag. 
What do you think of the Ipsy spoilers this month? Ipsy is a monthly beauty subscription that's just $13 per month! See our monthly Ipsy reviews to get the deets on the most popular beauty subscription box there is!