All you need to know about this meat and seafood delivery service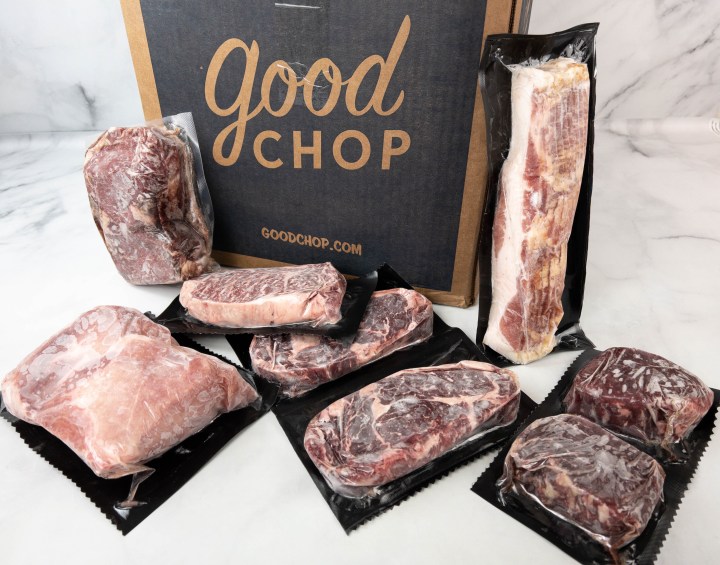 Are you a meat and.or seafood lover? If you can't live without these protein-rich foods, it's best to stock up on beef, pork, chicken, and fish cuts for your favorite recipes with the help of Good Chop. This meat delivery service offers over 45 different meat and seafood cuts, all of which are proudly sourced from the USA. No additives, hormones, antibiotics, and zero coloring – that's how you know they're the real deal! Subscribe and choose your preferred cuts without having to visit your local grocer or butcher! It saves you time and effort, plus you can enjoy your meals guilt-free, knowing that the meat and seafood you're consuming is from safe and reliable sources. Some of the most popular Good Chop items are boneless ribeye steak, pork loin roast, and wild-caught Alaskan sockeye salmon.
With customizable boxes and top-quality meats, Good Chop is a great subscription whether you're buying for individual consumption or for your whole family. My family absolutely loves this meat delivery service and we've whipped up a lot of meals using Good Chop meat – from bacon for breakfast to steak for dinner and other delicious recipes perfect for sharing with family. They turned out amazing, because the meats we used passed all of Good Chop's high standards.
Get $100 off your first THREE boxes – that's $50 off your first box, $30 off your second, and $20 off your third! Just use this link to automatically apply the deal, no coupon code needed!
Good Chop Benefits & Drawbacks
Before moving forward, let's see what advantages and disadvantages this subscription brings:
Good Chop Benefits
High-quality meat and seafood
USA-sourced
Supports sustainable farming and fishing practices
Flexible subscription options
Free shipping
100% satisfaction money back guarantee
Good Chop Drawbacks
Price is on the expensive side
No a la carte options
Good Chop Review
Summary
Good Chop is a flexible subscription service offering high-quality, all-American meat and seafood. Choose between the medium or large size, and build your own box by choosing your preferred cuts. Every four weeks, subscribers will receive a box filled with their choice of premium, protein cuts. No strings attached – cancel, pause, or skip deliveries before each month's deadline, and shipping is free!

All About Good Chop
Good Chop is transparent about where their meat and seafood are raised and sourced. It gives you fewer things to worry about because everything is sourced only from domestic family farms, fisheries, and independent ranchers using sustainable practices. They promise not only flexibility and customization, but also high-quality, all-natural proteins that you can trust!
How does Good Chop work?
With Good Chop, you can make your meat and seafood selections online from the comfort of your home and wait for your box to arrive in the mail. Good Chop boxes will be delivered to your door every four weeks, frozen, and shipped in an insulated, recyclable box with dry ice, to keep the meat and seafood in their best condition while in transit. You can always make changes to your box, pause or skip deliveries, and cancel the subscription before each month's deadline. If you're unhappy with the service or not satisfied with the products for any reason, you can reach out to them, and they'll issue you a refund.
How much does Good Chop cost?
The price depends on the size of the box you choose. Currently, they offer two box sizes: Medium or Large. Let's look at the details of each box to see which one is ideal for you.
The Medium Box costs $149 and is ideal for individuals and small families (3+). It comes with up to 36 portions or $4.14 per meal, and you can choose up to 6 items from the menu to include in your box.
The Large Box costs $269 and is suited for large freezers and big families (6+). You can choose 12 items from the menu and get up to 72 portions or $3.74 for every meal. In addition, all protein products can be stored for up to 1 year in the freezer.
Both boxes are fully customizable. Each selection includes multiple portions, equivalent to the value of the box. Note that the price may vary if you add premium cuts or special deals to your order.
Where can I buy Good Chop?
You can start your subscription by clicking this link to visit Good Chop's official website. Simply sign up, choose your box size, create an account, items you want in your box, provide delivery information, and check out. Meat and seafood shopping made easy!
Where and how does Good Chop ship?
Good Chop currently delivers to the majority of the continental United States, but does not deliver outside the contiguous US. By entering in your zip code, you can check to see if they deliver to your area. Your box will arrive on Tuesdays, Wednesdays, Thursdays, and Fridays, depending on your location, and shipping is free!
How is Good Chop packaged?
Meat and seafood from Good Chop is flash-frozen at its peak freshness. After selecting your preferred cuts, they'll be shipped directly to your door inside a well-insulated, fully recyclable box. It's packed carefully with dry ice to keep everything frozen. The insulated liners are made from renewable plant-based components and paper, reducing pollution and conserving natural resources. The packaging is fully recyclable, and the dry ice evaporates quickly after taking it out of the box. Be sure to keep the dry ice away from children's and pets' reach.
FYI, you should never touch dry ice with bare hands as it may cause burns. Also, do not throw it out in the trash. Allow it to just evaporate in a well-ventilated area at room temperature.
What products does Good Chop sell?
To date, Good Chop offers 51 different types of meat and seafood items. There's a lot of delicious variety on their menu, and all of their products are sourced in the US, with no antibiotics or added hormones ever.
Good Chop's offerings include responsibly-raised beef, born and bred in the US. They come from Angus breeds for more marbling, flavor, and tenderness, with premium options like USDA Prime. They are also 100% grass-fed. Some of the beef cuts you can add to your box are boneless ribeye steaks, top sirloin steaks, filet mignon, stew beef, burger patties, and ground beef.
There's also antibiotic-free pork, which is fed a 100% vegetarian diet (aside from milk protein) that results in delicious, high-quality cuts! This includes boneless pork chops, pork tenderloin, boneless pork butt, pork loin roast, pulled pork, and ground pork.
Good Chop's free-range chickens are also fed a 100% vegetarian diet, particularly corn and soybean meal. Plus, they are never caged nor confined. This helps avoid chickens from getting stressed out, which often results in tough and flavorless cuts because of the hormone, cortisol. All of their chicken products are organic and some of the poultry choices are chicken breasts, wings, drumsticks, and ground chicken.
Of course, you can also look forward to sustainably-sourced seafood from Good Chop. Their seafood is sustainably harvested and wild-caught on US coasts or raised on US farms. No antibiotics, additives, nor coloring is involved! Some of the seafood types you can get from Good Chop are Alaskan sockeye salmon, rockfish, Pacific cod, Pacific cold water shrimp, and sea scallops.
The available cuts may change a little from time to time, but there's always a variety of choices to love!
My Good Chop Review
I ordered the Medium box to review. Just as it's advertised, I was able to choose six items from the menu. My choices were the Beef Filet Mignon, Beef Ribeye Steak, Beef Top Sirloin Steak, USDA Prime Beef Ribeye Steak, Boneless Pork Chops, and Pork Bacon.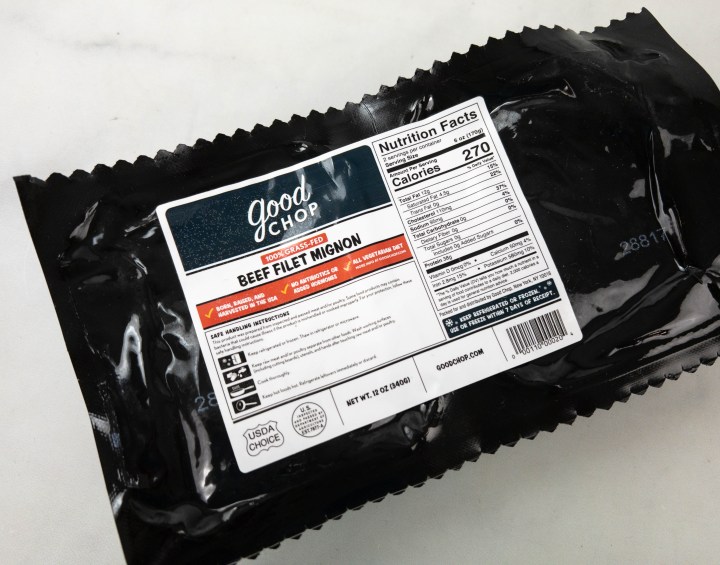 Beef Filet Mignon. I got two filets, and each piece weighs about 6 oz. The filet mignon has a milder flavor than other cuts. It's also tender and lean, perfect whether pan-seared, paired with sauces, or wrapped with bacon.
That marbling looks delectable! I kept the seasoning simple and used only freshly cracked black pepper and sea salt. I pan-seared the steak until it reached my desired doneness. To complete this scrumptious steak meal, I served it with baked potatoes and zucchini. Because the steak was so tender, cutting it up and devouring it was heavenly. Everything smelled so good and tasted so delicious!
Beef Ribeye Steak. There are two portions of the ribeye, each weighing 10 oz. I'm drooling over the pretty marbling. When cooked, this cut turns out so juicy and flavorful.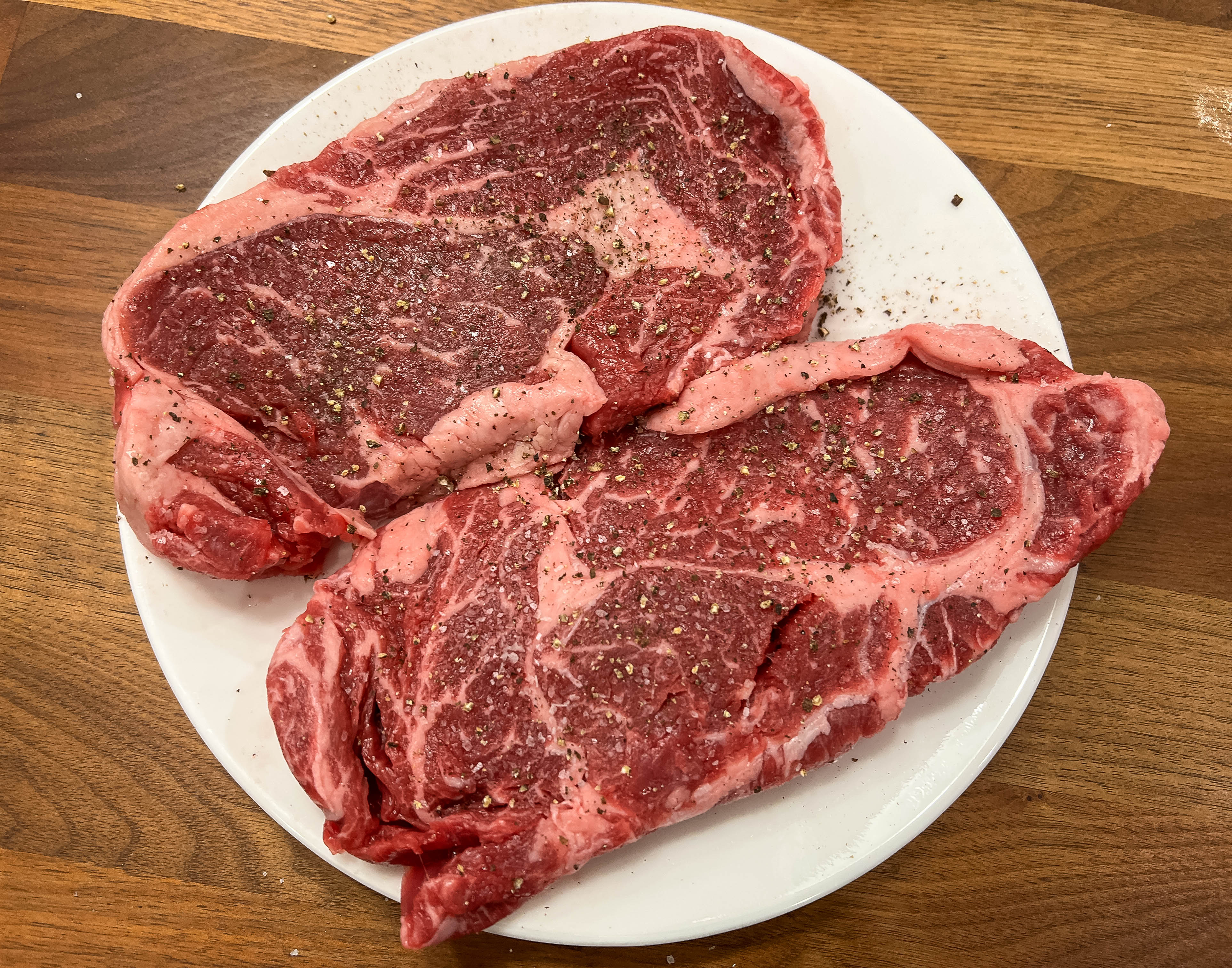 I seasoned the ribeye steak with salt and paper and cooked them to my preferred doneness. I added mac and cheese on the side with a green salad mix for a completely delicious meal. Each bite melts in my mouth like butter!
Beef Top Sirloin Steak. This is 24 oz of the Beef Top Sirloin Steak. I appreciate that each cut is pre-portioned, making it easy to store and pull out to thaw and cook.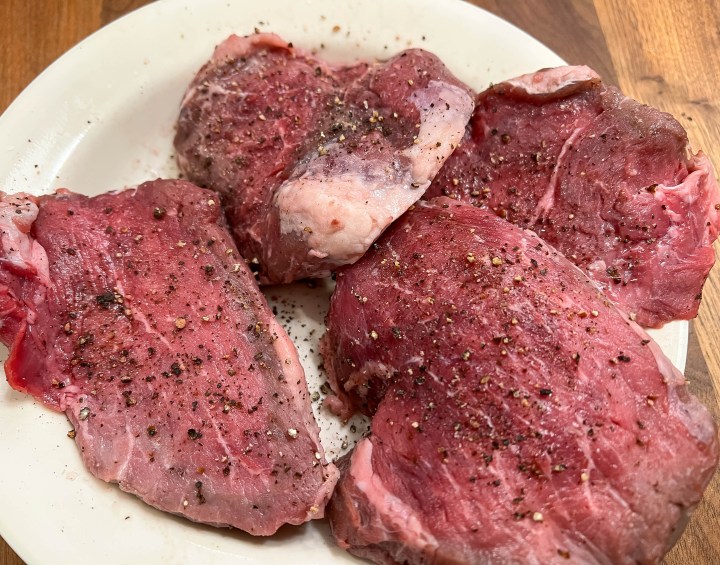 There are four 6 oz filets in the pack, and I decided to sear them on a pan for our dinner. I seasoned them with salt and pepper and cooked them until medium-well using Brightland's Alive 100% Extra Virgin Olive Oil to seal in the juices. The meat was very flavorful, and the whole family really enjoyed it with greens and potatoes on the side!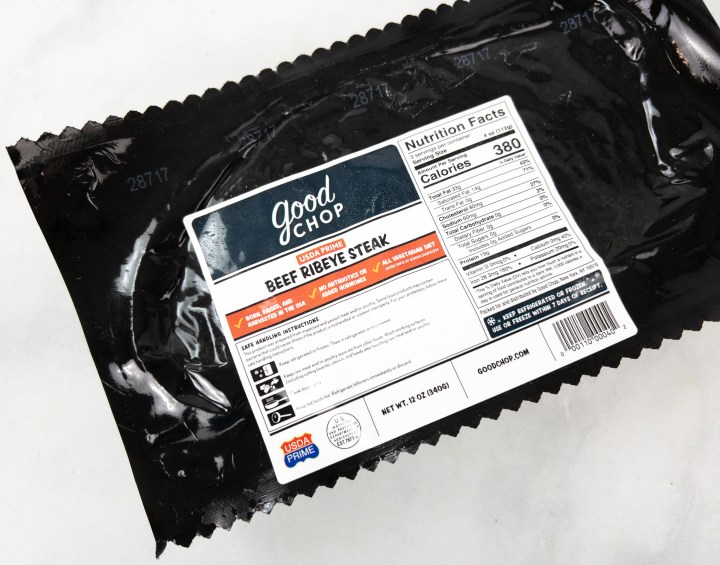 USDA Prime Beef Ribeye Steak. I have another cut of beef ribeye steak in my box, but this time it's USDA Prime and weighs 12 oz. USDA Prime is the highest grade of meat, so expect lots of marbling that makes the cut so flavorful. Also, it's thicker than the regular ribeye. If you want a delicious steak dinner, cook this beef cut to 130°F and don't forget to let the steak rest!
Boneless Pork Chops. Moving on to the next protein, we have boneless pork chops. The pack yields four 8 oz chops and they are perfect for grilling, stuffing, or frying!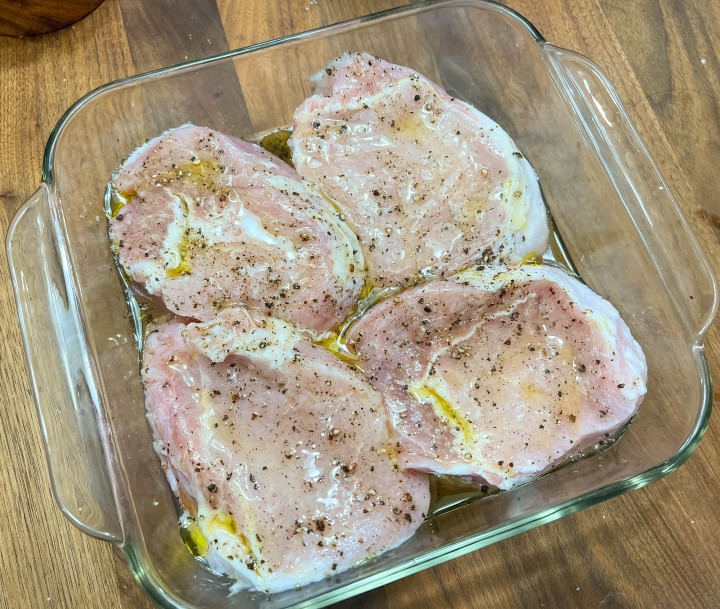 This lean cut is one of the easiest meats to cook and it cooks pretty fast! We baked ours in the oven and paired it with a delicious salad.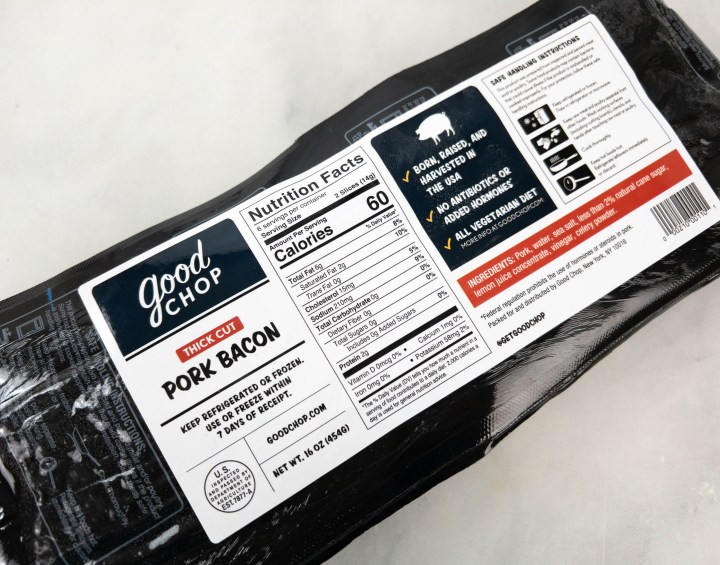 Pork Bacon. To complete this box, here's the pack of 16 oz thick-cut pork bacon. It's a delicious breakfast staple for the whole family!
We love it pan-fried, crispy, and served with scrambled eggs for breakfast. For this particular meal, I added a small apple pie on the side for a totally, delightful breakfast!
Good Chop makes it so easy to refill your fridge with your favorite meats and seafood. What I appreciate most about these protein cuts is that every pack includes safe handling instructions, everything is packaged carefully, and I received them all in good condition. The quality of the meat is superb, so I can say that the price is worth it. I do hope they start to include recipes with their orders.
Is Good Chop worth it?
Based on my Good Chop experience, I'd say it's so worth it! You'd be getting high-quality, sustainably farmed meat and seafood every month, and it's so convenient because you don't have to stop by the grocery store's meat section where there are not a lot of options.
If you value sustainability and care about where your protein comes from, Good Chop is a great option. I would suggest it to anyone looking for high-quality, American meat and seafood. I had a great experience with this subscription and I plan on trying more of their cuts. It's also worth noting that Good Chop lets you have total control over your box. You get to choose the box size, types of meat, and the types of cuts you want. You can easily change your cut choices and box size, pause or skip deliveries, and even cancel your subscription before each month's deadline, through their website.
With Good Chop, you'll get top-quality, American meat and seafood cuts selected by you. We're talking juicy ribeye steaks, delicious Angus beef, and wild-caught salmon, as well as limited-time specials. Click here to see their current menu!
What delicious cuts are you getting from Good Chop?