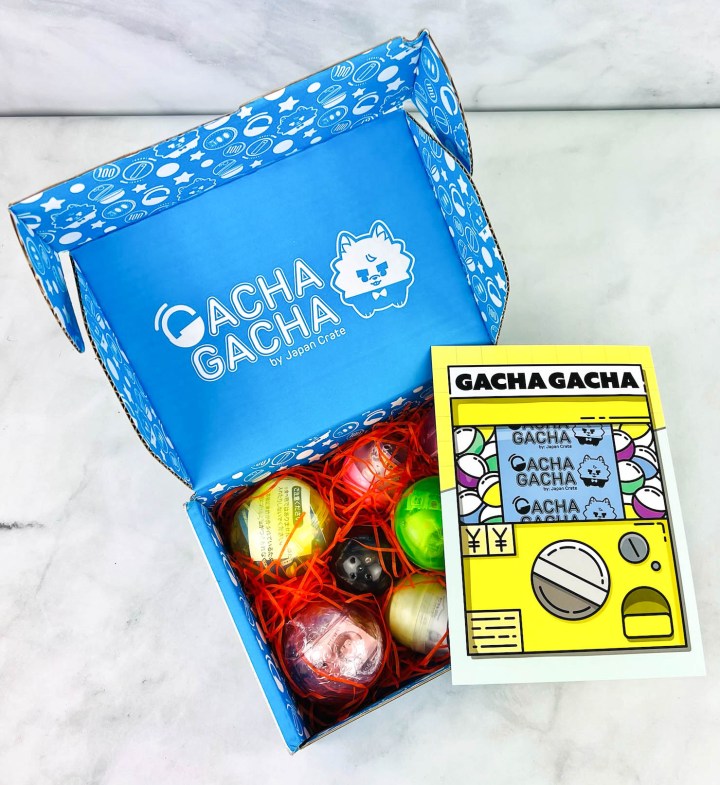 Gacha Gacha Crate delivers gachapon figures and collectibles, from Japan straight to your mailbox. The August 2022 box included eight, exciting capsules! This subscription really brings out the kid in all of us, with miniature surprises to unlock. The included booklet shows what you can expect in each capsule, with brief descriptions of the items as well.
DEAL: Use coupon code HELLO to get $3 off your first box.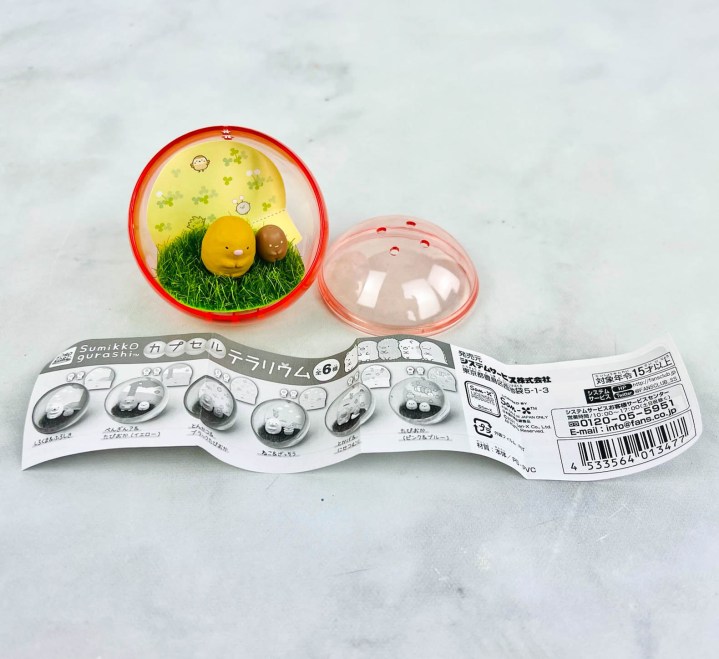 The first capsule features a Sumikko Gurashi Terrarium and subscribers will get 1 of 6 designs, all of which give off a cute, kawaii vibe! Mine featured Tonkatsu and Black tapioca sitting and hanging out side by side on the grass. It comes with a pretty yellow background as well. It was a little difficult to get the background to sit still, but it would make a great addition to any display, especially if you collect them all.
The next gachapon is for fans of Hitman REBORN! It features the Vongola Ring Collection, and subscribers will receive 1 of 7 designs. I remember getting a ring from the same collection but featuring a different design. This time, I received the Vongola Ring Conflict. It's made of plastic and seems durable enough. Since it came with a keychain, you can attach it to your bag or keys if you want!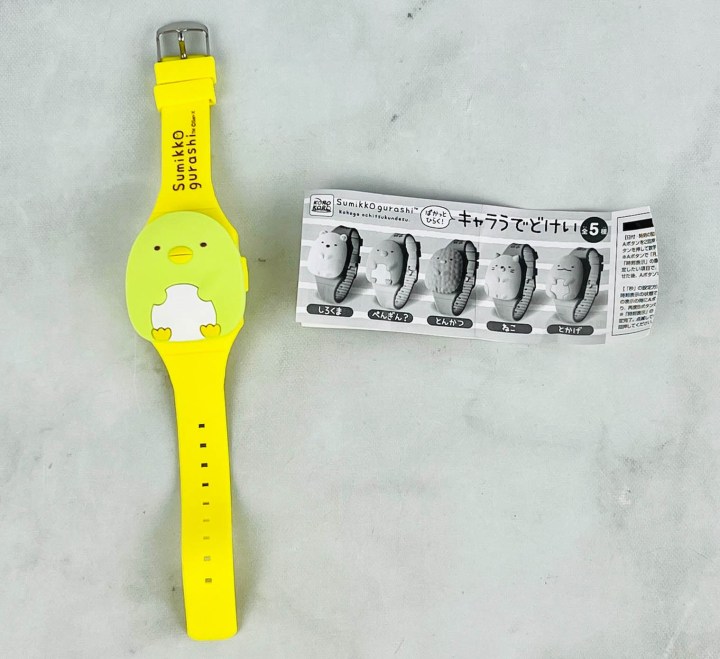 To keep track of the time in the most kawaii way, here's a Sumikko Gurashi Watch. There are five design possibilities, and the one I received is Penguin. This wearable has a flip cover, which opens to reveal the digital watch. We already have the same watch, except it features the timid calico cat, Neko. It's too cute!
Another cute keychain collectible in our Gacha Gacha Crate features Hanging Animals. The main character in this collection is a kawaii hamster who likes to eat. Subscribers will get 1 of 6 variations, and each one is cuter than the next! I received the strawberry shaved ice with the adorable hamster in it. It's tiny and ideal to attach to keys, bags, or anything else you can think of!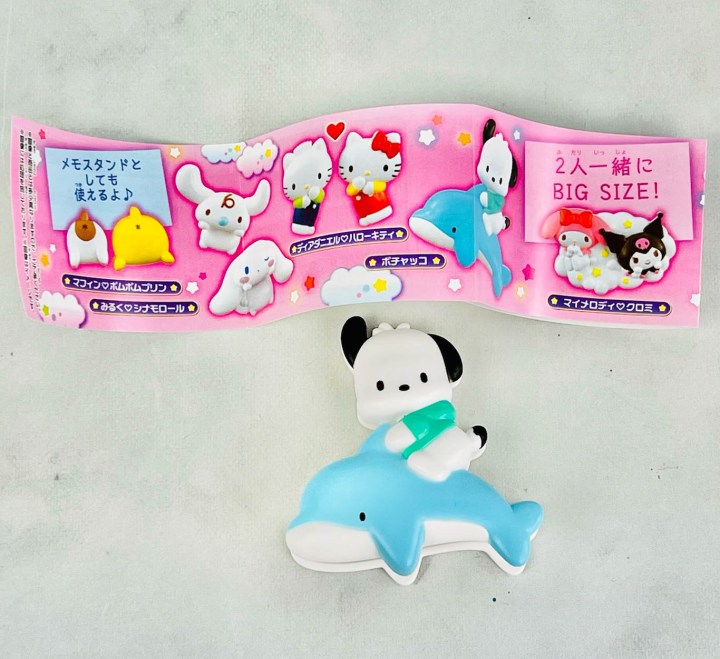 For Sanrio fans (including myself), this next gachapon item will be a fan favorite! Pochacco is 1 of 5 collectible pieces from Sanrio Characters Figure Paper Clip. They're big in size and can be used to organize papers. In our May 2021 box review, we received an item from the same collection but with rivals My Melody and Kuromi.
Moving on to the next capsule, we have a new Cheering Pokemon. This one features the gentle Chansey holding a mint green pompom, ready to cheer! Subscribers will receive 1 of 5 variations. I received the same exact collectible piece in one of our past boxes. You can't go wrong with Pokemon!
I can't get enough of these gachapon surprises! This Pomeranian Figure is so adorable. It features a brown Pomeranian in a shopping bag, and it's just 1 of 8 cute Pomeranian puppy designs. It's our second toy from this collection, and we previously received a Pomeranian puppy in a red shirt. This toy makes a great display on any desk or shelf!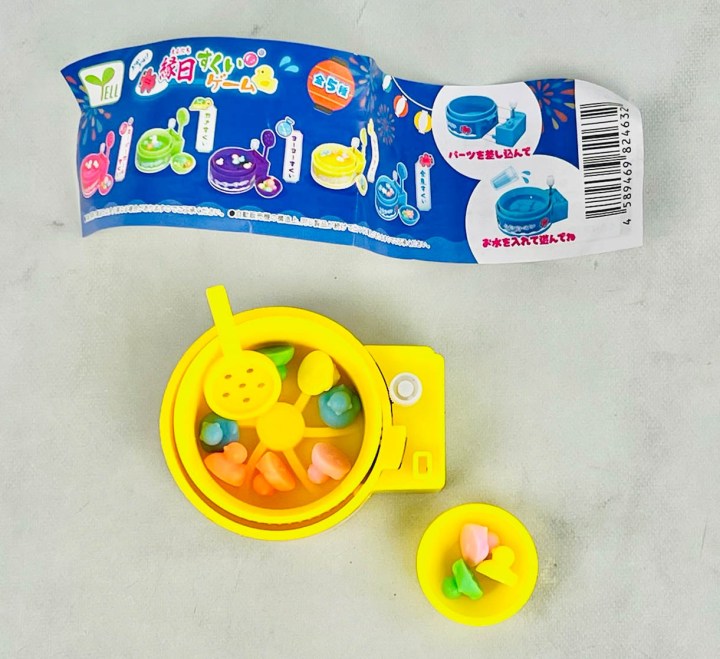 I think this is our third time receiving this Festival Fishing Game. There are five color possibilities, and I received the yellow one (like the one in our July 2021 box). This fish scooping game is a popular festival game during summer festivals in Japan. It mimics the same experience but in miniature form! Simply add water to the basin, turn the white screw to swirl the water, and let the games begin! It also comes with a scoop and a small bowl to put the tiny ducks in.
What I really like about Gacha Gacha Crate is that it's always full of fun surprises! It's like receiving a gift every time I open a new box filled with gachapon. I received eight capsules this month, and although many of them are repeats from the past boxes, I still enjoyed opening each one and the thrill of not knowing what you'll get never gets old because there are many variation possibilities. This is a nice subscription not just for kids but adults as well!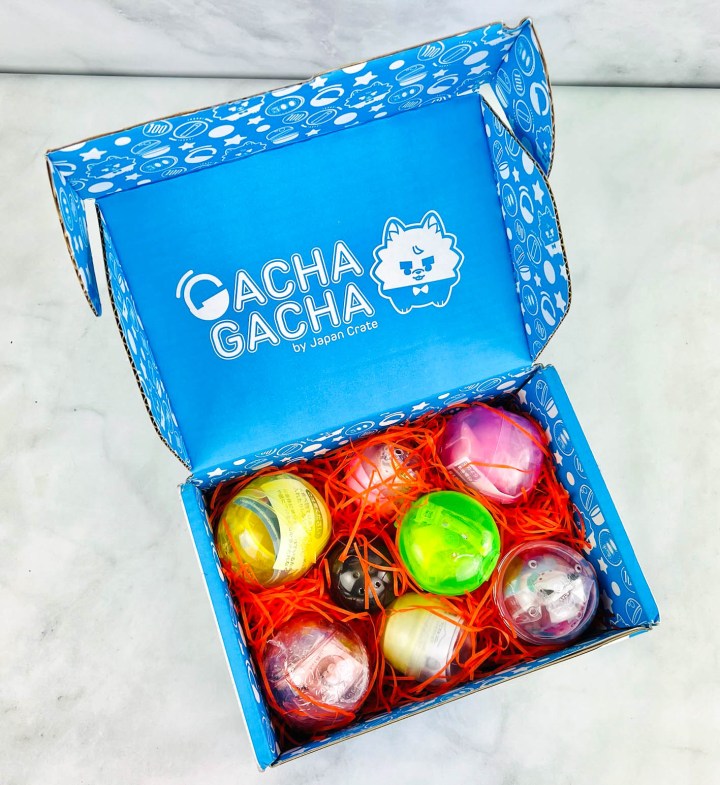 Gacha Gacha Crate is a one-of-a-kind monthly subscription from Japan Crate that shines a spotlight on Japan's gachapon craze. in Japan. Each box includes 8-10 hand-picked capsules with useful accessories, your favorite characters, collectibles, and much more! Boxes begin at $38.95 and shipping is free of charge.
What do you think of this month's Gacha Gacha Crate?