Here's everything you need to know about this meal delivery plan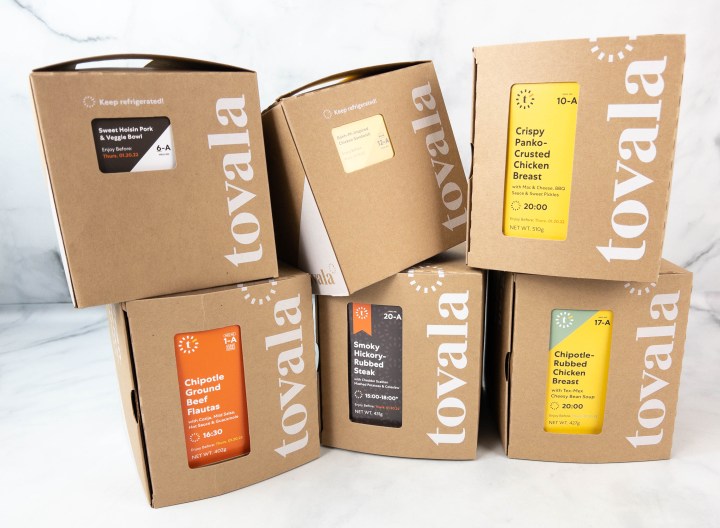 Tovala Subscription Review
Meal delivery services are widely popular these days, as they make our daily life more convenient by sending ready-to-eat, restaurant-quality meals that don't require long prep times. But this isn't news anymore, unless it's Tovala!
In a sea of meal delivery subscriptions, Tovala is different. They offer scan-to-cook meals, which eliminates the need for shopping, prepping, cooking, and cleaning. Requiring less time and effort, this also means you can focus more on enjoying your delicious meals! What makes this possible is the game-changing Tovala Smart Oven. Sold separately from the meal subscription, the WiFi-connected oven does all the cooking for you – from roasting to toasting and everything in between!
Tovala Benefits & Drawbacks
Tovala Benefits
Customized meal plans
Food is fresh, never frozen
No artificial preservatives and additives
Gluten-free and vegetarian meal options
Meals stay fresh in the refrigerator for 3 to 7 days
Takes less than a minute to prepare
Pause, skip, or cancel at anytime
Tovala Drawbacks
No guarantee of perfect cooking results when using other convection ovens
You'll need to connect your oven to a 2.4 GHz WiFi network
You'll need a smartphone that has the Tovala mobile app
Premium meals have additional charges
Doesn't offer family-sized meals
Tovala Review
Oven Features
Overall Value
Taste & Quality of Meals
Convenience
Summary
Founded in 2017 by a passionate, culinary-tech duo David Rabie and Bryan Wilcox, Tovala is a meal delivery service that has reinvented the process of home cooking in order to save people time on meal preparation. Tovala's fresh, chef-crafted meals and smart oven work together to let customers enjoy a delicious, home-cooked meal without all the work. Each meal takes one minute to prepare before the Tovala Smart Oven scans and cooks it to perfection in 20 minutes or less.

My Tovala Review
Tovala Oven
The Tovala Smart Oven is a game-changer for all the right reasons. With its the steam, bake, toast, broil, or reheat functions, it can cook anything you want – from sweet treats to fine dining meals. It measures 18.5 x 12.32 x 11.75 inches and is big enough to fit a 10" pizza, large chicken, or 4 Tovala Meal trays. To save you even more time, you can cook up to 4 trays at once, as long as they're the exact same meal!
Note that the scan-to-cook feature will only work if you have WiFi! Connecting the oven to the WiFi only takes a couple of minutes, and so far, we haven't had any problems with it. When the oven is set up, just activate the scanner and scan the barcode by holding the item approximately 3 to 4 inches below the scanner. You'll know if your oven has successfully scanned the item because it will beep and show a cook time. Then, press "Start" and the oven will do the cooking for you.
Since the fresh meals from Tovala are cooked in a shorter time compared to regular food, there are more vitamins and minerals retained in them. Plus, it's more eco-friendly since it uses less energy.
The Tovala oven is a convection steam oven, which means it uses wet and dry heat to cook your food! If you want to try steaming, you will need 8 oz of water. Wait for the "Add Water" indicator to flash and pour water into the reservoir until the oven beeps. There's no need for a water hook-up! The heating from the convection evenly cooks the food, while the steam promotes moisture retention. What does this mean for you? Simple, you get extra juicy food! Another benefit of steaming your food in the Tovala oven is that it preserves the flavor of the food and doesn't ruin the food's texture.
Recipes for a full breakfast, easy lunches, and seasonal cooking can all be accessed by downloading the Tovala app. Tovala chefs frequently add new recipes to the app, so there's always something new to make from scratch in the Tovala Smart Oven. With all of its automated and advanced features, this smart oven can do it all. If you're not getting the Tovala meal subscription, no worries because you can still use the oven just like a conventional one!
Tovala Meals
With its commitment to making really good food, recipes are all created by Tovala's professional chefs and made with the freshest ingredients. The nutritional information for the meals is printed right on the package, so you know exactly what you're getting. While it isn't the cheapest option available, it is well worth the price given that all of their meals cook in 20 minutes or less. Overall, Tovala meals are super easy to make, with a touch of fun technology and zero pots or pans required!
Now, let's take a look at the Tovala meals we've tried!
Tovala meals can rival your favorite takeouts! Sweet Hoisin Pork & Veggie Bowl is a prime example. It's a wholesome dish that contains proteins and nutritious vegetables, along with a hoisin sauce made from soy sauce, honey, and fresh ginger. The addition of white rice made it extra filling and the Chow Mein noodles added a nice little crunch. Pickled scallions and chili were also provided for more flavor! We no longer need to wait to get our takeout favorites, we can now cook our own takeout-style meals with our Tovala oven and it only takes a few minutes.
Crispy Panko-Crusted Chicken Breast sounds like a perfect dinner meal. When Tovala said their meals are fresh, they really meant it because the chicken came out so juicy and tender, as if I made it from scratch. The macaroni was perfect as well, it wasn't soggy and it had a nice amount of cheese! Although Tovala doesn't have specific meals for kids, some menu offerings can also fit kids' tastes – just like this one.
A Mexican-inspired dinner, anyone? Tovala makes it so easy to have restaurant-quality meals at home. These Chipotle Ground Beef Flautas made our dinner a really satisfying one. I put the beef filling and cotija cheese inside the tortillas, then I rolled them and put them in the Tovala oven. This dish was also accompanied by guacamole and hot sauce!
Fans of international cuisines won't be disappointed with Tovala's recipes inspired by popular dishes from around the world. Of course, this includes Asian food! We tried the Banh Mi Inspired Chicken Sandwich and it didn't disappoint. It's typically made with a baguette, but Tovala's version uses a different kind of bread. Still, the bread was soft and I enjoyed it. They also provided nuoc cham or Vietnamese condiments to give the sandwich a more authentic flavor.
Yes, you can have steak nights any day of the week, without the fuss, with Tovala. They have different steak meals available, and we tried the Smoky Hickory Rubbed Steak. It came with mashed potatoes and coleslaw for a complete meal. The steak was amazing. It was crusted and juicy. Don't even get me started with the amazing sauce, it was the perfect complement to the steak's meaty flavor!
Another one of our TexMex favorites is the Chipotle-Rubbed Chicken Breast. This is a great way to get a protein-packed meal, while enjoying rich flavors. Tovala paired the chicken breast with a sumptuous cheesy bean soup, which was tasty and comforting. Best served warm, you can enjoy this meal even on your busy days.
Is the Tovala Box worth it?
It's worth noting that Tovala really did live up to their promise of reinventing home cooking, and they effectively did so by creating a streamlined process that highlights the utmost importance of their smart oven that cooks chef-worthy meals. The Tovala Oven is really a game-changer as it ensures that your food is cooked to perfection, but in a manner that doesn't require you to get messy in the kitchen or spend so much time preparing.
But it does come with some drawbacks too. By far, the biggest negative is that if you want to subscribe to Tovala's meal service, you'll need to buy the smart oven, which is a significant additional cost. So this subscription might be best for those who already own a smart oven and just want the added bonus of an accompanying meal delivery subscription.
Overall, there are a lot of convincing reasons to love Tovala. From its functional packaging to the high-tech smart oven to the useful and user-friendly app, Tovala brings a certain level of modern sophistication to pre-made food. If you have the money to spend, we think it's well worth it!
All About Tovala
How does Tovala work?
Whether you're an ultimate foodie, a picky eater, or someone who has diet restrictions, Tovala always has something to excite your taste buds.
Your access to all the great perks of Tovala begins with a Starter Kit. The kit includes a Tovala Smart Oven, plus everything you need to get cooking, such as a Quick Start Guide, cook-from-scratch recipe cards, a hot pad, an oven rack, and a sheet tray. This comes with a 100-day trial period to give you enough time to assess whether or not it's right for you.
Ordering Tovala meals is also easy! You can either pick your preferred meals or let them pick for you, based on which items are the most popular. You don't have to be home when your meals arrive and they will stay fresh in their packaging as long as the ice packs are still frozen and your meals are still cold.
How much does Tovala cost?
Meals generally start at $11.99. Some meals are priced differently depending on the ingredients, the difficulty of preparation, and the packaging. The smallest meal plan they offer is 4 meals per week ($47.96 plus tax). Shipping is $9.99 for all meal deliveries.
The Tovala Starter Kit is priced at $299 (includes oven and accessories) and can be purchased without necessarily committing to a recurring subscription. Or, take advantage of their limited-time offer and get the oven for $99 if you sign up for 6 meal deliveries within the first 6 months of purchasing your oven.
Where can I buy Tovala?
Tovala is available through their official website. If you already own a Tovala Smart Oven, you can start choosing from their weekly menu, which is curated from hundreds of chef-crafted meals.
Where and how does Tovala ship?
Tovala ships to the 48 contiguous states in the US, and they currently do not ship to Alaska or Hawaii. Depending on your location, your Tovala Smart Oven will arrive in 2 to 5 business days. Orders for Tovala meals are taken every Wednesday at 6 p.m. CST for the following week's delivery. As long as your meal plan is active on Wednesday at 6 p.m. CST, your meals will arrive the following week on either Monday, Tuesday, or Wednesday (your delivery day is determined by your location).
How is Tovala packaged?
The meals arrive in an insulated box with cold packs to keep the meals fresh for up to 24 hours after your expected delivery day. When the box arrives, just make sure that the exterior packaging is undamaged and the ice packs are still mostly frozen. It's important to note that the box and packing materials that your Tovala meals come in are 100% recyclable!
What products does Tovala sell?
Tovala offers a smart oven and a meal delivery service. Tovala Smart Oven has automated features and 5 cooking modes, so you can prepare your own meals without the guesswork. The Tovala meals you can cook in this oven are purchased on a subscription. They offer 14 new meals every week, and everything is made from fresh, raw, real ingredients like high-quality produce and meats with zero preservatives. What makes Tovala meals delicious is the fact that their food production is run by an expert culinary team who is used to creating restaurant-quality meals. The flavor combinations, the gourmet taste, the high-quality ingredients, and the variety of meal selections are a great solution to every "what's for dinner?" conversation.
How do I cook Tovala meals?
Meals come with a card that details the ingredients, prep time, and cooking instructions. Each meal requires only 1 minute or less of prep work on your part. This prep consists mainly of opening the package and adding the included sauce or spice. After that, you place your meals in the Tovala Smart Oven. Your meal card has a QR code on it, and all you have to do is scan the QR code with the smart oven's scanner and the oven will cook your meal for you. For this to work, make sure that your oven is connected to a 2.4 GHz WiFi network with a smartphone that has the Tovala app.
Feel free to do whatever you want while dinner cooks! When it's done, you'll get a phone notification, and the oven will turn off automatically. Aside from Tovala meals, there are also scan-to-cook groceries from popular brands such as Annie's, Bantam Bagels, Pillsbury, Poptarts, and Totinos. Cooking these items works the same way as the Tovala meals, just scan the barcode from the packaging and relax while it does the cooking.
Will you be giving Tovala a try?