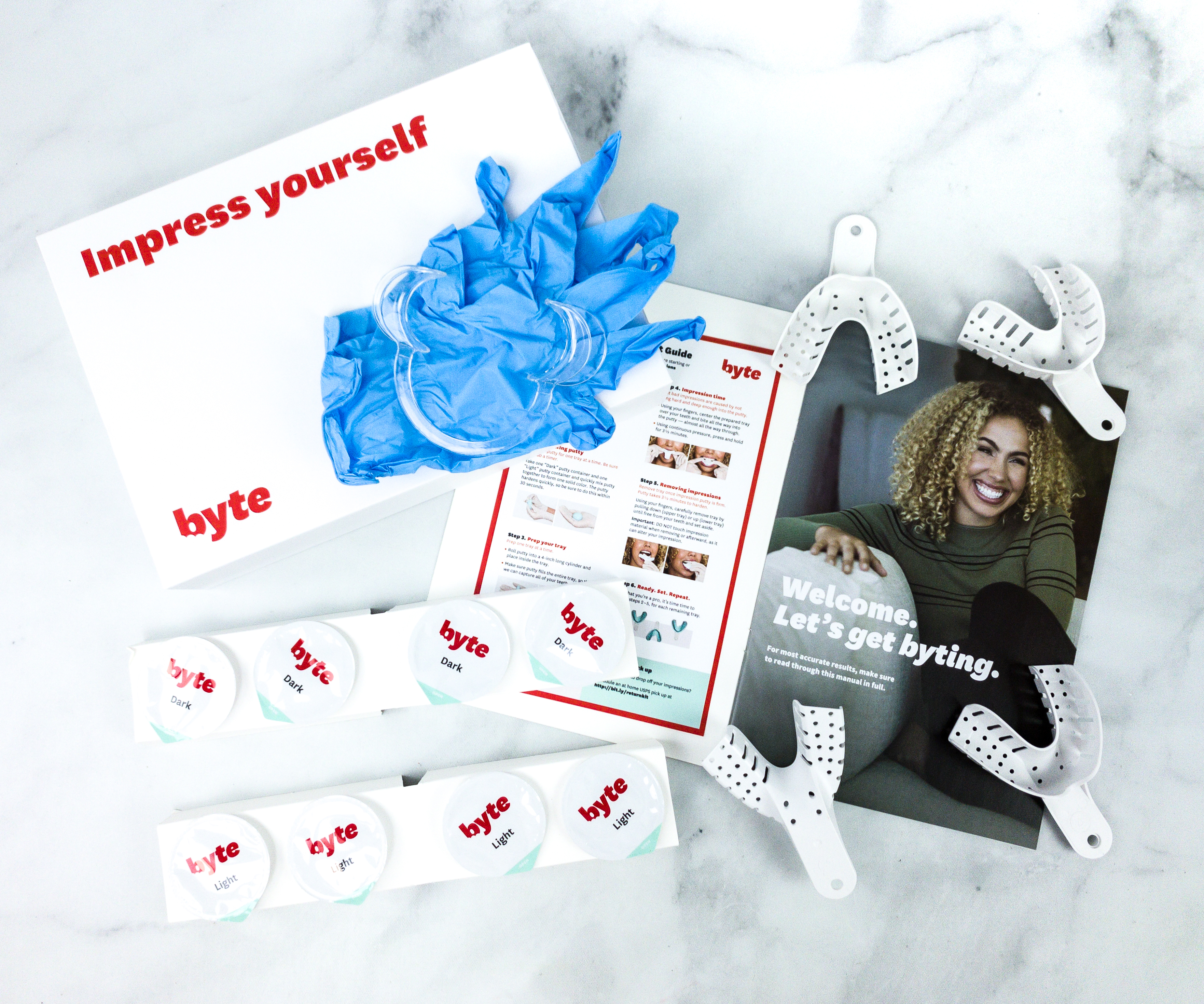 All the things you need to know about this at-home teeth straightening treatment system
Byte Impression Kit Unboxing Review
Straighter teeth helps boost self-confidence, and these days, it's easier to achieve because of convenient alternatives, rather than traditional methods that are often too costly and time-consuming. That's where Byte comes in – an at-home teeth straightening kit that doesn't require in-person, dental clinic visits! They customize invisible aligners that are made of BPA-free, medical-grade, polymer film to help you look and feel better.
From the impression materials to the actual aligner set, everything is sent right to your door. Their invisible aligners promise to help gradually shift your teeth with continued use. To learn more about this at-home straightening kit, stick around as we cover every detail.
DEAL: Get your Impression Kit for just $29.95 instead of $95! Use this link and the coupon code BYTEHELLO2020 at checkout.
Byte Benefits & Drawbacks
Before moving on to the details, let's look into the advantages and disadvantages of Byte:
Byte Benefits
More affordable than traditional braces
Customized plan for your teeth
Treatment is completely at-home
Faster than in-office visits
Lifetime guarantee
Options for All Day and At-Night aligner treatment systems
Accepts flexible payment options
Comes with a companion app
Byte Drawbacks
Only available for minor to moderate issues
Relies solely on impressions
Discomfort at the beginning of your teeth straightening journey
Byte Review
Summary
With Byte, no dental clinic visits are needed! This brand sends invisible aligners customized for your dental structure. They're made with BPA-free, highly transparent, medical-grade polymer film to help correct gaps, crowding, and rotation. You'll first receive an impression kit, which includes everything you need. Send them the impressions you made, and they'll customize a treatment plan for you!

All About Byte
Byte is a teledentistry brand that offers at-home, teeth straightening treatments at affordable prices compared to the cost of traditional braces. It's a convenient way to have straighter teeth without leaving the comforts of your home! They have a team of licensed dentists and orthodontists that review each patient's impressions, design personalized treatment plans, guide you through your journey, and keep an eye on your progress.
How does Byte work?
It's simple to get your Byte treatment. Ordering an All-Day Plan or Byte At Night impression kit is the first step in the process. Everything you need to make the impressions yourself at home is included in the kit – an impression tray, molding putty, putty gloves, and a smile stretcher. As soon as you receive your kit, you can start creating your impressions. You'll also find a detailed booklet with step-by-step instructions to assist you in making the impression. The kit includes a pre-paid return mailing box so you can send the impressions back to them at no additional cost.
A licensed dentist or orthodontist will then review and assess the impressions to see if the Byte treatment is right for you. If you're qualified for the treatment, they'll create your custom clear aligners using a BPA-free, highly transparent, medical-grade polymer film. If it is determined that Byte isn't for you, they'll issue a full refund of your impression kit in return.
Still wondering if Byte aligners are right for you? There's a 30-second assessment you can fill out to see if Byte will work for you. It asks about your main motivation to improve your smile, if you have previously worn braces or aligners, teeth issues like crowding, spacing, bite, and more. You can also download the My Byte app on your phone, so they can guide you through the teeth straightening process while keeping track of your progress.
How much does Byte cost?
All Byte treatments start with an impression kit which costs $95 per box. If the dentist decides you're not eligible for the treatment, you'll receive a full refund of the impression kit. There are also two aligner plans available to choose from. The All-day Aligner plan costs $1,895 or $82 per month with BytePay, while the At-Night Aligner Plan costs $2,295 or $99 per month with BytePay. You can pay upfront or make affordable monthly payments. You will need to make a downpayment of $249 for the All-Day system or $299 for the At-Night system. There is also a no-down payment option through Affirm and CareCredit. They also accept HAS, FSA, and Splitit.
For warranty purposes, Byte offers the Byte Protection Plan, which provides five years of retainers, plus coverage for lost or stolen aligners. It's priced at $649 for the All-Day aligners treatment system and $779 for the At-Night aligners treatment system. You can also use promo codes for discounts. They also offer military discounts, as well as student discounts.
Where can I buy Byte?
Getting Byte at-home straightening treatment kit is available through this link, which leads to their official website. You can easily navigate the site, order an impression kit, and they'll deliver it straight to your door. Open the package, create an impression of your lower and upper teeth, then send them back using the pre-paid envelope in the box. A licensed dentist will then evaluate your impressions and decide whether you're eligible for Byte invisible aligners or not.
Where and how does Byte ship?
Byte currently ships to the US, but does not offer international shipping. Most of the products ship the same day they are ordered. For custom aligners, production only begins after completing your aligner purchase, and it takes about 5-7 weeks to receive your aligners. Once an order has been placed and everything is settled, they do not accept exchanges, returns, or refunds.
How is Byte packaged?
The impression kit arrives in a simple white mailer box with Byte branding printed on top. Inside it are two smaller boxes: one light blue box that contains the impression trays, gloves, smile stretcher, and one mint green box that carries the impression putty. There's also a silver folder that holds an insert with a quick start guide. It lists what you need to do to get started in your at-home teeth straightening treatment. A booklet manual with additional information about the company and its invisible aligners is also included.
What products does Byte sell?
Byte is known for its at-home straightening treatment kits. The products they offer include the impression kit, which is the first step in your journey with Byte. It includes everything you need to make and send impressions of your teeth. For the treatment itself, they have the All-Day aligners and the At-Night aligners. Each treatment kit comes with customized clear aligners, BrightByte (3-in-1 teeth whitener, aligner cleanser, and breath freshener), HyperByte (a high-frequency vibration device), and an aligner case.
They also offer a Byte Protection Plan to receive retainers every six months for five years, plus coverage for lost or stolen aligners. Extra BrightByte, HyperByte, aligner cases, HyperByte replacement mouthpieces, and extraction tools can be purchased separately. If you want to proudly show your love for Byte, they even have a Byte logo tee!
My Byte Review
The first shipment is an impression kit, which includes an impression tray, molding putty, putty gloves, and smile stretcher. A pre-paid shipping label is provided as well. After I send back my impressions, their orthodontists will create a personalized treatment plan for me.
You can get either an All-Day Plan (designed to be worn at least 22 hours a day) or an All-Night Plan (worn while you sleep, 10 hours continuous wear time plus 10 minutes of HyperByte). The duration of the program is different for everyone but it typically lasts about 5 months.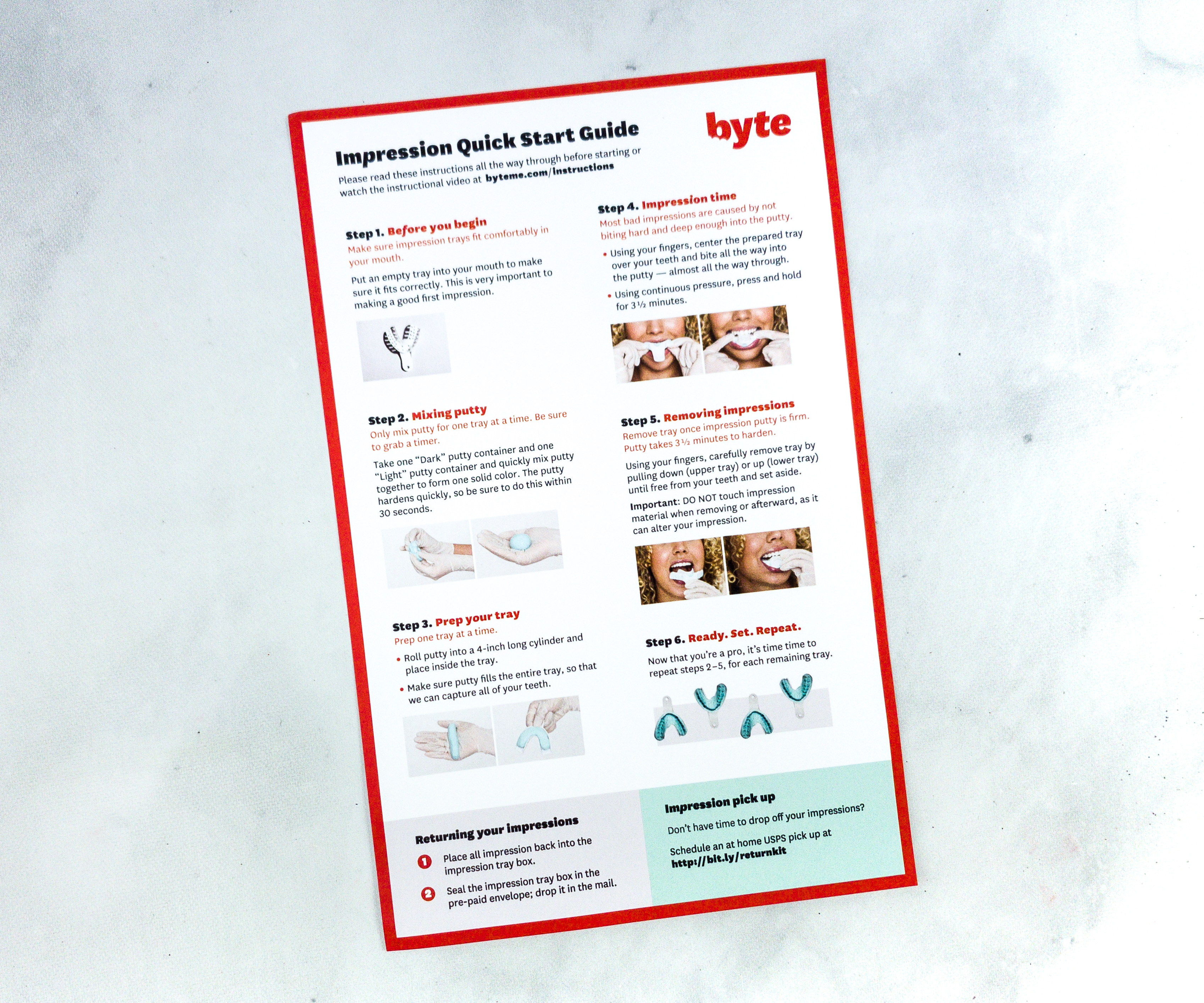 Instructional videos for taking impressions are available on their website, but they recommend reading and understanding this included guide first.
There's also a booklet that includes more details about Byte and their clear aligners. It's recommended to read this manual in full. Basically, there are three steps in starting your Byte journey: taking your impressions, taking selfies of your teeth and face, and sending them all back to Byte. The photos should be uploaded to your account on their website.
Here's another reminder about the online videos you can watch prior to taking your impressions. Before taking impressions, it's essential to brush your teeth first and floss if you must because food particles will ruin the putty. Also, make sure to use the provided gloves!
There are lots of well-detailed reminders and step-by-step guides so it's hard to go wrong when taking your own impressions. They even featured a Do's and Don't segment. There are also provided photos of proper and improper ways of molding your teeth. Some things to remember include putting enough pressure so your teeth go deeper into the putty and mixing the putty well so that it becomes one, solid color.
Here's a look at the impression kit. There are two smaller boxes inside. The one with the light blue color contains the impression trays, gloves, and smile stretcher. The mint green box holds the impression putty.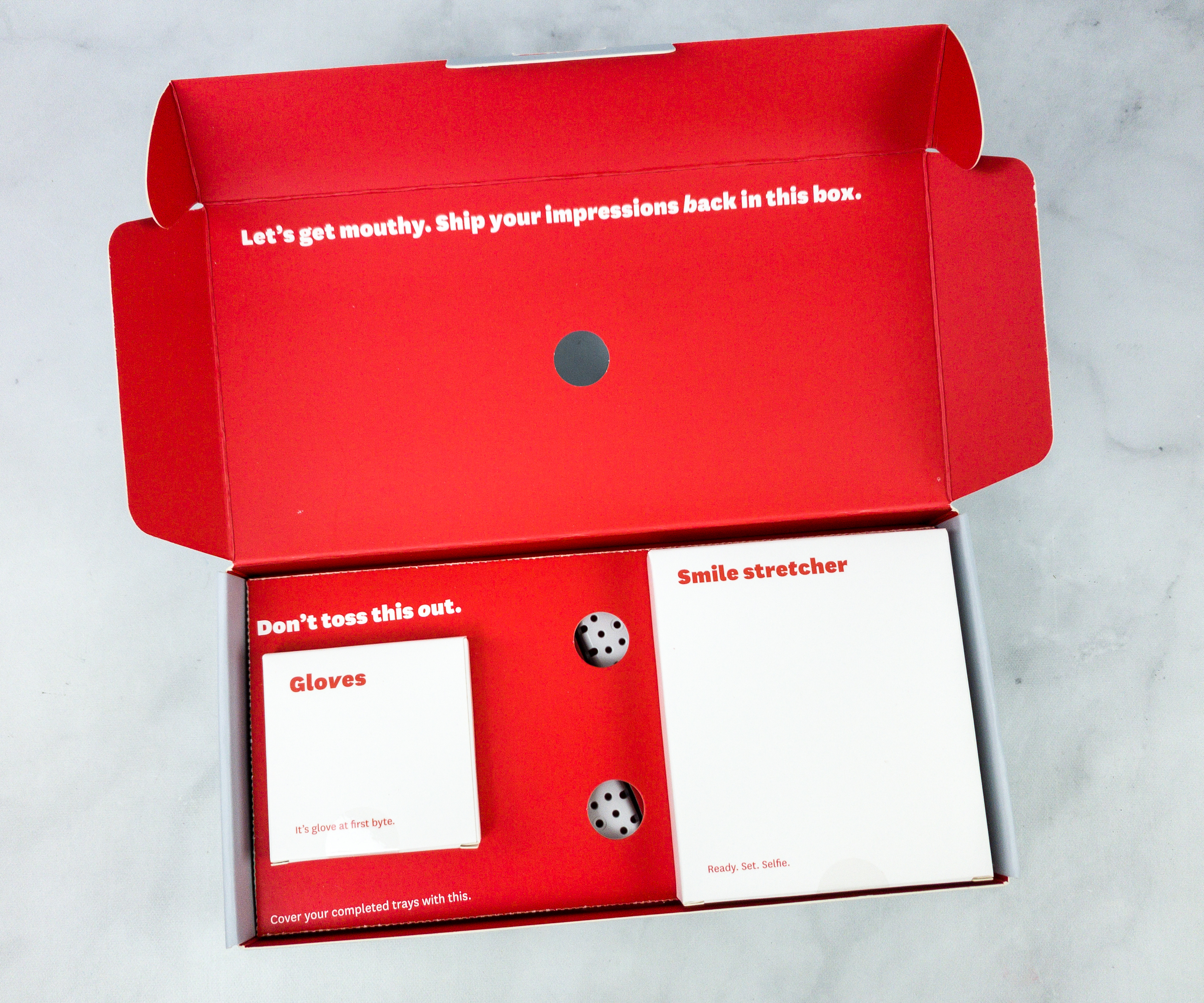 This box that holds the impression trays can be used to ship your impressions back to Byte. On the top portion of the box is where you'll find the gloves and a smile stretcher made from a BPA-free clear plastic material.
The Impression Box includes eight packs of light and dark putty (four each). You'll need to work on four impressions, two for the upper teeth and another two for the lower teeth. There is no shortcut for this process, so avoid pre-mixing because it doesn't work that way. For the final step, press your teeth into the tray using your thumbs. Push the trays into your teeth until you feel the putty touching your gum line!
Once done, prepare a selfie photo and upload it to your account. These photos will help them analyze your facial features and symmetry. They included some secrets to achieving a good photo sesh and recommend having someone else take your photos, but you can also use your phone's self-timer. It's also important to do it in a well-lit area and to use flash.
The two photos should be full-face – one serious & one smiling. Then, capture the left and right angles for the next two photos with the smile stretcher on. Lastly, take a photo of your front teeth, upper teeth, and bottom teeth respectively.
Is Byte Worth It?
Byte is a great subscription for those who want straighter teeth and a better smile. It's convenient because you don't need to book an appointment nor go to office visits. Everything can be done at home, and everything is thoroughly explained in the manual and the videos so it's hard to go wrong. In case you still have questions, their customer service team is available to help you. Also, the materials for taking impressions were complete and easy to use. I have learned a lot of things about my teeth throughout this process! After sending back your impressions, their orthodontists will evaluate them and you can wait for your custom treatment plan to be delivered. It's been a smooth process thus far!
What are your thoughts on the Byte Impression Kit?