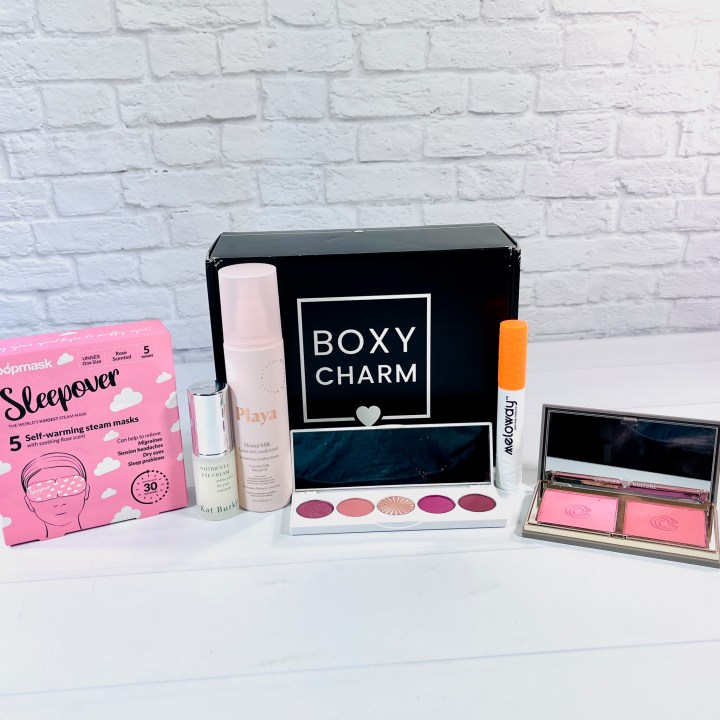 The August 2022 BOXYCHARM Premium theme was Dusk 'til Dawn and I received a good assortment of beauty products which included haircare, eye cream, a self-heating mask, and makeup. See what else I received below!
There may be variations in the box – see the full spoilers here.
DEAL: Subscribe now and get a FREE gift: BYROE Fig Renewal Oil, NARS COSMETICS Blush, OR SUTRA Mini Ceramic Curling Iron, PLUS $10 credit to August Mega Drop Shop!
Use this link and pick your FREE gift at checkout AND get your exclusive $10 Drop Shop code via email within 24 hours of subscribing.
Playa Monoi Milk Leave-In Conditioner ($24) According to the brand, this leave-in spray conditions frizzy, dry, or chemically-treated hair, so it's not for me, but I did give it a try. Since I have fine hair I decided to spritz it into my hands and then I finger combed it through the ends of my hair (I avoided my roots because I didn't want them weighed down and because I am sensitive to fragrance in haircare products). The smell wasn't what I expected, it was almost herbal, and was light, and it didn't hover around my head in a cloud of perfume thank goodness. The ingredients include coconut milk and monoi oil and I didn't find the product to be oily but then I didn't use very much of it. My tangles were easy to comb out and my hair looks good so I would say it's a winner.
Kat Burki Nutrient C Eye Cream ($90) Both BOXY and the brand's website lists only 5 ingredients for this product but as you can see by the picture I took of the box it's more like 50. The first few ingredients are plant waters, like cica and arnica. It has a supposedly stable form of vitamin C and some of the other stuff in here includes glycerin, aloe, caffeine, sea salt, and plant extracts plus "natural" parfum for scent. I guess it smells herby floral, not really loving it, wait is that a whiff of Sprite I'm catching? It's not as emollient as I would like for that area. It can be used morning and night.
PopMask London Sleepover Rose Scented Self-Warming Steam Mask (5 Pack) ($20) I was kind of shaking my head at this item as it's promoted as perfect for sleepovers, so is it for preteens? Inside the box, I found 5 individually wrapped one-time-use masks with loops to fit over the ears. The idea is that they may help relieve migraines, tension headaches, or dry eyes. I was worried when I saw that it was rose-scented, but was relieved to discover that the scent was almost non-existent. The mask is made of soft material and I was surprised to find that it stayed warm for about an hour. I removed it after 10 minutes but wore it pushed up on my forehead and then eventually just kept checking on it at intervals.
I have 4 left and my daughter is about to move into an apartment near her college so maybe she and her new roommates would like to use them and pretend it's a sleepover.
Meloway Your Way Mascara Super Black ($23) This is the second item I've received this month from Boxy that reminds me of a traffic cone, although the container on the brand's website is all black. The formula is supposed to volumize and lengthen but I didn't see much difference and thought the formula was clumpy, it didn't apply easily. The wand can be tilted to help reach all of the lashes but I found it chunky and hard to use since I've been doing it the other way for all of my life. I think I would rather buy Great Lash and save money or pay a couple of bucks more and get something from benefit as their mascaras do wonders for my lashes. Plus I just looked in the mirror and saw that I had raccoon eyes like I had swiped the mascara brush under my eyes (I didn't even apply it to my lower lashes), how does that even happen?
Complex Culture Good Glow Blush Duo ($15) I have always liked the Complex Culture (an Ipsy brand by the way) makeup brushes but this may be the first time I've tried their blush. It was pretty nicely pigmented and came in two colors that work for me but a word of caution, a little goes a long way. I barely touched my brush to the palette and still had to tap it off in the sink and still had bright pink cheeks.
Blissed Out is swatched on top, Flustered is underneath.
Ofra Cosmetics Signature Palette – Symphony ($32) It's not quite fall yet but these colors will work well with winter shades like wine and maroon. I applied Blissful (which is also a highlighter) all over my lid and then lightly applied Sublime in the crease, added liner and mascara, and that was that. The colors were rich and blended well so I'm really excited to add this to my collection!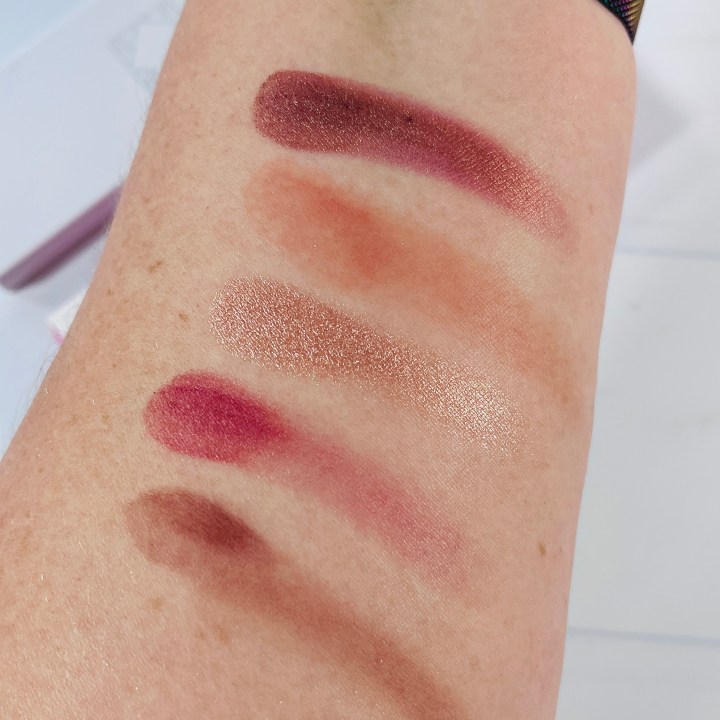 Here's the OFRA palette swatched!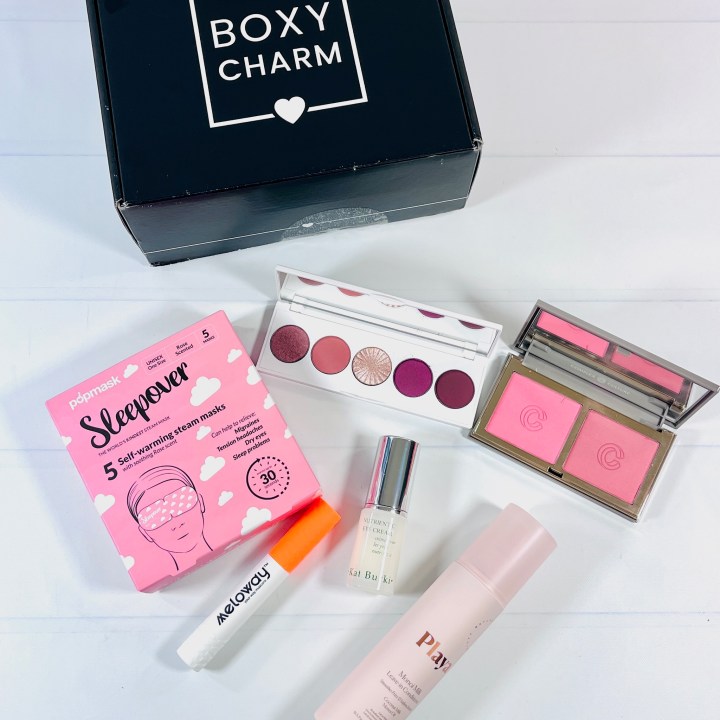 Overall I thought I received a good assortment of products in my August BOXYCHARM Premium! My favorite item was the OFRA shadow palette, I plan to use it often in the fall and winter. I had fun trying the self-heating eye mask and it lasted longer than I thought it would. I was also surprised by the leave-in conditioner as it didn't weigh down my fine hair. The blush and eye cream were fine and the only product that didn't seem Premium to me was the mascara, but maybe someone out there appreciates that the brush bends the way it does. The retail value for my box combo is around $204.
Below is the product info card plus a box opening picture.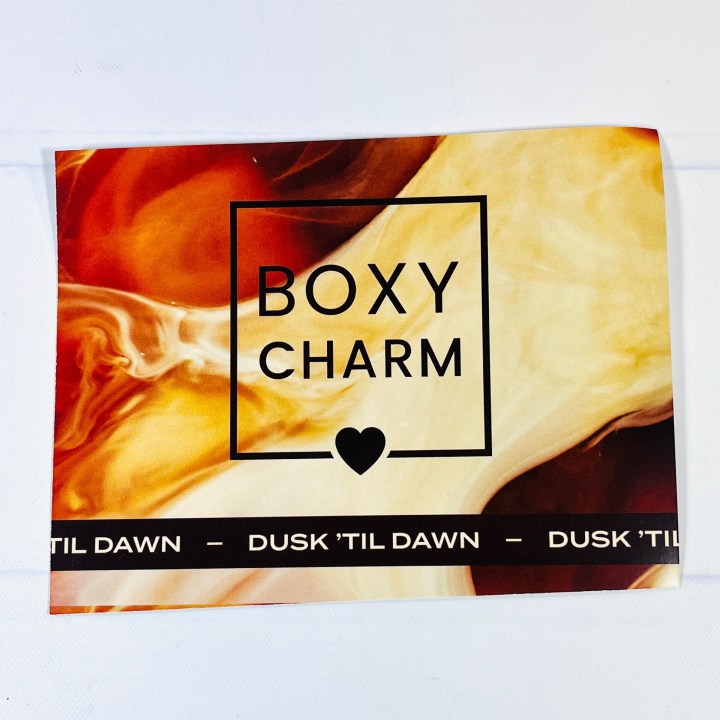 BOXYCHARM Premium is a beauty box from BOXYCHARM (who also has a base box for $27.99 a month and a BOXYLUXE upgrade option). For $39.99 per month (price drops for longer terms), you'll receive 6 items with 2 items chosen by the subscriber. They also state an average value of around $215 per box. BOXYCHARM's premium subscription box was voted by our readers as one of the best beauty subscription boxes for 2022 – and a best skincare box, and a best makeup subscription!
Did you get BOXYCHARM Premium? What's your favorite item?