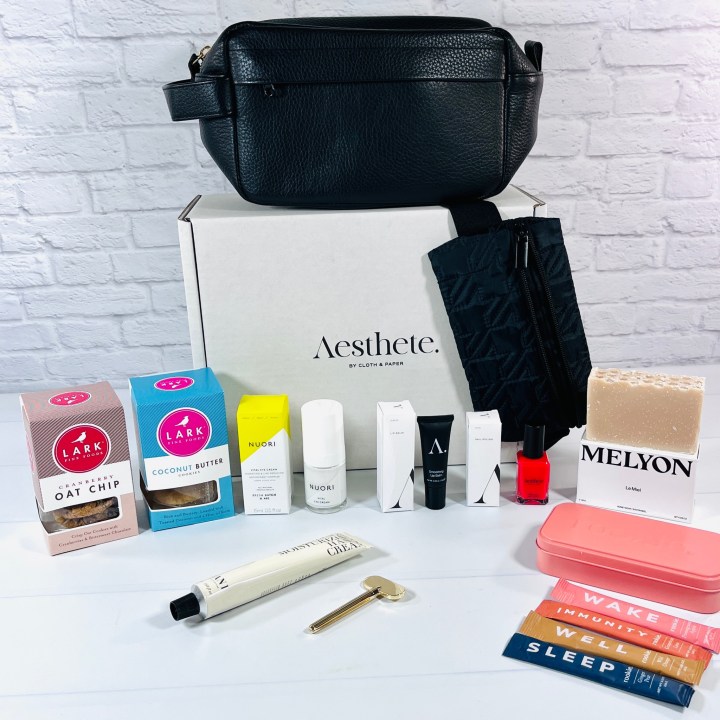 Aesthete Box by CLOTH & PAPER had a travel theme going on, so if you have any trips coming up then they have you covered in minimalist style! There was a bit more color in this box thanks to the drink mixes and check out that bright nail polish shade, perfect for toes that are headed to the beach, pool, or even the foot of your recliner if you're an armchair traveler. See what I received below!
DEAL: Want to try Penspiration Box, Planning + Stationery Box, OR Penspiration & Planning + Stationery Box? Get 10% off your first box! Use the coupon code HELLOSUB10 at checkout!
Rookie Supplement Starter Pack ($22) I thought this pack had 4 different flavors but upon closer look, the four pink and four blue that look the same actually have 2 different flavors each, so there's a total of 12 packs in 6 different flavors. The sticks should be mixed into water – the amount depends on the pack so check the back as it could be as little as 4 ounces or as much as 12 ounces. The mixes are sweetened with stevia and the main ingredient will help with the desired goal – melatonin and valerian to promote sleep; guarana and caffeine to promote alertness; elderberry and zinc to promote immunity; and vitamin C and ginger to help the body recover when ill.
MYTAGALONGS Waist Band ($32) I choose this fanny pack as my favorite item in the box! I recently bought something similar to hold my cell phone during walks and if this had a second section for my keys it would have been perfect for my needs, but I think it will work well anyways. It has a houndstooth quilted body made from recycled soda bottles. It says the strap is adjustable from 23″ to 30″ but it is stretchy and should stay in place during my walks and it gets bonus points for being comfortable.
MANI Sanitizing & Moisturizing Hand Cream ( About $30) This product came in its own box so I will make sure to recycle the trash from all that packaging. It came with a key to help squeeze out every last bit (since the brand states they strive for zero waste) and a disclaimer that it is a cosmetic product and may not help you fight off illness the way hand washing might (all of that info is in the little pamphlet that was in the box). Some of the ingredients are water, urea, glycerin, avocado oil, and dimethicone. The product is sealed but the back of the lid is pointy so you can puncture it before using. It is perfumed and smells a little herbal and unique, I can't think of a similar scent. I'm not a huge fan of dimethicone on my hands, they feel kind of slick and I have texture issues, but I know some people may like it (it reminds me of Avon's Silicone Glove hand lotion).
Cloth & Paper Leather Toiletry Bag ($99 listed value) This bag is from Cloth & Paper's in-house brand and doesn't seem to be available on their website. I remember being told as a child that I needed to break in my leather shoes and maybe the same goes for leather bags because it's rather stiff and unyielding. There is a zipper on the front but that side pocket is really hard to access making it unusable for my needs. The inside has a net side pocket and the interior is pretty standard. The material is pebbled leather — I'm not sure what kind of animal leather was used and there wasn't a tag with the material listed. There is a gold-tone zipper across the top with a leather zipper pull.
Lark Fine Foods Cranberry Oat Chip & Coconut Butter ($4.50 each) It's too hot to bake so I was pleased to find two boxes of cookies this quarter! Lark says they bake "cookies for grownups" so they're not as sweet as, say, Chips Ahoy. The coconut cookie was supposed to have rum flavoring but I didn't detect that, but it does have some shredded coconut. Both cookies were crispy and chewy. There were 6 in one box, 7 in the other, but since a serving size is 2 cookies and there are 3 servings per box, I guess I got a bonus cookie!
Melyon Le Miel ($20) This is a fragrance-free soap made of saponified oils and honey. It can be used on the hands, face, and body and I prefer to use this type of soap in my kitchen since it has no scent. I'm looking forward to using it after my current bar is used up! Bar soaps seem to last longer in my kitchen than in my shower.
Nuori Vital Eye Cream ($72) This brand is new-to-me and came with a huge booklet that lists their other products. The eye cream came in a glass jar with a pump top, which I vastly prefer to sticking my finger into a jar over and over again. It's supposed to reduce the "first signs of aging" and I'm probably into the second or third signs of aging and may need something stronger but it's not super heavy and doesn't leave the area greasy. There's no scent, which is probably the first thing I look for in an eye cream, it should have no fragrance. Some of the listed ingredients include apricot kernel oil, shea butter, glycerin, and hyaluronic acid.
Aesthete by Cloth & Paper Nail Polish ($14 listed value) We received two beauty items from Aesthete, which don't seem to be available on their website so I guess they can say it's worth X amount if they want. This is a punchy orange-red coral called CEO and will look great on my toes (not a fan of this shade for my hands). It says it's made in the USA and vegan friendly, but I have no other info, like is it 10-free (looking at the ingredients I think it's 10-free).
Aesthete by Cloth & Paper Smoothing Lip Balm ($12 listed value) Once again we have an Aesthete beauty product and not a whole lot of info other than the ingredients and that it's made in the USA. It has vegetable oil, shea butter, beeswax (so not vegan-friendly as mentioned on the box), hyaluronic acid, and flavor listed among its ingredients. I found I had to really give it a squeeze to come out but it felt good on my lips and kept them moist overnight.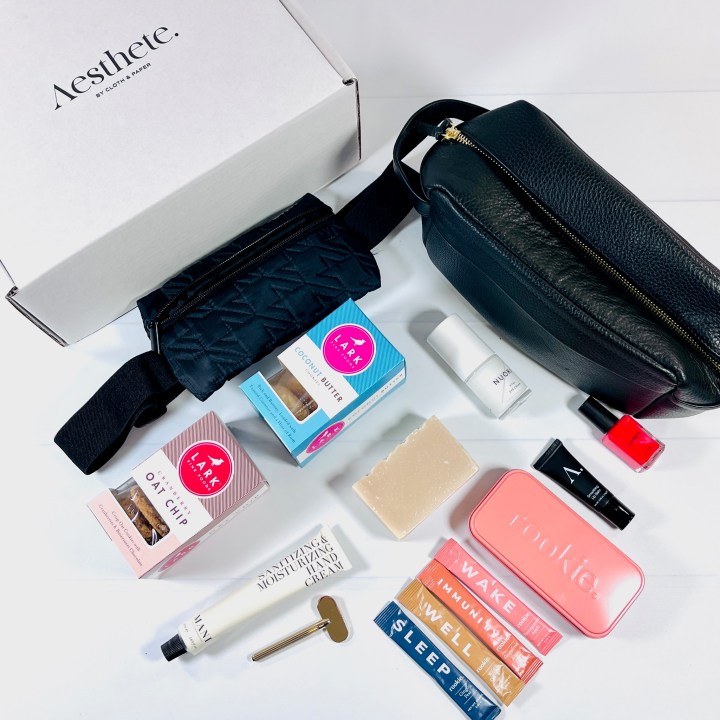 This quarter's box had a travel theme and I can see how these items might be used when one is on the road. My favorite item was the fanny pack but it's rather small and won't hold a lot but my cell phone fits in there pretty well. The toiletries bag is stiff but I'm hoping it will loosen up with use. Skin gets dehydrated on the plane so I can see how the hand cream, lip balm, and eye lotion fit in here. I also understand the wellness mixes and cookies are pretty easy to stick in a travel bag. The soap will stay at home, it's huge but I guess there are holders available for packing them in luggage. The nail color will look good on my toes, it's a fun color for summer. I was kind of sad to see two Aesthete branded beauty items, considering the debut box had a bottle of perfume that retails for $100 at Sephora. The retail value for the items that are available online was around $185, and the three products that are exclusive to this box add another $125 (but again, I only found those values on the info card), bringing the total value to around $310.
Below you will find the product info card plus some more box opening pictures.
Aesthete Box by CLOTH & PAPER is a brand new deluxe quarterly lifestyle subscription from the same brand that offers a monthly pen and stationery box for those who prefer a minimalist style in subdued yet classic colors. The Aesthete Box will include a deluxe Cloth & Paper exclusive product plus 6 or more items from other brands that range from beauty to home goods. Each box will have a $300+ value and ship quarterly. Aesthete Box is $149.99 a shipment.
What do you think of Aesthete Box? Are you subscribing?