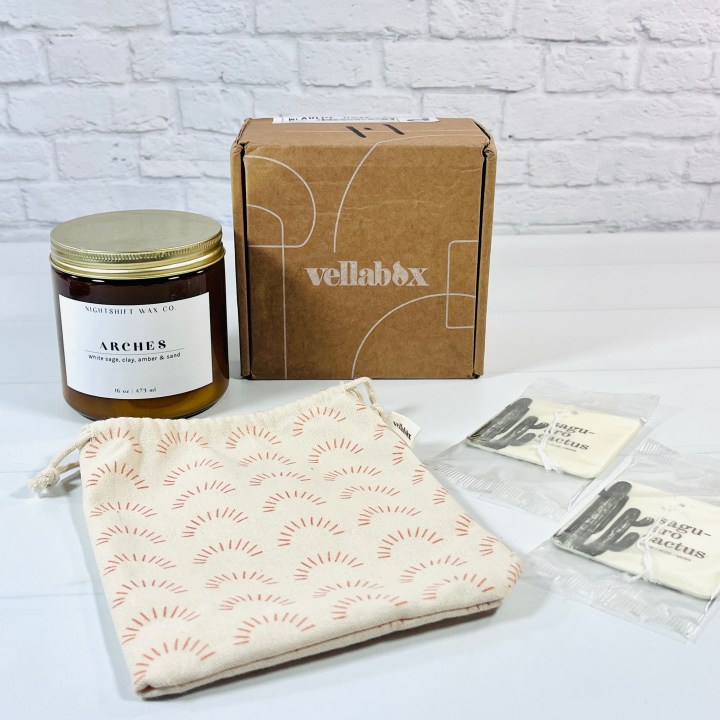 The July Vellabox contained one of three different candle scents inspired by summer travel and I received the fragrance for those who look for woodsy notes in their candle! I also received two air fresheners, which is on-theme since road trips are especially popular in summer. I am reviewing The Vivere Box, which comes with a 16 ounce candle and is $38 a month.
DEAL: Save 50% on your first box! Use coupon code HELLOSUB50.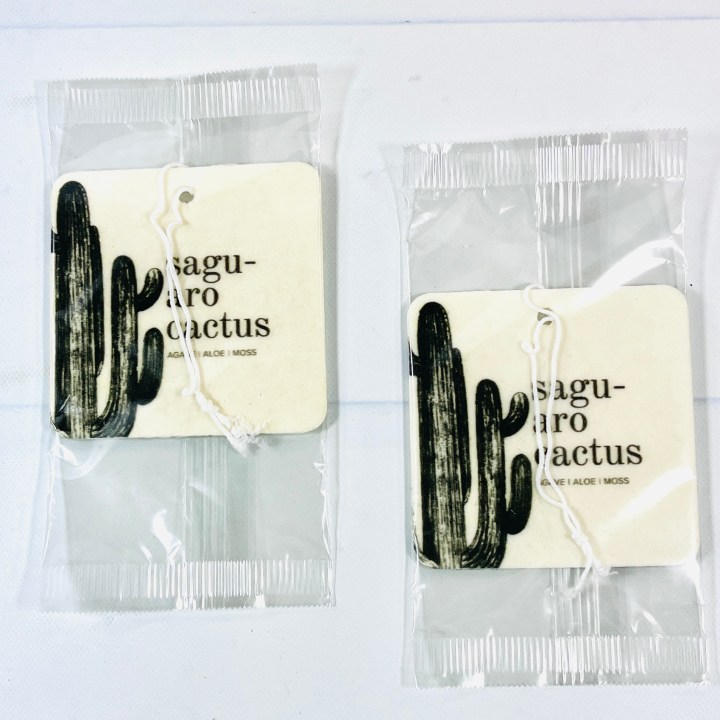 Broken Top Candle Co. Saguaro Cactus Car Freshener ($8 each) We received two of these air fresheners from a company whose candle was featured at some point in this subscription box. This is the bonus item and it's made of paperboard and can be placed in a car, closet, or wherever you prefer. It's pretty strong so I think I will hang it in my office as an air freshener. The scent has notes of agave, aloe, and moss – it's a clean and green sort of fragrance, very nice.
Nightshift Wax Co. Arches Soy Candle ($48 for a 16 ounce candle) Subscribers were able to choose one of three scents and I received the candle that is perfect for fans of woodsy scents (the other scents were called Night Drive and Golden Teakwood). This scent has notes of wild sage, cashmere, ivy, and bergamot. I have a hard time telling what cashmere, ivy, or sand smell like, but the candle smells like a citrus floral with a hint of smoke (but that may be the burned wick lol). There's also a creamy note which I thought was pretty cool. It was inspired by Arches National Park in Utah! It smells great while unlit, even better when burning and while it was noticeable, it wasn't overwhelming, a common theme with this subscription and I think that is perfect for my needs and my sometimes overwhelmed sniffer.
I always look forward to receiving a new candle monthly from Vellabox, they send such amazing scents and new-to-me brands. I was very pleased with Arches, it's something I would have chosen for myself in a store and it smells good for summer or any time of year really. The bonus item was wonderful too, but may dissipate quickly in the summer heat so I will use it indoors.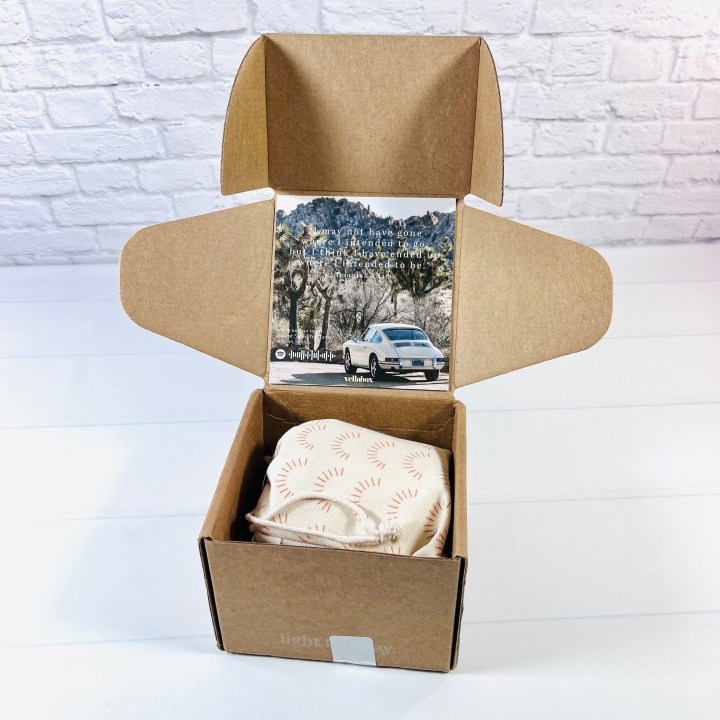 Here's a couple of box opening pictures.
The info card lists both the candle brand and the bonus product brand along with descriptions of those items.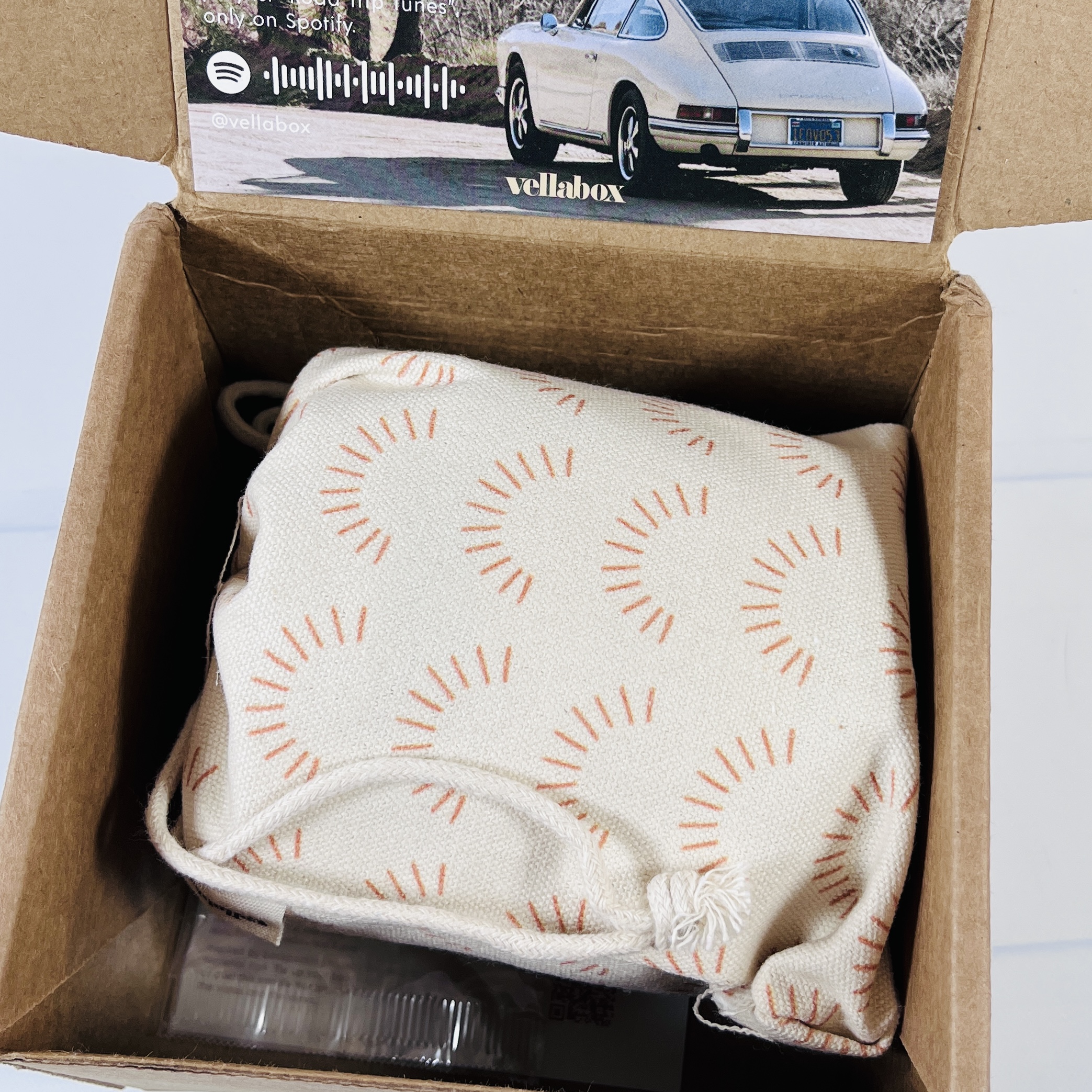 The candle comes in a reusable bag too!
Vellabox is a monthly natural candle subscription box. The candles are always in seasonally inspired scents and are created by the finest American artisans. Each box features a different candle brand. The candles are from small businesses and are made of all-natural wax, cotton braided wicks, and premium fragrance oils. Vellabox also includes a surprise lifestyle gift in every box. There are three boxes to choose from based on size. When you sign up for Vellabox, you need to choose which size candle you prefer and you can also pick the scent group you prefer. You can choose from The Lucerna Box ($18) which includes a 4 oz candle monthly, The Ignis Box ($28) with an 8 oz candle monthly, and The Vivere Box ($38) with a 16 oz candle monthly. Each level receives a bonus lifestyle gift and shipping is included to the US, and all have great discounts for longer-length plans.
The Vellabox candle subscription box made the list in our 2022 readers' choice picks of best home and decor subscription boxes and as a favorite affordable subscription!
What do you think of this box?