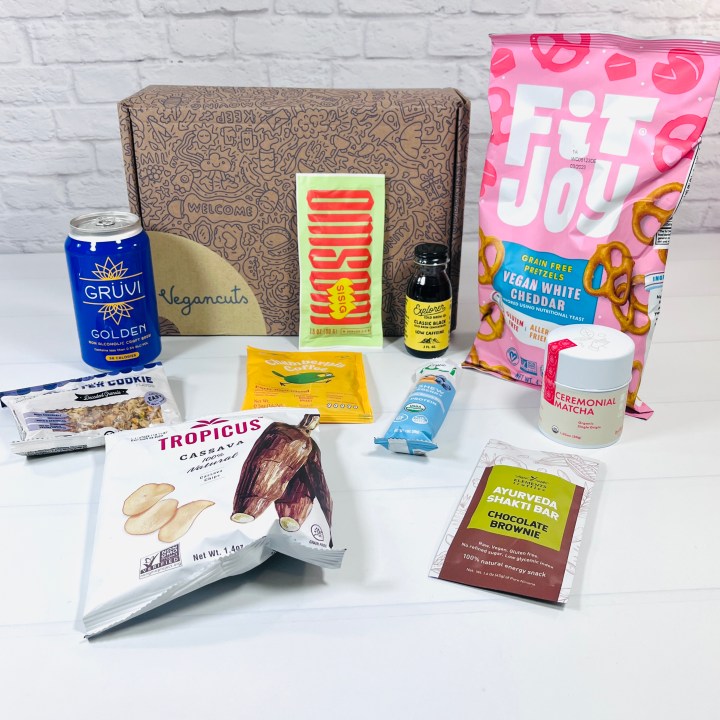 The June 2022 Vegancuts Snack Box delivered not only snacks but several drinks too! Read on to see what I received!
DEAL: Use the coupon code hellosub to get $5 off your first box on any Vegancuts subscription! It can only be used once per customer, but it can be used on multiple subscriptions at once so long as they are in the same transaction.
The products info card mentioned that proceeds will help animals at Happy Compromise Farm + Sanctuary.
Explorer Cold Brew Classic Black ($3.38) I received 4 beverages this month and I must say, none of them were things I would choose on a normal day. I'm not a coffee drinker but I occasionally like an iced flavored latte and this concentrate should be able to make a couple of those with the addition of lots of milk and flavoring. This brand has 4 different caffeine levels to choose from and this is the low-caf version made with filtered water, organic coffee, chicory, and caffeine extract. Subscribers may have received this version or the no caf or extra caf in their boxes.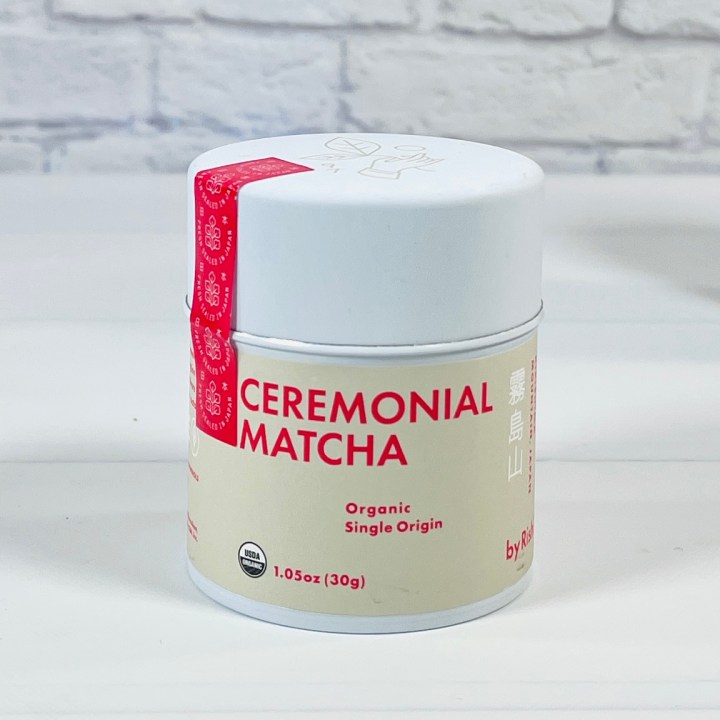 Rishi Tea Ceremonial Matcha ($18) Out of all of the teas out there, matcha is one I don't much care for but I know it is popular and has some health benefits too. This is a finely ground powder made of 3 different cultivars of tea. You sift a teaspoon into a cup, add 2.5 ounces of hot water (not boiling, that will give you bitter tea), and whisk or whip until it is frothy.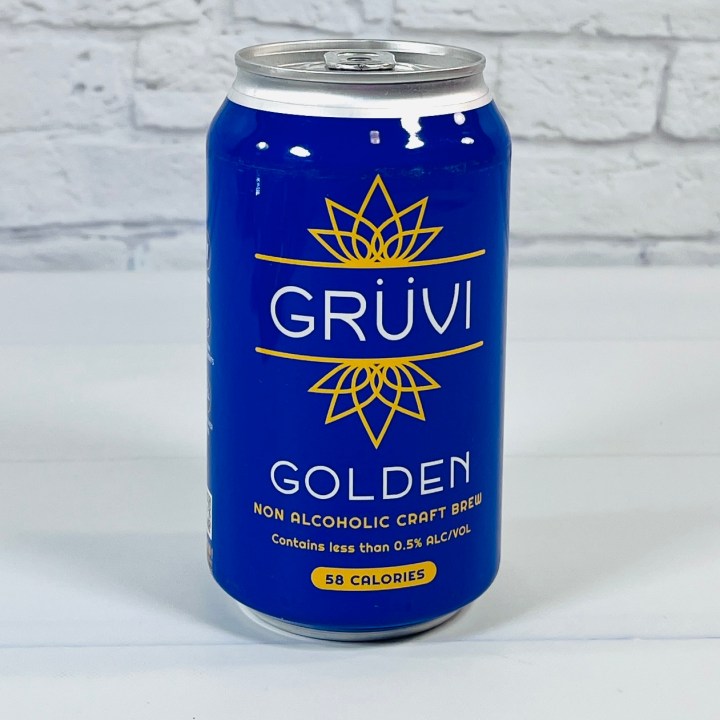 Gruvi Non-Alcoholic Golden Lager ($2.50) I don't drink beer so this item will be passed along to someone who might enjoy it. It's a non-alcoholic beverage, commonly called "near beer" when I was a teen, and may have a bit of alcohol but at about the same level as kombucha. My husband tried it and thought it was good!
Tropicus Cassava Chips These chips are made with cassava, a type of root vegetable, plus oil and salt. It isn't as delicate as a potato chip and the flavor is really mild.
FitJoy Foods Vegan White Cheddar Pretzels ($3.99) These are pretty good, and I was surprised to discover that these are grain-free in addition to being vegan! It has ingredients like cassava and chickpea flour and potato starch and the cheesy flavor comes from nutritional starch. The are a tad bit denser than white flour pretzels but not enough to make me turn them away.
Element's Truffles Chocolate Coconut Ayurveda Shakti Bar ($4) The front of this package says "Chocolate Brownie" but on the brand's website it's called "Chocolate Coconut" (same ingredients). It's similar to a Lara Bar and made with all organic ingredients: dates, cacao powder, and shredded coconut. It's pretty sweet despite having no added sugar and the cocoa flavor is rich, plus it's chewy in a good way. Very nice!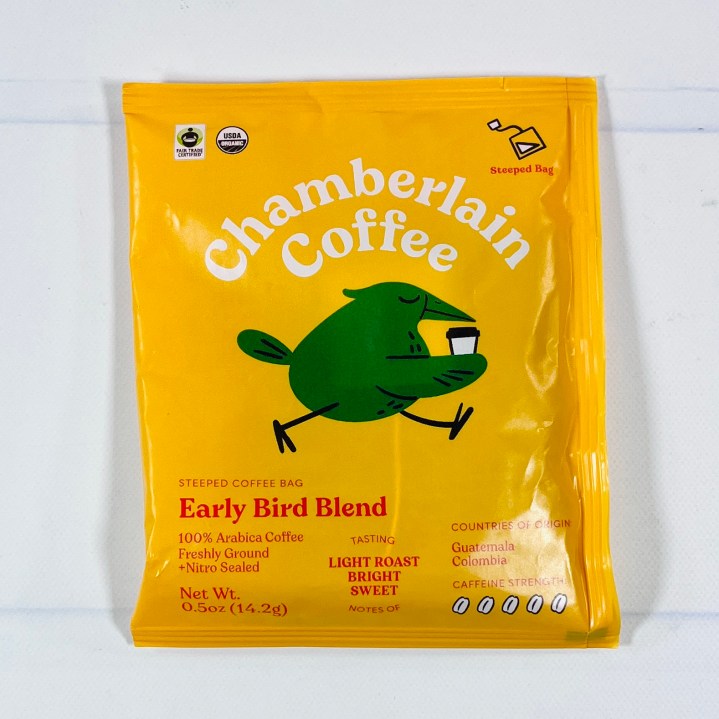 Chamberlain Coffee Steeped Coffee Bag Early Bird Blend ($1.80) Here is a second coffee product and as I don't drink coffee, I can't really say how this one tastes. It is similar to a tea bag — the ground coffee is inside, you place it in a cup, pour boiling water over the top, and steep for a few minutes. You could also steep it cold-brew style overnight in the fridge and add milk and ice in the morning. Flavor notes include green apple, caramel syrup, and milk chocolate.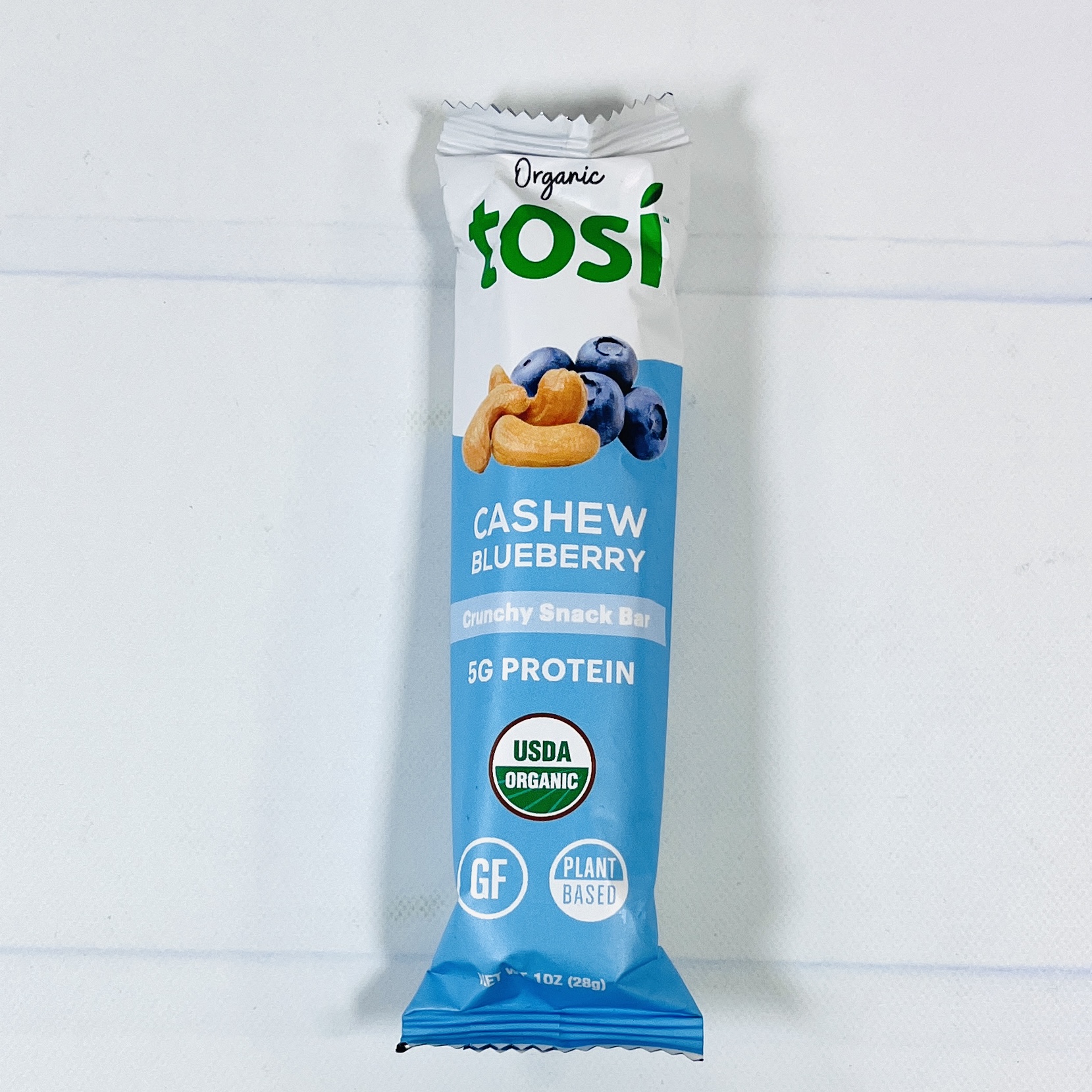 Tosi Cashew Blueberry SuperBites ($3.29) Yum, this was my favorite snack from the box! It's a crunchy nut bar made with cashews, dried blueberries, flax and chia seeds, and sesame seeds held together by a sweetened syrup (but it's not sticky at all). The nuts and seeds are roasted perfectly and this bar is sweet, a little fruity, and absolutely delicious. Some subscribers may receive this flavor or a peanut dark chocolate version.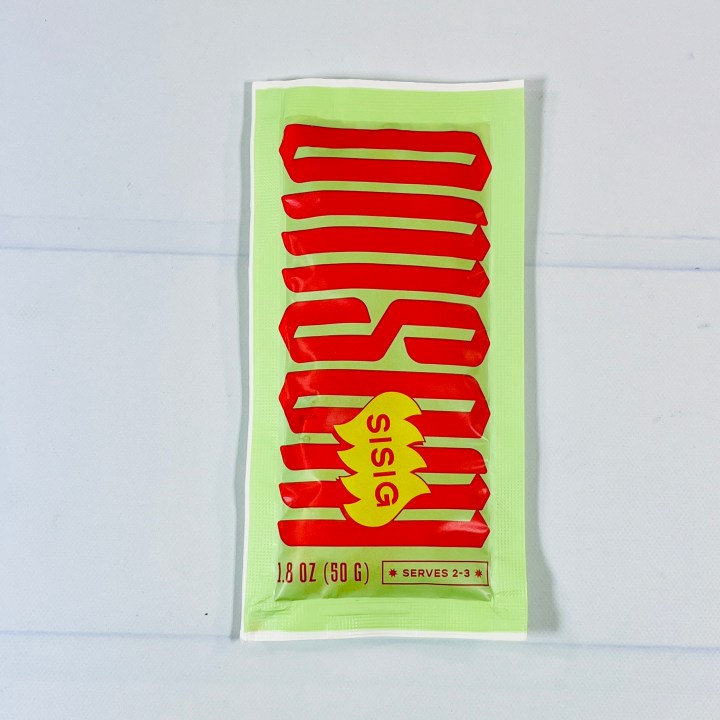 Omsom Sisig Meal Starter ($4) I have never heard of the dish "sisig" but it's a Filipino dish made with, well, you'll have to look it up but I'm sure tofu cubes or crumbles would work well in the place of the usual main protein. This pack can be used in the provided recipe (find it online) and is made with vinegar, garlic, calamansi (a type of citrus), porcini mushroom powder, and dried chili flakes and I was happy to see it has no sodium.
Bakery On Main Monster Cookie Decadent Granola I like the little cereal packs, they make a great on-the-go snack but I prefer to turn it into a breakfast parfait by layering with yogurt (they have lots of vegan options nowadays) and fresh fruit. This version was sweet and would be wonderful eaten straight out of the bag, it's like a crumbled up chocolate chip oatmeal cookie!
The June Vegancuts Snack box had some yummy snacks, with the Tosi nut bar being my favorite. There were a lot of drinks, four of them in all, and sadly none of them were things that I consume, although my husband liked the near beer and my daughter will be gifted the coffees and matcha tea.
Vegancuts Snack Box is a monthly vegan food subscription that delivers 10 or more organic and vegan treats each month. Snacks can include a pantry item or drink and most snacks are gluten-free. Each subscription box costs $24.95 monthly, or save a bit with a longer pre-paid term.
Have you tried Vegancuts Snack Box? Let me know what you thought of the box!