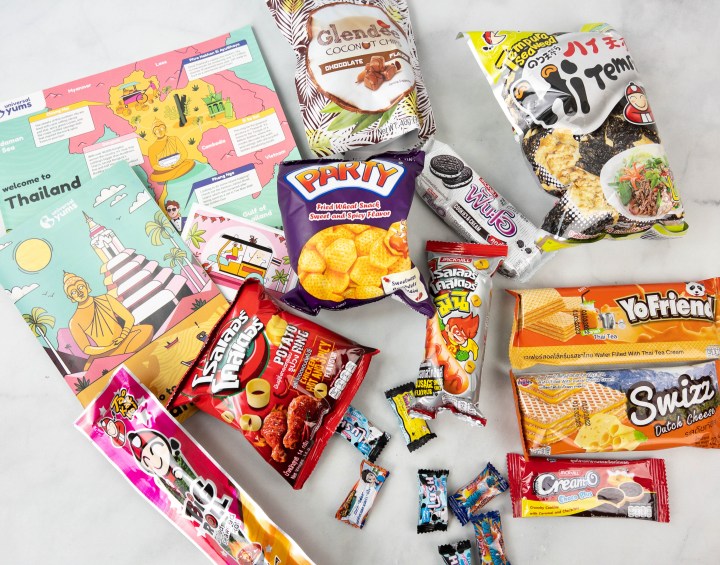 Universal Yums is a snacking adventure in a box! This month, they showcased the culture-rich country of THAILAND through tasty snacks and candies. There's a variety of sweet, savory, and spicy snacks in the box. From chicken wing rings to chocolatey mint candies, this curation proves that The Land of Smiles has a lot of unique goodies to offer. The box also includes an interactive adventure guide featuring a day in the life of a Buddhist monk and more!
We're reviewing the Yum Yum box, which includes 10-12 snacks and other bonus content.
DEAL: Save 10% on a 6+months Universal Yums subscription!! No coupon code needed, just use this link to sign up!
Every box includes a Yum Bag, and it's filled with candies from the featured country! It's a chance to discover unique flavors, which you'll either love or find weird and unusual.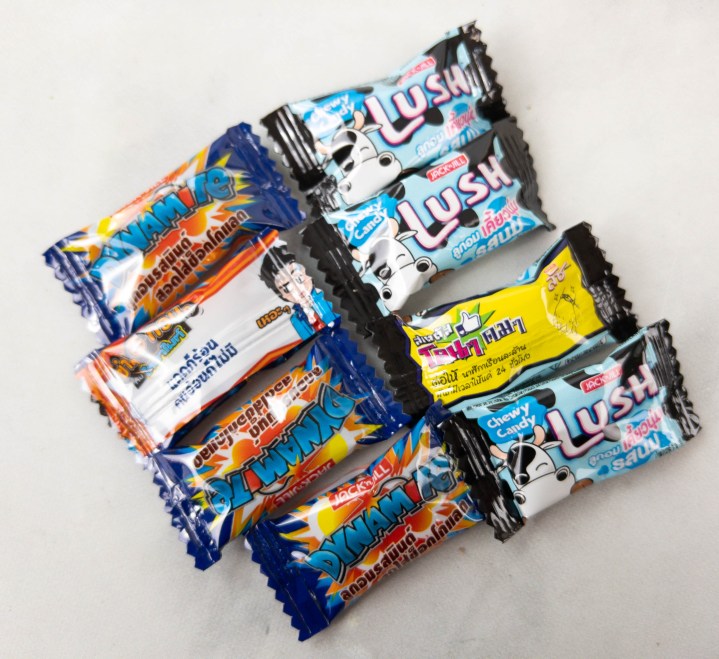 There were two Thai candies in the Yum Bag: Dynamite Chocolatey Mint Candies, which are sweet mint hard candies that explode with a creamy chocolate center, and Milky Chews, which are addictively creamy soft chews with fresh milk flavor. Both are sweet tooth delights!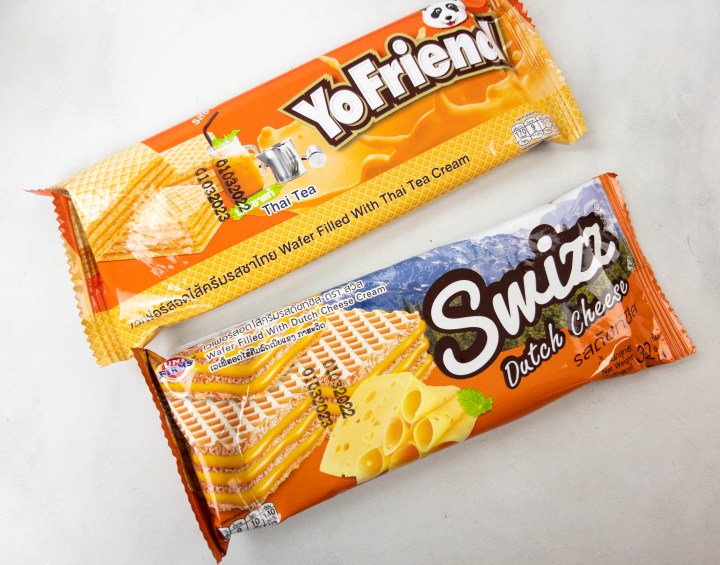 Next up are wafer sandwiches to munch on when the craving calls! Thai Iced Tea Wafer Cookies are the perfect snack for afternoon tea. This crispy wafer has a caramel spice aftertaste, which is indeed reminiscent of Thai milk tea. There's also the Dutch Cheesey Wafer Cookies, a great snack for cheese lovers. This Dutch cheese cream-filled snack tastes so good, as the sweetness of the wafer complements the saltiness of the cheese filling really well!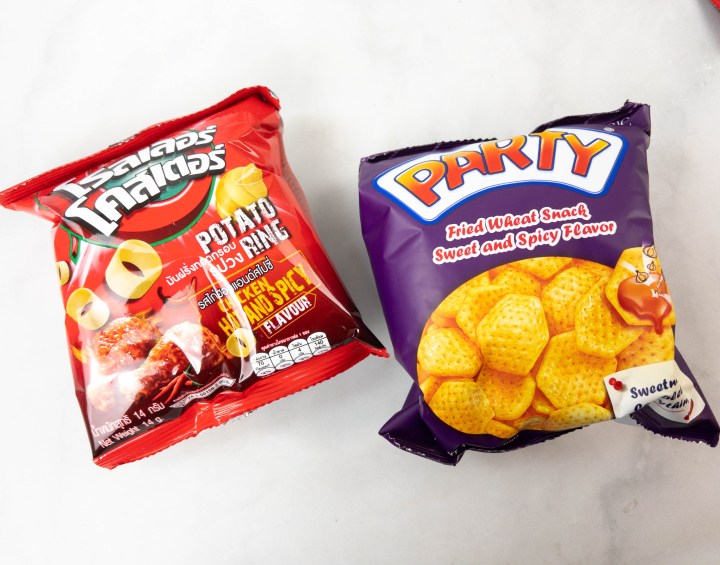 Thai people love spicy and flavorful snacks, like the Hot & Spicy Chicken Wing Rings and Caramel & Garlic Crisps in our box! The chicken wing rings are shaped like little tubes, and they have a zesty flavor that just makes you crave for more. Meanwhile, the caramel and garlic crisps are bursting with sweet and spicy flavors in every bite. Both of these snacks are also satisfyingly crunchy!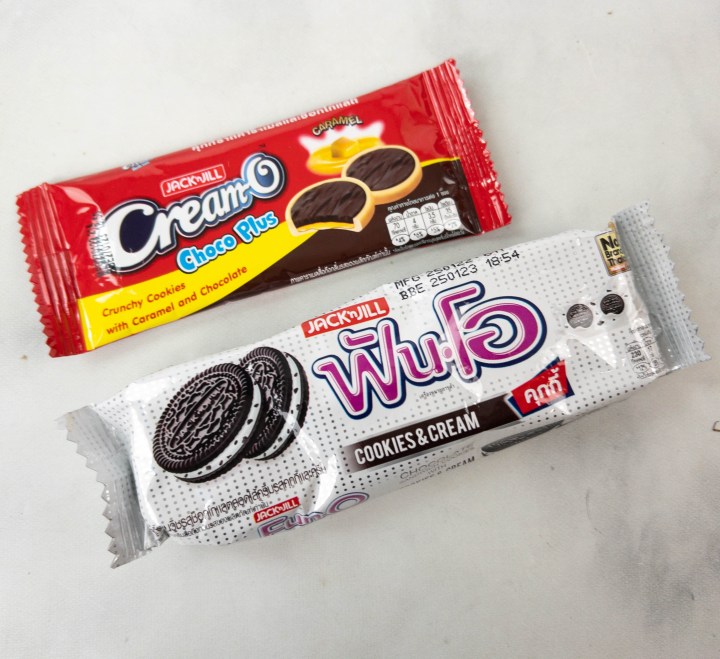 Thailand also has their fair share of popular chocolate treats! Chocolatey Caramel Cookies make a nice dessert with its layer of caramel and chocolate over tasty biscuits. Another yummy snack is Cookies & Cream Sandwich Cookies, which are like Oreos but leveled up. Between two chocolate cookies is a light cream filling with cookie crumbs for added texture and sweetness.
Here are more snacks that capture authentic Thai flavors! Mala Seaweed Rolls are made with grilled seaweed and seasoned with hot and spicy Mala flavor. It's crunchy and savory, plus it's easy to eat! Another interesting snack from Thailand is the Sweet & Spicy Sausage Flavored Potato Rings. They are similar to the chicken wing rings in appearance and they taste like sausages, with a nice combination of sweetness and spiciness.
Here's another seaweed snack in the box: Chicken Larb Flavored Seaweed Chips. They smell good, and they are very crunchy. The salty flavor is mixed with a little bit of lime, making it addicting! The last Thai snack we tried from the box is the Chocolate Coconut Chips. Thailand produces a lot of coconuts every year, no wonder they also make snacks using these tropical fruits. Coconut and chocolate are an unlikely combination, but they're actually tasty!
It's always fun to try unique snacks and candies from a different country. The Universal Yums Thailand box didn't disappoint because it has a good mix of sweet, spicy, salty, and savory snacks for my every craving. For me, the most interesting snacks from this curation are the coconut chips with chocolate, the Thai milk tea-inspired wafer, and the caramel and garlic crisps. The rest are also delicious and I'm satisfied with this box overall! If you find yourself reaching for international snacks whenever you go grocery shopping, getting a Universal Yums subscription would be a great idea. They make it fun and easy for adventurous snackers to discover the most popular snacks across the globe!
Each snack box also includes an interactive guidebook with fun facts, brief descriptions of the products in the box, a local recipe, and more! See it here:
Universal Yums is an international snack subscription! Featuring a new country each month, the box contains unique and delicious snacks that are either difficult or impossible to find in US stores. They promise to always include a variety of sweet and savory snacks, all with the featured country's distinct flavors and spices. Each box also comes with an interactive guidebook containing an explanation of why they chose each snack, as well as trivia, games, recipes, and other cultural features! This monthly snack subscription is a reader favorite – it's taken top honors 3 years in a row in our reader's selections for the best snack subscription box!
There are three available box sizes:
Yum Box – 5-7 snacks plus a 12-page booklet for $17 a month
Yum Yum – 10-12 snacks plus a 16-page booklet and other bonus content for $28 a month
Super Yum Box – 19-20 snacks plus a 16-page booklet and other bonus content for $42 a month
Have you tried Universal Yums? What do you think?