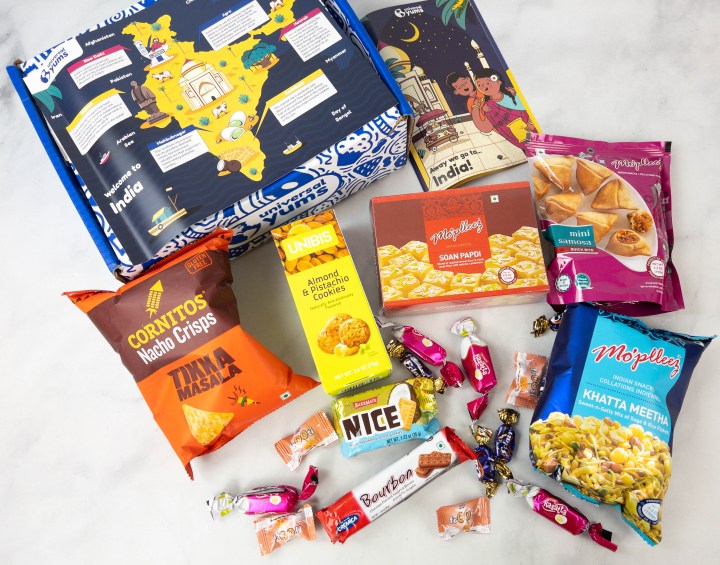 Craving for a new adventure in a box? Universal Yums explored the flavors of INDIA this month, with a great mix of sweet, savory, tangy, and spicy snacks loved by locals! There were a total of ten snacks and candies showcasing India's best snacks, perfect for anybody who just loves unique snacks. There's also an interactive adventure guide featuring the spirituality of yoga and the secret language of Bollywood!
We're reviewing the Yum Yum box, which includes 10-12 snacks and other bonus content.
DEAL: Save 10% on a 6+months Universal Yums subscription!! No coupon code needed, just use this link to sign up!
Starting on a sweet note, here's a Yum Bag filled with candies from the featured country! You can either enjoy them on your own or share them with others, it's totally up to you.
There were three types of candies in the Yum Bag. The Creamy Pistachio Flavored Candies are like our favorite summer treat – ice cream – except they're in candy form. They're soft and milky, with a creamy filling flavored with pistachio. The nutty flavor gets better with every chew!
Next up are Caramel Choco Eclairs. These candies are also chewy, with a caramel taste that hits the spot and a chocolate center that complements the caramel very well. For those who love fruity candies, the Yum Bag also included Apricot Flavored Hard Candies. The tangy-sweet taste of real apricots was there, plus a delicious, milky center to top it off.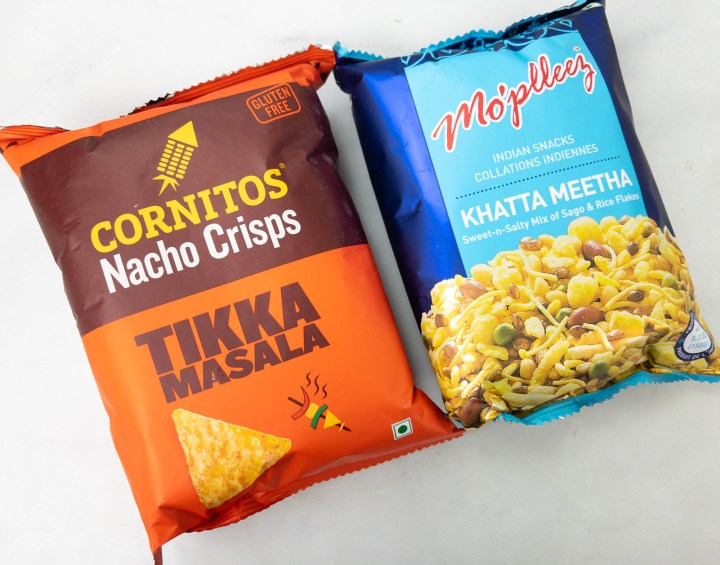 We're moving on to the munchies, starting with Tikka Masala Corn Chips! It's inspired by the popular Indian dish Tikka Masala, which is typically made with chicken and freshly ground spices, herbs, and yogurt. Shaped like a Dorito, these crunchy chips explode with spicy flavors in every bite. The chips are also gluten-free, non-GMO, cholesterol-free, and vegetarian.
If you're not into spicy snacks, no worries because the box also included Sweet & Salty Rice Flakes, a fried snack that's similar to trail mixes. This delicious snack has rice flakes, dried peas, and various nuts in it. I love the crunch, as well as the balanced mix of sweetness and saltiness!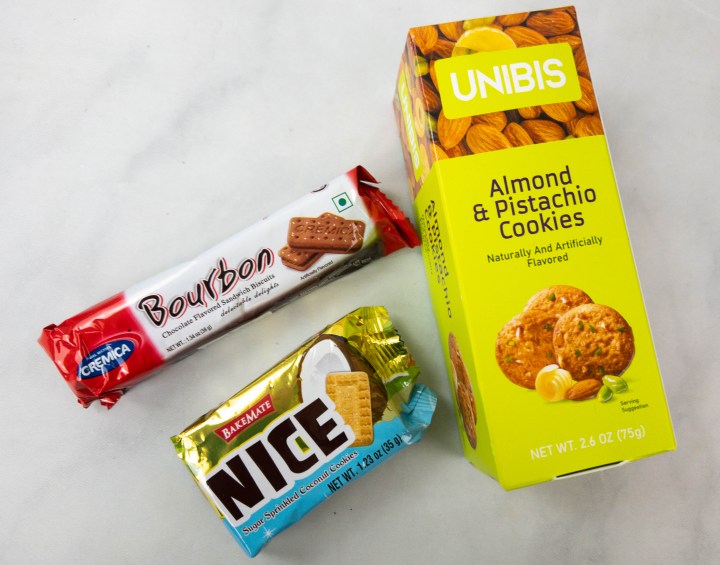 Indians love tea – especially chai – and for our own tea time, they sent us several packs of cookies to pair with the hot drink. There's Mixed Nut Butter Cookies, a nutritious and tasty snack made with almonds and pistachios. These cookies were chewy, satisfying, and lip-smacking good. Whether paired with a drink or enjoyed on its own, it's a nice snack to keep your tummy full until your next meal.
Another great tea pairing is the Dark Choco Flavored Sandwich. These chocolate biscuits come with a chocolate cream filling in the middle, with a rich taste that easily matches a cup of chai. For fans of sugar-sprinkled snacks, you'd love Coconut Flavored Sugar Cookies. These rectangular cookies are made with Indian coconuts, and it's hard not to love how light, crispy, and sweet they were.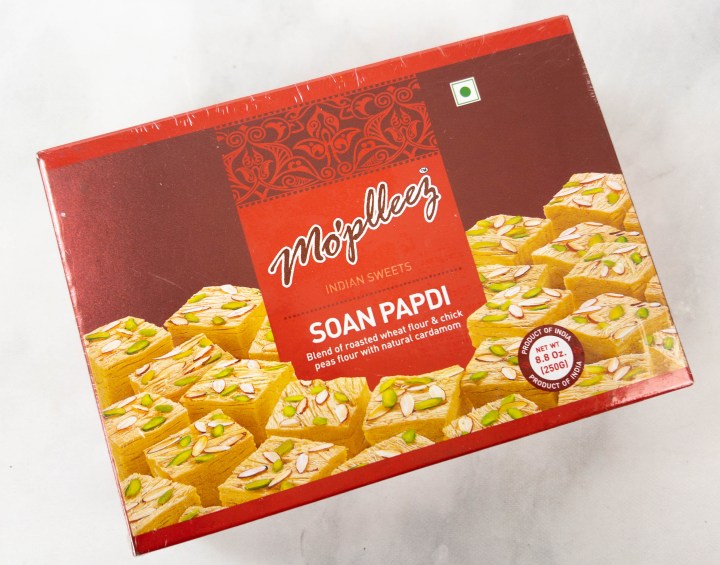 Here's the highlight of this month's Indian-themed snack box: Soan Papdi. Classified as a dessert, it's made with roasted wheat flour and chickpea flour, then splashed with creamy milk and flavored with cardamom. It also has slices of pistachio for added crunch. Each piece was perfectly sweet and melts in the mouth. Kids and adults will like this treat!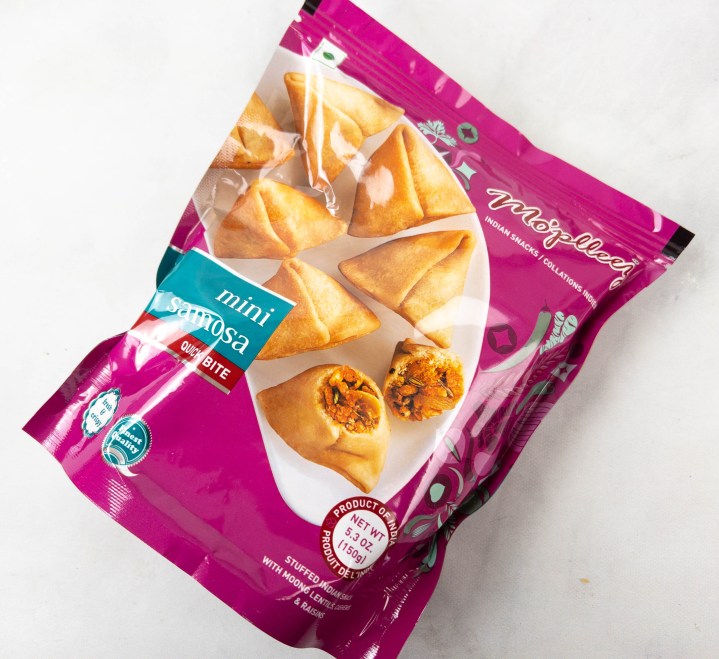 This box wouldn't be complete without a taste of India's famous samosas! We received the smaller version called Mini Lentil Samosas. They are baked pastries stuffed with moong lentils, cashews, and raisins. There was also a hint of cumin in each piece. Unlike most samosas which are savory, this one tastes sweet. I also love the texture of the filling! Since they are mini-sized, they are perfect for a grab-and-go snack.
My taste buds were once again pleased with the unique and delicious flavors brought to us by Universal Yums! This month's Indian-themed snack box included a little bit of everything, from sweets to cookies to spicy snacks and more. I found most snacks enjoyable, but my favorite would have to be Soan Papdi. It's tasty and it melts in the mouth! Of course, the mini samosas, candies, and other snacks in the box are also delicious. If you also want a fun and exciting snacking adventure every month, Universal Yums won't disappoint. It's a great way to explore the world's best snacks, one box at a time!
Each snack box also includes an interactive guidebook with fun facts, brief descriptions of the products in the box, a local recipe, and more! See it here:
Universal Yums is an international snack subscription! Featuring a new country each month, the box contains unique and delicious snacks that are either difficult or impossible to find in US stores. They promise to always include a variety of sweet and savory snacks, all with the featured country's distinct flavors and spices. Each box also comes with an interactive guidebook containing an explanation of why they chose each snack, as well as trivia, games, recipes, and other cultural features! This monthly snack subscription is a reader favorite – it's taken top honors 3 years in a row in our reader's selections for the best snack subscription box!
There are three available box sizes:
Yum Box – 5-7 snacks plus a 12-page booklet for $17 a month
Yum Yum – 10-12 snacks plus a 16-page booklet and other bonus content for $28 a month
Super Yum Box – 19-20 snacks plus a 16-page booklet and other bonus content for $42 a month
Have you tried Universal Yums? What do you think?