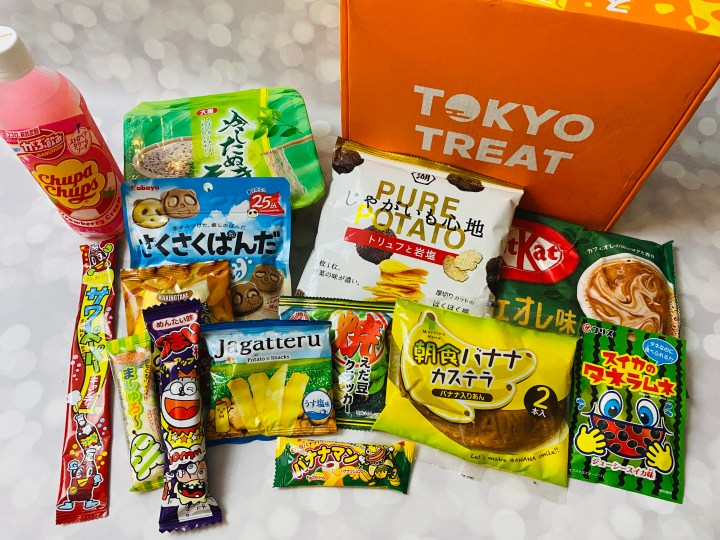 It's still the summer season in Japan – a great time to hit the beach, relax, and explore summer flavors! This month, Tokyo Treat curated delicious snacks to help us escape the busy city life and enjoy the beautiful summer that Japan has to offer. These authentic local snacks include yummy candies and chips, a refreshing summer drink, and a bowl of noodles that is meant to be eaten cold!
DEAL: Use this link and use the coupon code NINTENDO  to get limited edition Nintendo Bonus! Ends 7/31 JST.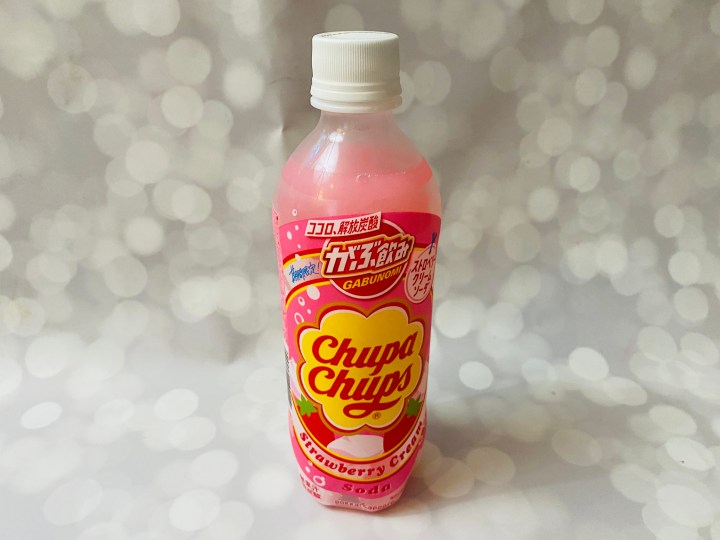 Chupa Chups Strawberry Cream Soda. This is a super tasty carbonated cream soda with a strawberry twist! It isn't overly sweet, which I found to be quite refreshing as usually, cream sodas are suuuuper sweet!
Watermelon Ramune Candies. These teeny tiny candies resemble watermelon seeds. They have a strong watermelon flavour that is definitely summery!
Mashuru Marshmallow. Fluffy marshmallow twisted together for a light and tasty sugary treat~!
Sour Cola Snack. A chewy cola flavoured candy with a sour flavour, but I didn't find it too sour at all!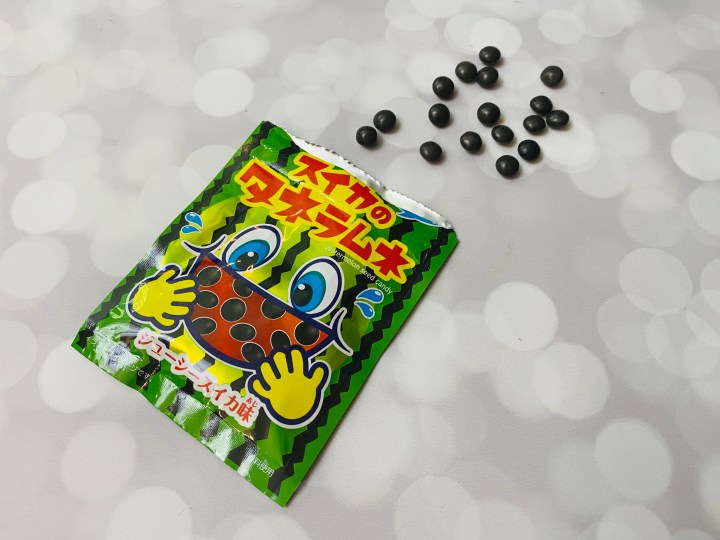 Here's a pic of the watermelon candies. They really do resemble watermelon seeds!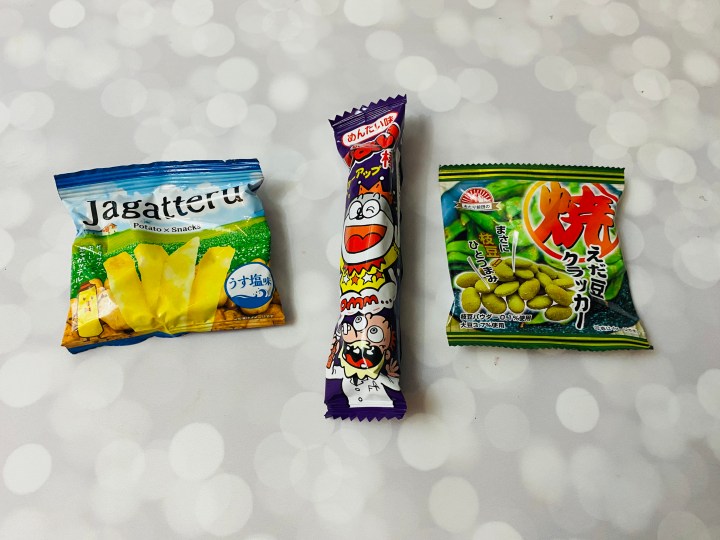 Jagatteru Potato Snacks. Super salty and crunchy potato snacks! These resemble french fries and are sooo addicting!
Mentai Umaibo. I'm not a huge mentai fan, but if you love seafood flavours I think you'll like it! It's a specialty from Fukuoka and it is walleye roe.
Edamame Crackers. Small bean-sized crackers with an edamame flavour. These are very light and airy, and I really think they are a great snack to munch on with a cold beer on a hot day!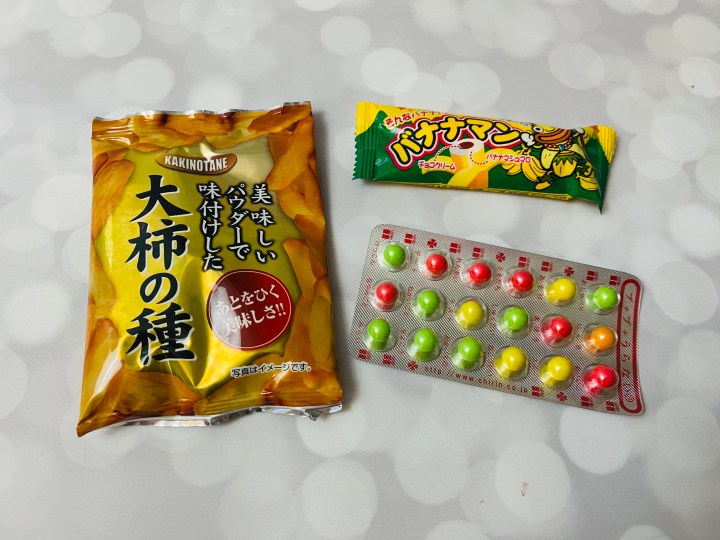 Kakinotane. Kakinotane is a popular snack of rice crackers and peanuts. These are savoury and salty – super addicting! I absolutely recommend these.
Banana Marshmallow Snack. Bananas always remind me of summer! These are soooo addicting, with a soft squishy texture and a chocolate coating.
Fortune Telling Chocolates. Each tiny colourful ball hides a score for the fortune printed above. Topics such as chores, romance, money, and work are included.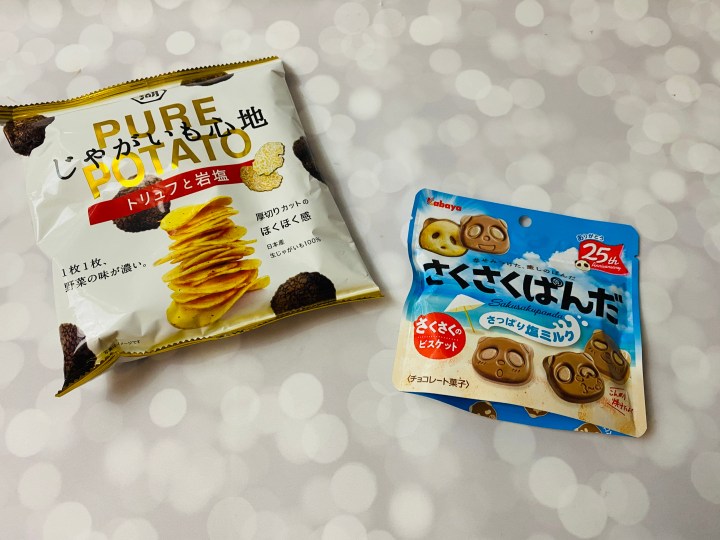 Truffle and Rock Salt Chips. Truffle is a flavour that you either love or you don't. I tend to avoid mushrooms and related fungi when possible, to be perfectly honest with you, but for the sake of this review, I had to give them a try. I think truffle is really just a very deep, umami flavour that doesn't necessarily taste like a mushroom but it does have a strong flavour. I didn't finish the whole bag but I did have a handful of chips and it was a good experience.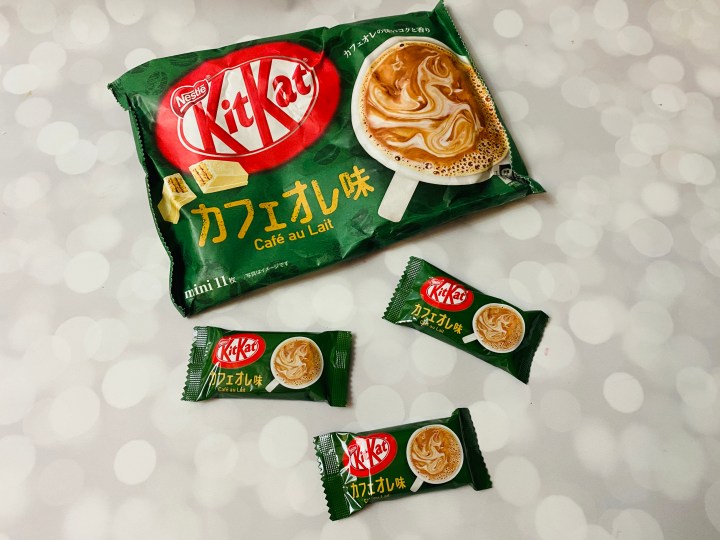 Cafe au Lait KitKats. Subscribers got a random KitKat featured in a previous box and I got Cafe au Lait! Now, I'm Canadian, so you might not all be able to understand this comparison but these taste like a more high-quality Coffee Crisp chocolate bar.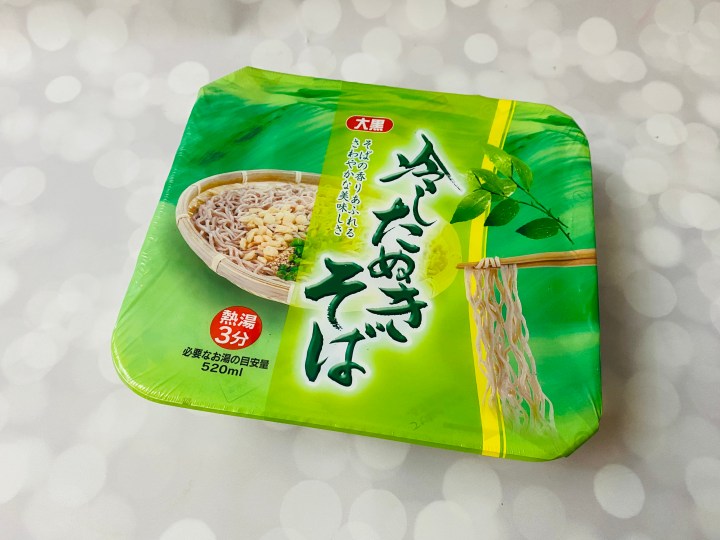 Chilled Tanuki Soba. This is an interesting soba dish that you eat cold! After you cook and drain the noodles, rinse with cold water and then add your sauce and toppings. The sauce is very salty and savory, and the toppings included peanuts and green onion. I really liked this but I accidentally undercooked the noodles so they were extra chewy. Oops!
Banana Castella Bread. Forgot to take a photo of this one in its packaging – sorry! This is a fluffy bread with banana custard inside. It's very sweet but it doesn't taste synthetic at all. I thought these were so yummy!
The August box was full of summery flavours! I think the banana castella bread and the cream soda were my highlights, but the soba was also great. It's always fun to receive authentic snacks through Tokyo Treat, especially those goodies that are not readily available outside Japan. For Japan fans and foodies of all ages, this subscription is a must.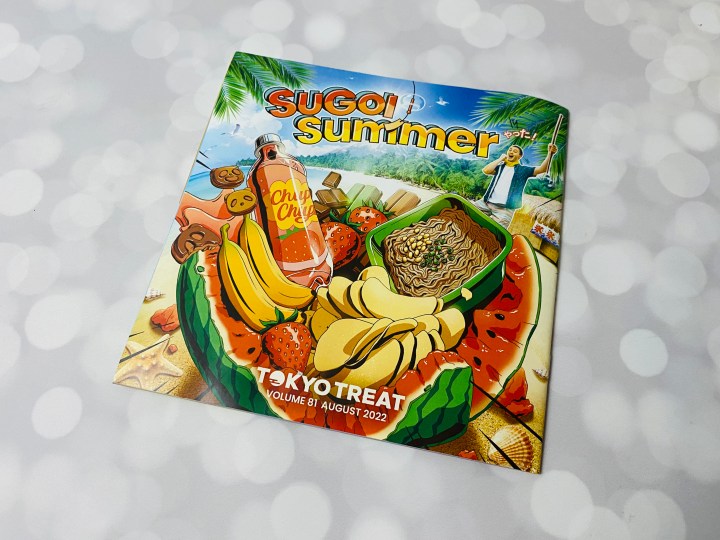 As always, the information booklet is bright and cheerful!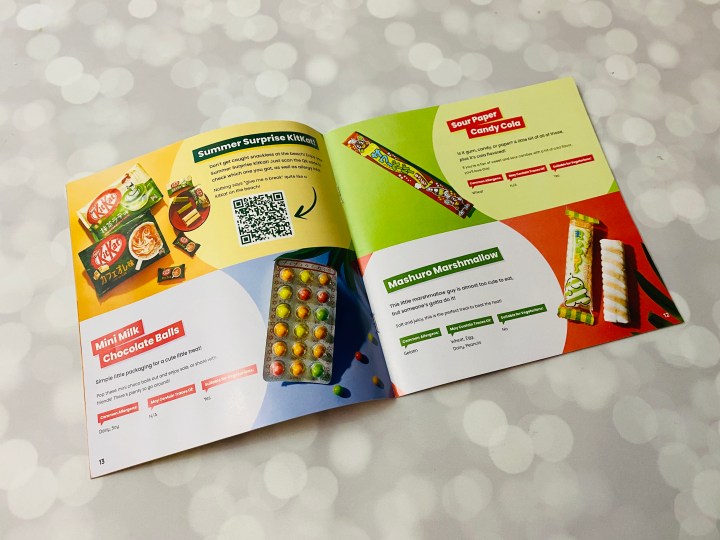 Tokyo Treat is a monthly Japanese snack and candy subscription box that is shipped directly from Japan. Tokyo Treat's Japanese snack and candy subscription box is a reader fave and made the list in our 2022 readers' choice picks of best snack and candy subscription boxes!
ICYMI, Tokyo Treat boxes just got bigger and better! Starting December 1, they removed the Classic option to ensure all TokyoTreat subscribers received the full Japanese snacking experience. Tokyo Treat boxes are now $37.50 per month. Some of the yummy things you can expect in this new version include ramen, udon, soba, jelly, purin, and Japanese desserts. There will still be a Culture Guide, but it will now have 24 pages – which means more articles and cultural information about Japan!
What did you think of this month's Tokyo Treat?