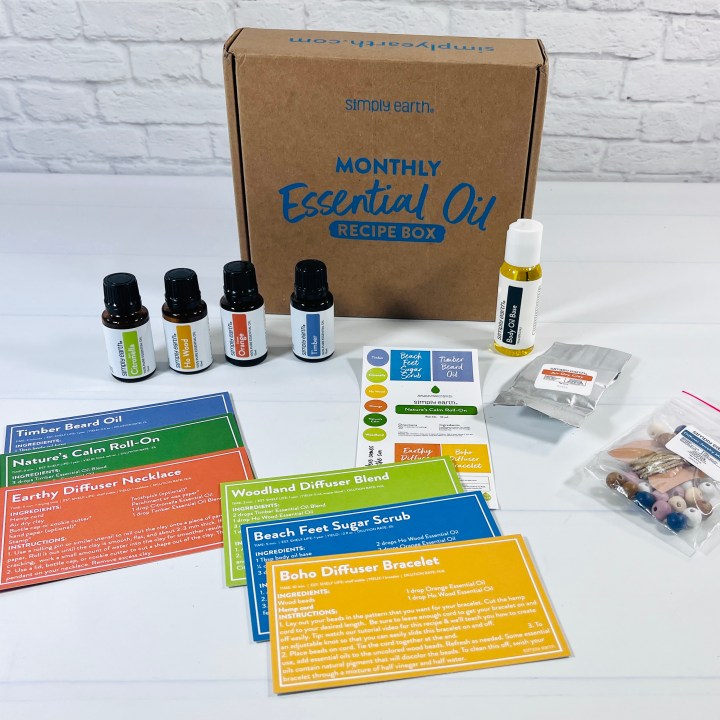 Simply Earth June 2022 essential oil box was themed "Nature's Touch" and had recipes for making diffuser jewelry, a beard oil, a foot/hand scrub, and more. They also sent 3 single oils and one blend to add to my collection (which I mainly use for diffusing). See what we got below!
DEALS: Receive a FREE Big Bonus Box with your first box. Deal applies automatically, just VISIT AND SUBSCRIBE. Plus, get a $40 gift card you can use for your next box or future purchases!
NOTE: Please keep in mind that these oils need to be diluted before using and should not be used by pregnant or nursing women or on children under age 2. Be careful when using around older children and pets. If you have further questions, please contact your health care provider. These oils and recipes are not meant to replace medical care when needed. They are fun to use and may help replace traditional products if you prefer to use more natural options.
Java Citronella Essential Oil ($11.99) Citronella is a classic bug deterrent but it has other therapeutic uses too, such as fighting pain and bacteria. The smell is pretty unique — it comes from a type of lemongrass but I prefer the latter because it smells more like lemons, whereas citronella smells like natural bug spray.
Ho Wood Essential Oil ($12.99) Ho wood has a sweet woody smell and may promote the immune system or calm angry skin.
Sweet Orange Essential Oil ($7.99) Sweet orange oil comes from the skin of an orange, so I'm pretty sure you can probably imagine the smell. Not only is this scent uplifting, it also leaves everything it touches smelling clean and fresh.
Timber Essential Oil ($12.99) is our blend of the month and it contains cypress, cedarwood, sandalwood, patchouli, Peru balsam, and mandarin essential oils. This is supposed to be somewhat on the manly side scent-wise but it actually smells dreamy and warm to my nose, like a walk in the forest on a summer day.
Body Oil Base I didn't see this listed in the Simply Earth online shop but they may add it to their lineup in the future. This is a blend of jojoba, almond, camelia seed, meadowfoam, and castor oils and has no scent. It is used as a base for a couple of the recipes this month but you could also add a few drops of essential oil to make your own scented body oil (in case you aren't making those recipes where it's called for).
Diffuser Jewel Mini Kit ($3.99) and Air Dry Clay ($2.99) Again, these are for the recipes below. I didn't use these but passed them along to my daughter to use when she gets a chance this summer.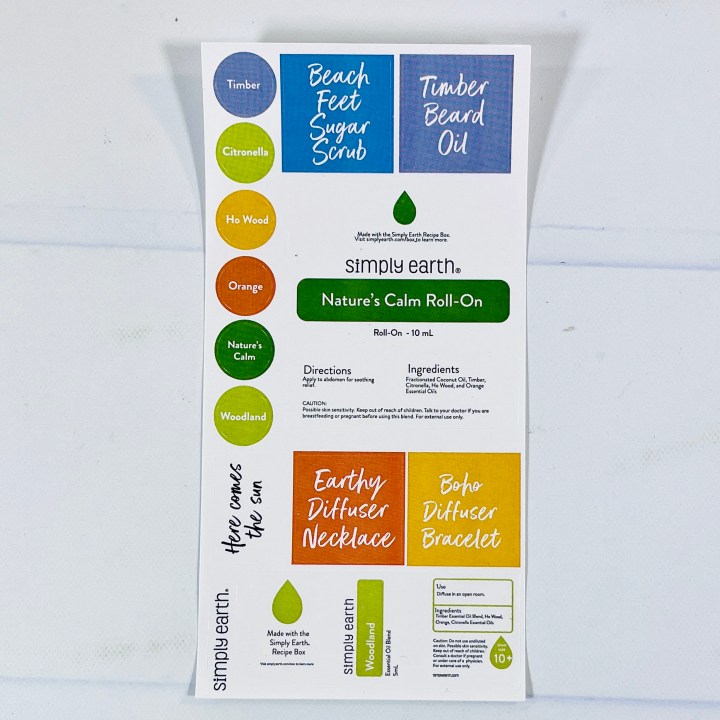 There is always a sheet with pre-scored stickers to put on the bottles and finished projects.
There were 6 recipes cards and while they are interesting, sometimes I don't use them all. I think the beard oil was a nice inclusion for a month that includes Father's Day but my husband doesn't have a beard so I will have extra body oil base for another recipe.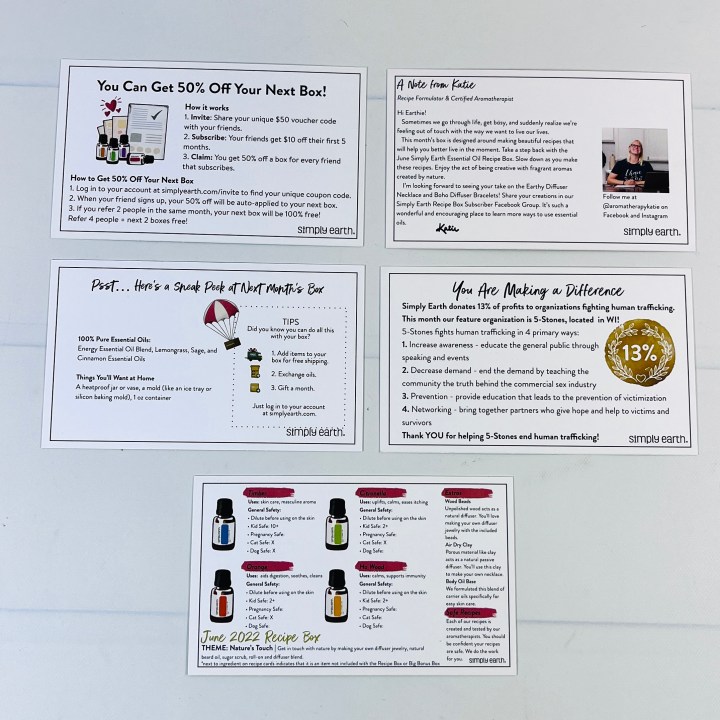 The backs of the cards will have either a continuation of a recipe or pertinent info such as that month's oils, what's coming next month, the theme, and the charitable organization that will receive 13% of the proceeds from the sales of that month's box (it changes but is always related to stopping human trafficking).
Below are some of the projects that I completed from this month's box!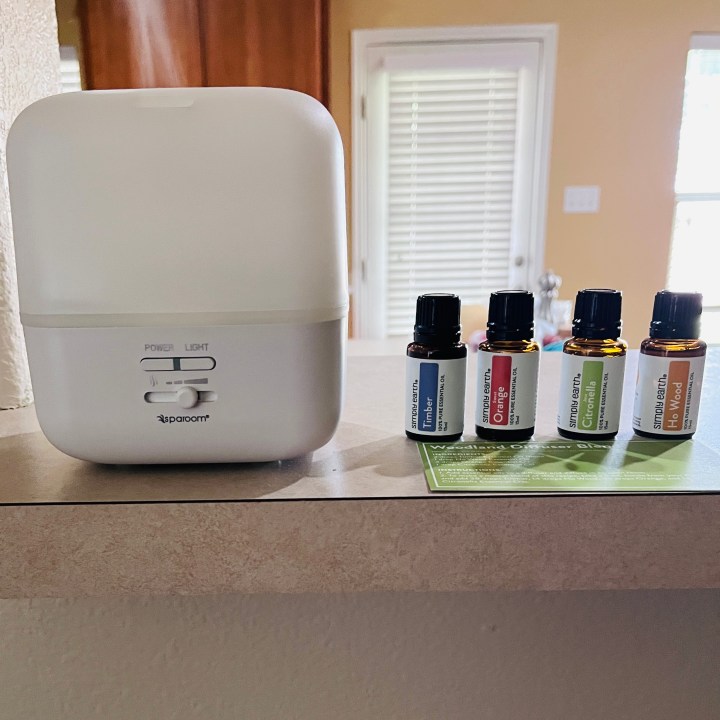 The easiest recipe of all is the one for the diffuser blend! Just place the required number of drops in the diffuser, add water, and plug it in. This blend used all of the oils from the June box and while I'm not a fan of the citronella, I still thought this was a good recipe. It's funny, but it usually smells different when I turn it on (and that goes for all blends generally). Sometimes I find one scent is stronger on one day, then another takes the lead the next day.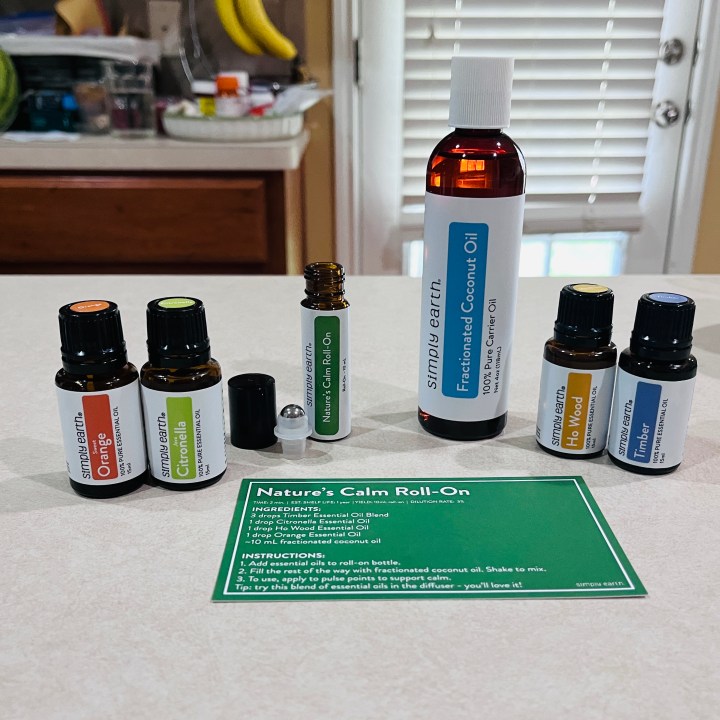 Fir this recipe I grabbed the fractionated coconut oil and empty rollerball container from my Big Bonus Box, along with the oils that came in June. I placed the essential oils in the roller bottle, topped with the coconut oil, then pressed the rollerball down in place. I usually place a folded towel over the top before pushing down, and you need to make sure the rollerball is firmly in place with no gap between that and the bottle. Then stick the label on and there you have it!
The final recipe that I chose to make was the foot and hand scrub. I measured out the body oil base into a container and added the essential oil drops. Then I added some sugar from my pantry and gave it all a stir. Do you see the black blob in the oil in my picture found in the gallery above? That's from the Peru balsam that is found in the Timber blend, it's thicker and blobbier than the other oils and you may notice it in your diffuser as well. The sugar scrub feels and smells wonderful, just apply to wet hands or feel, give a good scrub, and rinse it all off afterwards.
As always, I had fun learning about my new oils and putting them to use in the recipes! I think this is a great way to get ideas on how to add oils to your life, whether it's for diffusing or for making more natural bath & body and cleaning products. There's a free online Essential Oil Hero Course you can take to get even more value from the subscription. My favorite recipe was the foot and hand scrub as those areas always need some TLC and this is a super easy way to take care of myself, naturally!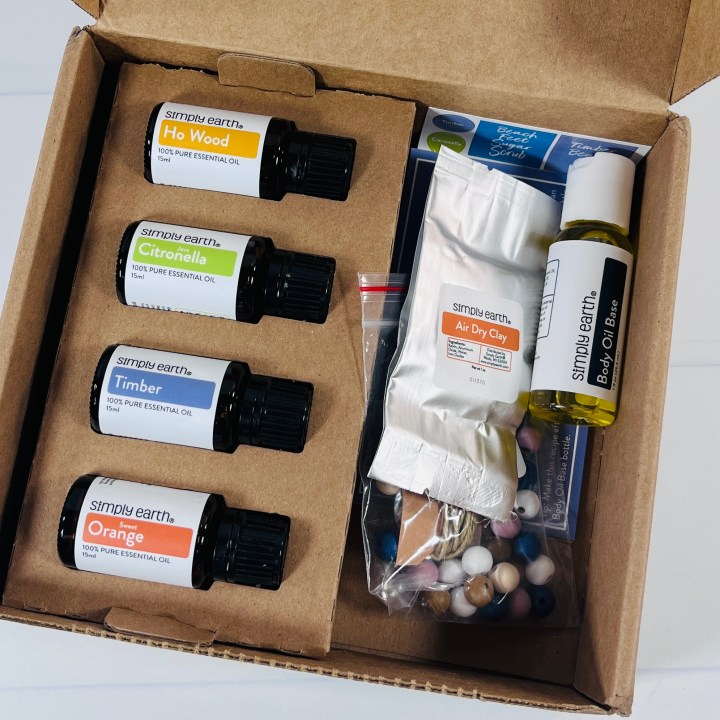 Simply Earth is a monthly subscription that sends high-quality essential oils along with recipes and ingredients to make natural beauty and home products! Each box comes with 4 essential oils, containers, extra ingredients to make the recipes, and 5 – 7 recipes on recipe cards. When you sign up (and every 6 months thereafter) you will receive a free Big Bonus Box full of extra containers and ingredients needed for the recipes, such as carrier oils and bottles. Simply Earth is $39 a month. They feel strongly about giving back and donate 13% of all profits to help end human trafficking.
Simply Earth's essential oil subscription made the list in our 2022 readers' choice best green & eco-friendly subscription list!
What do you think of the Simply Earth box?