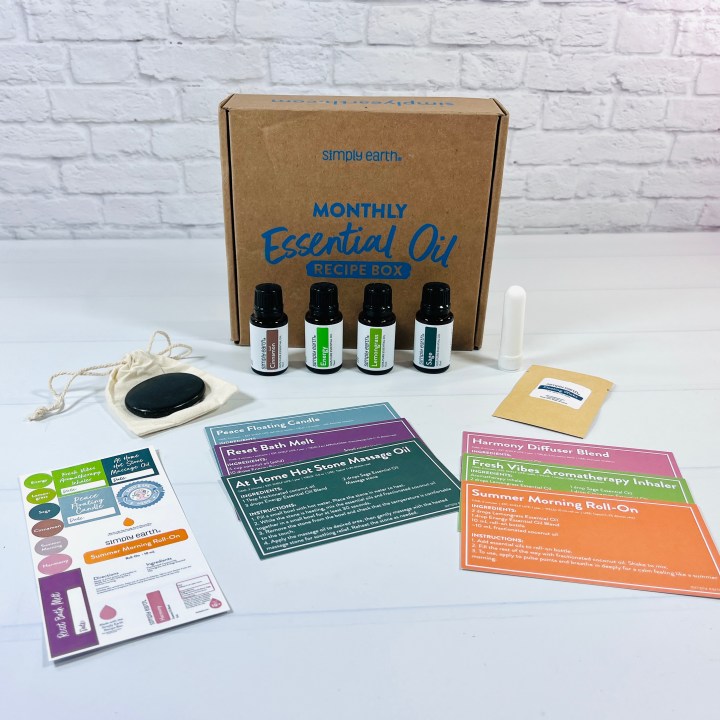 Simply Earth July 2022 essential oil box was themed ENERGY and had recipes and extras for making an aromatherapy inhaler, rollerball, and more. They also sent 3 single oils and one blend to add to my collection (which I mainly use for diffusing). See what we got below!
DEALS: Receive a FREE Big Bonus Box with your first box. Deal applies automatically, just use this link to subscribe. Plus, get a $40 gift card you can use for your next box or future purchases!
NOTE: Please keep in mind that these oils need to be diluted before using and should not be used by pregnant or nursing women or on children under age 2. Be careful when using around older children and pets. If you have further questions, please contact your health care provider. These oils and recipes are not meant to replace medical care when needed. They are fun to use and may help replace traditional products if you prefer to use more natural options.
Cinnamon Essential Oil ($12.99) Cinnamon always smells so good – it's warm and comforting and smells like fall and winter. It also promotes circulation.
Lemongrass Essential Oil ($8.99) Lemongrass smells a lot like lemon and can be used to clean and deodorize the home. Mmm, this one smells like lemon hard candies.
Sage Essential Oil ($15.99) Sage can be more than a turkey seasoning, it can help relieve a headache and energize during the afternoon slumps. It smells kind of like eucalyptus and kind of medicinal.
Energy Essential Oil ($12.99) Energy is our blend of the month and is made up of eucalyptus, lemon, and peppermint, all uplifting oils. I can't wait to diffuse this blend, plus, it's supposed to help me get energized!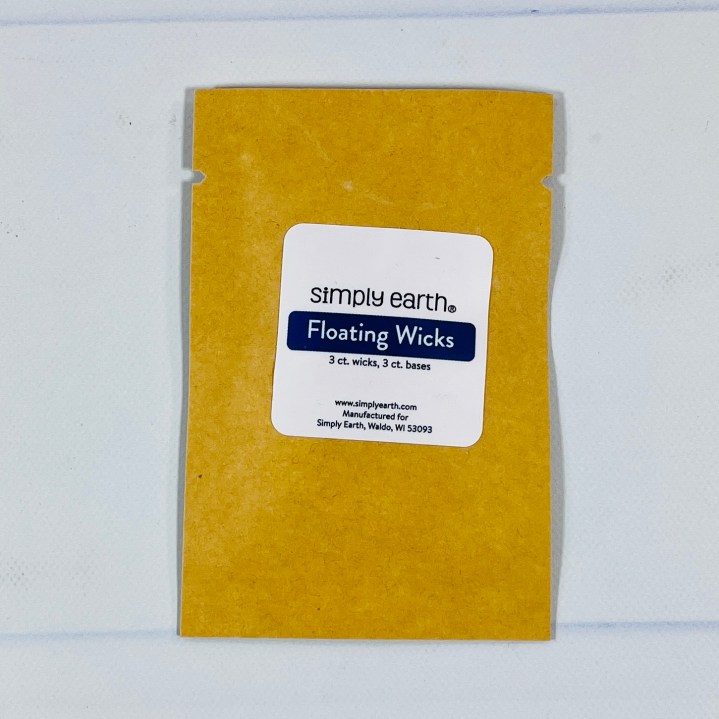 Floating Wicks ($1) will be used to make a floating candle (and I'm sure the name gave it away!).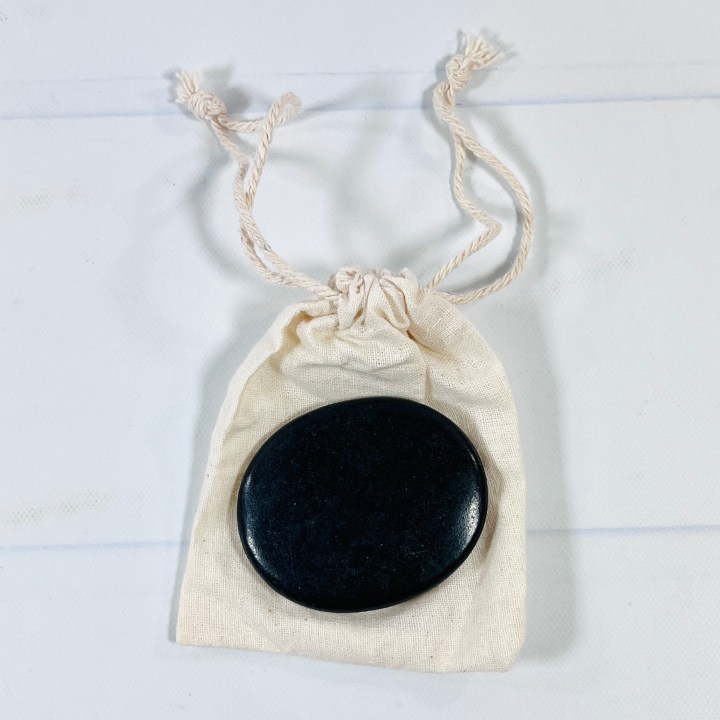 Massage Stone will be used with our homemade Hot Stone Massage Oil (recipe card included).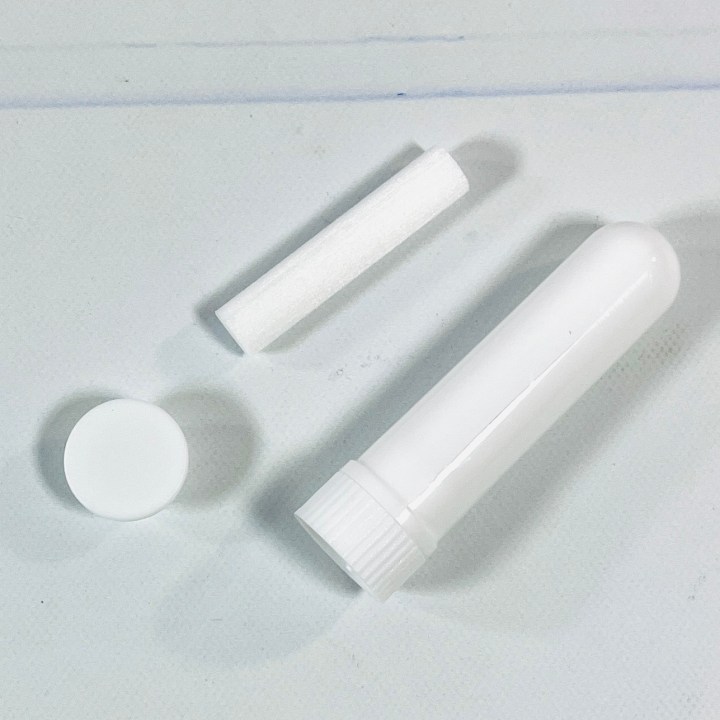 Aromatherapy Inhaler ($1) I love to use inhalers, they can relieve sinus congestion (depending on the oils used) or can provide relaxing or energizing benefits, again, depending on which oils you use.
We received a sheet with pre-scored stickers to place on the finished products (and on top of our oil bottles, which helps me find them quickly). I appreciate that they now have a place to note the date the projects were made so there's no more guessing and older products can be tossed when their time is up.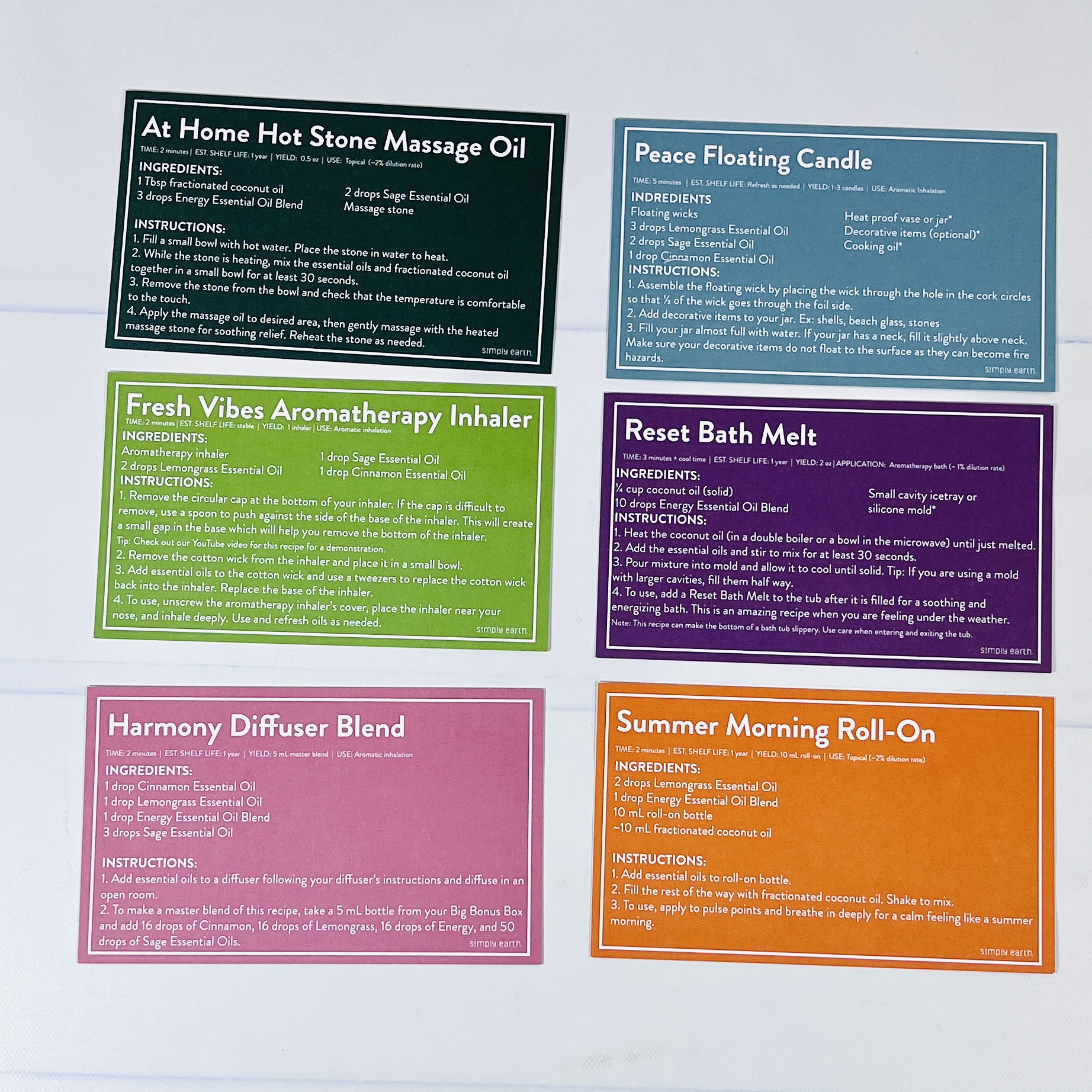 The fronts of the cards have the recipes we are going to make this month. Some of the projects will need items from the Big Bonus Box (like rollerballs or coconut oil) and a few may call for ingredients you may or may not have on hand. Those items have an asterisk next to them and may include jars or things like distilled water or baking soda, etc.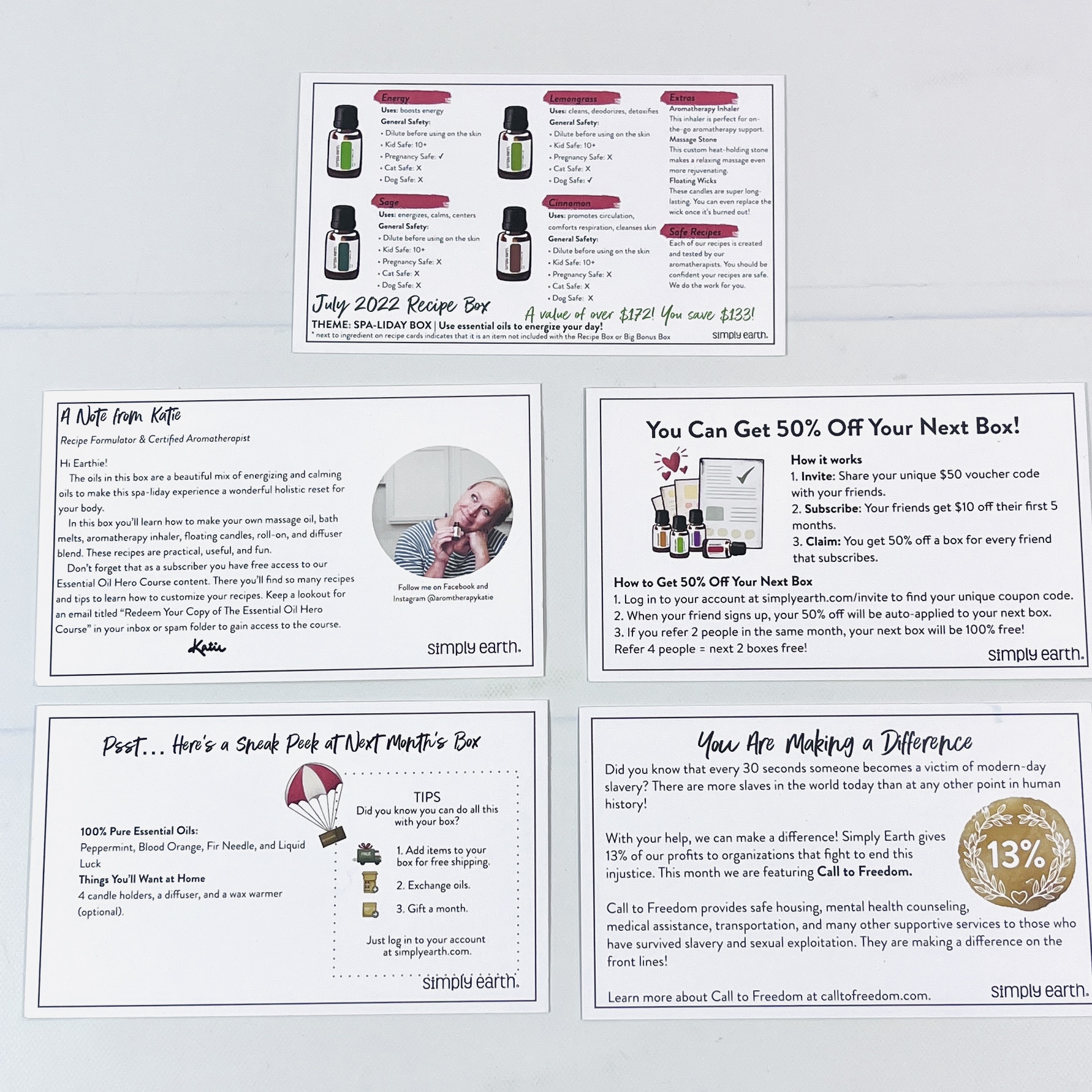 The backs of the cards will have either a continuation of a recipe or pertinent info such as that month's oils, what's coming next month, the theme, and the charitable organization that will receive 13% of the proceeds from the sales of that month's box (it changes but is always related to stopping human trafficking).
Below are some of the projects that I completed from this month's box!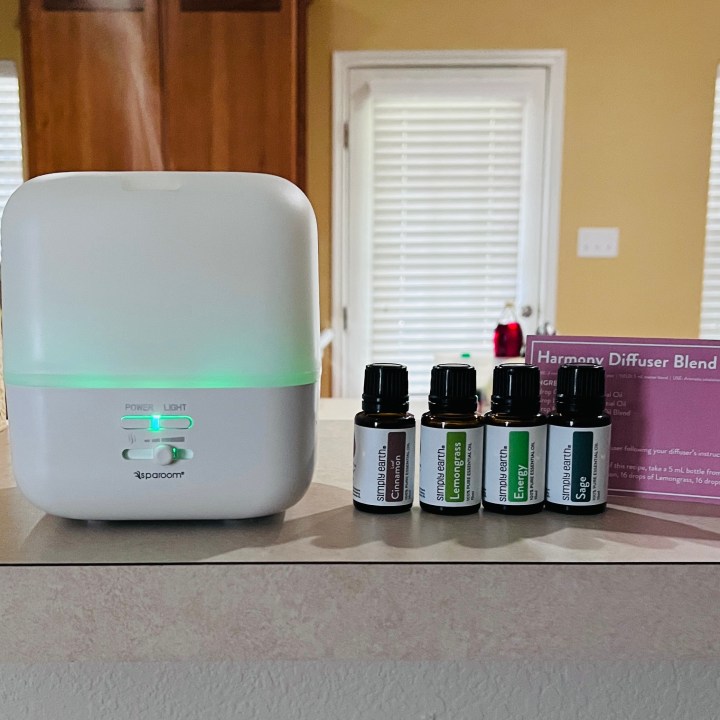 The diffuser recipe is super easy, just place the drops and some water in your diffuser and turn it on. I liked this blend. By the way, the Big Bonus Box comes with some 5ml bottles and you can make a batch of the monthly blends if you are especially happy with the recipe.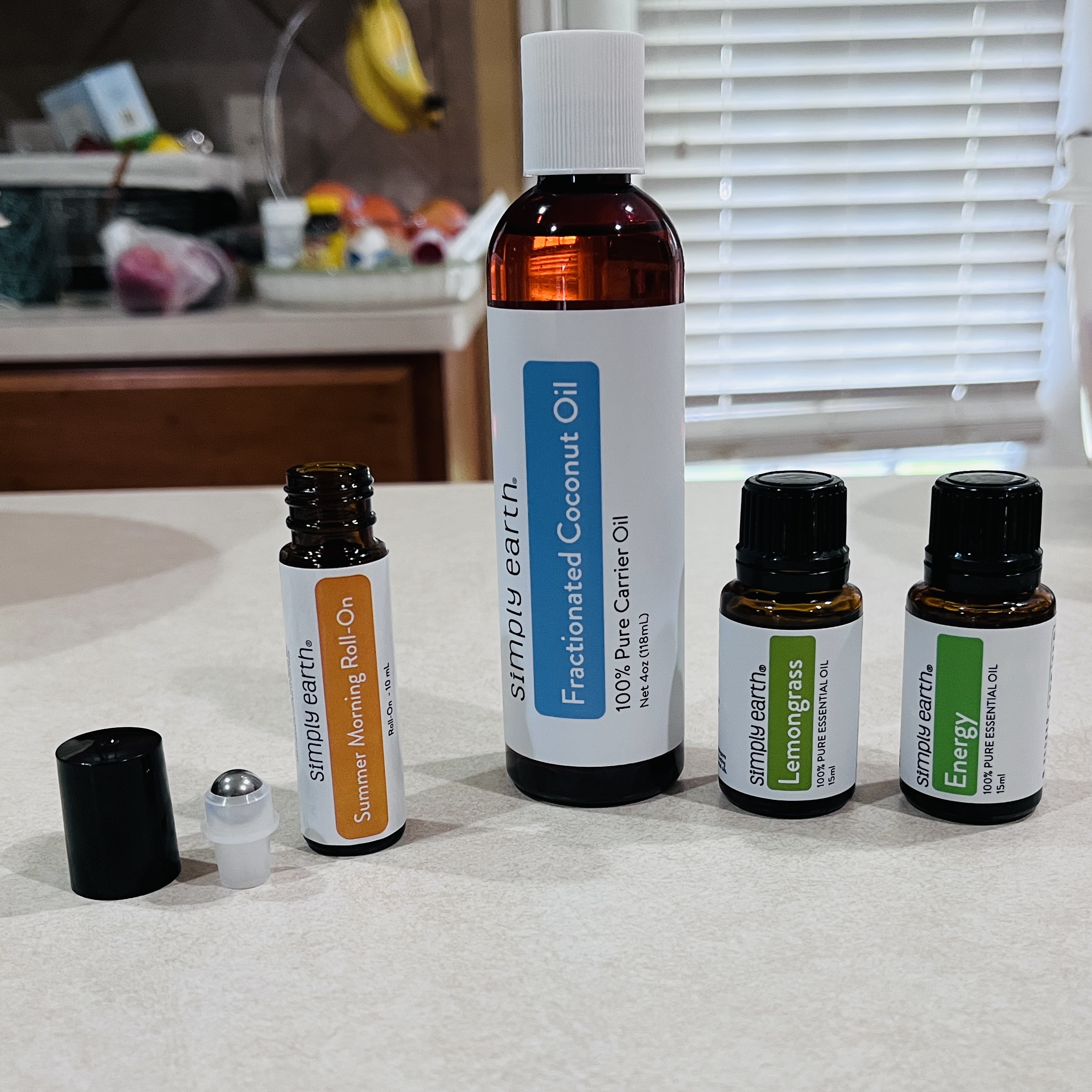 Lemongrass is such a strong scent and it is the note that's most prominent in the recipes I completed. This rollerball is also easy. You place the drops in the bottle and then top with fractionated coconut oil and then place the rollerball on top, pressing down firmly to make sure it's in there all the way. The Big Bonus Box comes with the coconut oil as well as the rollerball bottles.
I really enjoyed how easy this inhaler was to make, and in fact, I am going to order more of these containers so I can create my own scent combos. This is meant to be used by only one person, since it goes into the nostril, and should be discarded after a month (or you can order just the cotton wicks and clean the container before reusing). I liked the scent, it was uplifting plus the cinnamon reminded me that hopefully there will be an end to summer at some point.
I enjoy receiving my Simply Earth recipe cards and oils each month and appreciate how easy it is to use the oils to complete the recipes. Some recipes may not be for me but I have others who might like those projects (like the floating candle and bath melt). I haven't tried the hot stone yet but look forward to trying it out. My favorite recipe was the diffuser blend, it helps my living room smell good and I guess I really like lemongrass.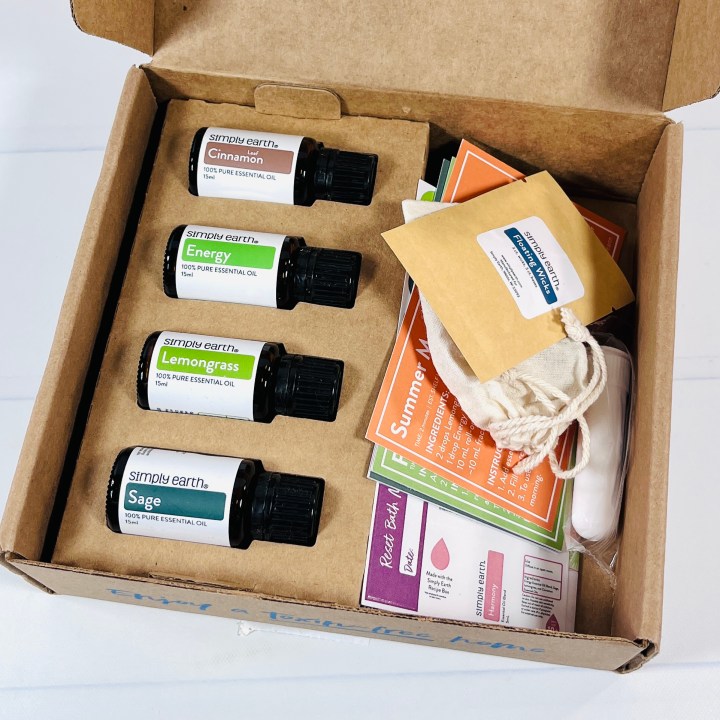 Simply Earth is a monthly subscription that sends high-quality essential oils along with recipes and ingredients to make natural beauty and home products! Each box comes with 4 essential oils, containers, extra ingredients to make the recipes, and 5 – 7 recipes on recipe cards. When you sign up (and every 6 months thereafter) you will receive a free Big Bonus Box full of extra containers and ingredients needed for the recipes, such as carrier oils and bottles. Simply Earth is $39 a month. They feel strongly about giving back and donate 13% of all profits to help end human trafficking.
Simply Earth's essential oil subscription made the list in our 2022 readers' choice best green & eco-friendly subscription list!
What do you think of the Simply Earth box?