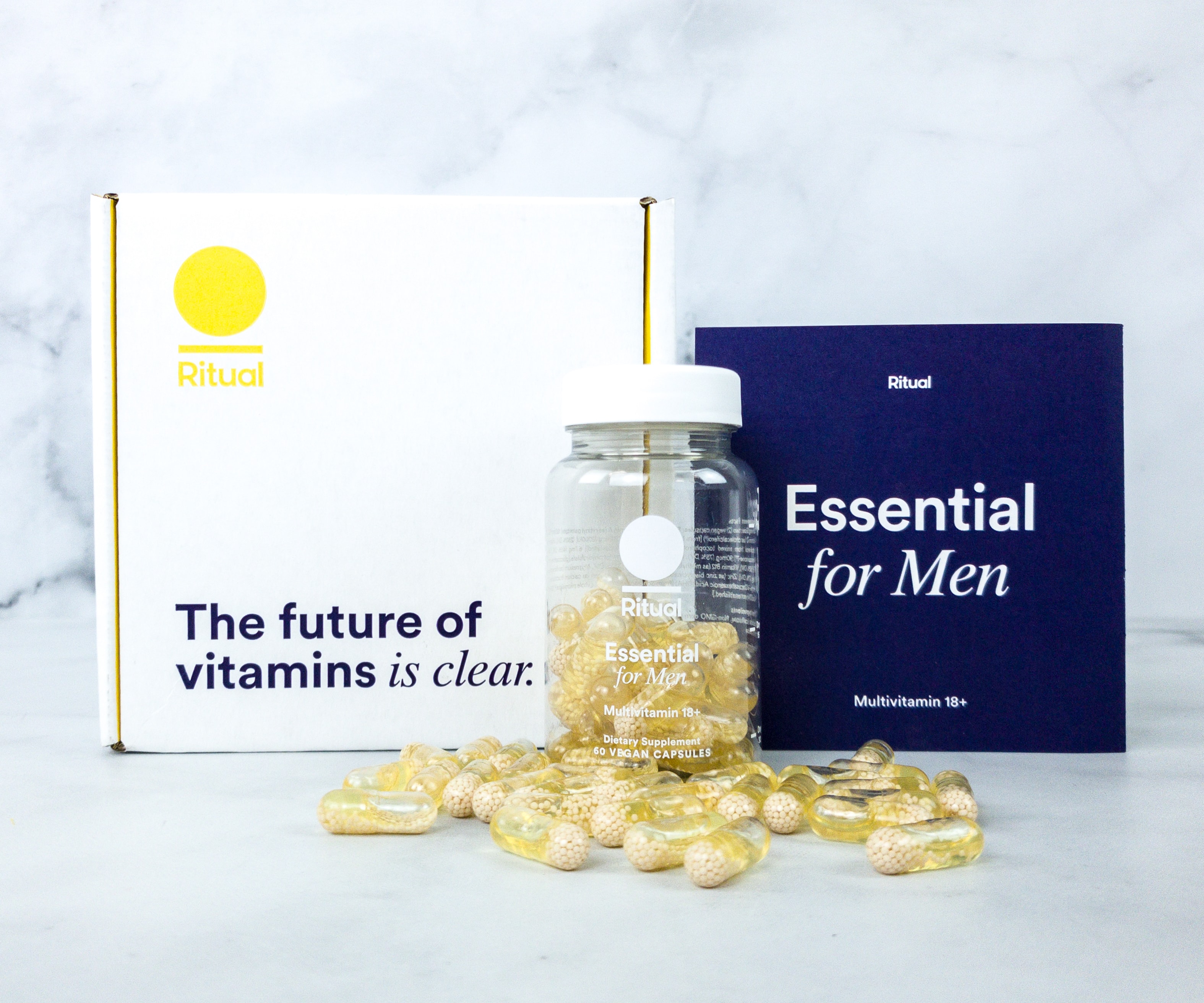 Everything you need to know about this vitamin subscription
Ritual Vitamins Essential for Men Review
A healthy body holds a healthy soul and mind. Although we eat complete meals every day, there are still gaps left in our diet and it's something we need to fill. That's where supplements come in – they supply us with the vitamins and nutrients our bodies need to boost our overall health. They supply us with what our body lacks and, in the long run, keep us in tip-top shape!
There are many vitamin brands available, and browsing through hundreds of labels in stores or pharmacies takes a lot of time. Gladly, in this modern time, you can get vitamins without setting foot outside your home – that's what Ritual is all about! They conveniently deliver supplements for everyone, including men.
CEO and founder, Katerina Schneider wouldn't settle for less than the truth, which is why she founded Ritual with the belief that better health begins with better ingredients. This subscription delivers daily nutrition in the form of minty, vegan capsules that you can take with or without food. To learn more about this vitamin subscription, continue reading as we discuss it further.
DEAL: Save $15 on your first month when you bundle any 2+ Ritual products! Deal applies automatically, just use this link to subscribe – no coupon code needed.
Ritual Men's Benefits & Drawbacks
So before we dive into the depths of this vitamin brand, let's check out the advantages and disadvantages of Ritual Men's:
Ritual Men's Benefits
Delayed-release capsule dissolves later in the less sensitive area of the stomach
Oil-in-beadlet encapsulation
No fillers
Can be taken with or without food
Vegan, non-GMO, and third-party tested
Free shipping always
You control your delivery date
Money-back guarantee
Free and easy cancellation
Ritual Men's Drawbacks
A bit expensive compared to other vitamins
Vitamins are not customized for you
Available only through a subscription
The minty flavor is a miss for some
Ritual Men's Review
Summary
Ritual Essential for Men delivers nutrition in minty capsule form! Available are Multivitamin 18+ and Multivitamin 50+ to help fill nutrient gaps in men's diet. Each vitamin bottle contains 60 capsules, enough to last a month. They're vegan and non-GMO, and they contain nothing of the bad stuff! Subscribers can also easily pause, skip, rush or delay orders, and even cancel the subscription without a fuss.

All About Ritual Men's
Ritual started as a vitamin brand for women but later expanded to offering Essential for Men. These vitamins for men are traceable, absorbable, sensitive stomach-friendly, and support your overall health by supplementing your diet and lifestyle. Ritual vitamins also have to pass a rigorous third-party testing to guarantee their purity and ensure that it complies with strict guidelines and standards.
How does Ritual Men's work?
Ritual Essential for Men works on a subscription model. Therefore, your journey to better health starts with getting a subscription. The process is simple, and no complicated steps are required. Just add Essentials for Men (18+ or 50+) to your cart, adjust the quantity, include add-ons, or bundle items (if you wish), sign in, and then check out. That's it!
No need to read hundreds of labels in stores! You can get a month's worth of vitamins in the convenience of your own home. Simply provide your payment and shipping details so they can process your order. Then, all you have to do is wait for the vitamins to come knocking at your door. They'll appear on your doorstep every month on auto-pilot, so there's no need to run to the nearest drug store once your bottle is empty!
You can also edit your orders and the delivery date by logging into your account. Pause, skip, delay, or rush your order – tell Ritual when you need it, and they'll adjust everything for you to actively support your journey to better health! Even before they ship and charge you for your next bottle, they'll send you an email as a reminder. If you aren't satisfied with Ritual, they offer a 30-day, money-back guarantee. It's also easy to cancel at any time – no strings attached!
How much does Ritual Men's cost?
A jar of Ritual Essential for Men vitamins includes 60 vegan capsules. Essential for Men Multivitamin 18+ costs $30 a month, while Multivitamin 50+ costs $35 a month. You can also get both (if needed) to save $15 on your total or bundle with other Ritual products such as Essential for Women, Teens, or Kids (starting at $30 a month). Shipping is always free, whether you delay or rush your order.
Ritual also has an exclusive military discount to support active duty military and veterans, and members' families' general health. They offer 20% off your first three months. Sometimes, there are also coupons and deals offered, which will save you money when applied at checkout. They even have a referral system, wherein you can refer a friend. They'll get $15 off their first order, and you'll earn a $35 credit in return!
Where can I buy Ritual Men's?
The road to better health starts with Ritual, and you can purchase Essential for Men through this link that leads to their official website. Simply navigate to their shop, choose multivitamins, then add what you need to your cart. You can also adjust how many bottles to order and even bundle your vitamins with other Ritual products.
Where and how does Ritual Men's ship?
Ritual Essential for Men is available to order within the US, which includes APO/FPO addresses. International shipping is also available but limited to Canada and the UK. You can access and toggle between the Ritual Canada site and the UK site when you scroll to the bottom of the page. Ritual products are also available in China via TMall Global.
They partner with Passport Shipping to deliver international orders. It can take up to 11 business days for Canadian orders to arrive, while it can take up to 9 business days for UK orders. To track your orders, they'll send you an email with a tracking link after the order has been shipped. You can also access your shipping status on your account page.
How is Ritual Men's packaged?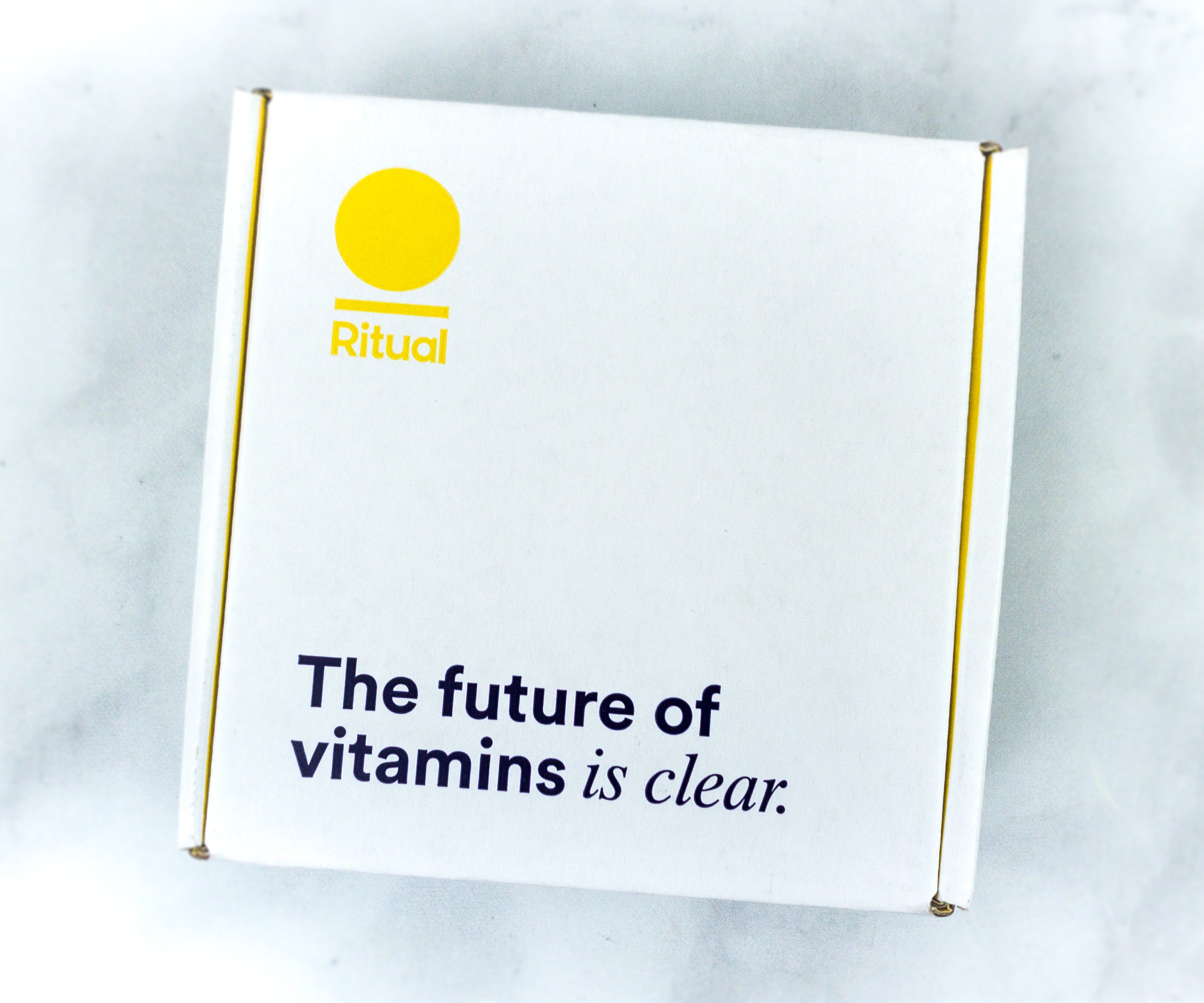 Aside from offering traceable vegan vitamins that are better for us, Ritual also ensures that they use materials that are better for the planet. Your first order comes in a recyclable box printed with Ritual branding, while recurring deliveries come in a padded mailer made from 100% garbage-repurposed newsprint and plant fibers. The first shipment includes a booklet with instructions on how to take your multivitamins. It also lists the nutrients infused in each capsule, giving you a better view of what's in your vitamins. The capsules are then enclosed in a clear bottle and cap made with 100% recycled plastic. Inside the bottle there is a food-grade plastic tab infused with pure peppermint oil to keep the vitamins fresh and taste minty.
What products does Ritual Men's sell?
Ritual is a known subscription for vitamins. Originally, they offered Essential for Women but later added Essential for Men to their product line. Available products are Essential for Men Multivitamin 18+ (for men 18-49) and Multivitamin 50+ (for men 50+) to help fill nutrient gaps in men's diet.
Essential for Women includes Multivitamin 18+ (for women 18+), Multivitamin 50+ (for women post-menopause), Prenatal Multivitamin (for before and during pregnancy), and Postnatal Multivitamin (for a mother's new nutrient needs, postpartum). Essential for Teens is also available – Multivitamins for Her (for teen girls 13-17 with omega-3 DHA and iron) and Multivitamins for Him (for teen boys 13-17 with Omega-3 DHA and vitamin D3). For children, they offer Essential for Kids Multivitamin Kids 4+ which includes 30 sugar-free gummies formulated with picky eaters in mind!
Ritual also offers Synbiotic+ for gut health and Essential Protein for 18+, 50+, pregnancy, and postpartum.
Can I give Ritual Men's as a gift?
Yes! With Ritual, you can also share the gift of health. Simply choose a Gift Card value, ranging from $50 to $360, or just input your desired amount. Provide them with your giftee's name & email, and leave a personal message for a sweet surprise! You can also choose a card design for extra customization. Lastly, choose a delivery date, and they'll handle the rest for you!
My Ritual Essential for Men Review
Ritual delivers a thoroughly researched vitamin directly to your door. They believe in simplicity, traceability, and ingredients that work best for your body. They are known for Essential for Women, expertly developed to be the only daily vitamin a woman needs, and now, they have developed Essential for Men to support heart health, brain health, bone health, normal muscle function, and normal immune function. There are two kinds of Essential for Men: Multivitamin 18+ for men 18 to 49 years old and Multivitamin 50+ for men 50 years old and above. This is the review of the Essential for Men Multivitamin 18+.
Multivitamin 18+ and Essential for Men 50+ are basically made with the same ingredients but in different doses. It was adjusted accordingly to help fill gaps of key nutrients they may not be getting enough of from their diets, whether because of their lifestyle or genetic factors. For instance, they included more magnesium in Multivitamin 50+ because it helps support bone health.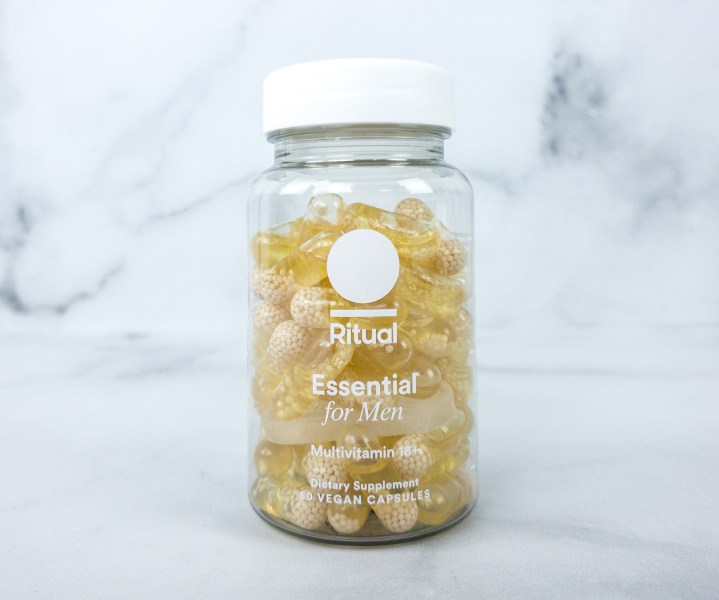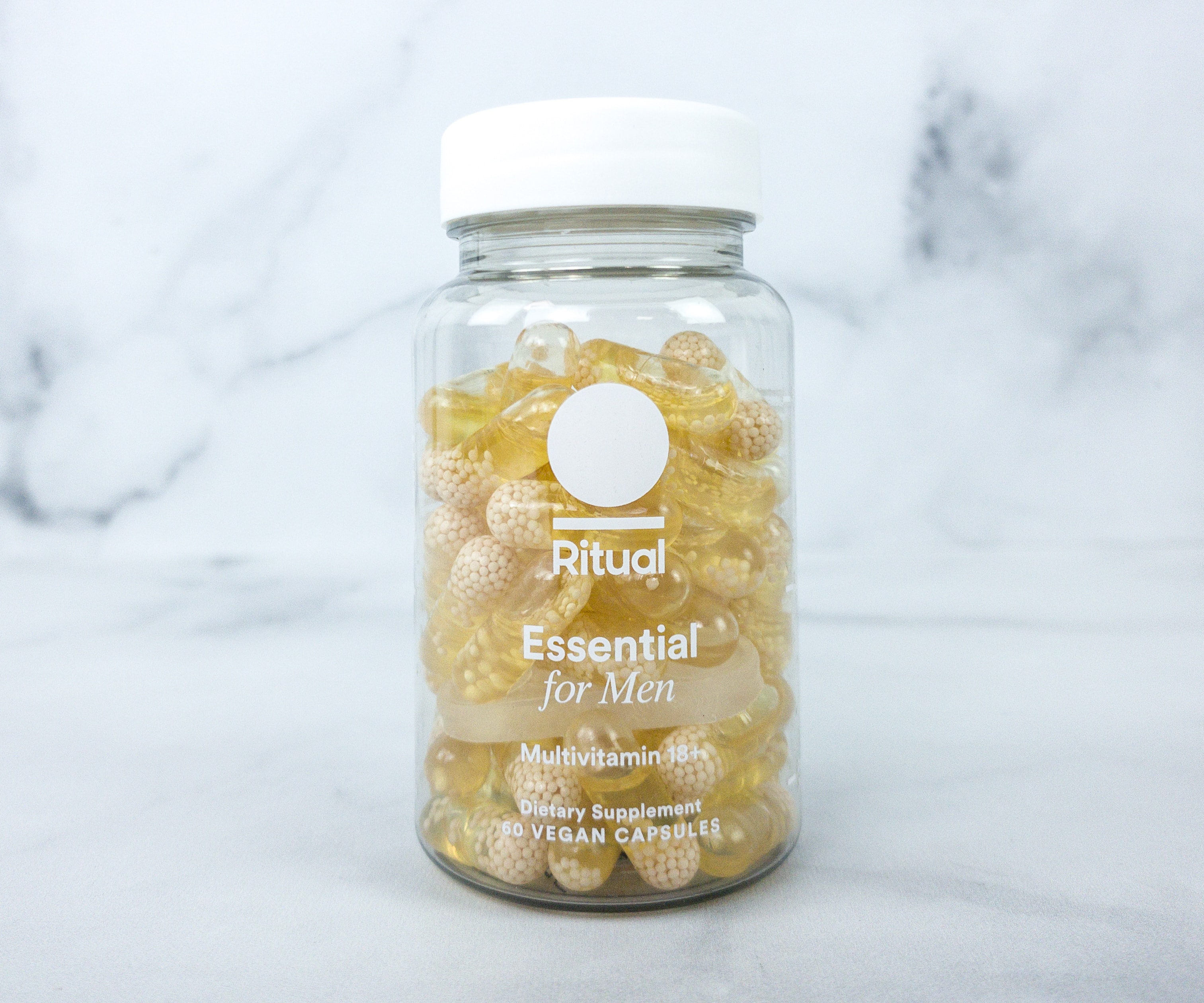 Ritual Essential For Men Multivitamin 18+ is a made-in-the-USA capsule packed with ten essential vitamins men need, namely zinc, vitamin A, folate, vitamin K2, vitamin D3, Omega-3 DHA, magnesium, boron, vitamin E, and vitamin B12! The vitamin is vegan, gluten-free, dairy-free, soy-free, nut-free, and Non-GMO.
The bottle comes with a clear plastic tab is a food-grade plastic insert infused with pure peppermint oil. It keeps the vitamins smelling fresh and also gives them a minty taste! The vitamins come in a clear bottle so you can see what the capsules look like. They also included the nutrition facts and ingredients list on the bottle label. The capsules look exactly like what's illustrated in the guide. They have a sealed foil liner to ensure freshness and avoid moisture from getting to them. The bottle contains 60 capsules, which will last you about a month.
Most of the vitamins found in these capsules can also be found in the food we eat. However, there's still a difference between a man's and a woman's nutrient needs every day. The best example is iron, which is included in women's multivitamins but can be skipped or not included in men's.
Also, these dietary supplements have beadlet-in-oil encapsulation that keeps oily nutrients in their most absorbable forms and away from dry ingredients that may interact with them.
According to the card, there are 3 steps in taking these multivitamins for men: open and breathe in the minty freshness, take two capsules daily, and keep them in a visible place. They also listed down the 10 nutrients which are included in these capsules. The capsules have no synthetic fillers or additives. The no-nausea capsule is specially designed to dissolve in the small intestine which is ideal for absorption.
Is Ritual Men's worth it?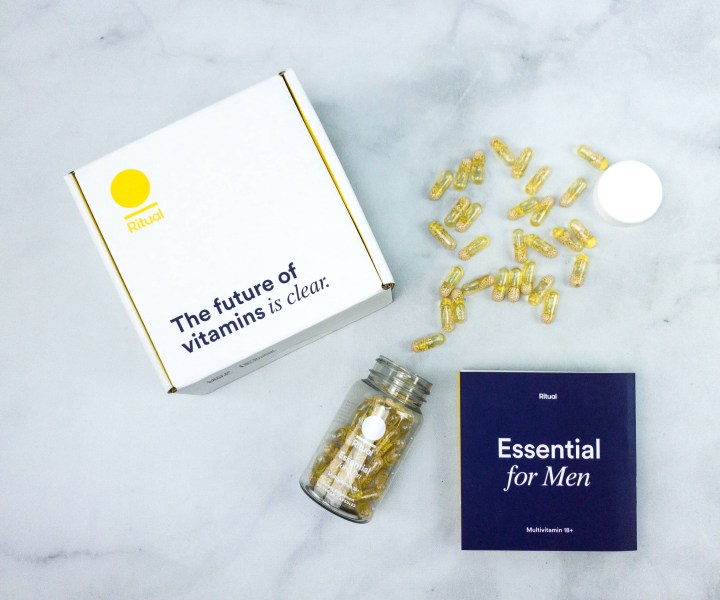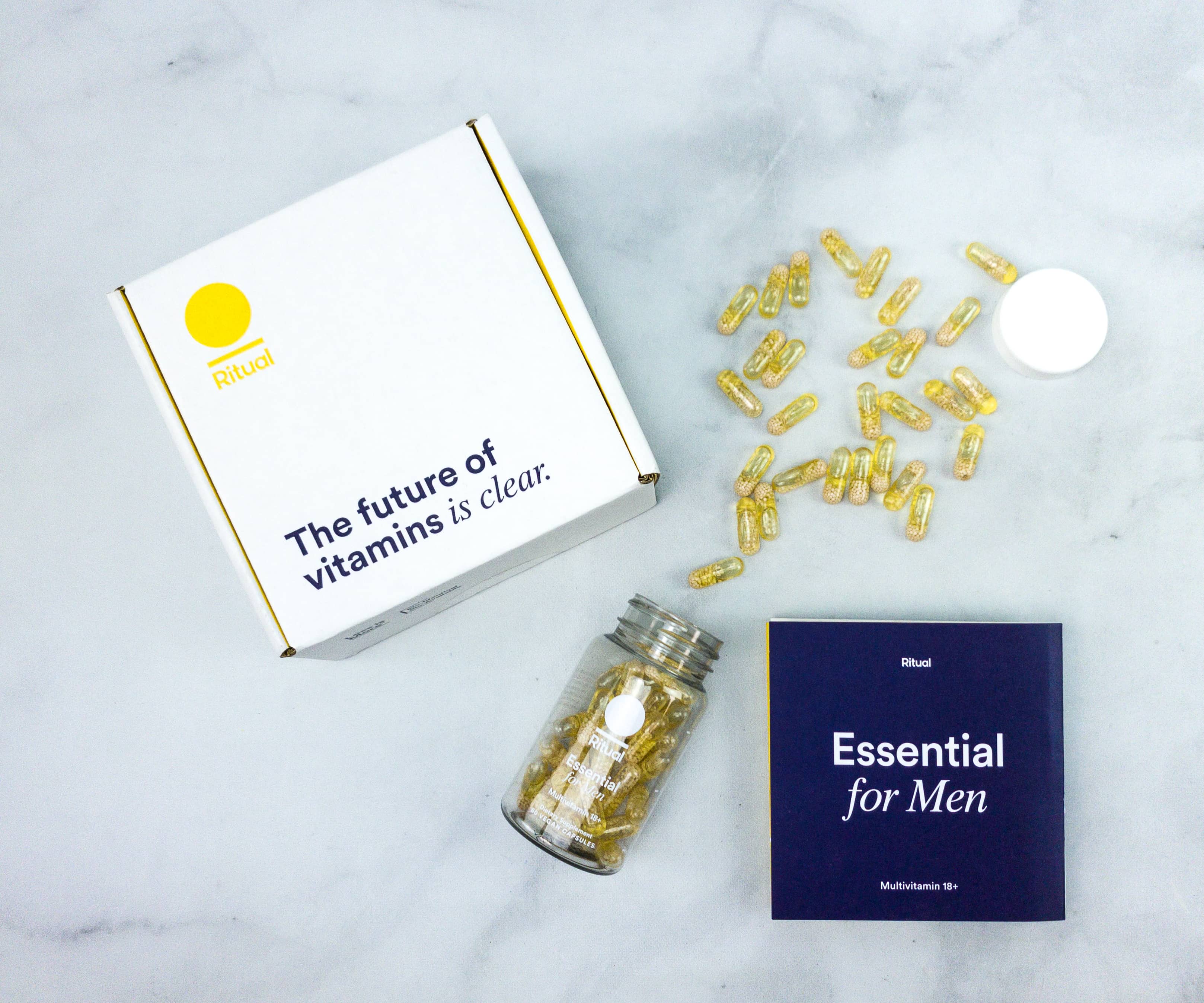 Ritual Essential Vitamins for Men is quite promising! It's tailored to men's needs, so it contains more vitamin A (compared to women's Ritual Essential Vitamins) that boosts the immune system and zinc that supports vision and bone support. So far, I feel more energized and alert when taking these vitamins. Another thing I like about them is they're easy to take, even for busy people like me. It has a minty taste, unlike other vitamins that sometimes taste chalky or metallic. Of course, it's recommended to take these vitamins along with regular exercise and a healthy diet for the best results.
I no longer need to line up at the pharmacy or drug store to get my daily vitamins. They conveniently and efficiently send a month's worth of multivitamins straight to my doorstep. Since Ritual is transparent about what goes into these vitamins, they also included a guide that lists all the nutrients that each capsule contains. Even their packaging is better for the planet too, which is a huge plus!
Will you be trying Ritual Essential for Men vitamins?