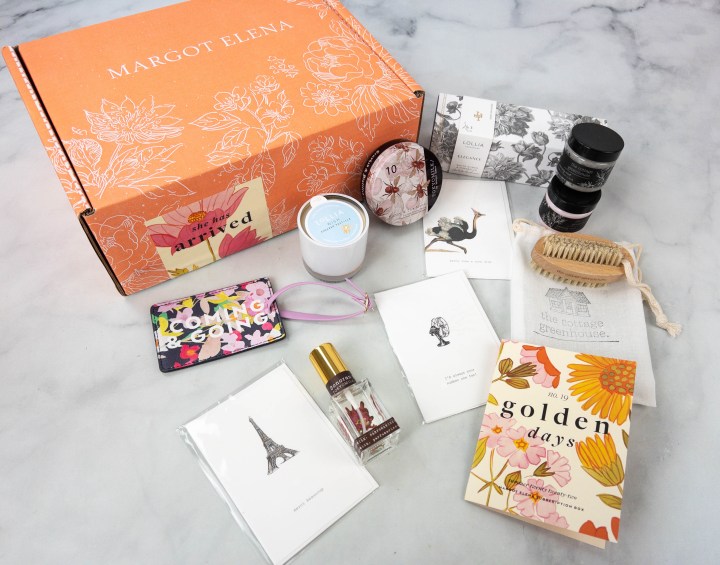 Margot Elena Discovery Box hit it off again with this season's curation! The Summer 2022 box was themed LOVELY DAYS & SUN RAYS, and it was full of luxurious goodies to pamper yourself even when the sun is up and shining brightly. There's a range of premium products from Margot Elena family, including Tokyo Milk, Lollia, and more! Read on to know what skincare and lifestyle items they've sent us.
Time to pamper the feet and be bare-foot-ready for summer! This season's box includes The Cottage Greenhouse Exclusive Rosemary Mint Foot Care Gift Set ($42) to soothe heels and soles. It features one travel-sized Rescue Foot Cream, Pumice Foot Scrub, and a double-sided Beechwood Nail & Exfoliating Brush. The items are packaged in a muslin bag with The Cottage Greenhouse branding. They came in travel sizes, so you can easily carry them on the go!
The brush has one side with smaller bristles and a rough texture, while the flip side has larger and softer bristles. It also has a loop tag for hanging. For exfoliating heels and toes, Pumice Foot Scrub is the way to go! It has a natural volcanic pumice stone with a rosemary and peppermint scent that removes the roughest skin away. After scrubbing dead skin, Rescue Foot Cream will soothe the feet and keep them soft. It contains beeswax and jojoba that refreshes the feet. It's very hydrating and smells very nice! Apply this cream after using the scrub for a much-desired effect – perfect for keeping your feet looking good and feeling good as you wear sandals or slippers on a hot summer day!
For summer travels, this Margot Elena Exclusive Luggage Tag ($12) will keep any bag looking stylish and elegant! It's a beautifully designed bag tag with a floral pattern and printed text that reads "Coming & Going". You can write some contact info on it. It also has a flexible faux leather strap that looks very cute!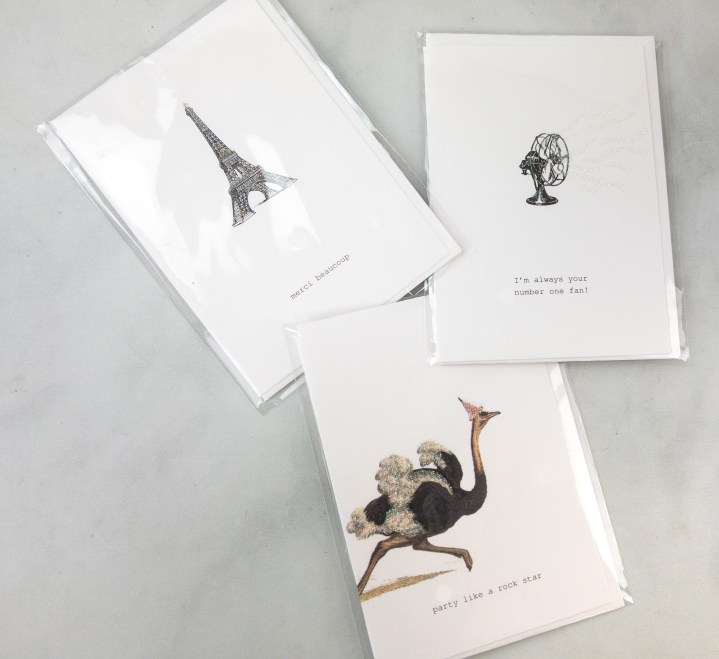 As usual, there's a set of Tokyomilk Assorted Signature Stationery Greeting Cards ($16.50) in the box! As a fan of snail mails, it makes my heart bounce with happiness. I've received three, each with different classic illustrations. There's one with an ostrich wearing a birthday hat, a fan, and the Eiffel tower. All these cards look simple yet elegant with glittery accents. They also came with plain white envelopes, so I can write and seal one whenever I want!
The box also included Tokyomilk Sonoran Bloom Eau de Parfum ($44) to keep me smelling nice and fresh all summer long! It has fragrance notes of petrichor, Saguaro flower, agave, and red clay. I like its fresh floral scent, and it sways my olfactory senses just right, putting me in a relaxed mood. I find it clean, crisp, and refreshing, perfect for the hot summer days and beyond!
There's another Tokyomilk product in the box, and I'm not going to pass up this chance to say that I love it! Tokyomilk Honey & the Moon Parfum Crema Délice ($24) comes in a tin can weighing about 2.5 oz. This triple-scented perfume alternative has a subtle aroma of sweetness with the infusion of honey, sugared violet, jasmine, and sandalwood. It smells warm, creamy, dreamy, and decadent! It's creme-based and lasts for a long time.
To envelop your space with a warm fragrance, here's Lollia Special Edition Wish Luminary ($44). It's made with a blend of all-natural soy and coconut wax and housed in a signature Lollia vessel with a gold interior. This candle is 11 oz and has a burn time of 70 hours. It brings an illuminating radiance with a sweet and warm scent of sugared pastille. I love how simple and sleek this candle is!
LOLLIA Elegance Shea Butter Handcreme speaks elegance right from the packaging! It slides open, and there's the branding printed in gold foil on the lowermost part of the inner box. With a lightweight and quick-absorbing cream consistency mixed with fresh, warm, fruity, and floral scent, it smells and feels luxurious! It also keeps the skin nourished with shea butter and aloe extracts. Plus, it's not greasy!
For a relaxing, spa-like me-time, there's also The Cottage Greenhouse Grapefruit & Blood Orange Shower Oil & Body Wash ($24). I received the same scent last season but in body oil form. I loved how it smelled, so I'm excited about this one as well! I just experienced a little leak, which is a bummer. The bottle became oily and slippery, so I had to wash it. It is moisture-rich and smells citrusy with grapefruit and blood orange!
All the items in this summer box are refreshing! From the foot care gift set to the perfume down to the body wash, each has that lavish detail that is ultimately pleasing! The packaging looks very luxurious alone. What more if you use and smell the products? It's like a magnificent haven with just one box! Margot Elena nailed it with this lovely summer curation!
Each box also includes a booklet. It contains the theme for the quarter and what you'll find inside. See it here: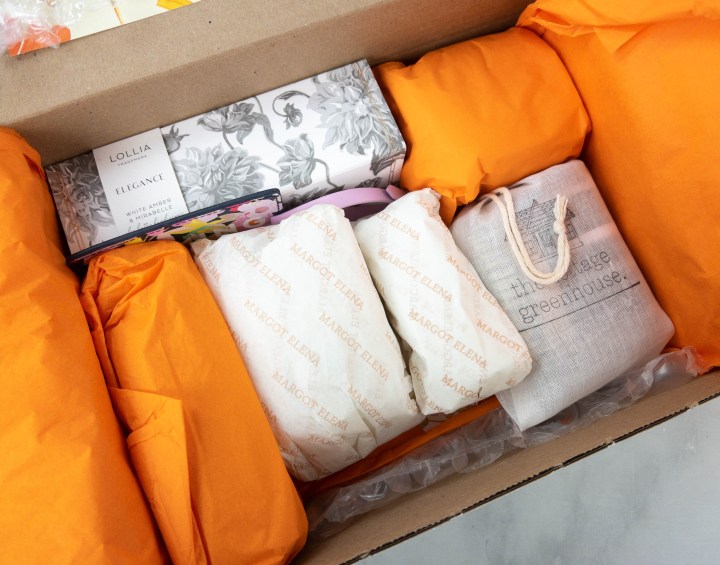 Margot Elena Discovery Box is a quarterly subscription box from the parent brand of Library of Flowers, TokyoMilk, Lollia, The Cottage Greenhouse, and Love & Toast and promises a $200+ value. This box is delivered four times a year for $59.99 per box plus FedEx Ground Shipping of $6.95 a box. With your purchase, you'll be enrolled in their seasonal membership and receive a box of beauty every 3 months delivered to your doorstep. More than just a bath subscription box, it's a full-on experience in the world of Margot Elena!
Margot Elena's Discovery Box made the list in our 2022 readers' choice picks of best subscription boxes for women!
What do you think of this quarter's Margot Elena Discovery Box?