We have spoilers for the August 2022 Ipsy Glam Bag Plus choice time, which opens on the second. Every month, Ipsy will select two items for your Glam Bag Plus – you pick three!
Welcome to Hotel Paradise: where you're priority number one, the beauty products are always exactly what you need, and spa days are a way of life. There's no better time to check into a vacay state of mind given that it happens to be National Wellness Month, too!

Here at IPSY, we're celebrating the occasion with some of our favorite vacation-ready essentials for making us feel pampered and recharged. Keep reading below to see what you could build your August Glam Bag Plus with (there's a liquid eyeshadow you'll want to get your hands on, plus plenty of other goodies).
First, bag reveal!
Are you a Glam Bag Plus Ipster? The Hotel Paradise theme is just as fab for you. The same tropical pink and green banana leaf print and lightweight faux satin material will also be featured on your Glam Bag Plus. Plus, the pop of peachy orange drawstring cord and woven IPSY logo keeps the vacay vibes coming.

"This Glam Bag Plus is full of summer vacation memories," says Wong. "I can pack my travel essentials in this bag easily. I'm going to put my phone, sunscreen, and my book in this Glam Bag Plus pouch, hang out by the pool, and enjoy the book and my summer favorite drink!"
Here's what you may be able to choose from in your Glam Bag Plus this month:
SUPERGOOP! Unseen Sunscreen SPF 40
This. Is. Not. A. Drill. The sunscreen that took the skincare world by storm is coming to Glam Bag Plus this August, and you could score it in your bag. This derm-tested formula is known (and loved) for being totally invisible, weightless, and scentless with a velvety finish—and we haven't even mentioned that it protects your skin with SPF 40, too. Snag it if you can! (P.S. Make your SPF go even further with our tips for applying sunscreen.)
Item Beauty Colored Mascara
Don't be intimidated by colored mascara. Pick the right shade of pigment, and you'll be left with colored lashes that are unique but still subtle enough to wear during your grocery-store run. This formula from TikTok star Addison Rae's brand ITEM BEAUTY features a pretty lilac side (which volumizes with dense fiber bristles) and a vibrant blue side (which helps visibly volumize, lengthen, and nourish). You can wear each shade alone or as a boosting base before your go-to black mascara.
TOO FACED Lip Injection Extreme Lip Plumper
One of the OGs in the lip-plumping gloss game, this TOO FACED formula helps lips appear instantly full and pouty as it nourishes and conditions. Though you might try lip blushing or overlining your lips to fake that plumped-up look, this gloss is a quick and temporary solution when you want voluminous results without the extra effort.
DR. ZENOVIA Aloe Vera Blemish Soothing Moisturizer
When you're fighting an acne breakout, many skincare products (or your fingers, if you're guilty of picking at your complexion) can leave your skin irritated and inflamed. Sound like you? Then you need this ultra-light, skin-soothing moisturizer in your life. It features gentle squalane, medical-grade aloe vera, and Dr. Zenovia's proprietary REG-ulate360 Complex™ to help calm your skin, balance hormonal acne, and promote the look of even texture and tone, making it a favorite for acne-prone skin.
VAMIGAS Rosa Mosqueta Infused Lip Oil in Valentina & Sofia
VAMIGAS is a beauty and wellness brand created by Latinas using simple, naturally derived botanicals from Latin America. The hero ingredient in these nourishing lip tints is rose mosqueta oil, which has been used for centuries by people native to the Araucana region of Chile and passed down through generations of families to heal skin ailments. It's a rich source of vitamin A, vitamin C, and omega-3 and omega-6 fatty acids, which can help keep your skin healthy and supple.
MOTD COSMETICS Seas the Day Makeup Brush Set
Prep, prime, conceal, and apply your eye look with this travel-friendly brush set. We love using the MOTD 01 Brush for concealing dark circles, the MOTD 02 Brush for applying eyeshadows, and the MOTD 03 Brush for blending eyeshadows till they look seamlessly diffused onto the skin. Use all three brushes together whenever you need to make your eyeshadow look pop.
ARTIST COUTURE Stay Lit Liquid Eyeshadow Champagne Showers
We love a shimmery golden eye moment, and this liquid formula from beauty influencer Angelo Merino's brand, ARTIST COUTURE, is a champagne dream. Easily swipe it over your lids and gently pat out for bold, sparkling payoff that stays put with minimal fallout. Looking for more drama? Go ahead and layer up.
KIMCHI CHIC BEAUTY Thailor Bronzer in 03 I Went to Venice
Adorable packaging aside, there are so many reasons you'll love this bronzer. To name just a few, the formula is buttery and buildable (no streakiness here!); the shade is a beautiful, natural-looking bronze (say goodbye to looking orange); and the pigment has major color payoff (so your product lasts longer). P.S.: We've got all the tips you need for applying bronzer for your face shape.
WINGME COSMETICS Ambitious Violet Palette
Purple eyeshadows are having a moment. Why not make your violet-hued dreams come true with this unique palette? The top row of four matte shades is ideal for applying a base layer and blending, while the bottom row of four shimmers is what you want for highlighting your brow bone, inner corners, or sweeping all over your lids. Feel like keeping things low-key? Dip a precise eyeshadow brush into Tempest, the deep purple shade, then run it along your lower lash line for subtle definition that wows.
Ipsters signed up to receive a Glam Bag Plus this August 2022 might receive:
TOO FACED Better Than Sex Mascara
TOO FACED, we just can't quit you (just look at any of our lists of best mascaras!)—or this mascara. Loved for its falsie-like results, this Allure Best of Beauty award winner thickens, lengthens, and curls after just one coat. How it works: Film-forming polymers lock your lash curl in place, acacia Senegal tree extract sets volume, and collagen provides a plumping effect.
GOLDFADEN MD Liquid Face Lift Serum Super Size
If what you're looking for is a little "me" time, this serum from GOLDFADEN MD fits the bill. This velvety formula provides stellar results in record time—no trip to the doc required. Smooth on this 10-ingredient serum to help lessen the look of creases and make your skin feel firmer, too.
SHAINA B MIAMI Cream Blush in Bellini
Fancy some flushed cheeks to go with that sun-kissed glow? Try this pretty peachy shade that blends seamlessly into your complexion for a your-skin-but-better finish. You'll especially love it on those days you just can't be bothered to reach for a makeup brush. Simply dab your fingers in the pigment, dot it onto your cheeks, and softly blend it out to look picture-perfect in seconds.
DEW OF THE GODS Frozé The Royal Face Wash Cream Cleanser
This might just become your new favorite cleanser. Formulated with plant-based squalane (a hydration hero) and blueberry extract, this cream cleanser blankets your skin in nourishment to help smooth and condition your complexion, resulting in a luxurious experience every time.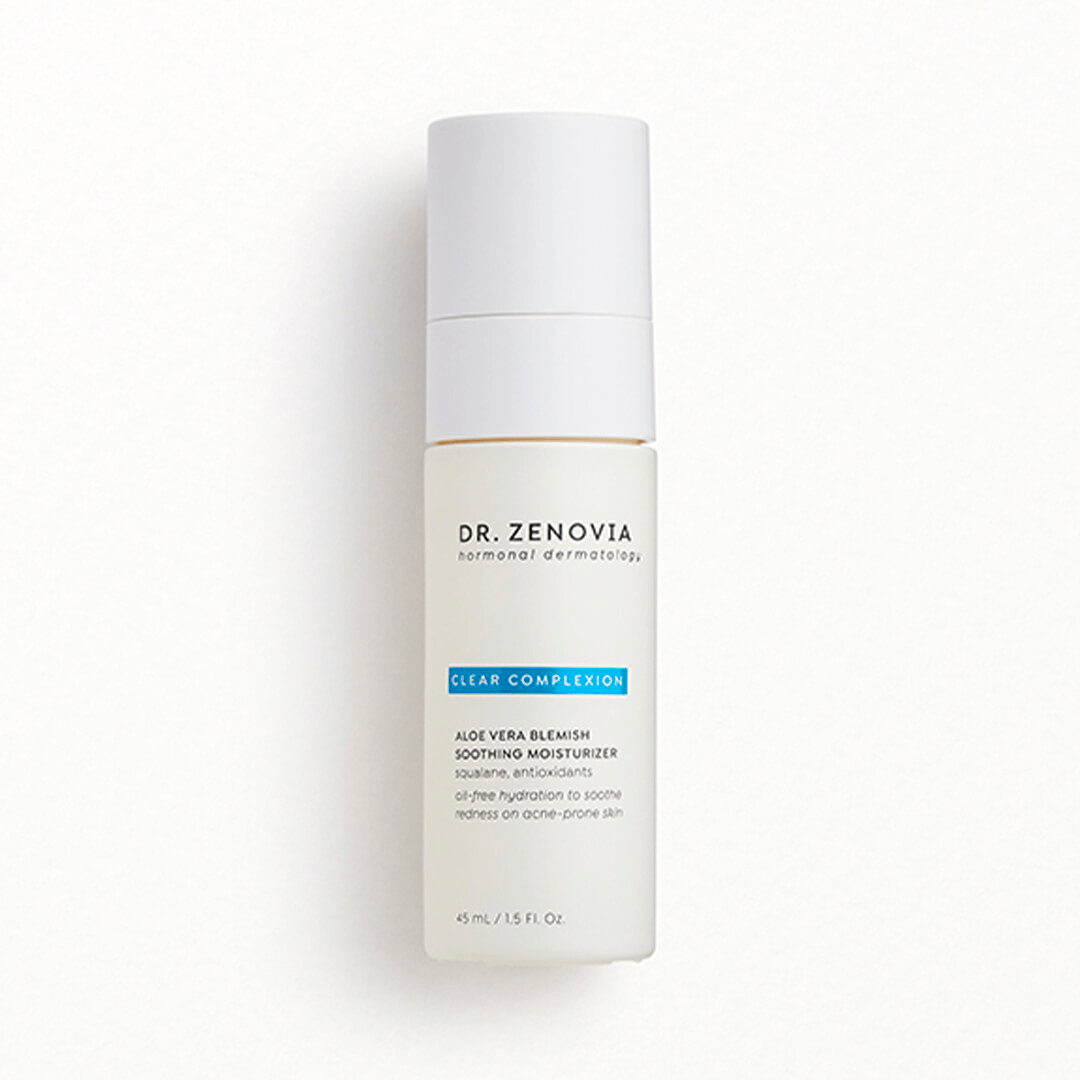 DR. ZENOVIA Aloe Vera Blemish Soothing Moisturizer
Stressing over an unseemly zit is basically the opposite of relaxation, so we knew we had to add an acne fighter into the mix this month. This ultra-light, oil-free moisturizer is infused with Dr. Zenovia's proprietary REG-ulate360 Complex™ to help balance hormonal acne, plus medical-grade aloe vera to soothe the skin—making it a product that does double-duty so you can focus on taking it easy.
ALO Radiance Facial Serum
When dull skin strikes, sometimes all you need is a little boost. Enter: this balancing formula from ALO (Alo Yoga's skincare line). It contains vitamin C-rich amla superberry, hyaluronic acid, marula oil, and a whole host of powerful, fermented ingredients to help soften the look of fine lines and restore moisture to your skin. Apply it a.m., p.m., post-yoga sesh—bouncy, youthful-looking skin awaits!
BYROE Truffle Eye Serum
Anything with truffle basically screams "luxury" to us, and this serum is no exception. Featuring a blend of black, white, and summer truffles, this must-have from BYROE infuses your skin with essential fatty acids and antioxidants that help neutralize free radicals (which are to blame for many common skin woes, like blemishes, fine lines, and more), plus hyaluronic acid, avocado peptides, and lupine proteins to promote hydration.
What do you think of the Ipsy Glam Bag Plus spoilers this month? Ipsy Glam Bag Plus is a monthly beauty subscription that's $28 per month! See our monthly Ipsy Glam Bag reviews to know more about this upgraded beauty subscription with full-size items (5 per month)!