With the blazing heat from the sun this season, it's important to give your skin a summer-friendly beauty routine! The July 2022 Ipsy Glam Bag was themed SOAK IT ALL IN, which invites you to play under the sun – whether it's a quick dip in the pool or exploring the coastline – while giving you the perfect beauty glow. There are five amazing products in the bag, and I'm just excited to try them all out!
Note: Ipsy sends many variations, so the bag we're reviewing may not match everyone else's.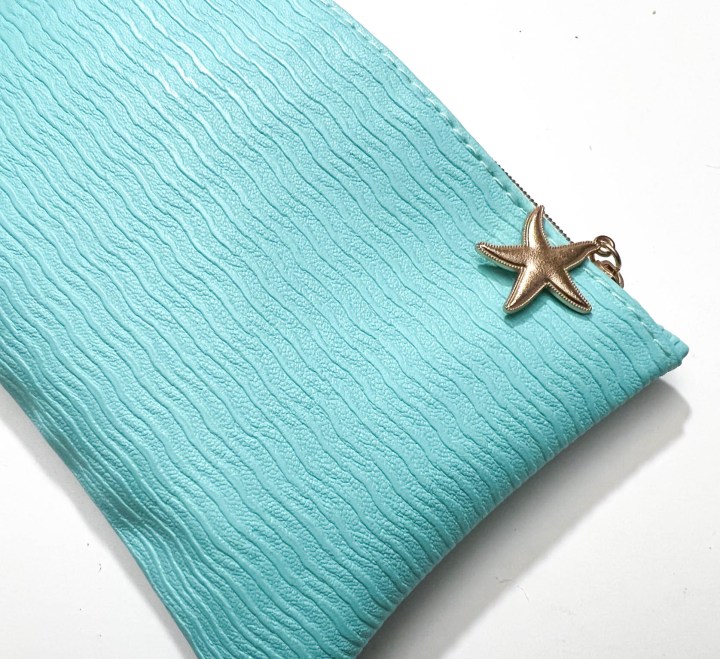 This Ipsy Glam Bag is simply perfect for the summer season! It is beach-inspired, and I love its aqua blue color matched with the textured wave-like outer design. It's the ideal pouch to keep or store my summer essentials anywhere I go. The cute gold starfish zipper made it look and feel extra beachy!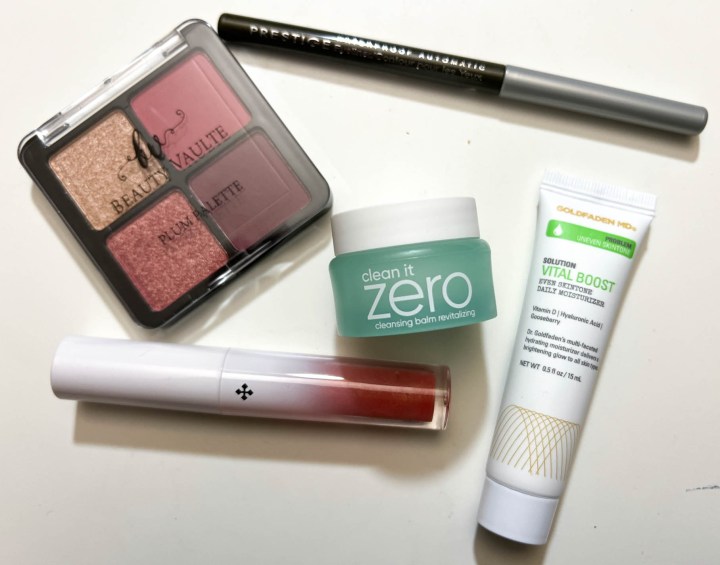 I received three makeup products and two skincare products, and I can't wait to see how they will transform my skin and my overall look for the summer!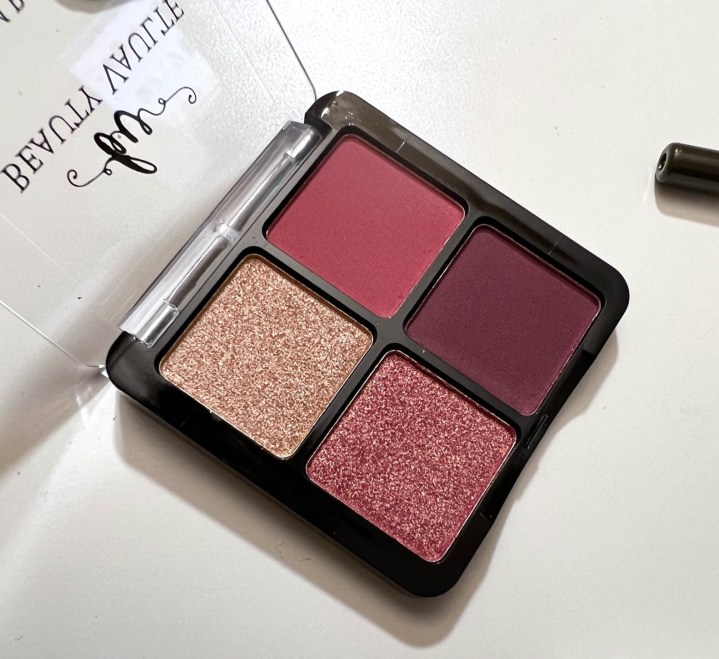 The first item in the bag is Beauty Vault Eyeshadow Quad in Plum ($18). There are four shades in total, consisting of two mattes and two shimmers. The shades look lovely, and they're highly pigmented and blend-able! They also glide on smoothly and stay on for hours. Whether you want to achieve a soft glam look or experiment more, this quad palette would be lovely. Plus, it's full-sized!
To give the eyes a more defined look, the bag included a full-size Prestige Cosmetics Waterproof Automatic Eyeliner ($8) in black. It is retractable and has a twist-up applicator, which means sharpening is not required! It applies softly and smoothly and glides on the lids effortlessly. This eye product is also waterproof and smudge-proof. The rich and creamy formulation blends out perfectly, allowing you to blend it out easily if you're aiming for a softer eye look.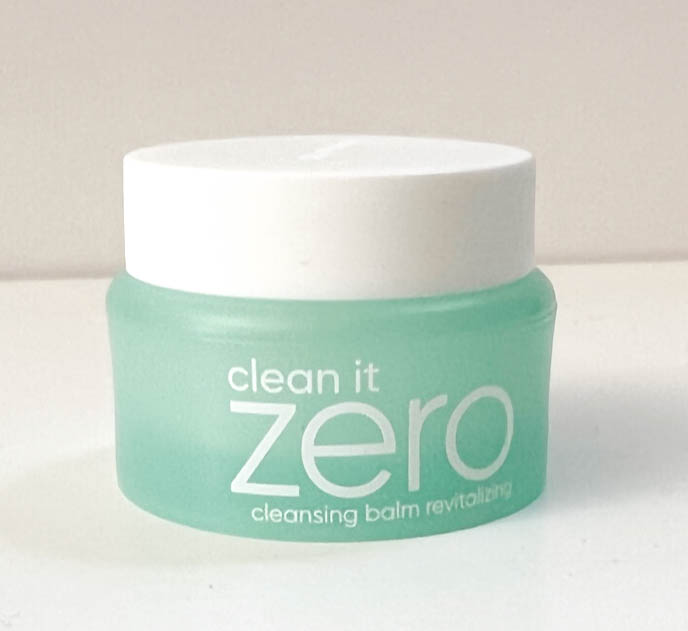 Banila Co Clean It Zero Cleansing Balm Revitalizing ($24) is the best product to use to melt away eye and face makeup! Made with active botanicals and hot spring water, it detoxifies the skin and softens dry areas. It is also enriched with vitamins E and C, which gives the skin a healthier complexion. This skincare product is formulated using Zero Balance Technology that deeply cleanses without stripping the skin's moisture. It has a sherbet-like texture that transforms into a smooth oil when applied and massaged onto the skin. This balm also contains resveratrol, grape seed oil, and olive oil that firms and even out skin tone. I also like its fresh citrusy scent! To use, gently massage in a circular motion to leave the skin soft, smooth, hydrated, supple, and plump.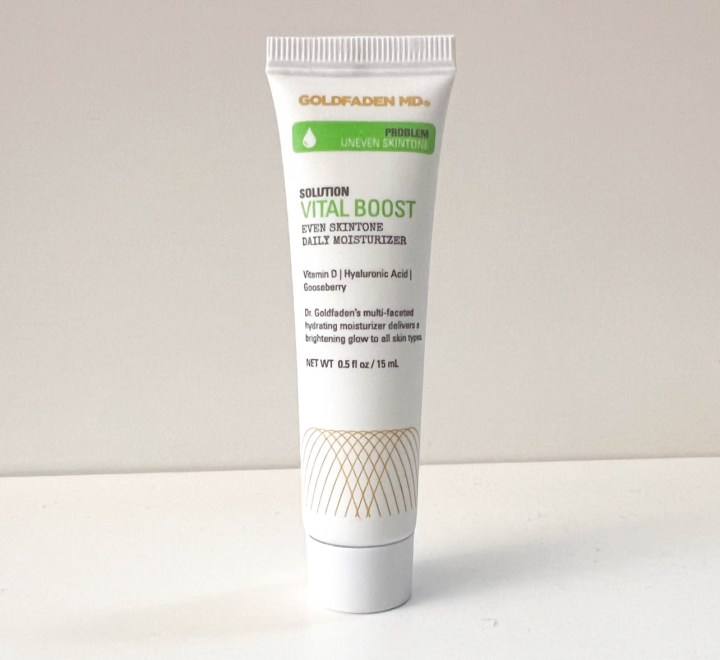 Of course, it's vital to keep the skin moisturized for a healthy and youthful look. Gladly, my Glam Bag included a GoldFaden MD Vital Boost Eye Even Skintone Daily Moisturizer ($18.75). It is perfect for giving the skin some much-needed moisture for day to day. The formula includes hyaluronic acid that pulls moisture in and oil of grapefruit that helps cleanse and improve the appearance of blemishes. It is lightweight and gives the skin a dewy finish with a faint scent. The ingredient list also includes organic red tea extract complex and gooseberry extract, which provides antioxidant nourishment to the skin. It's plant-powered and cruelty-free, which is a huge plus!
To finish our summer look, here's a Love+Craft+Beauty Glare Lip Gloss ($16)! It has a soft petal pink hue with bits of glitz and glam. It isn't sticky and doesn't feel tacky on the lips either, unlike most lip glosses. It came in full size, which means enough product to use for the summer! The lid also features a doe foot applicator, making it easy to use and apply. Whether you want a simple shiny look or aim for full glossy lips, this is a great pick. The formula is vegan and cruelty-free as well!
I liked everything I received in the Glam Bag for July! I received five products with a total retail value of $84.75, which is way more than the price of the subscription. There are two skincare products to prep my skin before going out in the sun and to provide proper moisture afterward. I love the quad palette too! There's even a waterproof eyeliner to add more depth and character to the eyes and a lip gloss with the perfect shimmery finish. Overall, I'm impressed with my summer-inspired glam bag this month, including the pouch design itself!
Below is the product information card I received with info about each of my items. Look here:
IPSY is a women's monthly subscription beauty membership known as The Glam Bag and contains sample and/or full-size makeup and beauty products delivered straight to your door. Depending on your plan, once a month members receive a makeup bag filled with 5-9 cosmetic items such as perfumes, nail products, skincare items and of course makeup! Items in your Glam Bag are personally curated based upon your beauty preference results from your personalized beauty style quiz.
What did you get in your Ipsy this month? Let me know in the comments!